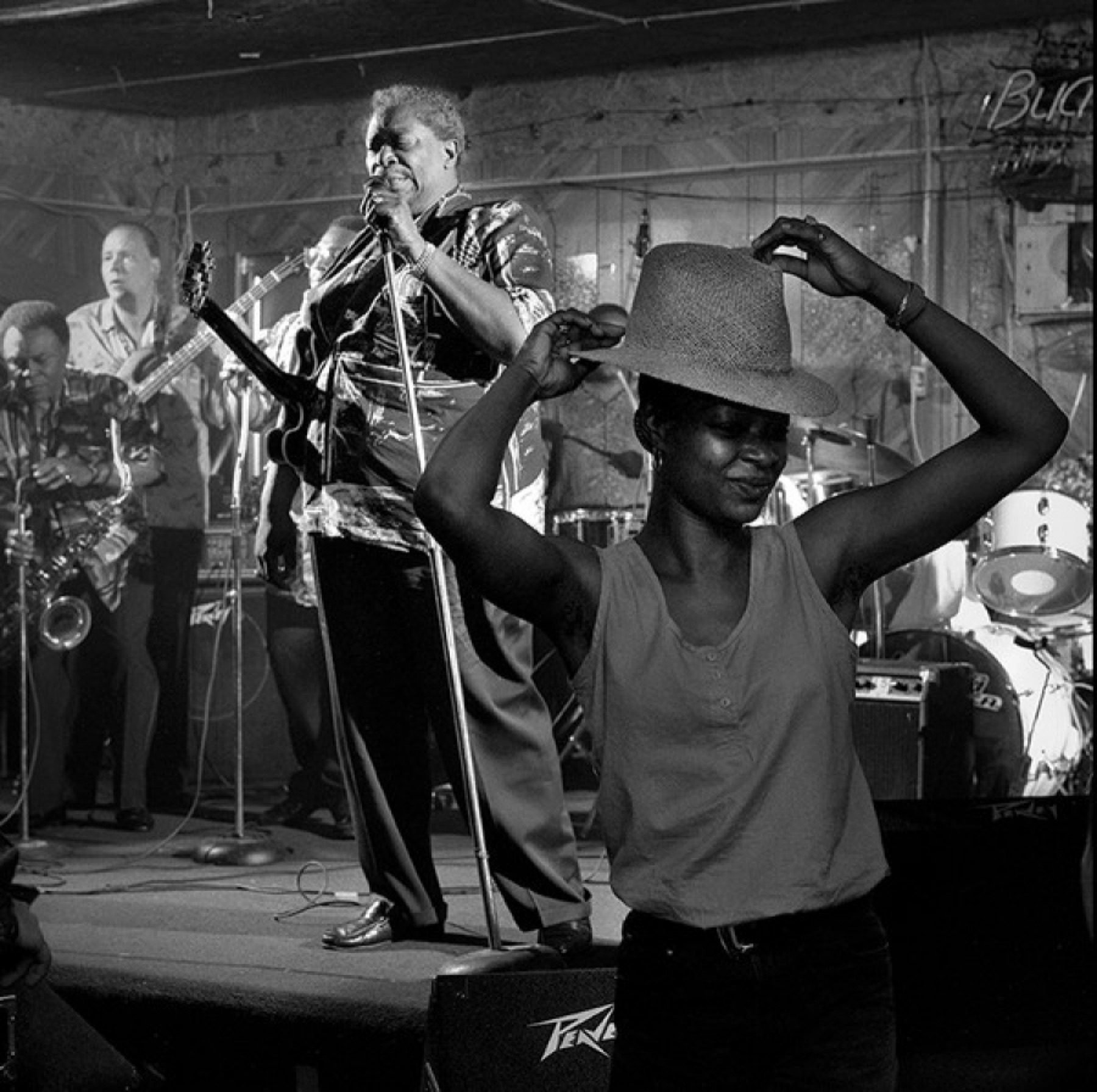 "Dancers at Club Ebony," by Bill Steber. OA editors like this photo so much we've published it in our pages not once, but twice, in the past 23 years.
BETTER NOT LOOK DOWN
By Oxford American
In the Declaration of Intent published in this magazine's debut issue, in the spring of 1992, founding editor Marc Smirnoff wrote that the "Oxford American is primed for the trials, and glories, ahead. We are, after all, optimists. . . . Think of Douglass Fairbanks, Jr., as Robin Hood, that's how we feel. Think of B.B. King swinging to 'Better Not Look Down.'" Nine years later, when that song appeared on the 2001 Music Issue CD, Smirnoff noted that "Better Not Look Down"—"a pure pop masterpiece"—was the OA's theme song. ("The chorus says why.")
King died last night, at eighty-nine years old. Many wonderful anecdotes from his long, prolific life have been told in our pages through the years, from the moment in 1948 when a young Riley B. King arrived unannounced at Memphis's WDIA, integrating the airwaves, to his performance last year in Indianola, Mississippi, where he returned for his final homecoming concert at age eighty-eight.
He is also one of the few artists whose songs have appeared more than once on our annual Music Issue CD; "B.B. Blues," an early recording, was included on our 2013 Tennessee Music Issue compilation. Rick Clark wrote of the song's "absolute shambolic chaos" in that year's liner notes:
It has this late-night club vibe when the players are starting to feel a little too good and the band is less than half a set away from a crash and burn. Everyone is playing all over one another, and the drummer sounds like he's trying to figure out where each measure begins, but B.B. sounds committed and no one is having a bad time.
If OA contributors have written frequently about the sound of King's music—they've also related stories of trying to get close to the man himself.
In 1998, Marty Stuart described a memorable visit to Memphis in our second annual Music Issue. (The piece was called "Notes from the Underground (Twang Tour): When it's July in Memphis, hoodoo happens.") Passing B.B. King's Beale Street nightclub at 10:35 in the morning, Stuart was serenaded by B.B.'s music blasting from restaurants and storefronts—or as he called it, "pure musical morphine."
And it doesn't get much better than Lauren Wilcox's 2005 dispatch from a trip with Dale Hawkins to the groundbreaking of the B.B. King Museum in Indianola, where they inched through a mob toward the legend, guided by Hawkins's publicist, Del:
As soon as the final flashbulb had popped on the groundbreaking, Del grabbed Dale's arm and began to steer him towards B.B., in the middle of a crush of people in front of the stage. At the same time, B.B. King's people began to steer him towards a golf cart that was waiting to carry him to the reception. "Come on, if you want to," Dale hissed encouragingly at me over his shoulder. "And act official as hell."

When we were one handshake away from B.B., who was benevolently laying-on hands in a crowd ten deep, his escorts, like sheepdogs extracting an animal from the flock, plucked him from the crowd and deposited him in the golf cart. Dale's publicist, seizing the moment, lunged in front of the vehicle. "Mr. King, this is Dale Hawkins," she said in a rush. "He wrote 'Susie Q,' and worked at Stan's Record Shop in Shreveport."

It was difficult to see, from behind Dale, exactly what transpired between them at that moment, but after a pause, Dale poked his head into the cart, and B.B. slung his arm around Dale's neck. "All right, now," said B.B., his face unreadable behind his sunglasses. "How is Stan these days?" And then, spotting someone behind Dale, B.B. exclaimed, "Now that there is one of my most dedicated fans!" and the golf cart eased forward and was swallowed by the crowd.
Exactly a year ago, an OA writer was back in Indianola. Phil McCausland got twenty seconds with the King and witnessed his final performance in his hometown—one of thousands he's given across decades and continents. In our fall 2014 issue, McCausland observed the legend in his twilight:
King took the stage, an eighty-eight-year-old man who has come to the end of his career, but he's still the greatest living Mississippian, the King of the Blues. After some banter with the audience, people began to chant "Lu-cille! Lu-cille! Lu-cille!" and King picked up his guitar and broke into "The Thrill Is Gone." And, in that moment, his performance felt like an unbelievable triumph. B.B. King was onstage and he was working it. His playing may not have been the tightest or the most beautiful it had ever been, but the spirit of the blues was alive in that place, and people swung their hips and danced, singing along with him to "Every Day I Have the Blues," and "Rock Me Baby." His seventy-year career fluttered before us as he sang those songs, his life and work all but over, and now it was up to us to wish him well.
Today, we wish King well and we celebrate his life. We're due a trip to Twist, Arkansas—a speck on the map about 130 miles from our office here in Little Rock, up north of West Memphis, near the larger specks of Tyronza and Marked Tree. This is the place where B.B. King famously gave his guitar, Lucille, her name, after a juke joint show turned violent and the place caught fire. And of course it was Lucille, in turn, who gave B.B. his reputation—for as suited as his voice was to singing the blues, and as skillful as he was at turning the raw materials of life into song, it was his guitar playing that enshrined King as the greatest bluesman of his generation. As one of the most influential musicians who ever lived.