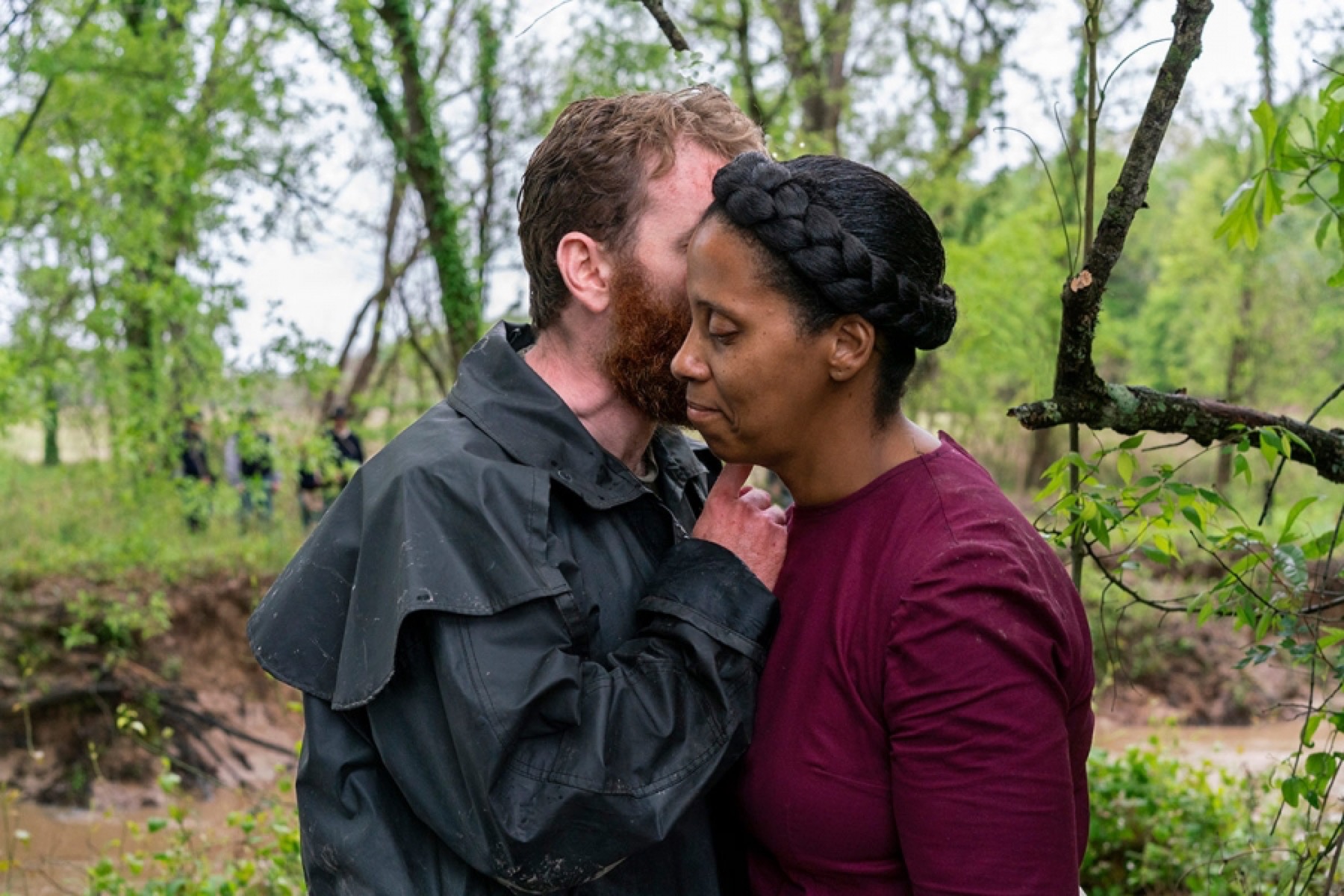 Alex Harris (American, born 1949), Son of A Gun in Raymond, Mississippi, 2018, pigmented inkjet print. High Museum of Art, Atlanta, commissioned with funds from the H.B. and Doris Massey Charitable Trust and the Picturing the South Fund. © Alex Harris.
Behind the Lens
By Jeff Rich
As a follow-up to last week's feature "On Set," I interviewed artist Alex Harris, whose series Our Strange New Land  is the High Museum's most recent Picturing the South commission. We were joined by the associate curator of photography at the museum, Gregory Harris, who worked closely with Alex on the exhibition. Together they shared their thoughts on the power of photography, how they selected images for the installation, and their favorite pieces in the series.
—Jeff Rich
---
Jeff Rich: How did the work on the Southern film sets start? I read that the idea of this work came from your work photographing on the set of the 2007 film Che, by Steven Soderbergh.
Alex Harris: The work on the Southern film sets started when, after floundering for a year or so and trying to find the frame through which I wanted to look at the South, I remembered working on Che. I began talking to people around film festivals and asking them who were some of the narrative filmmakers working today that they would work with. I knew from the start that I wanted to work with narrative filmmakers because I wanted to see the way that people were imagining [themselves]. In so many ways, this is a project about the imaginations and the creativity of this generation of contemporary filmmakers.
How did you discover the films you've documented?
AH:  I never knew what I was getting into, but I worked with essentially anyone who was making a narrative film about the South or set in the South and would allow me on set. I thought if I could just get on enough sets, if I could photograph enough films—ten, twenty, it turns out forty-one different films—then, just by that quantity of different situations and films and approaches, my pictures might say something I hadn't thought about before, or that perhaps the filmmakers themselves hadn't thought about.
Can you explain the curation process for the exhibition? How did you work together to come up with the photographs that are included in the exhibit?
Gregory Harris: Alex had been commissioned by the time I arrived at the High, but he hadn't quite settled on what he was going to do. Eventually he felt like he'd come onto a subject that was going to be really rich: to photograph on narrative film sets. He would check in every few months and I was just following along. Then Alex had photographed on maybe thirty, thirty-five sets, and he said, "I feel like there's really something here. Let's start talking about how we're going to turn this into a show."
We spent some time in Alex's studio and he showed me an edit of around two hundred pictures. I was just struck by the emotional range that Alex was able to capture in these pictures, especially in the way that he'd sequenced them. You could tell that he had experience working as an editor on books. He was very thoughtful about how one picture leads into another, the conversations that happen across pictures. He clearly had a sense of what he wanted to do with this project.
Everything was set in the South, but it was about much larger things in contemporary American society. There were these vignettes about the relationships between people. There was a section about violence. There was another section about race. These kernels of how the show was going to be arranged were already starting to come together.
AH: I fell in love with about two hundred photographs from this project, and I've narrowed it down literally from thousands of images. What impressed me the most about working with Greg is I remember a phone conversation where I said something like, "How should we do this? Who's gonna make the first cut?" And Greg said, "Why don't I give that a try?" And I thought, "Fine, that'll make it a lot easier for me." Greg sent back that selection and [I was] looking at it with my wife, Margaret Sartor, who is also a photographer and writer, and just saying, "Wow, this is really thoughtful and really good." At that point I knew it was going to be a good collaboration.
GH: At some point Alex said to me, "I've been thinking about doing a video along with this, what do you think about that?" I have virtually no experience working with moving images, at least in the context of a museum. I was honestly a little anxious about this idea, but the picture of the South commission has this tradition of giving the artists a lot of latitude to experiment and to try new things. Wanting to honor that and all of the effort that Alex had put into it, I said let's give it a shot and we'll see what happens. And so he started putting together an edit of the video as well.
AH: What's fascinating to me about this exhibit is you have these two approaches to seeing the world: one on the walls of an exhibition with these prints that are carefully printed and sequenced and another where you walk into a darkened room and see a narrative unfolding of these pictures on very large screens with a soundtrack. That really allowed me to, for the first time in my life as a photographer, actually control how long someone saw a picture and in what sequence. That was something very new for me.
That's what I love about this new body of work. In your statement, Alex, you touch on the idea of collaboration. Do you feel like you collaborated with the filmmakers and the crew on the set with this work?
AH: I think all documentary work as a photographer is collaborative because you simply can't make a picture unless you're able to form relationships with the people who are living that life and who invite you into that world. It was collaborative in the sense that entering a film set was like entering a village. It had a hierarchy, it had relationships already formed, roles that people already had. I had to enter that world on each set and become part of that world to be able to photograph on it. [This] was the first project I think I've done where I wasn't such a loner; I was part of something bigger, even though my job wasn't to tell the specific story of that film. I think people appreciated my being there. And ultimately the pictures I made were surprising and different enough that I felt like I was actually giving something back and contributing to the success of that particular project by saying to the filmmakers, look, use my pictures in any way you want and then just give me the permission to do the same.
Since the work is documenting the representation of the South through the lens of cinematic fiction, did each director's vision of their story change your working methods or did you feel like their vision bled over into your vision?
AH: I feel like I worked in the same way on every set. My first job was just not to get in the way of the production. My second job was to make friends with the assistant director, so they felt free to allow me to photograph what I wanted to take pictures of. Because I wasn't hired by the production to cover the story of the film or to capture key images of the narrative, I was free to photograph whatever I wanted.
The individual images taken together, I think, perhaps, tell their own story. I was so influenced by being around these narrative storytellers that ultimately I wanted to create my own much more cinematic representation of what I had experienced and what I'd seen.
How do your pictures differ from the images that filmmakers are seeking? You're both using the same raw material, the same settings and actors.
AH: I started out thinking I'd be interested only in what was happening in front of the camera and having the illusion in my pictures that this might be real-life and not a fiction film. I became fascinated by the relationship between the camera and what was unfolding. I began to look at what was happening behind the lens. I loved watching the way directors work with actors, particularly on some of these independent films where some of the actors were acting for the first time and the directors were as much parents and guides as they were directors in a traditional sense. That was beautiful to photograph.
As I turned my camera away from what was happening in front of the lens, I actually felt free to photograph, not just the whole crew, but anything that happened around the set. I became intrigued by the communities that were right around the set where people were going about their lives, maybe watching the filmmaking, maybe not. I began to photograph those people as well.
One of the fascinating things about the body of work at the High is that sometimes it's difficult to tell the difference between an actor and someone who's off set simply going about their daily life. This isn't a new idea in any way; it's been celebrated in literature and philosophy for a long time. But the ways in which we're actors in our own lives—practicing our lines, creating our sets, thinking about our movements—this exhibit in some ways blurs those lines between fiction and reality.
I'd love to hear both of you talk about one of your favorite photographs in the exhibition.
GH: The one shot that really got me hooked on this project is a nighttime shot of a young woman. She's in the doorway of a screened in porch, leaning against the doorway, smoking a cigarette. And she's kind of lost in this interior moment of thought. The lighting is just unbelievable; it really amplifies the mood of the picture. And then [if you] scan it a little bit, kind of coming out of the shadows, you can see a set light that's creating it.
That one picture just allows you to get stuck in between those moments. Because, in one sense he is recording the reality of that moment as it happened. But it is a moment that was, in a lot of ways, staged. As someone who's really fascinated by photography and the ways that it helps us relate to the world, it kind of makes my head spin a little bit. I never get tired of looking at it.
AH: The photograph that strikes me first has as much to do with my experience of being on set as it does with, I think, the quality of the picture. Often what I'm so drawn to in a photograph is not that it's telling us a factual story, but a picture that's a mystery, that's ambiguous, troubling, that makes you want to keep looking at it and figure it out.
On the set of a film called Son of a Gun, a Civil War reenactment drama down in Mississippi, there was a scene where a black woman was playing a nanny to a young white girl who'd been injured in a battle. Her job on the scene was to hide behind a tree and yell out to a surgeon who was on the battlefield, "Come quick! Come quick!"
They tried to film it two or three times and she just couldn't get it. So, the director walked up to her and said, "I'm going to say something to you that's going to be troubling and that's going to be difficult, so don't take it personally. It's not real, but I just want to try to get you in the mood of this moment."
Later, he told me he said to her, "Imagine this is your daughter that's been injured." And as he says this to her, I photograph her face with his face hidden behind hers. It's a wonderfully mysterious, powerful picture that speaks to the kinds of situations and the kinds of scenes that I got to photograph. They weren't all about the fictional filmmaking process. They were about real emotions that people were feeling and speaking.
GH: One of the things that I love about this work is the way that Alex plays in the space where there's this great tension between fiction and reality and you never quite know [if you're] looking at something that just happened. Was he having impeccable timing, that he was able to be there and capture that, or is it something that was staged and fabricated? As a viewer, you're stuck somewhere between do I believe this or do I not believe this. I think that's a great metaphor about photography and how we relate to photographs and how we understand them. We think we're looking at reality, and yet we're looking at an interpretation of the world.
---
Our Strange New Land: Photographs by Alex Harris is on display at Atlanta's High Museum of Art until May 2020. Find the full details here.
---
To see more images from Our Strange New Land, click here. 
---
Eyes on the South&\#xA0;is curated by&\#xA0;Jeff Rich. The weekly series features selections of current work from Southern artists, or artists whose photography concerns the South. To submit your work to the series, This email address is being protected from spambots. You need JavaScript enabled to view it..