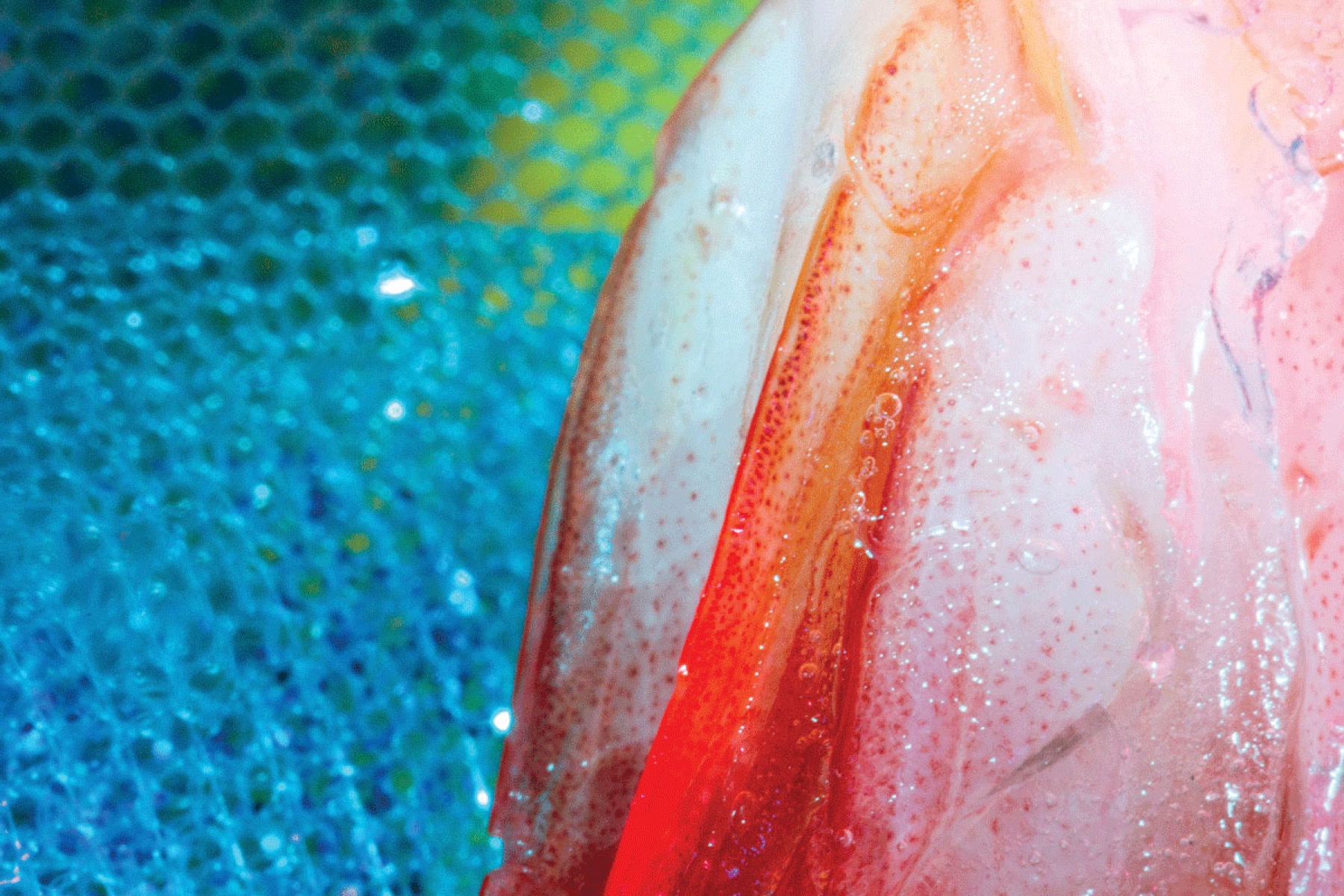 Photos from the Mise en Place series by Emeline Mayo © The artist / emelinemayo.com. Courtesy the Atlanta Photography Group
Saturday on the Shrimp Lot
By Leslie Pariseau
On a chilly, drizzly Saturday morning in January, the Westwego Shrimp Lot is busy. Neither the cold nor the rain has kept anyone away from the unassuming market across the Mississippi River and 10 miles from New Orleans. Each seafood stall teems with locals and the odd chef pointing to coolers full of whole fish and examining blue crabs in plastic bins. Dee Merlerine of Dee's Seafood calls out to a customer, "What can I get for you, my baby?" Stacks upon stacks of newspaper, wavy with humidity and awaiting the day's catch, line one wall. She digs her hand, covered in a plastic bag, into a cooler full of icy 40/50 count shrimp, puts the heap into a hanging metal scale, wraps the whole thing in newspaper, and deposits it into another plastic bag. Her stand is known for its shrimp. Her niece and nephew also work at the stall, and her mother Big Emma Goodin used to have one at the back years ago.
Next door at a red and black stand called Babygirl's, mother and daughter Anna and Shelita Batiste are selling shrimp and crabs. Anna has been working on the Lot since 1978 when it started. On the other side of Dee's, the women of April's Seafood Mart are chatting with a few shoppers, and across the way at Amy's Seafood, Marcus Jacobs, co-chef and owner of Marjie's Grill in New Orleans, turns over a package of Des Allemands catfish. He points out the yellow striations running along the creamy filets, fat deposits built up from their wandering in the wild. Like many longtime Shrimp Lot patrons, Jacobs has learned the rhythms of the place, the hidden caches waiting within its hundreds of coolers. That week, he'd already been out every morning for shrimp and crabs and sheepshead, and he's developed a shorthand with a few of the vendors who know what he likes and nod or call him over when they know they have something he wants. "It's kind of crazy. There's nowhere else around here to get seafood like this," says Jacobs.
Considering the region's proximity to the Gulf, it's ironic that the Shrimp Lot is one of the only places in the area where fresh seafood can be bought in such quantities—by the sack or the cooler—and, in such variety. On any given day, you can find a dozen or more types of fish, gator meat, blue crabs, all sizes of shrimp, and oysters. It's been in operation for forty-three years, but up until last year, the Lot didn't even have a sign. "Nobody knows where Westwego is," says Veronica Creppel, wearing a fanny pack and rubber boots as she smokes a cigarette at the back of the Lot. "But they know where the Shrimp Lot is," she says. Creppel has been working for Jerri Lombas for six years and is hoping to take over the Jerri's Seafood stall one day. When Lombas isn't there, Creppel answers the phone, meets fishers who drop their catch by almost daily, and sells crabs and shrimp to people who know to venture to the rear of the Lot. They also sell worms.
From afar, the Westwego Shrimp Lot appears to be little more than a collection of metal garages built around a gravel parking lot off of the Westbank Expressway across the Mississippi from New Orleans. But in actuality, it's a complex marvel of engineering and deep bloodlines forged over the last four decades, beginning with a group of fishermen pulling up their trucks alongside a big old oak tree to chat and sell their catch.
On a Friday afternoon in their home office, husband and wife team Ronnie and Pat Temento, the owners of the Lot, recall its first days. Their desks are side by side, and one wall is covered in photos of cars Ronnie has drag raced over the years. Pat handles the administrative part of the business, while Ronnie deals with the relationships. Ronnie talks with his hands as Pat sits alongside, sparkly eyed with long hair perfectly coiffed. Having grown up in his parents' diving and boating equipment store, Temento's, down the Expressway, Ronnie has close ties to the fishing community. One morning in 1978, he met his fisherman friend Davis Dominque, along with a handful of other guys, at 4:45 in the morning to go trawling. After they pulled up several champagnes of shrimp, Ronnie rode along while he and some other fishermen dropped off their catch at four different shops. "They were only getting 50 cents a pound," says Ronnie, emphasizing how cheap it seemed to him at the time compared to the amount of work they'd put into the catch. It got him wondering why there wasn't a place fishermen could sell it themselves, so he proposed an experiment: they get together, cut out the middleman, and sell their shrimp directly to customers on a lot his family owned along the Expressway. In the first few hours, they were getting $1.50 per pound. "At the end of the day John Bumgarden brought me $468," says Ronnie. The fishermen were unanimously in.
"There were ten of them and they all picked slips out of a hat to decide who would go where," says Ronnie. He still remembers where every single person of the ten fell in line. The first went to Paul Ybarzabal, a champion pirogue paddle racer, the second to Rock Adams, a fisherman, the third to Robert Billiot, who was recently re-elected mayor of Westwego, and so on.
The branches and roots and new growth of the Lot's family tree are gnarled and tangled, each generation weaving in and out of the next, the fact of it almost too mundane to comment upon when its members are asked for the details. Over the years, some of the stalls have changed hands, while some are owned or run by the same families. Today, Davis Dominique's three daughters—Sue, Amy, and Jerri—each own a stand. Sue's Seafood (Sue Toups and her husband Wade also own Wade's Seafood next door) has been there for over 40 years; Amy's Seafood Mart has been around for 32 years (Amy Galloway also owns K&B, named for her kids Keri and Brad), and Jerri's Seafood, which Jerri Lombas, the eldest of the sisters, opened about seven years ago. The logic for one family having several stands is as much about autonomy from the pack as it is brand differentiation and recognition; one size doesn't fit all for customer or owner. Fish- and shrimp-mongering may be the family business, but as families grow and adapt, they require their own nuanced ecosystems.
Anna Batiste, who owns Babygirl's, used to work for Elmer Doucet until she could afford to open her own stand with Shelita. April Michel used to work for Amy, who heard that April was selling her then-husband's seafood from their front yard 25 years ago. From a fishing family in Massachusetts, she's one of the only vendors who wasn't born in the immediate area.
Mr. Dominique, 90, whom everybody calls Mr. Ziggy, was born on a boat in Bayou Segnette out in back of the Shrimp Lot. "They were trying to rush his mother in from the Bayou, but they didn't make it in time," says Amy Galloway, who recalls her parents speaking French when they didn't want their nine children to know what they were saying. "We weren't allowed to speak French," she says. "It was just for them." Before they worked at the Shrimp Lot, the girls used to make their money skinning the muskrat, nutria, and other game their father would trap. Eventually, Dominique loaned each of his daughters money with simple interest to get them started. Galloway worked for Toups for a while before opening her own shop. So did Lombas. Their other sister Lou Ann Dominique works for April's Seafood now. Sue and Wade, who met roller skating at a rink that used to lie to the east on the other side of the Expressway, have let their kids take over Wade's for the most part. At Ruthann and Rob's, which has also been there since the early years, Ruthann's cousins Roy and Bubba Rivet are often seen on busy days helping out where they can to lighten the load.
The vast majority of the Shrimp Lot's stalls are run by women. They call out to customers who wander through the parking lot: What are you looking for, baby? What do you need, baby? We've got crabs today, baby. The terms of endearment are soft and generous, but the business is no nonsense. They will bargain with you, but there is little negotiation when they know their price is fair. They scrub their stalls until they sparkle. On slow days, they'll chat, but when business is brisk, so are they. There are male employees who help haul ice and crates, but the work is always equal, the burden of a heavy cooler or sack shared across each stall's employees.
When asked why the reins of operations have fallen into the hands of women, Ronnie doesn't hesitate to answer: "I can tell you right now. They're better salesmen." His own daughter Anne Temento Clavin, who began working at Temento Boat Mart when she was 12, is training to take over the Lot. She helped to organize the massive new sign that flashes over the Expressway, and has forged social channels for the business, bringing it into the present day. In the office, the family flips through an album documenting the process of the 30-foot sign being built. Ronnie likes to document things—his exploits in scuba diving, the race cars he's built over the years, the plumbing installations beneath the Lot's gravel. Most people at the Shrimp Lot have vague answers about the how and the when and the who of its origins, but Ronnie has kept a rigorous log of every shift and development.
Despite its humble trappings, every detail of the Lot's construction is reasoned out—from the pear trees and hedges along the back sides, which help with oxygen flow, to the pipes that lie beneath the gravel, and the cooler tables, whose measurements and angles are precisely measured to allow for 10 ice chests to drain easily into the water system below. He keeps his prices fair too; Amy said she pays $1,200 a month for four stalls—each twelve feet wide. Temento also owns the boat slips along Bayou Segnette out back, and leases out the buildings occupied by Ultimate Swamp Adventures and Segnette Landing, a restaurant in a 1916 cypress-built house that was moved from its original place next to his parents' shop. The family has a plot along the backside of the Bayou that they call the Cypress Plot. It's got five old cypress trees on 2.7 acres. Right now, Ronnie says it's in "dream land stage" but that they hope it can be a fish camp meets boat launch to complete their nearly whole Cajun Village.
The Shrimp Lot is quieter on weekdays. Some of the stalls will open later on or take the day off. On a balmy Wednesday in February, about half the businesses are shuttered, including the Market Wego at the back of the Lot, which is owned by Patrick Shay and sells homemade andouille sausage, gator meat, crawfish-stuffed chickens, boil spices, rum cakes, and cracklins. Roy Rivet at Ruthann and Rob's is hauling purple mesh bags full of live crawfish from a lift onto a metal table full of ice. Little Wade at Wade's Seafood is leaning against his stall's post watching cars drive in and out. Amy's girls are out front of her triple-wide stall, wearing white rubber boots, calling people baby, and holding up crabs for customers to inspect. Sometimes people want to feel their weight or crack them open to see if they're carrying roe, bright orange and shimmery in the sun, and Amy's girls will happily comply. The coolers are stocked with shrimp, red fish, snapper, and trout, their scales shining, eyes clear.
Amy Galloway says the recent cold and fog haven't been great for the crawfish, but admits it's not her area of expertise. She knows the most about shrimp, she says, explaining the differences between brown and white season (May versus August, and the locations in which the shrimp lay their larvae) and the way you can tell which are most fresh on the Lot (their heads are almost clear, the whiskers and legs all still intact). The fishers come in at all times of the day, dropping off fresh catch and IQF (individually quick frozen) shrimp; the boats are out for two or three weeks at a time, their haul flash-frozen on the decks almost as quickly as it's pulled from the water. At Captain Jonathan's, the only stall still run by fishermen, shrimping remains a family affair. Jonathan and Kim Rogers Palmisano's three sons all trawl and fish.
Despite the oddity of the past year, the Shrimp Lot has been fortunate. It's outdoors; people are cooking more; some restaurants have figured out ways to keep their kitchens going; pop-ups have flooded to fill the void of those that haven't. It's the nascence of the crawfish season, and Lent has just begun, which means a month of fish fries. Good Friday and Easter aren't terribly far away, and will bring a fresh wave of faces in seeking whole fish, and sacks full of crustaceans for boils. It's shaping up to be a busy month. Michelle Chauncey at Michelle's Crab Shack likes to say that after a long day of handing out seafood, her hands smell like money.
The fish in the lakes, the crawfish in the rice fields, the shrimp in the Gulf have no idea what's going on above the surface of the water. They keep swimming and getting caught and fueling the engine of this seemingly unremarkable little corner of the Expressway. It won't be long before the contours of time-keeping return to some semblance of normal, but the Lot will have gone on nearly uninterrupted, its clip of business right on time as it has been for the last 43 years.
At Jerri's, Veronica Creppel smokes another cigarette, answers the cordless phone an employee hands her. At Ruthann's, Bubba Rivet sells a whole sack of crawfish to someone poking at the writhing mass. At April's, another sale is punched into the register and Lou Ann lifts up a crab, daisy-chained to several others, to display them for an onlooker. At Dee's, Merlerine is counting cash, looking busy. "How were those shrimp, my baby?" she asks a customer who came by the week before. The answer is obvious, and she smiles hearing it, says thank you, my baby, before going back to counting her family's morning profit.