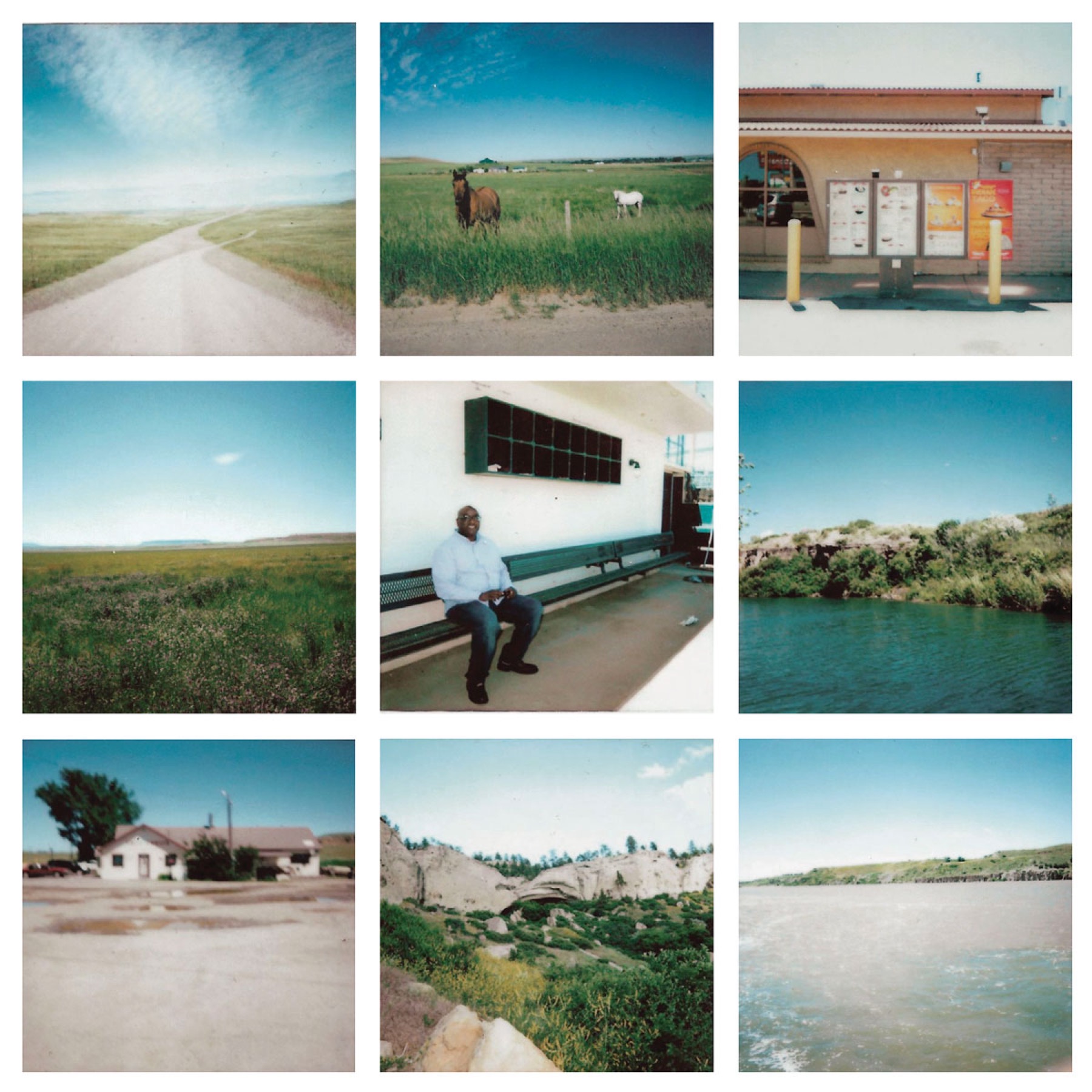 Polaroid photos courtesy the author
In Montana
By Jessica Lynne
In Montana, the sky seems endless. From the passenger seat of the white Toyota Tundra my dad has rented for our five-day trip here in the state, I keep poking my head out of the window like an overzealous puppy, marveling at the infinite blue as we drive away from the sleepy Billings airport. My dad has driven a truck my entire life and riding with him in one usually means there is business to attend to.
In 2018, we flew into Billings the last week of June for something akin to a father-daughter trip. My dad first suggested the trip in January, to commemorate the fortieth anniversary of his graduation from C. M. Russell High School in Great Falls. His job as an elementary school principal prevented him from attending the reunion, so I know this trip is his way of honoring the young person he was and, perhaps, the person he is still working to be. It had been almost thirty years since either one of us last visited the state. My dad, the history buff, suggested the trip with a desire to see some of the state's parks and historic landmarks. I am the only one to receive an invitation to accompany him because, like my father, I am interested in history though not to the same degree. His invitation was a parental vote of confidence: I would appreciate our encounters; I would not feign enthusiasm.
Montana, in a time before me, had been a home of great significance to my family. They've long since moved back South, so I want to experience as an adult the allure of this place that seemed a utopia to my relatives. Of my dad's three kids, I am the only one with even the slightest relationship to Montana. In an old family photograph, my parents—young, almost cool, and still very much in love—are standing together on a pier, lakeside in front of a mountain. My mother wears a red-and-white-striped long-sleeved shirt and is holding my infant self as both she and my father smile for the camera. The year is 1990 and my parents have traveled to Great Falls from Hampton, Virginia, to visit my paternal grandparents. I have not physically seen this photograph in many years, but the image is etched in my mind, and it is the first thing I think about as I say yes to my dad and this trip.
My father and I still do not share much by way of musical tastes, so our radio choices are a random assortment of NPR, (terrible) smooth jazz, and sports talk, but in the days leading up to the trip I create for myself a playlist of familiar songs that comfort me to carry me through this adventure. Mavis Staples is the first person I add to the list along with Roberta Flack and Stevie Wonder. I include a few gospel favorites from Mahalia Jackson and covers sung by Fannie Lou Hamer because they are steady and true, and their voices remind me of the many elders in my life. I include Alice Coltrane, the sage, and Sister Rosetta Tharpe, the maverick, and I even add to the list the big band leader Lionel Hampton. In my preparation, I learn that Hampton once frequented the Ozark Club, a popular Black jazz venue in Great Falls, and I would like to feel closer to the city in this cliched way. I include some Earth, Wind & Fire because these guys are my dad's favorites and my earliest memories of listening to music in my household can be summed up like this: gospel and Earth, Wind & Fire.
I don't ever expect to listen to this playlist with my dad in full. Perhaps a song every now and again. When you are a passenger in his truck, most sonic choices are his even when he compromises, hence, terrible smooth jazz. But I do think this playlist will be my own buoy.
This sky—Big Sky—looks nothing like the beachy blues of my Virginia hometown or the Georgia ceilings of my dad's early youth. Both places I know well by sight and scent and sound. Down South, a hazy blue sky could precede those stifling summer storms rolling in along the Chesapeake Bay. In Montana, this hazy blue sky is stunning but unfamiliar, breathtaking yet full of a meaning just beyond the reaches of my memory.
My paternal family first arrived in Great Falls, upsouth from Warner Robins, Georgia, the first week of June in 1977, stationed at the Malmstrom Air Force Base as my dad was heading into his junior year of high school. This new landscape stunned, and a military assignment became emblematic of greater economic stability for my working-class family. This would be their first of two stints living in the state. Because the orders that servicemen receive dictate much of their military experience, the family returned to Georgia two years later, but by that time it was clear to my grandparents that Great Falls was the city in which they would grow old, far away from their own siblings and cousins and parents—a home of their own making.
In the early '90s, by the time my grandparents had returned to the state, their grown children living elsewhere, this dream was close to realized. But, back in Warner Robins, my great-great-grandmother, Fannie Griffin, fell ill and my own grandmother became her caretaker. Montana became a dream of the past.
When I was old enough to ask questions about that photograph of my father, mother, and me—taken before my grandparents relocated back to Georgia permanently—I asked my relatives how often they saw other Black people. Someone would inevitably laugh as if reliving the inquiry as they had first considered it themselves decades ago. What I knew of my world then was that my Southernness was deeply connected to my Blackness. How did my family hold on to this way of being in a place so far away from their Nu-Way hotdogs or family gravesites or familiar roads?
In photographs of my family's Montana, I notice my relatives frequently captured in scenes around a meal or as hosts to my father and his siblings' young friends. Holidays or birthdays or the meeting of significant others are all anchored by elaborate dinners—baked hams and collards and sweet corn and caramel cakes and homemade lemonades and iced teas. They tell a story of deep love and pleasure. It dawns on me that contained within these minutiae is the shape of all that they retained.
My dad tells me as we pull into Billings's popular restaurant the Burger Dive, so much became possible in Montana. The diner is crowded, and our server keeps calling my father "sir" and referring to me as "ma'am" even though I've already told him that isn't necessary. The third time around, he laughs nervously as he sets our plates on the table and promises it won't happen again. I look at my dad and ask, well, how does it feel to be back?
I feel good, but it's been a long time, he says to me, and even though Great Falls is still another three hours and forty-five minutes away, I hear in his voice a nostalgia that I recognize from family lore, and I wonder whether this trip is about tracking time or trying to go back in time or trying to bend time in a different direction. The next morning, I add Otis Redding to my playlist, a fellow middle-Georgia man I know my father respects, connect my Bluetooth, and we begin the day with Redding's baritone.
In the winter months leading up to our trip, my father gets in touch with a reference historian at the Montana Historical Society Research Center to learn the gravesite location of Mary Fields. Fields, a Black woman thought to have been born into slavery in Tennessee, eventually made her way to Montana in the late 1880s after joining the group of nuns charged with running the St. Peter's mission in Cascade, Montana. Her reputation was noteworthy: tough, brash, no-nonsense yet reliable, hardworking. She was also a smoker and a drinker and found comfort in the local saloons much to the ire of Great Falls's Jesuit bishop, John Baptist Brondell. The activities were enough to get Fields banned from the mission in 1894. However, the next year, Fields took a job as a Star Route carrier, or an independently contracted mailperson, delivering mail via a stagecoach for the United States Postal Service. She is widely considered to be the first Black woman to have held this position.
In response to my father's inquiry, the reference historian emails him a Google link to the location of Mary Fields's gravesite in Hillside Cemetery in Cascade, Montana; she also shares the links to short blog posts the Research Center had written about other prominent Black Montanans, including a homesteader named Annie Morgan and the former Montana state librarian Alma Smith Jacobs. Before taking up that post in 1973, Ms. Smith Jacobs served as the director of the Great Falls Library. The historian closes her email by thanking my dad for his interest in history and for his patience and promises to "compile a packet" on Montana history that she will mail out to him. My father forwards me the emails months before our trip, and I mark them "important."
As we hike Pompey's Pillar on our second day, my father reminds me again that we can't forget to find Mary's gravesite. I know we are chasing history, personal and otherwise.
Black folks made their way to the American West in great numbers immediately following the enactment of the Emancipation Proclamation and the end of the Civil War. Referred to as "Exodusters," these men, women, and children sought new homes in states such as Kansas, Oklahoma, and Colorado to escape the brutality of plantation life and its afterlives. As Glenda Riley writes in her essay "American Daughters: Black Women in the West," during this period, "thousands of Southern blacks traveled up the Missouri River and along other routes in an attempt to escape the evils of sharecropping, tenant farming, and antiblack sentiment. Seeking a better life in the 'promised land,' they sought employment in cities or on farms, worked as cowhands, homesteaded, or created both rural and urban all-black communities."
In Montana, the cities of Helena, Bozeman, and Butte saw their Black populations rise as Black servicemen, particularly Buffalo Soldiers during the years of 1888–1898, found a home in Big Sky Country after concluding their service. Churches, civic leagues, art and social clubs, and entertainment venues became centers of Black community. Great Falls was no exception. During the late nineteenth and early twentieth centuries, Black life flourished within institutions such as Union Bethel AME Church—founded circa 1883 by the city's first Black residents—and the legendary Ozark Club owned and operated by former boxer Leo LaMar, who had migrated to Montana from Chicago.
A first iteration of the Ozark thrived in the early 1900s as an all-Black, membership-driven social club. A young LaMar would even train for matches there before the club closed in 1922, a casualty of the Prohibition era. A decade later, Montana was "wet" again, as historian Ken Robison notes, and LaMar, who had hung up his boxing gloves, revived the Ozark as a "'colored' members-only club."
Wartime efforts continued to bring steady waves of Black families to the area as the last century rolled on. This new Ozark quickly became the jazz joint to welcome musicians, comedians, and dancers such as Beulah Bryant, pianist Oscar Dennard, and a young Redd Foxx.
The Ozark was a major stop for musicians touring west from cities like Detroit, Chicago, and Minneapolis or athletes in town competing or conducting visits at the military bases. "When Joe Louis toured the air bases in 1945, he was 'wined and dined' by military leaders during the daytime," Robison writes in his article "Breaking Barriers: Everyone's Welcome at the Ozark Club," "but he spent his evenings at the Ozark Club." The same went for prominent figures such as the Harlem Globetrotters or big band leaders like Lionel Hampton. Because I learn that Dinah Washington (a former vocalist for Hampton's band) also sang at the club, I add "This Bitter Earth" to my playlist, a song I took great care to memorize after hearing it in Charles Burnett's film Killer of Sheep. Washington and the song's writer and producer, Clyde Otis, were both Southerners, too.
None of this was information I knew before we began our trek, but I started to compile a folder of small articles, Google search returns, and factoids for myself. It isn't that I considered such history one that immediately belonged to me, in the way that we all assign narratives as ours. But these early Black Montana communities cultivated the social infrastructure necessary for my family to feel at ease thousands of miles away from their first home. Learning about them helped me understand what history had made possible a softer landing for my people.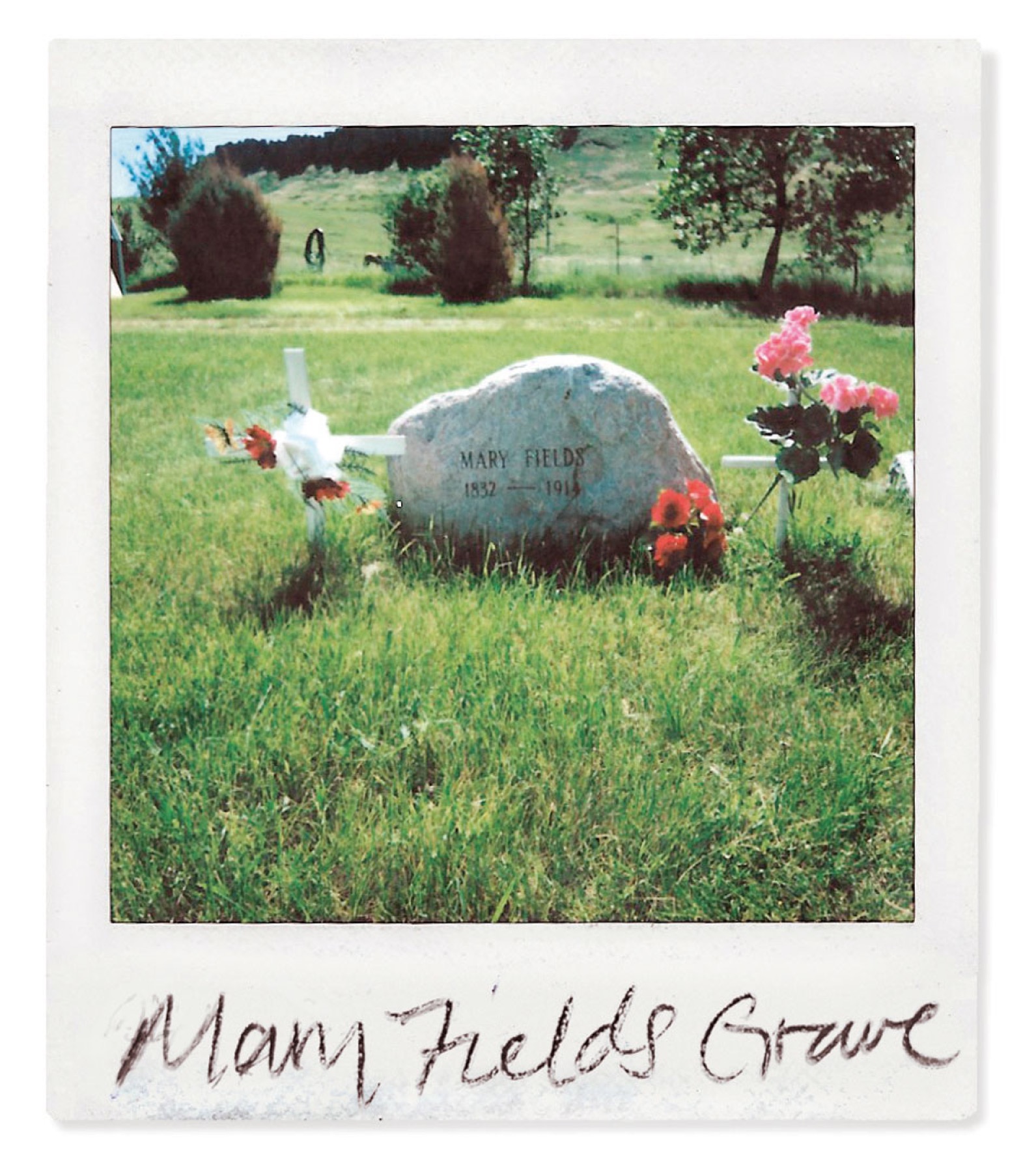 C. M. Russell High School is relatively empty when my dad and I enter the lobby. It is our first stop in Great Falls, and I have heard many stories about this place where my dad and my late uncle became athletic phenoms. I watch my dad navigate his way, by memory, to the high school gym he had not stepped foot into in four decades. I listen to him talk about the guidance counselor who convinced him to take the ACT and subsequently drove him to the test site days later in the nearby city of Havre. We walk past lockers and trophy cases and banners oozing school spirit.
My dad was a baseball star. Humble, he rarely talks about his playing days now, but as part of the Great Falls American Legion team, folks would line up to see him play, my grandmother says fondly whenever she reminisces. I believe this to be true, even though I know time has a way of leading to embellished memory. C. M. Russell didn't have a varsity baseball team, and so, as my dad and I walk toward the back of the gym near the coaches' offices, he makes sure to note this as the reason I won't find his high school photo on the wall. There is, however, a photo of my uncle Tony, a 1979 first team all-conference and all-state cornerback who is forever enshrined as one of C. M. Russell's football greats. I had never seen this photo of my uncle, who wore the number 22 as a player in high school. My dad and I stare at the wall in silence for a minute or two as if speaking might open a floodgate for which neither one of us is prepared. I step back behind my dad to give him space as this moment between him and the memory of his little brother is extended. Let's see if anyone is inside the office, he says to me after this pause.
No one is inside the office. Instead, what we find is an obituary for my late uncle pinned to a corkboard. I realize then that it is almost ten years to the day since my uncle died, and I have to stop myself from snatching the obituary from the wall. I had not been able to attend his funeral, and this still feels as though I have committed a terrible offense. In the years since my uncle's passing, my dad would occasionally ask me to try and source old newspaper clippings from the local papers in Great Falls that featured highlights of his brother's glory days. Instead, a distraction would always emerge and I would inevitably forget his request.
I try very hard to remember the last time I saw my uncle alive, but I cannot recall the memory.
Certain facts from my Montana folder stand out to me. Like how in the 1980 census, one year after my family left Montana for the first time, of the 786,690 documented residents, only 1,738 identified as Black or African American. Or how the land now occupied was first stewarded by Blackfoot, Crow, and Metis Indians as Black homesteaders continued to migrate north and west to a kind of safety.
Did you ever hear back from the research historian?, I ask my dad as we pull off from our hotel in search of Mary Fields. He had forgotten to share the materials with me. The closer we get to the cemetery the more arid and windy the roads become, and I am curious how many people pass this way daily. Cascade, the town in which the cemetery is located, is home to 684 people; the city's official website encourages new residents to download a welcome packet to get to know the town better.
We don't find the cemetery immediately, missing our right turn on St. Peter's Mission Road before re-routing ourselves. We park the truck and eagerly begin to look for Mary. The sky appears so close to us today; I swear that if I wanted to touch it, I could, as if the spirit is extending to me an invitation to step into a liminal elsewhere. I wonder, then, if this is Mary's sky.
Her grave plot is well manicured and well attended to: fresh flowers have recently been placed there, and I think about the profundity of a Black woman, born into slavery, whose wayfinding efforts remain enough of a marvel that I find myself standing at her graveside more than a century later.
Itook photographs of everything while in Montana: the Missouri River as it flowed through Giant Springs State Park; the two horses I greeted while looking for Mary Fields's grave; the American Legion baseball stadium where my dad played centerfield as a teen; the Taco Treat restaurant where my dad and his friends would hang out;
the Little Bighorn Memorial; and the sky—blues and clouds and sun that kept my eyes wide open.