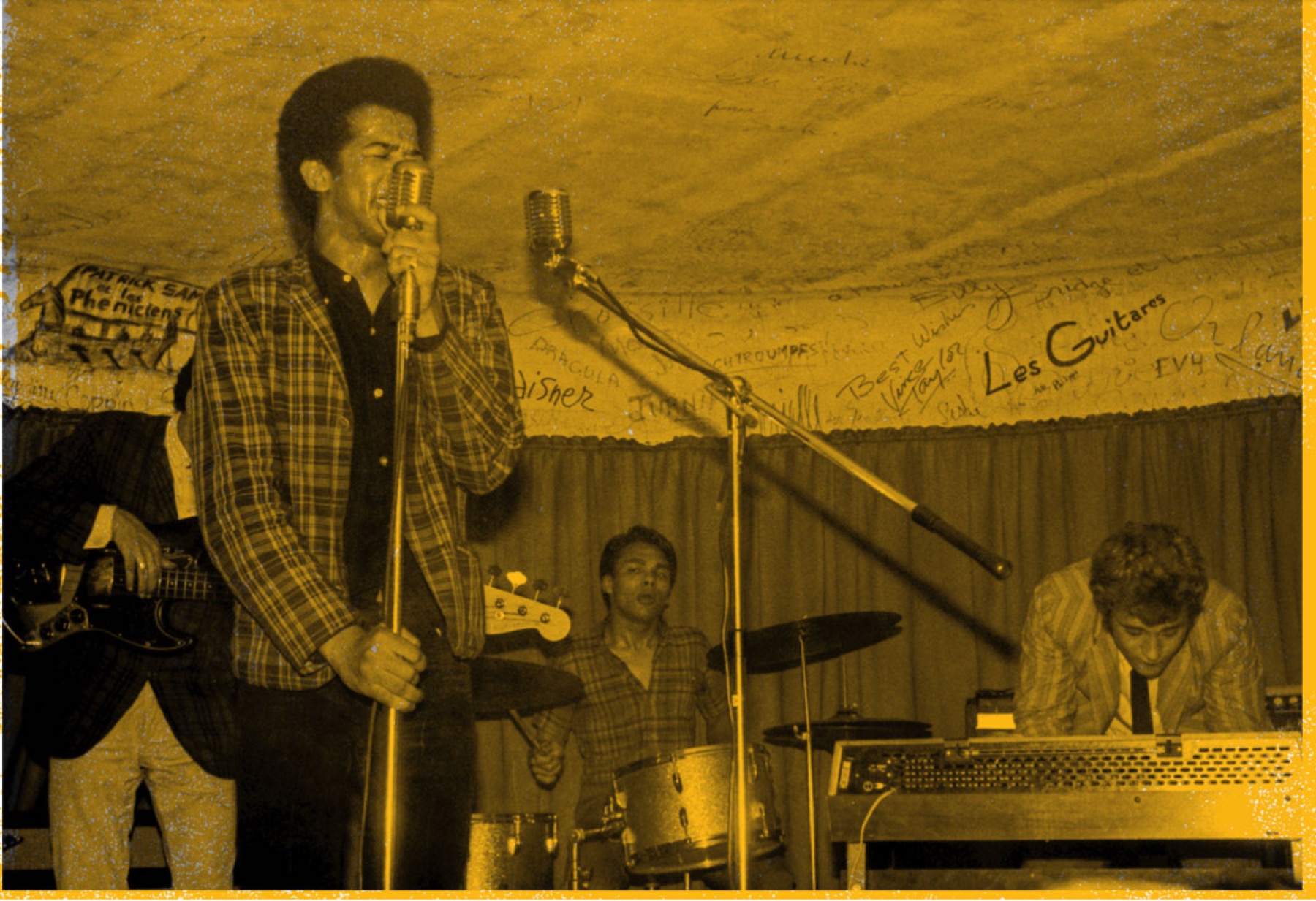 Vigon et les Lemons performing at Golf Drouot in Paris, 1964. © André Crudo/Photo12/Alamy
In Search of Vigon
By Miles Marshall Lewis
A forest green sign hanging above globally familiar golden arches announces ouvert, on the first level of an Haussmannian-style building in the ninth arrondissement of Paris. Six weeks after the French capital ended an eight-month-long COVID curfew, cafés, coffee shops, and fast-fooderies still pronounce to the public they're open for business. On the corner, an older woman wearing a hijab sits outside underneath an olive umbrella, feeding her child pomme frites. Where Boulevard Montmartre meets the rue Drouot, I finally notice the small plaque I came searching for, marking this McDonald's as a former "temple du rock" from 1955 to 1981: Le Golf Drouot nightclub.
Tracing Southern soul music's international migration led me to 2 rue Drouot in the Opéra district. A quaint Korean bistro called Pause Corée now occupies the address—once a hangout spot for David Bowie, the Who, and the Moroccan soul man I'm specifically in search of, Vigon. I arrange my camouflage cloth mask and walk into the restaurant, looking past colorful banners to the exposed brick walls they hang from: the original walls of Golf Drouot. Climbing a forty-step staircase once led clubheads to an expanded space above the current-day McDonald's (formerly Café D'Angleterre) to a dance floor area with a small stage. Picture the Paradise Garage mashed up with CBGB, and voilà.
I cross the street and photograph Pause Corée alone, then with adjacent McDonald's in the frame, as Parisians zip by on rented electric bicycles or wander the sidewalk absorbed in their smartphones. Casting my mind back to black-and-white pictures from the early '60s that I googled the day before, I imagine the corner of the block crowded with young adults, all waiting in line underneath the red neon sign reading golf drouot. Sunglasses and sport coats, mod cuts and miniskirts.
The horseshoe-shaped area currently occupied by kids unboxing Happy Meals once housed an indoor mini golf course in the '50s (hence its name). Inspired by Whisky à Gogo over in the sixth arrondissement, a bartender floated the idea of attracting a cool crowd with American rock & roll. Installing a Seeburg jukebox full of seven-inch vinyl records brought in by American soldiers stationed in the city, Golf Drouot was soon alive with the sounds of Sam Cooke, Ray Charles, Jackie Wilson, Fats Domino, and more. This went on for almost a decade before an African greengrocer on vacation named Abdelghafour Mouhsine made his way to the stage in November 1964, covering Little Richard songs like "Long Tall Sally" and fronting a local band called Les Lemons. The lanky nineteen-year-old with the relaxed afro had rechristened himself Vigon.
"I was going to the grunts' dances every Saturday," the singer told Agence France-Presse thirteen years ago. As a teenager in Morocco, he encountered the music that formed the foundation of rock & roll while partying at U.S. military air bases in Sidi Slimane and Kenitra. "And there, they brought the records that came from America on the week of their release. 'Twist and Shout' by the Isley Brothers, it was sung in Morocco before the Beatles covered it!"
Musically, the world of the mid-'60s takes of bit of imagination to conjure. I am old enough to recall the days before streaming services, broadband internet, digital file sharing, and international cable networks—all things that subsequent generations of music lovers have long been used to. Practically speaking, to be in France back then meant that local radio mainly supported hits like "Les Mauvais Garçons" by Johnny Hallyday and other homegrown singers like him. Some (like Hallyday) imitated the rockabilly style of rock & roll from the U.S. But the soul music of black American labels like Stax and Motown was still largely the stuff of cult followings. Record companies' global distribution lacked the proper reach. French partyers had a better chance of hearing Bo Diddley at Golf Drouot from 45-rpm singles brought into the country by Americans than on the France Musique radio station.
And whereas Johnny Hallyday felt free to mimic Elvis, where were the black French who might've copied the Ike & Tina Turner Revue? People like my wife's family—originally from the French West Indies of Martinique—made up the population of black France, along with Africans from French-colonized countries like Senegal, Algeria, and the Ivory Coast. But the period of the '60s holds no record of black French singers expressing themselves through the idiom of soul music from the states, outside of occasional cover versions. Les Surfs, a sextet from Madagascar, scored on the French charts with "Reviens Vite et Oublie," aka the Ronettes' "Be My Baby," and "Shoop Shoop…Va L'Embrasser," a cover of Merry Clayton's "The Shoop Shoop Song (It's in His Kiss)." The white French rock & roll group Les Chaussettes Noires adapted Chuck Berry's "Johnny B. Goode" for their biggest hit, "Eddie Sois Bon," in 1961.
And then there's Vigon, who scored a deal with Atlantic Records after his debut at Golf Drouot.
Crocodisc record store sits in walking distance of the Sorbonne, on a street literally named the rue des Écoles, or the "street of schools." I pass the university's stately chapel and amble down the rue Champollion, known among film buffs for its arthouse cinemas: La Filmothèque, Reflet Médicis, Le Champo. Taking note of Wong Kar-wai's In the Mood for Love and a Jodie Foster retrospective, I stroll the Latin Quarter a few blocks before noticing an ornate chain-link gate signaling that Crocodisc is closed for business.
nous serons en vacances du 25 juillet au 15 août reads a sign taped to the front door. Even considering how hard Parisian businesses have been hit since the pandemic, plenty of French stores continue to take their August vacations. I had intended to initiate an old-fashioned digging-in-the-crates search for some Vigon vinyl, but so much for that. In France, the so-called juilletistes holiday in July while the aoûtiens take off for parts unknown in the month of August. Unluckily for me, some pretty devoted aoûtiens run Crocodisc.
Unable to flip through their labeled bins, I peek behind the gate to see the music on display, with an eye for black American music. Of almost twenty-five albums presented in the window, nearly half come from the U.S. I spy jazz drummer Chico Hamilton's The Dealer; Sun Ra's Blue Delight; Ramsey Lewis's Mother Nature's Son; James Brown's rare disco album, Sex Machine Today; Jimmy "Bo" Horne's Dance Across the Floor; Weather Report's 8:30; Lonnie Liston Smith's Visions of a New World; the Main Ingredient's Euphrates River; the Blackbyrds' City Life. No Vigon, though I'm not surprised.
The Atlantic Records roster consisted of soulful legends like Aretha Franklin and Wilson Pickett by 1968 when they released Vigon's sole American single, "It's All Over" (with "The Spoiler" on the B-side). Sites like Discogs sell the seven-inch online but combing through dusty vintage vinyl always feels like more fun. Since rocking Golf Drouot, he'd released his only French-language single, "Un Petit Ange Noir" (a translation of the Joe Tex ballad "Hold What You've Got"), in 1967. English, however, was a language Vigon could only sing phonetically—he would never learn to speak soul music's native tongue, or completely understand it. By '68 he hit a groove in his adopted city, opening for the likes of Little Stevie Wonder, Otis Redding, and Sam & Dave when they made their live appearances at Olympia music hall.
Walking twenty minutes from Panthéon, crossing the Seine to Les Halles by tourist-filled footbridge, I arrive at the Monster Melodies record shop. The owners must be juilletistes because they're open for business. Vigon's raspy, Gallic-targeted soul never set the world on fire, including France. The singles I hope to find include his covers of r&b greats like Otis Redding ("Don't Mess with Cupid"), Big Mama Thornton ("Hound Dog"), Larry Williams ("Dizzy Miss Lizzy"), and Bob & Earl ("Harlem Shuffle"). But Vigon's versions never topped the charts, in France or elsewhere.
Still, American soul music touched Paris back when James Baldwin and Josephine Baker walked the same cobblestone streets laid out in front of this record store, way before online interconnectivity made it easier for cultures to bleed onto each other. Such was the strength of the music. I go in search of Vigon to prove that for a bright, shining moment in the 1960s, he actually happened.
Monster Melodies greets me with Marvin Gaye's "Let's Get It On" wafting through the air, looking like some musicologist hoarder's nightmare (complete with a dusty disco mirror ball hanging from above). Vinyl albums even decorate the ceiling here, and the proprietor has carved a barely navigable path through cartons of music stacked high. Like the window display at Crocodisc proved earlier, classic black American music continues to be a commercial draw worldwide, especially among obsessive vinyl collectors. Decorating the area are platters that matter by Al Green (I'm Still in Love with You), the Crystals (He's a Rebel), and Stevie Wonder (Songs in the Key of Life), even platters that perhaps didn't matter as much: Split Decision Band by the group of the same name, and Honey Cone's Sweet Replies.
But no Vigon. In a remote corner I rifle fruitlessly through the end of music's alphabet, between the Undisputed Truth and Barry White. I finally ask the owner, who immediately responds in accented English; he accesses his archives on a computer as timeworn as our surroundings. He's heard of Vigon, at least. But no dice. He says Universal Music France released a greatest hits album, The End of Vigon, on compact disc in 2009. Monster Melodies is all out of those. (The title, I learn later, is named for Vigon's cover of "The End," a 1958 hit ballad by Oklahoma-born African American vocalist Earl Grant.) The owner suggests Crocodisc.
Suddenly, I remember seeing Vigon before.

Sitting by a stone sculpture of a gigantic head, near the five hundred-year-old Gothic church of St. Eustache, it all comes back to me. In the summer of 2019, I'd visited an exhibition at the Musée de l'Histoire de l'Immigration called Paris-Londres, Music Migrations: 1962–1989. Curators showcased how waves of migrants from the British West Indies influenced London through musical, political, and social movements. They also touched on how Africans from former French colonies did the same here. The wide-spanning curation included vintage editions of London Lite and New Musical Express; Lee "Scratch" Perry figurines; flashy fashion from Afrobeat pioneer Fela Kuti; 1980s French hip-hop radio emissions; and more.
All my photos from the exhibition lived on in the cloud. With skateboarders gliding, crashing, and falling behind me, I connected to some weak public wifi to download my shots. And there was Vigon. The museum positioned four twelve-inch vinyl sleeves behind a glass partition, albums by Bernadette Grimm, Les Safari, Les Missiles, and Vigon. His placement in the exhibition was never crystal clear to me. Though, yes, he was a north African singer recording in France, he sang soul music. The American r&b covers he chose never had a political bent like those of Nina Simone or Curtis Mayfield.
"In Paris in the 1970s, African artists became politicized with the extreme left in a movement that made much use of music to recount the stories of immigrant workers," curator Stéphane Malfettes told The Observer newspaper at the time. "It was a movement of struggle. Not all African music was political, but it took on a political aspect. Even if it was very trendy and popular, the lyrics were very politically engaged." Not Vigon's, obviously.
I descended a nearby escalator and rode the métro over to Montmartre, where my wife's cousin Vincent lives. We'd gone to the Musée de l'Histoire de l'Immigration together, and I recalled that he'd bought a catalog. I expected maybe to find out more. But no. Vigon merits his own page in the exhibition catalog, but the information recounts things I already know (though the curator did interview him). Vincent reshelves his book, pours glasses of a 2016 Bordeaux, and starts telling me what he remembers about the first season of the French version of The Voice.
At sixty-seven, Vigon resurfaced on channel TF1's singing competition reality show, The Voice: La Plus Belle Voix. (America's The Voice isn't the first iteration; the original comes from Holland.) He performed classics like "Soul Man" and "I Got You (I Feel Good)"; Vincent says that judges eliminated him after a few weeks. France had largely forgotten him by 2012. If anything, he was more semi-famous in the new millennium as the father of Sofia Gon's—a pop singer who released two albums (Comme Avant, Le Marché des Insolites) before an untimely passing in 2011 from a heart attack at twenty-five. They sang a duet on her debut album's "Good Times," though it's a mystery how close or distant they were. But my cousin-in-law has worked at Fnac department store since the '90s and remembers shipments of Les Soul Men CDs by Vigon Bamy Jay eight years ago: the unique trio of Vigon, sixty-three-year-old Johnny Hallyday backup vocalist Erick Bamy, and Jay, the thirty-four-year-old former lead singer of the French r&b quartet Poetic Lover.
Apparently Vigon's loss on The Voice quickly turned into a win. Pushing seventy, he scored a gold record with the Vigon Bamy Jay album Vincent tells me about. Les Soul Men featured r&b standards like "(Sittin' on) The Dock of the Bay" and "Ain't No Sunshine." The trio's velvety voices found just the right chemistry harmonizing over mainstream urban radio grooves. Like an unspooling soap opera story, the drama continues over some YouTube clips and a second round of wine. Vincent says that months before releasing 2015's Love Me Tender, a Vigon Bamy Jay sophomore album of Elvis covers, Erick Bamy died of cancer. Since then, Vigon's gone back into seclusion.
"Now many soul men find their work reappearing on French, English and Japanese labels," music writer Gerri Hirshey wrote in Nowhere to Run: The Story of Soul Music. "Like so many tons of surplus wheat, after its late-sixties bumper crop, soul became most valuable as an export. Some black artists, like Marvin Gaye, moved permanently to Europe.…The soul circuit overseas is still lively." Hirshey wrote those words circa 1984. But I'd brought her love letter to soul music's origins with me on vacation, and the passage resonated after seeking, finding, and losing Vigon all over again in the space of an overcast week in Paris.
I hoped to eventually speak with him, about his role in the movement of Southern black cultural expression in France by way of Morocco; about France's fetishization of black culture, which started with jazz during the first World War and continued in the '60s with the Southern soul aesthetic he clearly loved so much; about the complexities of U.S. military bases in the Arab Maghreb serving as his gateway to black American expression. Even before the overseas soul circuit Hirshey mentions became lucrative in the 1970s, Europe made the occasional attempt at importing Southern-based rhythm and blues. The U.K. churned out the blue-eyed soul of Dusty Springfield and Tom Jones. But France—with its colorblind reputation on race—turned out to be a proving ground for a skinny African émigré to find stardom interpreting the black American spirit, even sharing stages with the likes of Otis Redding and Chuck Berry. I wanted to ask what that was like.
Googling the last known publicist for Vigon Bamy Jay, I requested an interview. No one responded.