Lowell George in Eight and a Half Songs
By Elizabeth Nelson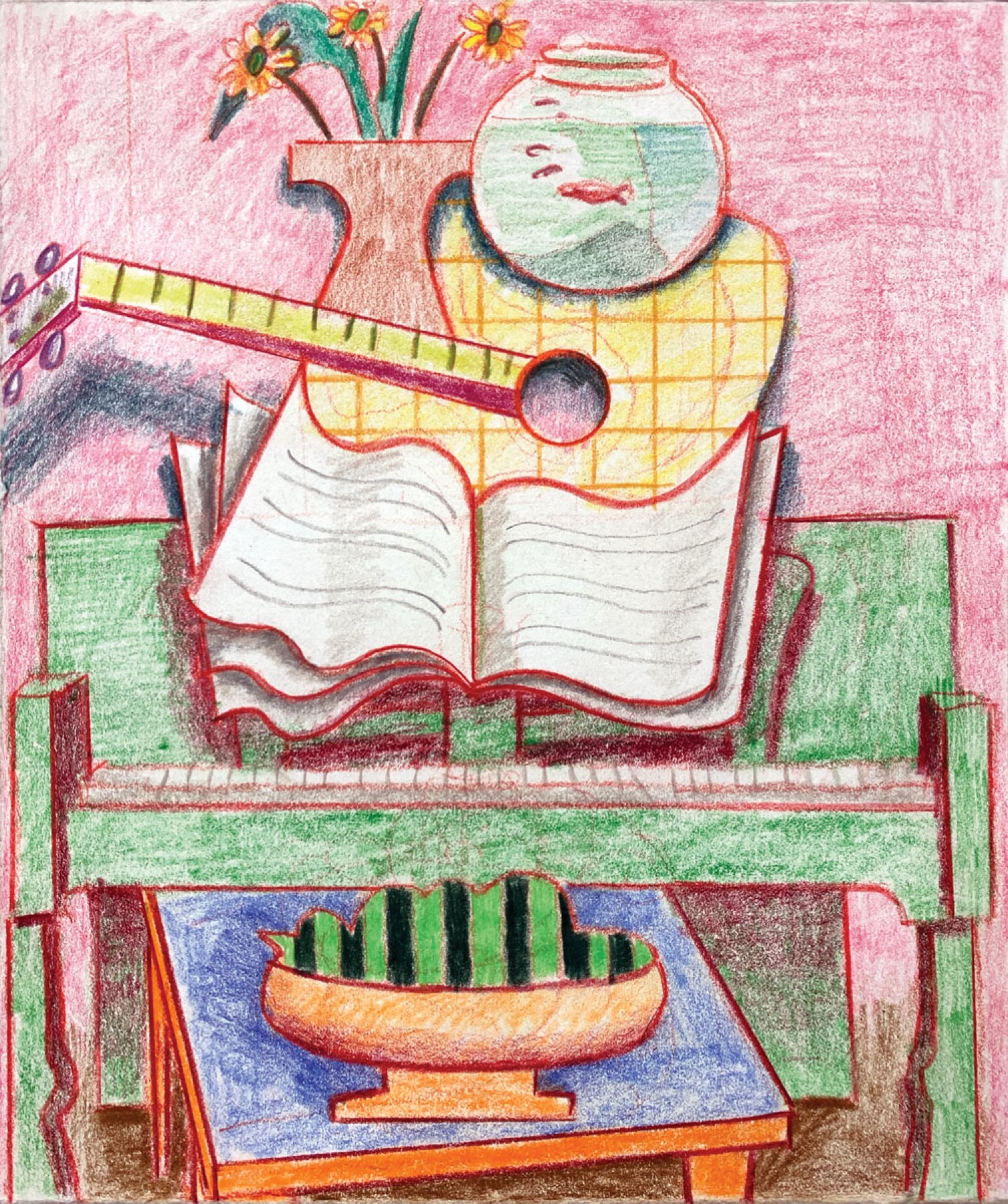 Yellow Guitar, 2021, by Edgar Bryan. Courtesy the artist
1. "Easy to Slip"
Like many people who prove indelible, Lowell George was a miasma of contradictions. He was a Hollywood kid best known for playing an idiosyncratic brand of Southern music that was foremostly appreciated in the Mid-Atlantic and Europe. He was an intellectual and a pioneering slide guitarist who trafficked in silly songs about fat men in bathtubs and hamburgers at midnight. He was a short and sometimes concerningly overweight individual who was utterly, even diabolically, irresistible to women. He was the best boyfriend, because he was encouraging, uncondescending, and solicitous of women's talent in a manner uncommon to his time. He was the worst boyfriend, because he was married. Many musicians and producers who worked with him found the experience life-affirming and beatific, but his own band Little Feat was a nonstop apocalypse of roiling tensions. He was a sideman to the wildly divergent artists Frank Zappa, John Cale, Rickie Lee Jones, and Robert Palmer, and in every case it made total sense. Lowell's talents were limitless and his tastes aggressively catholic. Like a method actor, he had an eerie way of fully transforming himself into whatever a project required. Chamber music, blue-eyed soul, and avant-blues all came to him without inhibition. His best-known song is 1971's doleful trucker ballad "Willin'," whose formula of "weed, whites, and wine" has proved a time-tested recipe for transcending adversity; the song has been covered by everyone from Bob Dylan to Mandy Moore. He was a man of heroic appetites, and they say time loves a hero. Well, maybe it does and maybe it doesn't. "Easy to Slip," the first song on Little Feat's second album, Sailin' Shoes, is nothing less than a how-to for a new kind of swaggering, revolutionary roots music. It's three minutes and twenty seconds of Booker T.–groove, Merle-esque twang, and a melody that might elicit a raised eyebrow from Paul McCartney himself. It's the sound of someone who loves country, soul, pop, and confessional folk music so much that he can't go three minutes without playing them all at once. That it is not at least as well known as your average Eagles hit is objectively weird, but this is something we should register about Lowell George and Little Feat: weirdness is the default setting. Glaring oversights. Accidents of history. Hits that should have been. Hits that will never be.
To be fair, for all its ingratiating hooks, "Easy to Slip" vibrates on a much stranger frequency than the Eagles ever did. It's a song about appetites, and giving in to them, but it betrays no particular opinion about this. It is not leering and lusty, but neither is it scolding or cautionary. If anything it's dreamy.
It's so easy to slip
It's so easy to fall
And let your memory drift
And do nothing at all
Our vices, it seems to say, pull us like the moon pulls the tide. You give in to them finally not because you want to, or don't want to, but because your vices are who you are. This is sad, yes, because your vices will eventually kill you, probably sooner than later. On the other hand, it's not so bad, because you will have lived as Lowell George seems to have believed was appropriate: viscerally, manically, swallowing whatever is the human equivalent of the forty million krill the average blue whale ingests on a daily basis. Lowell George was a whale of a man.
2. "Hungarian Rhapsody No. 2"
His odd life and ambivalent relationship to fame come with a suitably offbeat origin story. At the height of the studio system in Hollywood during the 1920s through the 1940s, his father, Willard Hampton George, was known as the "furrier to the stars," which is exactly what it sounds like; if a motion picture required its cast to be clad in fur, Willard Hampton was your man and his Wilshire Boulevard shop was your destination. This connection provided a surprising level of entrée into Hollywood social circles. The senior George outfitted Rita Hayworth and Greta Garbo, hunted with W. C. Fields, and built a home directly across the road from Errol Flynn. He was widely known as "the chinchilla industry's greatest friend," a turn of phrase which rhymes with the explicit absurdity of Lowell's own sensibilities.
Housebound by asthma, Lowell began taking music lessons at age five and almost immediately demonstrated remarkable aptitude. Within a couple years he was performing Franz Liszt's "Hungarian Rhapsody No. 2" on harmonica on the televised talent competition Ted Mack's Original Amateur Hour, a forerunner to Star Search and American Idol. Much of this is lost to history. Some say he won, or at least they heard him say he won. Other accounts claim that a teenage Frank Zappa was one of his fellow competitors and that both were bested by a tap dancer. None of this is verifiable. There is plenty of Original Amateur Hour footage available online, but apparently none of this historic night. Which is a shame because—"Hungarian Rhapsody" on harmonica? How even? Why even? Like so many Lowell anecdotes it explains everything and nothing.
Over the next several years he would master the sitar, piano, and flute. As a high schooler he favored jazz stalwarts Herbie Mann and Rahsaan Roland Kirk but soon enough caught the Byrds live and the rock & roll bug in the process. After graduation he formed a loud, art-damaged outfit called the Factory, which included future Little Feat drummer Richie Hayward. The Factory achieved only modest success but, in keeping with the surreal nature of their time and place, marked appearances on the sitcoms F Troop and Gomer Pyle, U.S.M.C. playing fictional versions of themselves. Many musicians spend years attempting to land the kind of exposure a national television appearance can mean for their careers. In Lowell George's life, it was the sort of thing that just happened.


3. "Dirty Water"
Finding a standing gig in the late '60s was freighted with an urgency that superseded standard ambitions. An unemployed musician was a prime target for being drafted into the war in Vietnam.
"Everybody was terrified," guitarist Fred Tackett recalls. "You're just starting to build your career and all of the sudden you're facing a three-year interruption or even death." The Little Rock, Arkansas–born Tackett was a recent arrival in L.A., having been recruited into Jimmy Webb's band. Webb had just scored huge hits as a songwriter with "By the Time I Get to Phoenix"(for Glen Campbell) and "Up, Up and Away" (for the 5th Dimension) and used his earnings to rent a twelve-room mansion where official residency was informal and the party never stopped. That's where Tackett, who would contribute many songs to Little Feat and eventually replace Lowell George in a re-formed lineup, first encountered him.
"It was a weird mix," he recalls over the phone. "You would wake up and Jimi Hendrix would be crashed out on the couch and Peter Tork would be barbecuing. The first time I saw Lowell he was sitting on the floor in a white suit playing sitar, and I asked him if he was interested in playing any psychedelic music. He told me no, he was exclusively interested in playing Indian music. Three weeks later he was in the Standells."
Of his many awkward couplings, George's abbreviated stint in 1968 as frontman for the long-running L.A.-based garage titans has a persuasive claim to be his strangest. How it is that the Standells came to briefly replace their departed drummer and singer Dick Dodd with an obscure multi-instrumentalist with a preference for jazz is one of those threads that you can pull on for hours without ever fully unraveling it. The band's signature song was and is the mighty "Dirty Water," a 1965 proto-punk love letter to the muddy banks of the Charles River, some 2,600 miles from Hollywood, the song that blasts from the speakers of Fenway Park every time the Red Sox record the final out in a victory. Which is in itself confusing, promoting as it does the fully rational idea that any band singing "Boston, you're my home" with that much conviction must have at least some formal or informal connection to the city. They didn't. None of them had ever even been there when they tracked it.
The Standells retained two original members from their initial founding in 1962, which did not prevent George from immediately appointing himself the band's leader. He had ideas for freshening up the act. He thought they should do a throwback gimmick where they all dressed as greasers. He also added a new part to their set where he would sit on a carpet onstage and play solo sitar, so there was at least some truth to what he told Fred Tackett the first time they met. George's stint with the Standells lasted a few months. He made five hundred dollars a week for his trouble. He wasn't drafted into the army. But shortly after, he was drafted into the Mothers of Invention.
4. "My Guitar Wants to Kill Your Mama"
By 1968 Frank Zappa was a well-established eminence of the L.A. scene, having garnered a large and loyal following for his series of escalatingly bizarre satiric art rock–fusion albums backed by the ever-evolving collective the Mothers of Invention. A central irony of Zappa's career is that a figure such as he—aggressively unglamorous and anticommercial to the point of belligerence—could only ever have gained traction in the music industry during the 1960s, when money flowed like water and an unusual number of industry executives fully tolerated the notion that eccentrics of every stripe could and should be nourished and promoted alongside teen pop stars and proven hitmakers. And yet Zappa hated the Sixties, or seemed to. The licentiousness, the self-congratulatory utopianism, the co-opting of counterculture messaging for the purposes of selling shiny objects—all of it struck him as more than worthy of the scorn and ridicule he would gleefully heap upon it. Zappa was a lot. And he was always on the lookout for young and local talent.
Zappa had been a skeptical benefactor of sorts for George's early band the Factory—skeptical was typically as far as Zappa would go—producing some tracks and imprinting upon young Lowell a sense of controlled anarchy that would inform the remainder of his career. And so it was not entirely surprising that he would recruit George to play guitar in the Mothers in 1968, after the Standells misadventure had run its course. It was a good opportunity but not a very good experience.
I spoke on the phone to Ted Templeman, the storied producer who helmed two Little Feat LPs, as well as countless classics by Van Morrison, the Doobie Brothers, and Van Halen. Templeman and Lowell George became particularly close, speaking almost nightly in the years before Lowell's death in 1979, about politics, martial arts, and the important things in life. Templeman told me that he thinks Zappa was a bad influence on Lowell.
"A lot of guys were kind of damaged by Frank Zappa in some way or another," he said. "He had a way of making people feel insecure."
And this is something else that we should register about Lowell George: For all his swaggering bravado, he didn't require any assistance in feeling vulnerable.
In some ways Zappa and George were very similar. Both had obsessive work ethics and autocratic tendencies, not to mention a willingness to hurt feelings to achieve their aims. In other ways they couldn't be more different. Zappa held the use of drugs in contempt, while George held it close to his heart. It was a brief meeting of the dangerous minds, but crucial in some sense to understanding why Little Feat never quite stepped right.
The best song they tracked together is "My Guitar Wants to Kill Your Mama" from the 1970 Zappa release Weasels Ripped My Flesh. Its legitimate dirty groove (think everything on a spectrum of ZZ Top to Curtis Mayfield) is a prelude to stranger things. The lead guitar turns homicidal. The horn section transforms into a harmonica and then a marching band and then a Spanish guitar. Imagine the Doors if they had ever become legitimately frightening. Little Feat in gestation.
5. "44 Blues / How Many More Years"
One thing—maybe the only thing—about Lowell George that seemingly everyone agrees on is that he really did have very small and very unusual feet. Sized eight-and-a-half and reputedly as wide as they were long, they seemed to have attracted the attention of everyone he encountered. Some say it was Mothers of Invention drummer Jimmy Carl Black who inspired the eventual name Little Feat with an offhand remark during a rehearsal; others credit Lowell's weed dealer Leslie Krasnow. Anyway, the moniker was a fait accompli and in some ways an omen. For all of their massive ability, Little Feat always felt circumscribed by intrinsic limitations.
The initial lineup was a murderers' row of stunning musical talent and potentially legitimate murderers. Keyboardist Bill Payne, drummer Richie Hayward, and bassist Roy Estrada filled out a brilliant foursome that tended toward running-in-the-red frustration. Hayward and George had both been members of the Factory and the Mothers, and their relationship was tumultuous on a good day. Both were hard-headed. They were also brothers-in-law, married at one time to the sisters Patte and Pam Price, part of an incestuous overlap within the band, like an under-the-radar Fleetwood Mac. They fought relentlessly, and often violently, for years. Billy Payne was no shrinking violet himself. Roy Estrada is currently serving a life sentence in Texas for felony child abuse. It was sort of a fucked-up scene.
George seemed to have taken to heart Zappa's control-freak tendencies, and the rendering of their self-titled debut quickly devolved into a fraught showdown with producer and friend Russ Titelman over everything from creative direction to publishing rights. The sessions would engender a permanent rift. At some point during the recording, George sliced off a chunk of his left palm in an accident with, of all things, a model airplane. Ry Cooder agreed to fill in on guitar, playing slide on several tracks before George's ego could no longer stand it. While tracking the tune "44 Blues / How Many More Years," he grabbed his guitar and engaged Cooder in a legendary duel which promptly reduced his injured hand to a bloody pulp. It's some of the best music on the record.
In spite of—or because of—the perilous environment, Little Feat is a landmark roots LP, slotting comfortably alongside the Stones' Sticky Fingers and Rod Stewart's Every Picture Tells a Story from the same year, all three of them records that alchemize country, soul, and blues into a vernacular which paradoxically feels both novel and timeless. Strong reviews and no shortage of ace material notwithstanding—including the winsome character study "Truck Stop Girl," the stoner-boogie anthem "Hamburger Midnight," and the first appearance of "Willin'"—Little Feat sold abysmally and Warner Bros. waffled on greenlighting a second release.
6. "Two Trains"
By the time the band was recording their third LP, a refurbished Little Feat had replaced Estrada on bass with Kenny Gradney and added second guitarist Paul Barrere and percussionist Sam Clayton. The new band would be slower, funkier, and New Orleans–focused. The 1973 release Dixie Chicken found George in the producer's chair and credibly recast the group as competitors to the Meters, Booker T. and the MG's, and the Band as the best pure groove outfit of their era. Sam Clayton, who is the brother of famed soul singer Merry Clayton and had previously been playing with Delaney & Bonnie, knew almost nothing of Little Feat's music when he was first asked to join. But he did quickly take notice of George's feet. "They were like little pads!" he told me.
The addition of Clayton on congas was another unsubtle salvo in the on-again, off-again contretemps between Lowell and Richie Hayward, whose dynamic playing could turn to mayhem at a moment's notice. Clayton recalls George telling him, "Just keep the beat, control the rhythm. You have to hold Richie down."
Hayward was unsurprisingly chagrined with both the assessment of his playing and the addition of his new rhythmic minder, but the results were unquestionably successful. Tracks like the sultry "Walkin' All Night" and the exuberant "Two Trains" marinate in a newly discovered sense of space while George's vocals are a more than credible pastiche of his obvious model Dr. John. A year after Creedence Clearwater Revival culminated their breathtaking run with the LP Mardi Gras, here came another group of Californians paying loving homage to the bayou.
"Two Trains," in particular, is a beacon of borderline unseemly Dionysian groove, a song that Lowell liked so well he'd re-record it for his solo debut, Thanks, I'll Eat It Here. A traditional second-line New Orleans rhythm and whooping backing vocals (including Bonnie Raitt) set to a gnomic narrative about love, betrayal, and a couple of trains that either are or are not going the right direction, and anyway, how would you know the difference?
Illusion it is just the same conclusion
I don't know how to play the game
Of what it is or how it's going to be
When one train is my friend and the other train is me
So thorough was Little Feat's mastery of the New Orleans sound that many newcomers to the group concluded they were a Southern soul band. The music business was still a regional enterprise, and what you heard on the radio was often all you knew about a new act. In Atlanta and DC and Baltimore, they sure sounded the part. In Los Angeles, escaping who you were by pretending to be something else was the local business. Illusion it is just the same conclusion. America was a more permeable place then. The Standells represented Boston, and Little Feat was a plausible Delta commodity. The person you were born didn't circumscribe who you might become. What was Lowell's attraction to the music of the Delta and why precisely was he so adroit at it? If his strangeness has any overarching principle or governing strategy, it's to do with his uncanny ability to inhabit motifs and cultures that exist outside his experience. Clearly Lowell was a fan of the Crescent City and its hammerlock groove as evidenced by a cover of Allen Toussaint's brilliant "On Your Way Down" on Dixie Chicken. But a passing fascination is not the same as a full-born inheritance. Lowell lost himself in these roles: the Dr. John–prescribed Delta blues raconteur or the truck-driving Olympian of "Willin'." There is something inspiring about this devotion but also something fraught. When Little Feat fans heard "On Your Way Down," they didn't think of Allen Toussaint. They thought of Hollywood's very own Lowell George.
In 1972, Lowell first met up with Raitt, who was at the time a fledgling singer-songwriter and fellow slide guitarist on the L.A. scene. The attraction was powerful and mutual. Per Ben Fong-Torres's excellent 2013 band history, Willin', Raitt describes the dynamic this way: "He was really a fox. I mean, he was one of the most attractive men I've ever seen. I mean, I fell hard for him. He neglected to mention that he had a family." When she found this out, they broke up, as you would expect. Yet the two remained friends and collaborators, and Raitt remained a feature part of the so-called Little Feat Auxiliary of fellow musicians who would abet the group on records and on stage.
Linda Ronstadt—Linda Ronstadt!—relays a similar story about spending the night with George only to be awoken by his pregnant wife, Liz, whom he had also neglected to discuss prior to that morning. Per Fong-Torres, Ronstadt described the encounter: "And I said, 'Well, come in.' I felt some solidarity with her at that point—you just do… So she came into my room, and he woke up and said 'Hi Liz, where's the coffee?' He didn't know where he was. And I realized he had been lying to me and lying to her, so the two of us are standing there like 'Hmmmm! What's your story here, boy?' Anyway, that was the end of that."
"He was like a big sheepdog that's always wandering into the wrong places," Templeman buoyantly reflects. Ronstadt too remained a friend and admirer. Even when his behavior was bad, something about George remained ingratiating. Who gets mad at a sheepdog? Who gets mad at a whale?
7. "Oh, Atlanta"
Finally, after five frequently volatile and quixotic years, 1974's Feats Don't Fail Me Now provided a breakthrough of sorts. Recorded in Maryland with George again producing with an assist from old pal
Van Dyke Parks, the record doubled-down on their newfound groove and rode its
good-time atmosphere to a more than respectable two-hundred-thousand sales. A triumphal tour of Europe followed, where the band was greeted as conquering heroes and routinely wiped the stage with ostensible headliners the Doobie Brothers.
Besides proving genuinely popular, Feats Don't Fail Me Now departed from previous Little Feat records in an even more crucial way. For the first time, the best songs on the album were not written by Lowell. With its heedlessly insinuating opening piano riff and unvarnished tales of all the things the road can provide in terms of good lovin', Billy Payne's "Oh, Atlanta" conjures Lowell's gentleman-rogue degeneracy and recasts it in a Southern-fried Sodom. In an interview provided to the storied journalist Bill Flanagan ten days before George's death, George expresses his admiration for his by-then estranged bandmate's song: "I had been saying: 'Bill, these songs you're writing suck.' I was real blunt with him. And right after that he came up with 'Oh, Atlanta,' which I think is a very successful song. But boy, that was the beginning of the end right there."
In an acknowledgment that George's contemporaneous state of mind was too scattered for multitasking, 1977's Time Loves a Hero restored Ted Templeman to the producer's chair. Templeman was happy to be back but quickly discovered he was recording a very different band than the one he had made Sailin' Shoes with five years previous. For one thing, George, very much a lover of the recording studio, was often nowhere to be found. Your vices pull you like the moon pulls the tide.
"I couldn't get him to come down to the studio," Templeman recalls. "We were tracking a song of his called 'Rocket in My Pocket' and it needed slide guitar. And he didn't want to get out of bed! So I had Bonnie Raitt come down and play it. He was so furious. He showed up in his pajamas."
Of the nine songs that make up Time Loves a Hero, George has one full writing credit and one co-write. The vast majority of the material was composed by Bill Payne and Paul Barrere, including the more than six-minute-long light-jazz instrumental "Dog Day at the Races," which George hated so much he would leave the stage rather than perform it. Your enjoyment of Weather Report–inspired fusion may determine your patience with it, but regardless we were now a long way off from "Truck Stop Girl."
8. "Spanish Moon"
Lowell's health, never sterling to begin with, was in steep decline. During the production of 1975's The Last Record Album he was diagnosed with hepatitis C, which in conjunction with severe sinus issues placed considerable strain on his immune system. He suffered a motorcycle accident while horsing around on a Yamaha, rupturing several vertebrae, two of which eventually had to be removed. Nevertheless, his zeal for music remained undiminished. He was recruited to produce the Grateful Dead's Shakedown Street, with predictably debauched, scattered, and intermittently thrilling results. He met, actively promoted, and commenced an affair with Rickie Lee Jones, failing once again to mention his marriage but kick-starting her career in the process.
The final hurrah for Lowell and Little Feat was in some ways the perfect valediction for a band that never made much conventional sense and always came with an expiration date. Recorded over several appearances in their strongholds of London and Washington, D.C., 1978's Waiting for Columbus is an epic two-LP live set that captures the group at the peak of their razor's-edge intensity—the bastard child of the Grateful Dead's Cornell '77 and the Who's Live at Leeds. Appropriately enough, the actual concerts were characterized by overflowing hostility between members, including one moment when George either punched or karate-chopped Hayward backstage.
It took countless L.A. studio overdubs, edits, and other sleights of hand, but the finished product astonished even the warring members. Lowell sings and plays like his vintage self and the Tower of Power horns supply impeccable backing as Little Feat cooks, one final time. Waiting for Columbus regularly ranks highly in polls of the greatest live documents of all time. But it was the end. As he sings on the mesmerizing, slow-burning "Spanish Moon": "Whiskey and bad cocaine / Poison get you just the same."
His delivery is neither lustful or scolding. But this time it's not dreamy either. His delivery is tired.
8.5. "Be One Now"
It is difficult to understand how people close to George did not perceive how perilously near the edge he was, but even in death George is a hard person to get a handle on. He was 5'8" and at least 250 pounds. He used cocaine and alcohol with the abandon of one who's afraid they might cease to exist. Certainly some friends knew he was in trouble. Ted Templeman remembers, "I knew what he was doing. He'd be out on the road and partying too hard." And yet, everyone remarks on George's feats of strength, his high jumps on stage, his ability to lift and carry anything, his fabled expertise in martial arts, and his frenetic, kinetic energy. He must have seemed unkillable.
In the forty-two years since his demise in a northern Virginia hotel under seedy and semi-mysterious circumstances at the age of thirty-four, George's legend has waxed and waned. For those who knew him, the intensity of their emotion around him remains palpable. And yet Little Feat, never huge stars during George's life, remain mostly a niche concern in his death. Amid the sad parade of rock casualties, Lowell George might be the most gifted of the bunch not to be constantly recycled by nostalgia-driven periodicals and classic rock radio.
When it became clear that Lowell had not exactly been meticulous in his estate planning, Billy Payne quickly organized a tribute concert with the proceeds going to his wife and three children from three different mothers. All of the latter-day Little Feat lineup participated, save for Richie Hayward, who was in the hospital following his own motorcycle accident. The cream of the Los Angeles music scene chipped in, as did the Feats Auxiliary: Bonnie Raitt, Emmylou Harris, Jackson Browne, all of them intimates of varying sorts to this strange, anxious, and gregarious man.
Fred Tackett remembers doing overdubs on the final Little Feat LP Down on the Farm—the posthumous album tracked in part after Lowell's death. "We were right in the middle of recording when he died. I had a song called 'Be One Now' on it and had to go in and finish my parts. So David Lindley and I were listening to the tracks Lowell recorded before he passed away. They were ideas for parts he was going to play later. It was the thing that was the most horrible and uncomfortable. It was heartbreaking."
Ted Templeman tells me before signing off: "I'm just glad we got to talk about all this stuff. Nobody else I know would be interested." All the people that we miss, do they really exist at all?