More Bridges Than Walls
By Jim Beaugez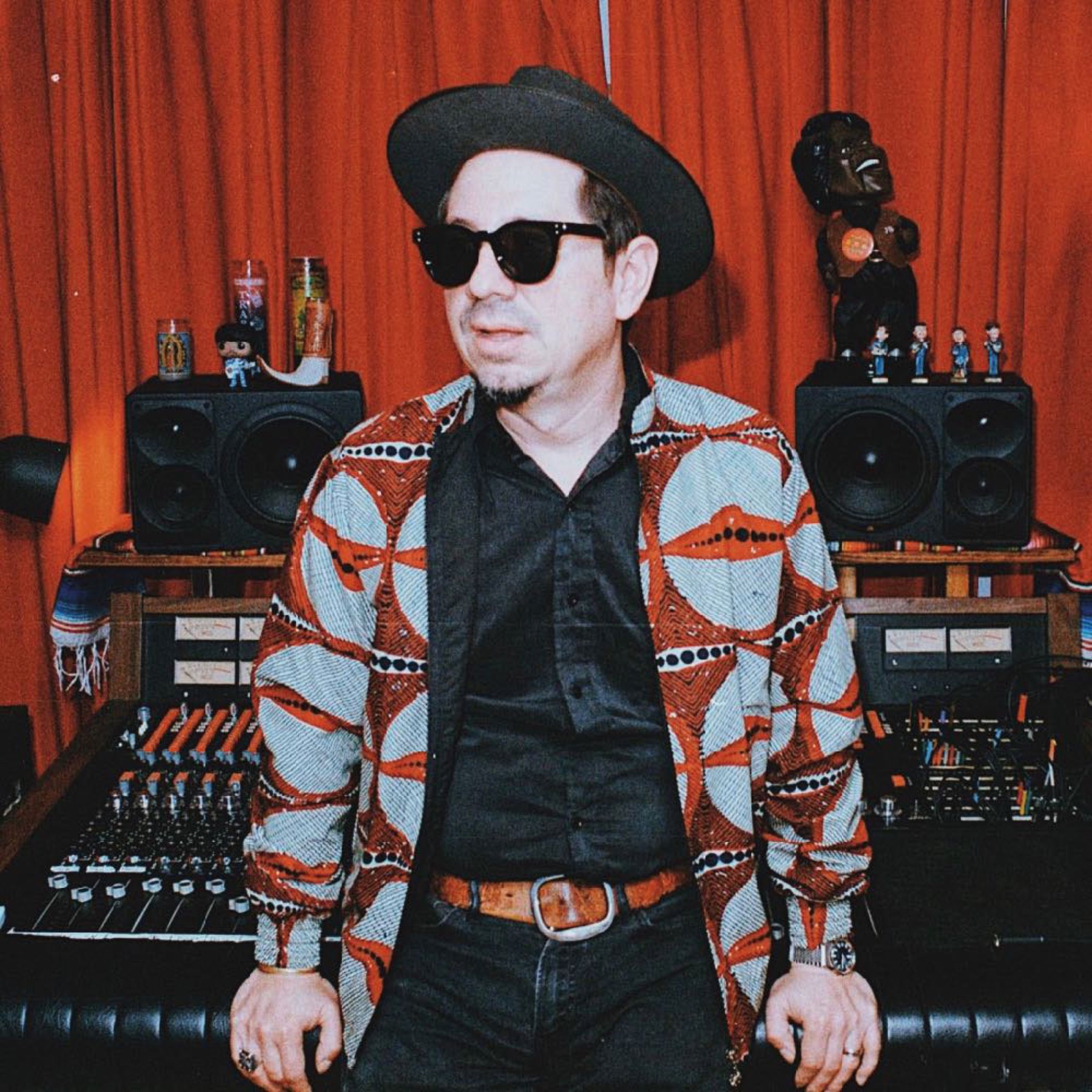 Photo by Cristian Sigler
Growing up in Laredo, Texas, on the U.S.-Mexico border in the 1990s, Adrian Quesada spent his teenage years consumed by hip-hop and punk rock, like many other kids growing up in the glory days of grunge and backpack rap.
But wherever he went—family gatherings, street festivals, and trips across the Rio Grande—the rhythms of Mexican rancheros and cumbia, as well as the r&b stylings of local artists like Ruben Ramos, Little Joe, and Sunny & the Sunliners, left impressions on him.
"I didn't realize until later that I just absorbed all that, growing up between two cultures, and Nuevo Laredo and Laredo," says the producer and musician, who makes up one-half of Black Pumas, over the phone from Austin, Texas. "Half of my family was in Mexico and the other half was on the United States side. I would go back and forth and soak it all in. But to be totally honest, I didn't really start appreciating the music that was around me until I was well into college."
Laredo and South Texas lie at the confluence of musical traditions that reach down to Colombia and over to the American Deep South. While cultural exchanges between Mexico and the American South date back at least a century to culinary traditions passed between the borderlands, one of many musical swaps emerged after World War II that changed the course of popular music.
The epicenter of what became known as Chicano soul was more than one hundred miles north of Laredo, in San Antonio, a city where the majority of residents claim some Latin ancestry and where 80,000 members of the armed forces live between four military installations dotting the region. Soldiers from different parts of the country converged here and shared musical ideas in those crucial years between the late '40s and early '60s, inspiring artists like Ruben Ramos to embrace r&b, first in groups like his brother's Alfonso Ramos Orchestra and then in his own Ruben Ramos & the Mexican Revolution on several independent records in the '70s. Another influential group of the era, Little Joe and the Latinaires, explored soul and funk on albums like Soul Pride.
"You had these Mexican kids and Black kids that were in the military and kind of all brought their own music to the table," he says.
Local musicians began mixing the rhythms, arrangements, and melodies of Southern soul with local Tejano—itself a combination of traditional Mexican music with horns and the polka beats of Eastern European immigrants in the region—and cumbia, a melding of western African rhythms with indigenous musical traditions that migrated north from its origin in villages along the Rio Magdalena in Colombia.
This vivid collage of influences finally found Quesada while he was studying at the University of Texas in Austin. Quesada joined an ensemble that played Afro-Caribbean music—cumbia, salsa, merengue, and música criolla, in particular—which reintroduced him to the rhythms he heard in his youth. From there he explored other regional music of Mexico, "stuff that has been around me all my life, but I always blew it off," he says. With friends from back in Laredo, he formed Grupo Fantasma, a Latin-centered band that drew from cumbia, psychedelic rock, hip-hop, and funk, and were hand-picked by Prince to open shows during a residency at his Rio club in Las Vegas.
"I started to dig and find more of those early records, and that led me to realize that Sunny & the Sunliners had been developing his own brand of soul, and Ruben Ramos had always dabbled in soul, and [Little] Joe and Johnny Hernandez had always dabbled in soul," he says. "And it really resonated with me because it provided some perspective for what my friends and I were doing in our generation. We were into hip-hop and funk and this and that, but we were now interpreting the music we grew up with through that filter."
While co-leading Black Pumas with frontman Eric Burton today, Quesada has also taken on the role of conservator for the genre by assembling key artists for original compositions and re-recordings of Chicano soul classics on the 2018 compilation Look at My Soul: The Latin Shade of Texas Soul [Nacional/Amazon Music]. He produced the record—as well as the Black Pumas recordings, which have racked up four Grammy nominations—at his own Electric Deluxe Recorders studio in Austin, itself an investment in documenting the evolution of Chicano soul, hip-hop, and r&b, particularly in southern Texas.
Quesada cast a wider net for Look at My Soul, though, corralling artists from California's Latin soul scene as well as Baltimore-raised and Brooklyn-based Aaron Frazer, who performs with Durand Jones & the Indications and as a solo artist. "I was just like, this is so cool that 'Chicano soul' almost sounds intimidating to somebody who may not be Chicano, but it's really just so amazing how they embrace anything that feels good."
One of the most memorable moments of the recording sessions for Quesada happened when he brought in singer Tomar Williams from Austin and San Antonio–based Jonny Benavidez, a "walking encyclopedia of Chicano soul and old soul music…who's really keeping that torch alive of Chicano, really trying to connect with soul music in kind of his own way." The duo collaborated with Johnny Hernandez on a cover of "Ain't No Big Thing," a song he originally cut with his brother, Little Joe, in 1967 for Little Joe and the Latinaires. At seventy-four, Hernandez's vocals sound strong on the nearly note-for-note recreation, blending with ambered horns and wrapped in Quesada's warm, lived-in production.
"I remember they were singing backup vocals on that song, and Johnny went over and sang with them, and just seeing them connect and have fun, it was almost like I could flash back fifty years and see Johnny and what it must've been like for him, to see black, brown, white, all kinds of people all in this recording session and all just this exchange of ideas and energy," says Quesada.
"What I love about that kind of Chicano soul thing is, it really has more bridges than it does walls."