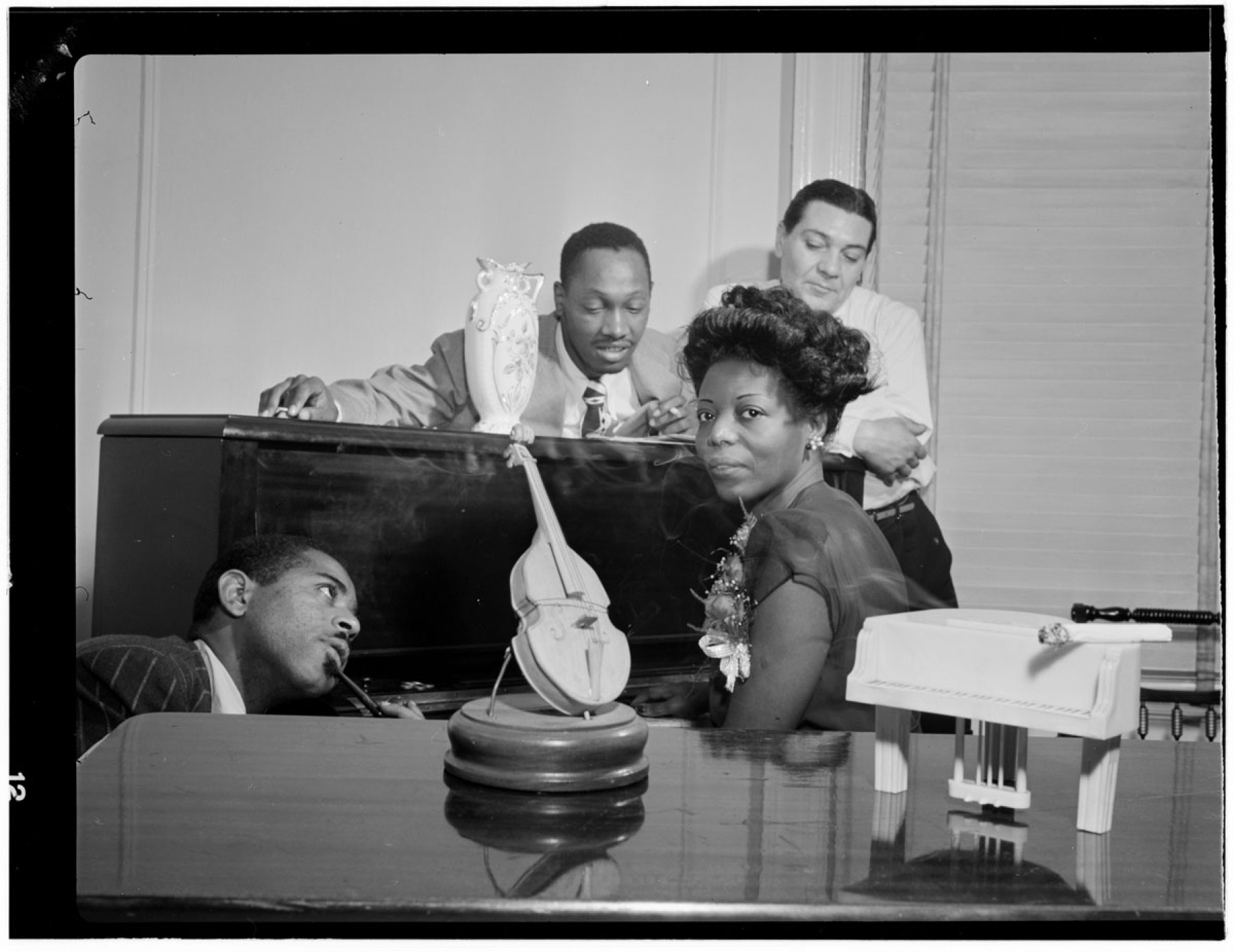 Mary Lou Williams at home in New York City with (left to right) Dizzy Gillespie, Tadd Dameron, and Jack Teagarden, c. Aug. 1947. Photo by William P. Gottlieb courtesy the Library of Congress
Sculpting the Epic Hero in Sound
By Harmony Holiday
Above my desk is the "A Great Day in Harlem" photograph (1958). I stare at it all the time, am gradually programmed by its every gesture. Mary Lou Williams is one of two women among the cast of jazz heroes pictured there. She's standing in the front row between a self-consciously dapper Thelonious Monk and an elegantly leaning Marian McPartland. Williams holds a cigarette absentmindedly, mid-conversation with McPartland, looks at her instead of the camera. What camera, what impending fame? The lighthearted but deeply effective subversiveness of her looking away from the camera and toward her friend is integral to Williams's music, her sound, her understated charisma and grace. From here, right around this time, Williams was brave enough to take a break. She had been recording for around twenty years by 1958. I begin with her turning around because Mary Lou Williams is a master of attentive digression. Her hiatus was earned and meditative and another way she would turn away without missing a thing.
Black Beatitude


In 1964 Mary Lou Williams broke a prolonged silence with the release of a tribute to the first black Catholic saint, St. Martin de Porres, who had been beatified in 1962—a healer, son of a former slave, and patron of "racial harmony" born in the Viceroyalty of Peru in the sixteenth century. Black Christ of the Andes was born, recorded in October of 1963. A black saint who at the time may have been called a Negro saint or sacrosanct, in the U.S., and exiled from his own kingdom, became the muse of a black genius pianist, marginalized herself by gender and by the sheer power of her talent, which likely left people in the kind of hypocritical stupor of misrecognition that many women who can keep up with or exceed their male counterparts face. Nonetheless, Williams did not walk around exuding entitlement or resentment; instead she was driven and fiercely committed to authentic artistic evolution, rejecting received forms for the ones she could invent and reinvent herself. She even questioned the tropes of the cult of bebop. Black Christ was the testimony this moment in her life demanded. The album is an autonomous world deserving of its own cinema. As you hear it, you see it expand like a plot, moving swiftly from saint to sinner to narrating, gossiping chorus and back, a tour of the black psychic attachment to faith and the miraculous and the undermining doubt and cathartic decadence that lurk on the threshold of that faith.
Mary Lou Williams was born in Atlanta, Georgia, in 1910, and raised in Pittsburgh, Pennsylvania. She left home early with a traveling band and was quickly noticed and chosen by band leaders, the first being John Williams, who became her first husband. Early in her recording career, on the way to a session with the Andy Kirk Band, traveling alone by train, she was raped by the train's conductor. She arrived at the session and recorded "Nite Life" (1930) without skipping a beat or an appointment. Such was her striking amalgam of stoicism and emotional power. To avoid internalizing the discrimination that came with her position, she objectified herself in song and dealt with it there. She rejected overt protest music in a similar manner, repudiating her own possible scapegoats. As if she considered protest songs to be opportunistic caricatures of real struggle or distractions from the real work of creating a more beautiful world through music; she was not wrong in her suspicions nor was she ostentatious or castigating about them. She did demonstrate her feelings and exorcise her demons in her sound. Even though she was not making blatant protest music, she made some of the most demonstratively freedom-seeking music of her time and documented her feelings about racial justice through essay and journal writing while omitting them from her music.
Black Christ of the Andes arriving a year before the Voting Rights Act is the closest Mary Lou Williams comes to divulging her protest in song. She achieves this through building a mythic world wherein good and evil battle for the soul, and saints and martyrs are shackled to the world's energetic turmoil to embody and transcend it. This album comes from her subconscious and enters the listener's like a subliminal call to duty, urging those who hear it for what it is to embody the archetypes it offers. In her capacity for myth-building Williams is similar to Sun Ra, who, that same year, recorded Other Planes of There. Its final song, "Spiral Galaxy," goes beyond calling for a new creed by demanding a new morphogenic field for blackness to inhabit. They both want us traveling, moving on, getting somewhere else through the fundamental tones of total presence. With Black Christ, Williams marks her territory and occupies it so well no one would try to contest her or debunk her living myth. This is spiritual music, religious music, with the sharp authority of the most cerebral songs. She is not just thinking about God and the devil or good and evil, she is surrendering her gifts to these forces in order to be changed and therefore change her listening audience into believers, at least for the duration of this album.
She and the Devil


When Mary Lou was a child, her mother treated her, at times, as a taboo. Other times, family members tied her to her bed because she complained of persistent psychic and spirit visions. She was abused for telling the truth about what she witnessed. Maybe that's why she turned to religion and saints over more literal declarations. Kids do see ghosts. She learned early in life that seeing too much put her in danger, and testimony was safer in code. She was a lifelong seer and her gifts came with torments. No one recording in 1964 was more equipped to give us a new black myth in the codes of an ancient belief system than someone who had always been a witness.
There are three or four pillars on the album that feel to me like the stages of this epic tale through song. First comes our saint, doomed to black sanctity in a world that will surely defile it. He is introduced with slow immaculate choral lyrics that speak of his good deeds: he sheltered each unsheltered child… he healed the sick, raised the dead. Long, pensive pauses between each deed mourn him as they honor him. Then, suddenly, he transmutes sainthood and becomes Black Christ of the Andes, our epic hero for the remainder of the album. The song quickens and Williams interjects and joins him with a striding sound, a strut on the keys that is so percussive it gives the formerly rigid chorus a swinging hum. There's fun to be had within the humility and healing, and some outrageous urge to break through sanctity using its tools. Then back to lamenting his sacrifices, and with shrill upward-spiraling moans of praise, the song ends in a coil of man surmounting himself.
The hipness of the version of "It Ain't Necessarily So" that follows on the record is Williams's way of avenging those sacrifices. The strutting resumes. The Good Book is in question, is in need of revision, the stories you're liable to read in the Bible, it ain't necessarily so, the piano inflects wordlessly. A tone poem for rebels and worshippers to share, Williams's version carries the sound of shedding; like old skin or like tears, her playing drops and splits, then jolts back into assured control. She swings so well on this song that her range of motion fills the air with the ache of injustice. How can anyone swing like this and survive it? How can anyone tell such secrets with no words?
Here comes "The Devil," a song for him, his energy, his antics, his frolic, his visitations, his gender, his jury out. This is really a poem haunted by sin's interminable ghost. It exists in the realm of Nina Simone's version of "Sinnerman" for how it reminds us that there's no escaping the temptation of a so-called evil. When you look him in the eye, the devil looks a lot like you and me… it confesses, and here comes Mary Lou, soloing in a laughing tone, giggling about the devils she's known. She is no stranger to temptation herself, sometimes by men, sometimes as a gambling addiction, similar afflictions.
The answer to how can anyone swing like that is by swinging like that, knowing and living both sides, and constantly working to reaffirm and choose what is, or what feels, right.
Dirge Blues


After some upbeat hues comes our "Dirge Blues." The portion of the myth devoted to the living dead, skeletal and embroiled with indulgent pain, this composition feels like Williams's message to her peers. Jazz music was a killer, a potentially lethal road to bliss and triumph. It came with a lifestyle that few emerged from unscathed. Here she marches the collective scarring off stage and loops and trembles it into the grace of retreat with these blues. This is her polite way of saying "don't let this life destroy you, let the music uplift you before you let it devour you," while at the same time showing all the ways it will devour and kill and rename. Williams is a master of tonal contradiction. She swerves from the dirge to a "A Fungus Among Us," from performative sorrow to humor. This composition is allegro rumbles of exiling what has exiled us, a cleansing speed, which as it accelerates leaves behind what cannot keep up—trauma, overthinking, funeral marching. Much of Williams's style is refusal to be possessed—by the over-simplicity of popular styles of protest music, by the stubbornness of bebop, and even by the expectations of just one God.
The album ends with a rollicking honk, almost rap, absolute sermon—horns, drums, and shouting accented by Williams's most coy playing yet. She retreats and makes space for her hero: come holy spirit, in nature one, with both the Father and the Son, shed forth Thy grace within our breast, and dwell with us, a ready guest, and so on, and tambourines, and everybody clap your hands, and unabashed finale-ing, like fleeing the devastation of mythic obscurity for the histrionic chaos of becoming real again. Black Christ is our re-introduction to Mary Lou Williams after she stepped away from the public. She returns saved, yet somehow more vulnerable than before, beatified and disgraced like any great black musician. This version of her looks into the camera and walks past it wearing God's smirk.