Houston Meets Brooklyn in UGK's "Big Pimpin'"
By Dan Gentile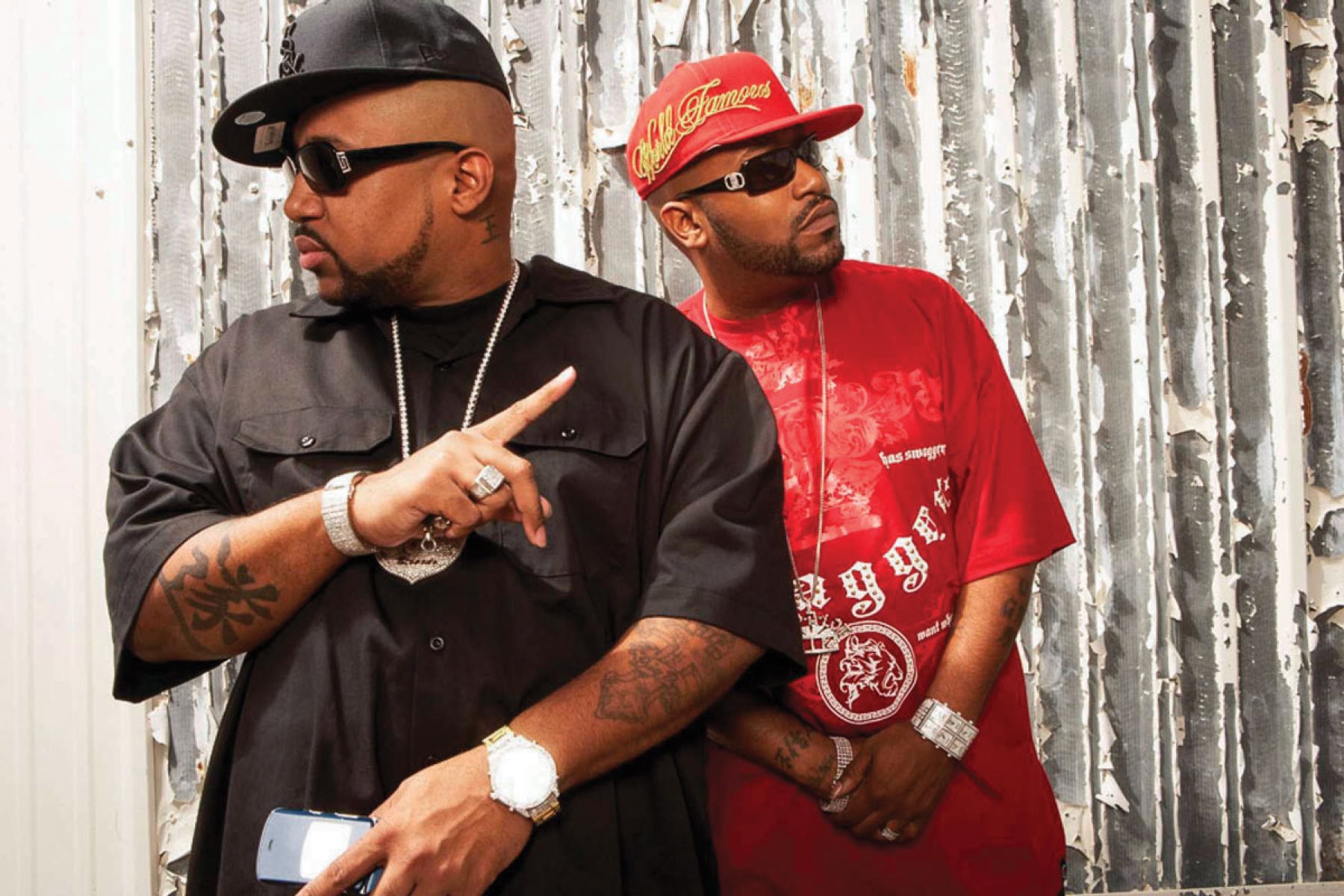 Photo of Bun B and Pimp C.
In the spring of 2000, Pimp C delivered one of the most iconic lines in the history of Houston rap: "What y'all know about them Texas boys?"
The verse closed out the Jay-Z hit "Big Pimpin'" from his fourth studio album, Vol. 3... Life and Times of S. Carter. It was the New York rapper's first platinum single, nominated for a Grammy, and reached number one on Billboard's Rhythmic Airplay charts. Timbaland produced the hypnotic track, and fans of his previous singles for Aaliyah ("If Your Girl Only Knew," "Try Again") and Ginuwine ("Pony") will recognize his signature off-kilter percussive bounce. A breezy flute sample from a 1957 song by Egyptian composer Baligh Hamdi provided the melody (and later a copyright lawsuit), instilling in the song a feeling of globe-trotting opulence that would be complemented by a music video filmed aboard a luxury yacht in Trinidad during Carnival.
But what made the song stand out from both Timbaland and Jay-Z's other radio hits was the Lone Star swagger of Bun B and Pimp C from the group UGK (Underground Kingz). The two rappers' contrasting styles—Bun's silky-smooth lyricism and Pimp's gruff, chanting delivery—cast a Texas-sized shadow over one of the world's most popular rappers.
Hailing originally from Port Arthur—the birthplace of blues drummer Uncle John Turner and psychedelic singer-songwriter Janis Joplin—UGK were already local legends after years of independent releases and regional touring. "They didn't need the industry, they had their own industry," says Matt Sonzala, former writer for Murder Dog magazine and longtime Texas hip-hop promoter. "The rap chitlin circuit was dominated by UGK. They were the kings, there's no denying that....They kind of laid a blueprint, and respect just spread naturally."
UGK's first national success came in 1992 with their debut album, Too Hard to Swallow, on Jive Records, including the single "Pocket Full of Stones," which was featured on the Menace II Society soundtrack. The following year led to another iconic Houston milestone: DJ Screw released his first "chopped and screwed" tape, featuring slowed down beats that became synonymous with Houston.
Hip Hop in Houston author Maco L. Faniel refers to UGK as "an affiliate of Screwed Up Click" but distinguishes the duo's style as "country rap." In an interview on BET's Rap City in 2007, Pimp C called lumping all Texas rappers into the same category a grave mistake, and gave context for the UGK sound.
"What I'm doing there is called country rap tunes," said Pimp C, who often sampled other Southern artists like the Meters and Johnny "Guitar" Watson. "It's a derivative of what was done in New York, and what came from West Coast and what came from hip-hop and was done with gangster music. But I'm making country rap down there. It's a little bit slower, it's got some church influence into it, so it's got a gospel feel. It's got a soul feel to the music. We play a lot of the instruments. And I can't speak to those other dudes, but me and Bun got something to say."
By then, UGK had been featured on tracks by rappers like Too $hort, Master P, and Three 6 Mafia, whose 2000 single "Sippin' on Some Syrup" became another crossover radio hit. But they'd yet to resonate with New York audiences. "New York artists knew UGK, but the kids on the corner of Brooklyn didn't know who they were yet....They didn't have the identity yet," says Sonzala.
The "Big Pimpin'" partnership began when Bun B received a personal call from Jay-Z while he was recording Vol. 3... Life and Times of S. Carter. Bun B actually thought it was a prank and hung up, but Jay-Z called back and they agreed to collaborate. Bun B was on board, but Pimp C was still skeptical: he had already declined an offer to guest on Jay-Z's "A Week Ago" in 1998. Describing the "Big Pimpin'" beat to MTV News in 2005, Pimp C said, "It sounded like a pop record to me. I didn't want to do it. It scared me, because I didn't know how people was going to take us going in that direction."
Eventually Pimp C relented, but delivered a verse marked by a stand-offish tone and insider references to Houston culture ("lean up in my cup," "comin' down in candied toys").
"I don't think people knew what the hell he was talking about outside of his world," Sonzala said. "He very specifically made it as 'Houston' as possible. Then Bun B went off, he was like, 'Fuck y'all, I'm a lyricist.'" Faniel added that Pimp C's iconic line asking the King of New York what he knew about Texas was "really like a slap in the face." Jay-Z added eight more bars after Pimp C's verse to close the song, bookending the Texas braggadocio.
The Hype Williams–directed video filmed on a yacht in Trinidad cemented UGK's presence on the track and marked the only time Texas rappers topped MTV's Total Request Live. The video was a convergence of global influences that, perhaps unintentionally, showed more cross-cultural musical connections. Like hip-hop, the calypso music associated with Carnival has roots as protest music, rebelling against oppressive colonialism with boasts, insults, and sexual innuendos that would lead to government censorship early in the genre's development. And the mock battles that exemplify the theatrics of Carnival celebrations paralleled the subtext of Pimp C's combative verse.
The video's success was a gift and a curse. Jive Records asked UGK to record a follow-up with Jay-Z and Timbaland, including a second Hype Williams video, but the gamble would cost an estimated $1.2 million. UGK declined, and their label retaliated by failing to promote their next album.
Meanwhile, more Texas artists were blazing up the charts. In the early aughts, albums from Devin the Dude, Paul Wall, Chamillionaire, Mike Jones, Slim Thug, and Lil' Flip would all make national waves. And Bun B's 2005 album Trill, which recounted the saga of the declined "Big Pimpin'" follow-up in the song "The Story," would debut at number six on the Billboard Hot 100. In 2007, UGK would release the smash hit "Int'l Players Anthem (I Choose You)" featuring OutKast, followed a year later by a guest verse from Bun B on M.I.A.'s "Paper Planes," another collaboration that introduced him to a new audience of indie and electronic music listeners. Bun B would go on to release four more studio albums and make dozens of featured appearances with the likes of Lil Wayne, Drake, and Gucci Mane.
In the twenty-one years since "Big Pimpin'" and the wave of Texas breakouts that followed, countless other Houston artists have made their mark on the mainstream. From Travis Scott to Megan Thee Stallion, Texas is no longer an outlier on the hip-hop map, but rather a hotspot that dictates national trends. Stepping outside that insular regional culture wasn't an easy decision, but as Bun B told BET, it was a monumental moment.
"It was probably the biggest chance that we took in our career," he said. "But it ended up being the biggest payoff as well."