Country Roots Music Credits
By Oxford American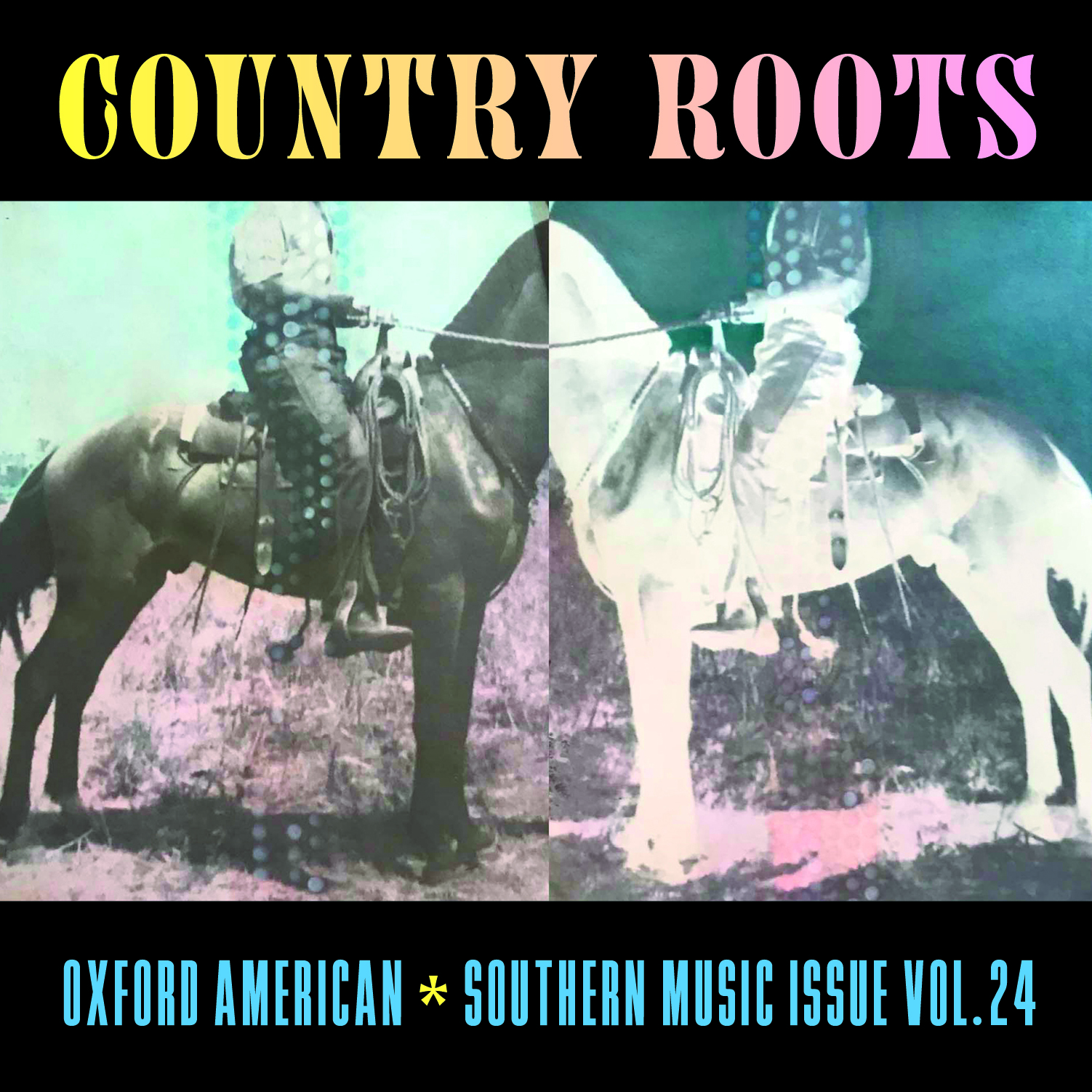 COVER IMAGE: Soft and Loud, [2018]. Archival pigment print from silver gelatin painted photograph by Molly McCall. Courtesy the artist
The Oxford American 2022 Country Roots Music Issue Sampler was compiled and produced by Sara A. Lewis and the Oxford American staff along with Andrew Rossiter (ORG Music). It was manufactured by ORG Music and mastered by Kern Haug. Its cover art and disc were designed by Carter/Reddy. The Oxford American believes artists and craftspeople should be paid for their labor. We are grateful to the artists and song rights holders who worked with our fee structures and, with their creativity, enrich our lives daily. We have credited them here.
WHERE CAN I GO (BUT TO THE LORD)
Brother James Anderson
Backed by insistent clapping and bouncing piano, Brother James Anderson's "Where Can I Go (But To The Lord)" takes a traditionally somber spiritual tune and flips it into an energetic, glorious celebration of faith. The song was recorded in a 1962 session with famed Memphis guitarists Chips Moman and Roland Janes at Sun's Madison Avenue studio, yet was not released until five years later.
Brother James Anderson's rendering of the spiritual came at a time when Sun was lacking in gospel recordings. Unlike other versions of the song, such as Elvis Presley's 1967 rendition, Anderson's captures the passion and conviction of the Black sermonic tradition to which he belonged.
Traditional / Spiritual
Courtesy of Sun Record Company
I LOST IT
Lucinda Williams
First recorded for the 1980 album Happy Woman Blues, "I Lost it" speaks to the heartache of falling out of love. Williams's soft, alto, down-home warble is accompanied by an upbeat fiddle that conveys a quintessentially country sense of longing for something out of reach. She included the track on her 1998 LP, Car Wheels on a Gravel Road, which won the artist her first Grammy. The spruced-up arrangement had an electric guitar, a bluesier, more languid pace. But the song retains the spirit of the original recording, included here, and still sounds like courage and frank reckoning with the fate of a doomed relationship.
WRITER: Lucinda Williams
PUBLISHING: Alpha Music (BMI) / Warner Chappell Music, Inc.
PRODUCED BY Lucinda Williams and Mickey White
Courtesy of Smithsonian Folkways Recordings
LOUISE
The Deslondes
Louisiana is in the DNA of the Deslondes, from their name (pulled from a street in New Orleans's Holy Cross neighborhood) to their sound (the upbeat zydeco flavorings, the backbeat of New Orleans rhythm and blues)—even while they access broader Southern inspirations like gospel and blues and a Buddy Holly Americana. 2015's "Louise" is a tale of heartbreak brought about by the elusive central woman, and ambles as steadily forward like the train that upright bassist Dan Cutler sings about. You were the sweetest thing I found, he tells her, aware of the futility of his pursuit: But I had to catch that train on out of town / And like that train I'm destined to this ramblin' life.
WRITERS: Dan Culter and Sam Doores
PUBLISHING: Sousagrass Songs / New West Independent Music Publishing (BMI)
PRODUCED BY Andrija Tokic and The Deslondes
Courtesy of New West Records
HAMBONE
the Georgia Sea Island Singers
The Georgia Sea Island Singers' version of "Hambone," sounds as though it was recorded before a live audience in a concert hall. Percussive handclaps and foot stomps, essential to the song's performance since enslaved Africans conceived it on these shores generations ago, ring out across the auditorium. When lead singer Doug Quimby calls out, Hambone, hambone where you been? All 'round the world and back again, we hear in his voice the echo of his ancestors, Black folks who scholars say used their bodies to beat out rhythms when their enslavers denied them drums. An early iteration of the Sea Island Singers recorded this song in 1959. Decades later, Quimby, his wife, Frankie Quimby, and a new group of Sea Island Singers traveled the world performing "Hambone" and other tunes birthed long ago by those held in bondage. Yet, despite the clarity in sound, because this contemporary recording was taped before spectators, there is a slight feeling of remove. It's as though the Quimbys realized they were there to entertain and to teach; that they needed to show the audience that this song, rendered a cappella with hands and feet keeping time, has always been a seminal part of American sound. Age old Gullah rhythms and beats, undeniable cornerstones of country roots.
Traditional
Courtesy of Smithsonian Folkways Recordings
THIS IS MY COUNTRY
Mavis Staples & Levon Helm
In 1968, the year Martin Luther King, Jr. was assassinated, The Impressions released a song that spoke to the anguish, despair and rage that marked the year. Curtis Mayfield, lead singer for the group, wrote and produced "This is My Country," which was also the title of the album the song appeared on. "I've paid 300 years or more of slave driving, sweat and welts on my back. This is my country." Forty-three years later, the United States' first Black president was serving his first term. But two of America's musical icons, Mavis Staples and her dear friend, drummer Levon Helm, reinterpreted Mayfield's classic, an acknowledgement that though much had changed since 1968, the core of the song still spoke to the tension of contemporary moment. Helm, an Arkansas native and Americana and folk music legend by then, was near the end of his life after a years-long battle with cancer. Staples, along with her sisters, Yvonne and Cleo, and their father, Roebuck "Pops" Staples, had risen to worldwide fame as one of the most important roots gospel singers of all-time, before crossing over into soul and r&b. Helm, and Staples, whose family came from Mississippi, never shook off their foundational country roots. They reveled in them. Recorded in 2011 during one of Helm's "Midnight Ramble" concert performances in his Woodstock, New York, barn, the pair, accompanied by their combined bands, infused new energy into the classic. Staples adds a new verse, her raspy voice incredulous when she asks, And what's up with these people disrespecting our president…They're mixing up the Kool-Aid y'all, passing it off as tea…I hear a lot of people saying they want to take their country back / Well, back to the '50s and the '60s? That don't sound like progress to me. This year, the concert was released as an album, with "This is My Country" included. The song's declaration still feels urgent.
WRITERS: Curtis Mayfield
PUBLISHING: Warner-Tamerlane Publishing Co. (BMI), Administered by Warner Chappell Music, Inc.
PRODUCED BY Larry Campbell, Mavis Staples, Levon Helm
Courtesy of Epitaph Records
AWAKE FOR THE SUNRISE
Flock of Dimes
In an interview about the album Head of Roses, released in spring 2021, Jenn Wasner, who performs solo under the moniker Flock of Dimes, said the LP was "about feeling, for me to be able to override that disconnect between my brain and my heart and my body." Its penultimate track, "Awake for the Sunrise," tells the story of an agonizing sleepless night, but with a twist: its self-aware narrator confesses culpability in her own misery. I deserve it, she sings, four times before the song's end. Wasner's honeyed yet haunted vocal pierces, perseveres. By midday, she'll have alchemized the sadness and carried on.
WRITERS: Jenn Wasner
PUBLISHING: Downtown Music Publishing / Mano Walker o/b/o Moon Expert (ASCAP)
PRODUCED BY Nick Sanborn and Jenn Wasner
Courtesy of Sub Pop
SINCE YOU PUT ME DOWN
Margo Price
With its pedal steel guitar and Margo Price's light country warble, "Since You Put Me Down" feels like a classic. She spins a tale of a spurned lover (or a manager that screwed her over, according to interviews). She leans into the bottle and "kills the angel" on her own shoulder, all while singing her own harmony. Since the release of Midwest Farmer's Daughter in 2016, Price has been called the future of country music. She's certainly bringing a sound from the past into the present.
WRITERS: Margo Price and Jeremy Ivey
PUBLISHING: Peach Pit (SESAC) / Fisheye (SESAC) / Good Songs We Love (SESAC) / RMM 416 Publishing (SESAC) All rights administered worldwide by Reservoir Media Management, Inc.
PRODUCED BY Alex Muñoz and Matt Ross-Spang
Courtesy of Third Man Records
DRUNKEN SPREE
Skip James
Released along with a selection of his other recordings with Paramount in 1931, "Drunken Spree" has the quintessential twanginess of the old Delta blues sound combined with James's rowdy falsetto. In the '60s James was found, ailing, in a hospital in Tunica, MS, then famously went on to play the Newport Folk Festival and other gigs; the artist became a quintessential part of shaping a modern idea of blues: "Hard Time Killing Floor Blues," from the same 1931 recording sessions, was rerecorded in 2000 by Chris Thomas King for the O Brother Where Art Thou? soundtrack. "Drunken Spree" captures the emotion of a night spent out selling possessions to acquire liquor and drunkenly asking for forgiveness from the one you love, and subsequently promising to never drink again.
Traditional
Courtesy of GHB Jazz Foundation
EVERYTHING IS FREE
Gillian Welch
The penultimate track on Welch's existential masterwork Time (The Revelator), "Everything Is Free," brings a country sensibility to the artist's fears about losing a livelihood in music. Welch and her creative partner David Rawlings wrote the song in 2001, when the duo were freshly out of their record deal with Almo Sounds and facing the uncertain prospect of starting their own label in the dawning age of music streaming and digital piracy. The song distills the pair's fear, resentment, and bitter determination into a few spare verses over bleak acoustic guitar. "It's probably the quietest threat ever delivered," said Welch in a 2018 Rolling Stone interview. While Time (The Revelator) and Acony, the label launched alongside it, were more than able to sustain Welch's and Rawling's careers, the ache of the close harmonies in "Everything Is Free" stands as testament to the heart-deep tensions between music and the music industry. If there's something that you want to hear / you can sing it yourself, Welch croons. The song's resurgence in the Spotify era, with covers by Phoebe Bridgers, Father John Misty, Courtney Barnett, Flock of Dimes, and others, proves that Welch's quiet threat still has a bite over twenty years later.
WRITERS: Gillian Welch and David Rawlings
PUBLISHING: Cracklin Music (BMI), Say Uncle Music (BMI), Administered by Wixen Music Publishing, Inc. / Irving Music (BMI), Administered by Universal Music Publishing
PRODUCED BY Dave Rawlings
Courtesy of Acony Records, Administered by Wixen Music Publishing, Inc.
NO WEDDING BELLS FOR JOE
Wanda Jackson
Wanda Jackson may have retired from stage performance in 2019, but The Queen of Rockabilly's legacy lives on. Hidden among the slew of singles Jackson recorded for Capitol Records after meeting Elvis in 1955, "No Wedding Bells for Joe" is a little-known B-side to the 1958 pressing of "Fujiyama Mama." Yet it characterizes Jackson's voice and storytelling at its finest, her unique style taking on a deep mourning within the context of the song. She feels for the brokenhearted Joe, a man abruptly abandoned by his bride-to-be, but still maintains empathy for the missing Nellajean: "to change her mind / she said she had the right."
WRITERS: Jim Coleman and Marijohn Wilkin
PUBLISHING: Southern Belle Music Publishers (BMI) c/o Cminor Music Group, Administered by Trilogy Music Group LLC
Courtesy of Big D Music
MAMA HE'S CRAZY
The Judds
"Mama He's Crazy," first featured on The Judd's EP Wynonna & Naomi and then rereleased on their first full-length album Why Not Me, follows the storyline of a daughter telling her mother about a new-found love. However, the legacy of this song goes beyond the storytelling. "Mama He's Crazy" set the benchmark future singers would look to. Wynonna's powerful voice pulls twang and emotion into the song's lyrics while Naomi's harmonies float gently alongside her daughter, earning the singers their first number one spot on the country chart and an everlasting place as one of country's most beloved duos.
WRITERS: Kenny O'Dell
PRODUCED BY Brent Maherz
PUBLISHING: Kenny O'Dell Music (BMI)
Courtesy of Curb Records, Inc.
FARTHER ALONG
Hank Williams
A classic covered many times over the years by artists such as Dolly Parton, Johnny Cash, Elvis Presley, Willie Nelson, and Randy Travis, Hank Williams's version of "Farther Along" relays to us the value of knowing that everything in life happens for a reason, and there's no use wondering all day about what you can't control. Although there's some debate about who wrote the original song, Williams was the first to truly popularize it sometime in 1950 when he recorded it along with several other sides in a series of fifteen-minute radio shows commissioned by Naughton Farms. He sent the discs of his recordings (duly named The Garden Spot Programs) to radio stations all over the country along with advertisement for the company's nursery. Williams was often troubled by any number of things, including lifelong health issues, and marital struggles, which he often numbed the pain of with alcohol. In "Farther Along" he seems to let go of some of his sorrow, relaying to the listener in his comforting twang, Cheer up my brother / live in the sunshine / we'll understand it all by and by.
Traditional
Courtesy of Omnivore Recordings
AVALON
Rhiannon Giddens with Francesco Turrisi
Formed in 2005 in Durham, the Carolina Chocolate Drops were an old-time breath of fresh air, synthesizing African and African-American influences and winning a Best Traditional Folk Album Grammy in 2010. The band took a quiet hiatus in 2014, and frontwoman Rhiannon Giddens pursued myriad solo projects: serving as artistic director for Eurasian cultural collective Silkroad, working with the Kronos Quartet and Natalie Merchant, and releasing albums like Tomorrow Is My Turn, Freedom Highway, and There Is No Other. With the help of multi-instrumentalist Francesco Turrisi, of European early music group L'Arpeggiata, Giddens's 2021 LP They're Calling Me Home paints a rich, pastoral landscape. On "Avalon," the artist sings about the titular paradise, her yearning for a reunion with her family piercingly raw. Yet her voice remains clear as a bright trade wind—buoyed by the kineticism of Turrisi's frame drum and her own viola that sings just as sweetly beneath the words.
WRITERS: Francesco Turrisi, Rhiannon Giddens Laffan, and Thomas Justin Robinson
PUBLISHING: Children of Llyr (BMI), Bring It Forward Music, Administered by Wixen Music Publishing, Inc.
PRODUCED BY Rhiannon Giddens and Francesco Turrisi
Courtesy of Warner Music Group
HEATHENS
Drive-By Truckers
"Heathens" is acknowledged by Patterson Hood as one of the best songs he's ever written. It's a quiet, acoustic driven cut planted right in the middle of Decoration Day, Drive-by Truckers's fourth studio album—the first to feature Jason Isbell—which centers around love, loss, choices, and most importantly, consequences. Following an uncompromising relationship, the final lines, "It just gets so hard to keep between the ditches / when the roads wind the way they do," encapsulate an internal struggle to battle a preconceived fate. Hood's raw lyricism, Earl Hick's steady bass, and John Neff's pedal steel interweaving Scott Danbom's fiddle create a magical mix of a country ballad. Isbell, who has continued to play the song live since leaving DBT, says "I'm not going to say it's my favorite, but it's the one I wind up singing to myself the most."
WRITERS: Patterson Hood
PUBLISHING: Soul Dump Music (BMI) administered by Hipgnosis Songs Group
PRODUCED BY David Barbe
Courtesy of New West Records
WILDFLOWERS
Trio
The hills were alive with wildflowers and I / was as wild, even wilder than they, Dolly's crystalline voice trills over the mountain sound of David Lindley's autoharp. Emmylou and Linda bloom harmonies to support the refrain, three voices entwined in affirmation of freedom, resilience, and joy. "Wildflowers" is one of two originals that Parton penned for 1987's Trio, the group's first of two albums. The song subverts the country virtue of loyalty to a homeplace, instead celebrating the choice to leave behind the familiar in search of the extraordinary. Parton sings about having no regrets for her chosen path, the song's old-time instrumentation letting us know that she feels just as much at home with her collaborators in an L.A. recording studio as she would on a Tennessee hillside. As Rebecca Gayle Howell writes in this issue, "Wildflowers" exemplifies Trio's inspiring feminist spirit: "I'm sure it wasn't always easy between Ronstadt, Harris, and Parton. Still, they chose each other. And because they did, we could, too."
WRITERS: Dolly Parton
PUBLISHING: Velvet Apple Music administered by Sony Countryside (BMI)
PRODUCED BY George Massenburg
Courtesy of Warner Music Group
JOHN HENRY
Lesley Riddle
An African American folk ballad dating back to the dawn of the railroads, "John Henry" tells a story of a steel-worker who labors to his death to prove his might, and his worth, to his overlords. Henry was, by numerous accounts, a man who truly lived, and was likely born in a mountain town in North Carolina or West Virginia. Lesley Riddle's interpretation delivers a particular poignancy. Recorded in 1965 with Mike Seeger in Rochester, Riddle's version demonstrates the picking technique he taught Maybelle Carter during the years the musician traveled with the "first family of country music," teaching them songs, some of which Riddle himself had written, along with new approaches to their craft. Riddle never made a living from the fruit of his musical labors. Yet the work, and his name, live and comfort his musical descendants. "I had no idea of the many footsteps I was following," writes the singer and songwriter Rissi Palmer, in this issue. Learning them, she says, has given her the "feeling of not walking this path alone."
Traditional
Courtesy of Smithsonian Folkways Recordings
BETTER THAN YOU LEFT ME
Mickey Guyton
Mickey Guyton's first single, "Better Than You Left Me," is a tears-of-joy waltz about what it feels like to realize that you no longer need to fake it until you make it, because you are genuinely on the other side of heartbreak and the better for it. Getting over a lost love is a perennial theme in country music. A lonesome mandolin opens for Guyton, who builds her case slowly, with just a hint of pity for the woman she was when her lover walked away. Verse by verse, her voice gains grace and confidence as she recounts the lessons learned from abandonment. Hindsight has offered strength rather than regret. By the time she belts I laugh a little bit louder. I smile brighter, and I fly higher, we see who she sees in the mirror; she is proud of the woman she has become. Going forward, she'll set the terms of her life. This song made country fans take note when it was released in 2015. "Better Than You Left Me," declared that Guyton is a singer in command of her talents and grounded in who she is, without apology.
WRITERS: Jenn Schott, Jennifer Hanson, Mickey Guyton, Nathan Chapman
PUBLISHING: Music of Parallel (BMI) / Schott Heard Around the World Songs (BMI), Sony Acuff Rose Music (BMI) / Chaylynn Music (BMI), Warner-Tamerlane Publishing Corp. c/o Mickey's Island Publishing, Art In The Pain Publishing c/o Songs of Universal, Inc.
PRODUCED BY Nathan Chapman, Dan Huff
Courtesy of Capitol Records Nashville
WILL THE CIRCLE BE UNBROKEN
The Miller Brothers
The Miller Brothers, Kentucky bluegrass players by way of Detroit, pick their way through this traditional gospel rouser, recorded for their 1972 LP Teenage Angel in Heaven. The album's cover features the brothers—Earl, Charlie, and James—posing with their instruments while a blonde in a Christmas pageant angel costume, complete with a gold tinsel halo, hovers above their shoulders, gazing down. Like the cover, the Brothers' performance is filled with both schmaltz and sincerity, their voices keening close harmonies about the hearse carrying mother away over breakneck solos from Nolan Faulkner's sparkling mandolin, James Miller's three-finger picked banjo, and Herman Lewis's fiddle.
Traditional
PRODUCED BY Sun Record Company
Courtesy of Sun Record Company
SPARROW
Wyn Starks, Fisk Jubilee Singers, Built by Titan
The vocalist and songwriter Wyn Starks, native of Minneapolis—town of Prince, the Time, and more than twenty blue lakes—moved to Nashville, another "music city," to try his hand at making a living with his art. He signed a record deal within six months and released his debut single, "Circles" in 2019. With twangy strings and a strikingly lucid, soaring, vocal, Starks assures his beloved of his devotion: I don't need much, he sings, 'cause I know…I got you. After the murder of George Floyd, Starks and the producer Built by Titan co-wrote "Sparrow," a lilting plea to the divine for an end to the world's troubles. In this updated rendition, the Fisk Jubilee Singers join the duo. They bring authority, witness, and an ageless depth, courtesy of sonorous harmonies and an intricate call-and-response between the lead and the chorus. The Jubilee Singers began as an a cappella ensemble in 1871 as a way to raise money for Nashville's Fisk University, one of the earliest liberal arts schools for Black students. Facing the university's closure, the group toured Europe and the United States, earning enough money to keep the school open, as well as plenty of acclaim. Legend has it Queen Victoria told the group they must have come from a "music city" after watching them perform. On the surface, "Sparrow," sounds mournful. Beneath the mourning simmers another kind of resolute devotion: to dignity, life, freedom, and sweet, peaceful rest.
WRITERS: Fred Williams and Wayne Starks
PUBLISHING: Mike Curb Music (BMI) / Who Sings That Music (ASCAP), Administered by Fun Attic Music
PRODUCED BY Fred Williams
Courtesy of Curb Records, Inc.