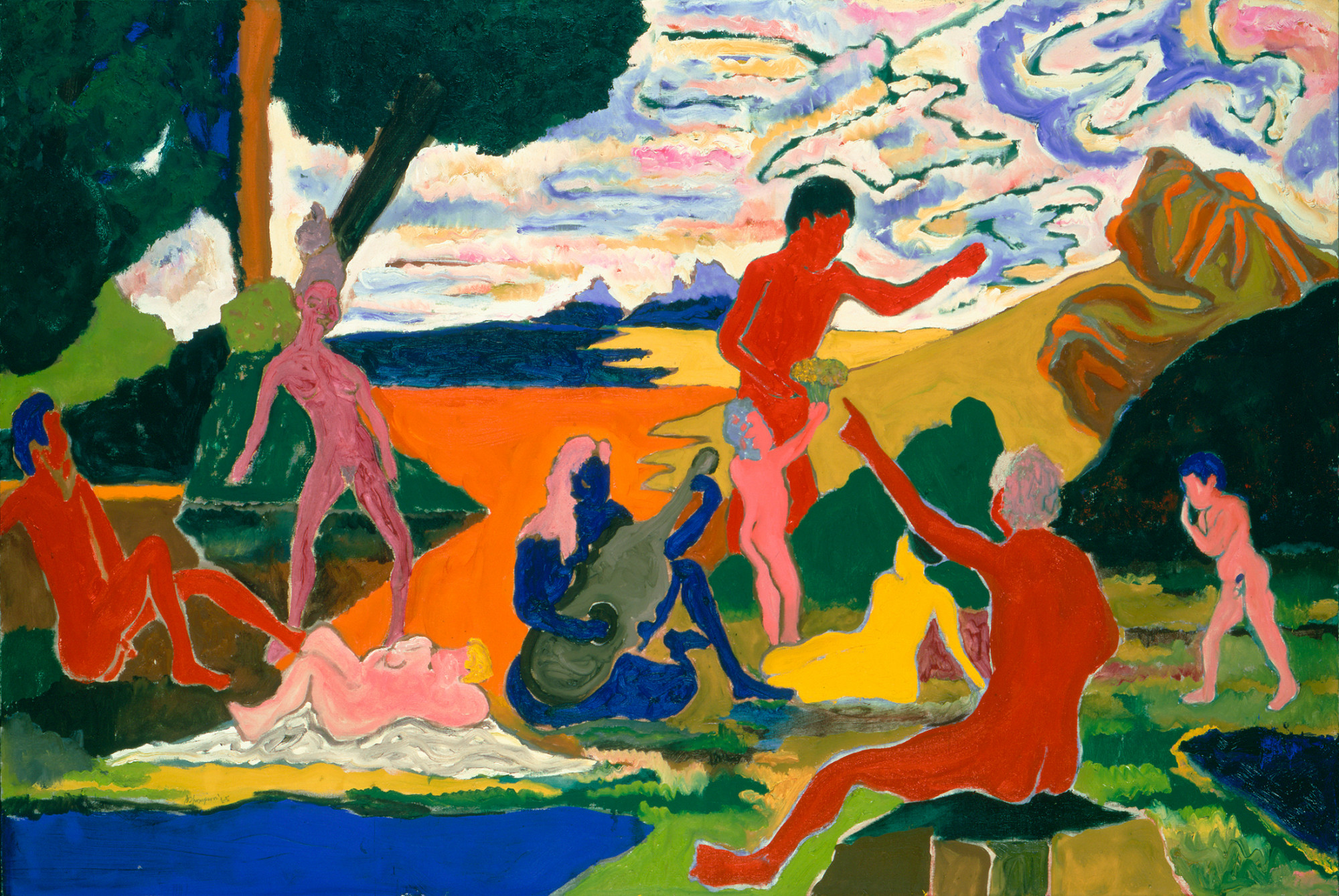 Homage to Nina Simone, 1965, a painting by Bob Thompson © and courtesy Michael Rosenfeld Gallery, New York. A book of Thompson's work, This House Is Mine, was published by Yale University Press
Editor's Letter: "Every Brush Stroke, a Breath"
By Danielle A. Jackson
When I turned thirty, I had a dinner party in midtown Memphis that turned into a raucous night of family and friends spilling onto Beale Street. We were an intergenerational crew, but still we floated into bar rooms and juke joints and strobe-lit clubs until the young could find nowhere else to go and the old had had enough. When I turned thirty-one, there was a quiet meal on a tranquil block in Brooklyn's Fort Greene. After, an intimate group of four friends filed into the bitter cold, off to another friend's house party. There we slipped on sparkly New Year's hats, made merriment with noisemakers, then quickly scattered to our various corners of the city. I woke up the next day well rested in my own apartment, empty except for me and my memories. Me and my plans. It was a soft start, but still, it was a start. The quiet beginning was an earnest way to resume, the pause I needed after a year of revelry to prepare for the decade ahead of me.
Last year the Oxford American celebrated our thirtieth anniversary over four issues; half a dozen Points South Live events in Bentonville, Nashville, and Durham; and one full-on concert on our home turf in Little Rock. The final issue of the year, winter 2022, celebrated the complicated roots of country music over nearly one hundred eighty pages. When brainstorming with the art team about how we should kick off 2023, I said something about wanting the new issue to feel like the morning after an enormous house party, when you wake up to silence, empty bottles, maybe an overturned chair and a rug rolled up out of the way in a corner. One might be a little hungover, or at least somewhat fatigued. Amongst all that is strewn about and awaiting tending is the love left hanging in the air, thick with the memory of camaraderie and laughter. For the start of our thirty-first year, I wanted to clear the room of all but the love and the well wishes.
To celebrate thirty years of the OA, we let page counts spill over in a climate of paper shortage and exhausted our scant human resources—our team is tiny yet mighty, but we want the magazine, and the humans who make it, to endure.
We took a rest. 2022 came to an end. Late December nights are long and dark: they mark time for shedding and loss, the stark arrival of winter's freeze. I lost a dear friend from my teen years in childbirth. She left behind her newborn baby girl, a grieving husband, and her stepdaughter. According to the Tennessee Justice Center, my home state ranks forty-first in the country for maternal mortality. The Centers for Disease Control and Prevention (CDC) reports that Arkansas has the highest maternal mortality rate of all the states that submitted data. Many of our counties are what health care experts call "maternal care deserts." They lack OB-GYNs or birthing centers; pregnant people must travel a great distance to receive care. Black women suffer disproportionately from this (and most negative) health outcomes, and the numbers have worsened over the past five years. In reporting a story about maternal health some time ago, I spoke to Dr. Nikia Grayson, a Memphis-based certified nurse midwife and the director of clinical services at CHOICES, one of the few nonprofit centers for reproductive health in the nation. She told me how a host of factors cause maternal and infant deaths, like environmental toxins, stress, improper nutrition, poverty, and a lack of access to quality, attentive care.
Our work as a literary magazine means little if the lives lived in the region we serve are curtailed, pocked with shrunken options. "For women…poetry is not a luxury," Audre Lorde wrote in an essay from 1985. "It forms the quality of the light within which we predicate our hopes and dreams toward survival and change, first made into language, then into idea, then into more tangible action." A literary magazine is by its nature in the business of shaping words and worlds into dreams of ways to make life feel more endurable, and more free.
At the top of the year, we lost two women icons of Memphis sound: Lola Chantrelle Mitchell, most well known by her stage name Gangsta Boo, and Lisa Marie Presley, most well known for her famous father. Alongside DJ Paul and Juicy J, Mitchell was a prominent member of the hip-hop group Three Six Mafia, whose debut Mystic Stylez was released in 1995. Mitchell was just fifteen when the group introduced bluesy, gothic, horror-infused hip-hop into the genre; the album set the artists onto a path that would include an Oscar for an original song in the film Hustle & Flow and endless samples of their music on into the later part of the decade. She would create a blueprint for commanding, Southern female emcees like Megan Thee Stallion and Latto now dominating national charts and headlines. Presley, a musician in her own right, released three albums of rootsy, country-inflected pop-rock starting in 2003. She worked on her first for a decade. Producer T Bone Burnett called her last "honest, raw, unaffected and soulful."
In a survey from 2021, we learned OA audiences adore our music coverage, and they love it when a music story appears in an issue that isn't our annual music edition. My commitment is to tell stories about music in the ways that only we can, with our trademark detail, intensity, and reverence for the region's traditions, while also broadening our sphere of inquiry so bright lights like Lola and Lisa do not go unnoticed while they breathe.
For this issue, we wanted a fresh start borne of our triumphs and our challenges. And we wanted the issue to feel like a breath. First-time cover artist Lisa Choinacky creates ink paintings and 3D installations that dance a line between abstraction and the deep repetition of textiles in service of a feeling of calm (so often elusive, these days). "Each piece is a meditation," the downtown Austin gallery Northern-Southern said of Choinacky's work. "Every brush stroke, a breath." In "The Things We Leave Behind," Madeline Weinfield collects her thoughts about the old inhabitants of a D.C. rowhouse who haunt her waking moments as she gets acclimated to the neighborhood. "The first sign of spring was so new and fresh," Weinfield writes like an exhale, settling into her new surroundings, "so devoid of ghosts." Brendan Egan reconsiders his surroundings, too, leading us through a stretch of Midland, Texas, less than well known for its beauty. In new short fiction excerpted from his forthcoming collection Fat Time, Whiting Award–winning writer Jeffery Renard Allen imagines Miles Davis seeking solace from the unrelenting gaze of his audience. Justin Nobel travels to the island of Barbuda, still gathering reserves of strength as it tries to recover from Hurricane Irma.
As ever, I'm proud of the visual art we print; in addition to Choinacky's soothing cover art, we're publishing pieces by Gordon Parks and Miles Davis himself, who took his hobby more seriously during the Eighties, while weathering a musical lull in his mid-fifties. Atlanta-based photographer Nicole Hernandez's visual ode to Atlanta brims with sunshine, restoration, and the close touch of intimate relation. What we're all wishing this season brings.