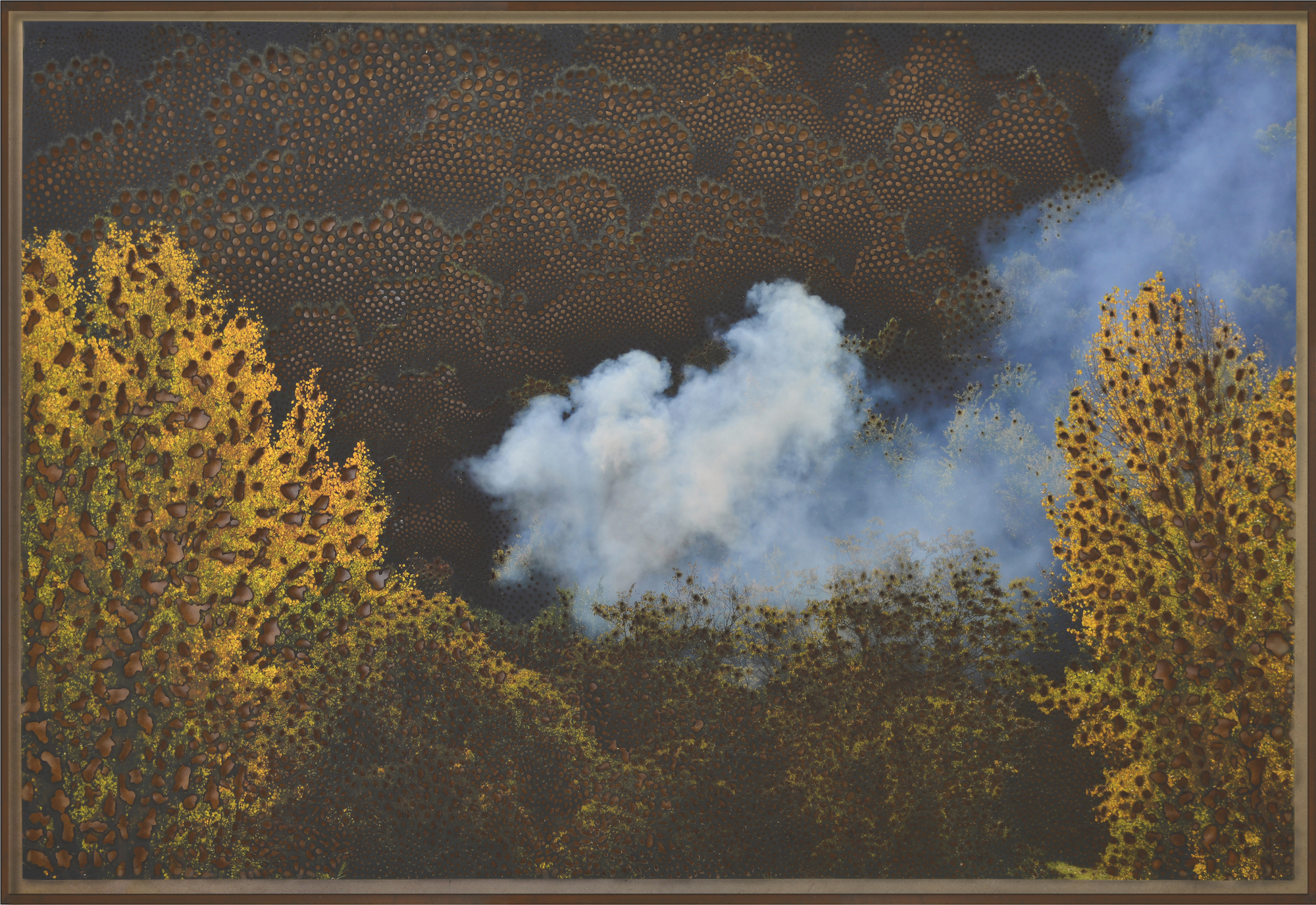 Birth of a Spirit, Part 3 of 6, 2019, fine art print on Hahnemühle paper with burns, by Miguel Rothschild
Sandalwood
By Tim Z. Hernandez
This morning, I had considered buying stock
in sandalwood, but then I read that stock
in sandalwood has gone up, since India
has designated the Heartwood tree endangered,
and thieves in the bush, with high-powered machines,
and access, who know the underworlds, have figured
out ways to quietly, delicately, hack the trees,
and haul off truckloads, yielding $4,000 per.
The Australians got in on this too.
The down-under was capable of tricking
the seed to take earth. And prices stabilized,
until the sting. The sandalwood gang had disappeared
over 20 tons of Heartwood. There was a shootout
in Jakarta, 12 men were killed. Three bystanders.
No children. These are sandalwood wars.
Not the essence of wars. What kind of desperation,
to stain the Heartwood with human blood,
only to have it end up on the market?
The authorities burnt an immense pyre
of Heartwood, to send a message to the thieves.
But the aroma was intoxicating and immediately
recognized across the region. That night, without
hesitation, every lover knew what would take place.
The children have since been born and are recycled
into a life of sandalwood. It is a terrible obsession,
I have. Each morning, after I bathe,
I dab my finger into the golden oil, and place
the essence of it on my person. And, like this,
I walk boldly into the tasks of my day, feeling
at such immense peace with myself and with
the interconnection of all things.