Her Retirement, My Retirement
By Logan Scherer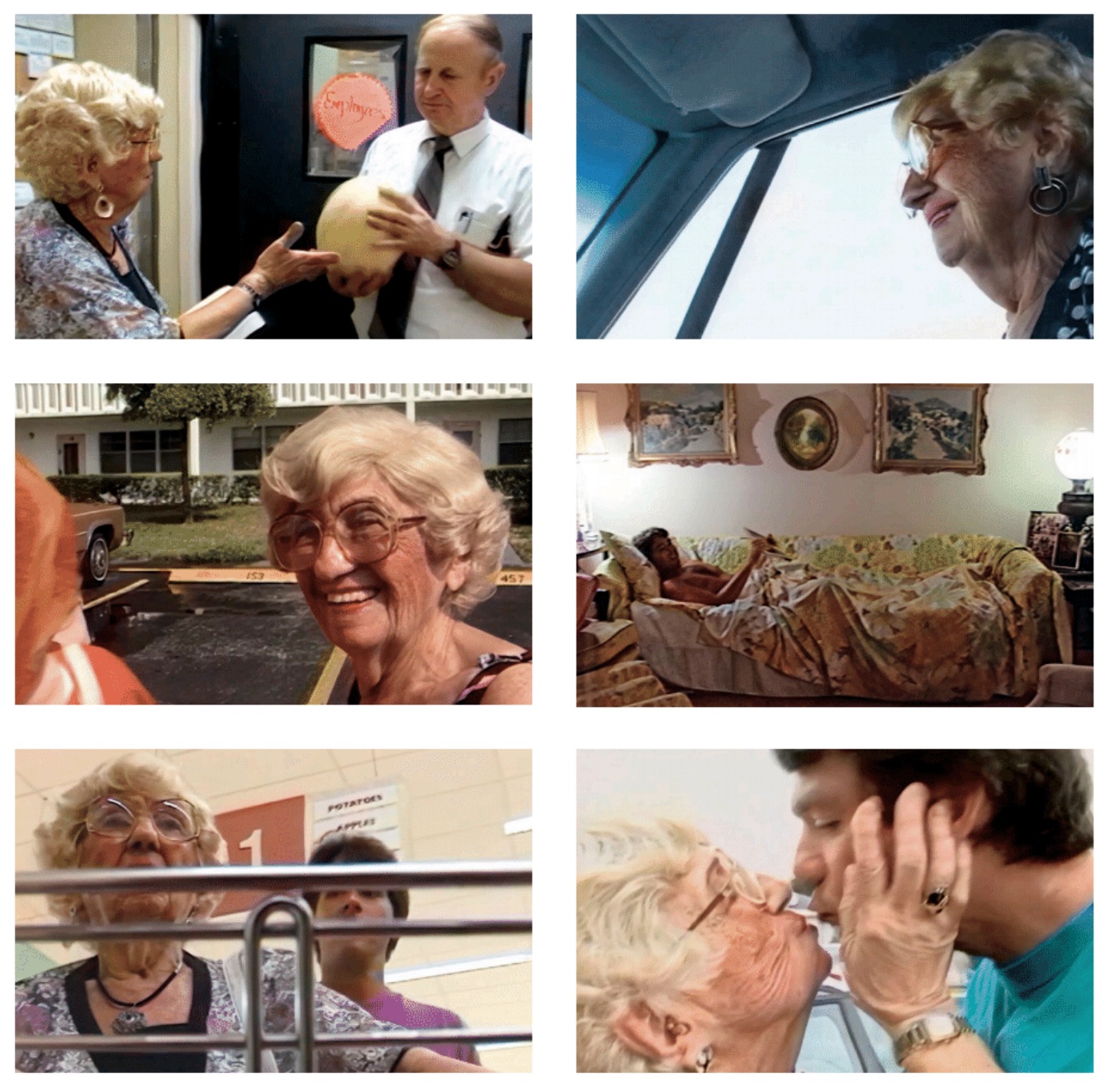 Stills from BUBBEH LEE & ME courtesy Open Eye Pictures
I'm going to talk to Andrew Abrahams, because he filmed his grandma returning produce to a West Palm Beach Publix in 1996. Over the thirty-five minutes of Bubbeh Lee & Me, both nothing and everything happen. A thirty-two-year-old man records his annual visit to his grandmother in her retirement community, Century Village. They go to the grocery store again. Bubbeh Lee might buy a new vacuum cleaner. There are lime-green bedsheets. There is a rainstorm.
My family couldn't get over catching this movie during one of those free HBO trial marathons (we didn't actually subscribe to HBO). We visited my grandparents every year at the same West Palm Beach retirement community featured in the film. My dad's grandmother—the woman I'm named after—was also named Lee. Entranced, we taped this man's video diary. The VHS fell into rotation with the tapes of our own Florida trips. His home movie and our home movies were barely distinguishable.
It's not enough for me to just remember a short film I saw on HBO twenty-five years ago when I was nine. I feel that if I can describe the movie's melancholy and explain the uncanny biographical alignment between me and the director, then I can somehow understand the mystery of my desire and my inability to stop dwelling on the past. Andrew is a smiley, half-Waspy, almost-sturdy gay man who wears a purple t-shirt and then a green t-shirt and can't get enough of West Palm Beach. I used to wear New Balances and sometimes get melty around guys in big flannel-lined khakis. How many lost men who want to write or to make movies about themselves have intimate relationships with old women named Lee in Century Village?
I haven't moved past the period of my life when I got to go to West Palm Beach for a week every February. For the last three decades, I've been thinking about people who prefer the pool to the beach. I've tried to describe the differences between the shopping centers in West Palm Beach and the ones at home on Long Island. I've wondered why highway intersections in South Florida were always so big. I've imagined finally making it to the Everglades. I have an unending desire for the magic of the night before a trip to Century Village in 1994.
The man who made Bubbeh Lee & Me and I don't have this daydream-induced paralysis in common. He's gone on to start a production business and direct other documentaries about murder trials. The bio on his production business's About page calls him "a two-time Oscar-shortlisted and Emmy-nominated producer/director of creative non-fiction films."
I'd rather write short stories about my stuffed pig, Piggy, and boyhood friendships than watch murder trials, but this man and I have in common a potentially psyche-defining homesickness for widowhood, Floridian squalor, and sleeping on couches. Or, at least did at one time.
I write to Andrew Abrahams because I write essays about seeing myself in things I read and watch, and I hope this is the last one of these that I'll write. I'm tired of writing rhapsodically and sentimentally about suburban minutiae, about chopped salads at strip-mall chain restaurants and meadows repurposed into condominiums, even though I still long for drugstores and swaying palm trees on Presidents' Day. I like atmosphere, but I have to move on. I like atmosphere too much.
This movie might be the atmosphere that created me. I want to write a spidery profile of the director that would be the pinnacle of the I-watched-and-saw-myself essay, would say everything there is worth knowing about the parallels between me and Andrew and our semi-shared nostalgic relationships to Century Village in West Palm Beach, that it won't make sense to ever write this kind of essay again. Then I'll write only short stories about stuffed animals.
In my email to the general contact address of Abrahams's production business, I write, "I remember watching your own relationship with your grandmother with such wonder and joy." I go on to use words like "queerness" and "Jewish femininity."
There is no reply to my message, and I can't find the movie anywhere. At one point, the McHenry Public Library District in Illinois, the Seattle Public Library, the Fontana Regional Library in North Carolina, and the Toronto Public Library, among others, made the film available to watch through Kanopy for patrons of those institutions. The Evanston Public Library hosted a free screening of the film in 2003. In 2021, there seemed to be no way to see it. I hadn't seen it in twenty-five years, and I go two more years without seeing it.
I like not watching the movie. It's not that I'm worried the quality online will be different from the quality of that ancient VHS or that the actual moving images won't line up with my memory of watching it. I like delaying things. I like dwelling in spaces between expecting and waiting. I like couches and patios. I like closing my eyes for a really long time and then learning it hasn't been that long. Piggy must've come with me to Florida. I don't remember if I got to carry him on the plane or if I had to put him in my suitcase. I really like the West Palm Beach airport. I didn't need the one afternoon at the beach. I like pool people. Nana was always so nice to me. I like that I get no response from my email to Abrahams's production business. I like not knowing things. I like people knowing things for me. I think I even like disappointment.
Nothing ever occurs to me. It turns out if you click through the Open Eye Pictures website, you can buy Bubbeh Lee & Me for $19.95. While writing this essay, I buy it.
I like watching Bubbeh Lee & Me. The streaming version retains the essential graininess. The movie has three great moments: the shots of Lee overlooking the windy parking lot; Andrew and Lee's chance grocery store encounter with a woman trying to set up Andrew, a bachelor in his thirties, with her ten-year-old granddaughter; the soothing car ride to or from the retirement community. I also like when Lee tucks her grown grandson into bed on her floral couch. The one-on-one interviews with Lee and the moments Andrew gets her to say that she always knew he was gay and she doesn't like it but also knows he can't change himself feel like devices employed by the man who will go on to make murder trial documentaries.
He could've made the whole movie out of the lime-green sheets and the parking lot wind and "Orinoco Flow" playing in Publix. For me, they're too much. Strung together, they're my retirement party. How can I ever see myself in anything, anywhere ever again?