The Black Girl Best Friends at the Survivors Party
By Justin Phillip Reed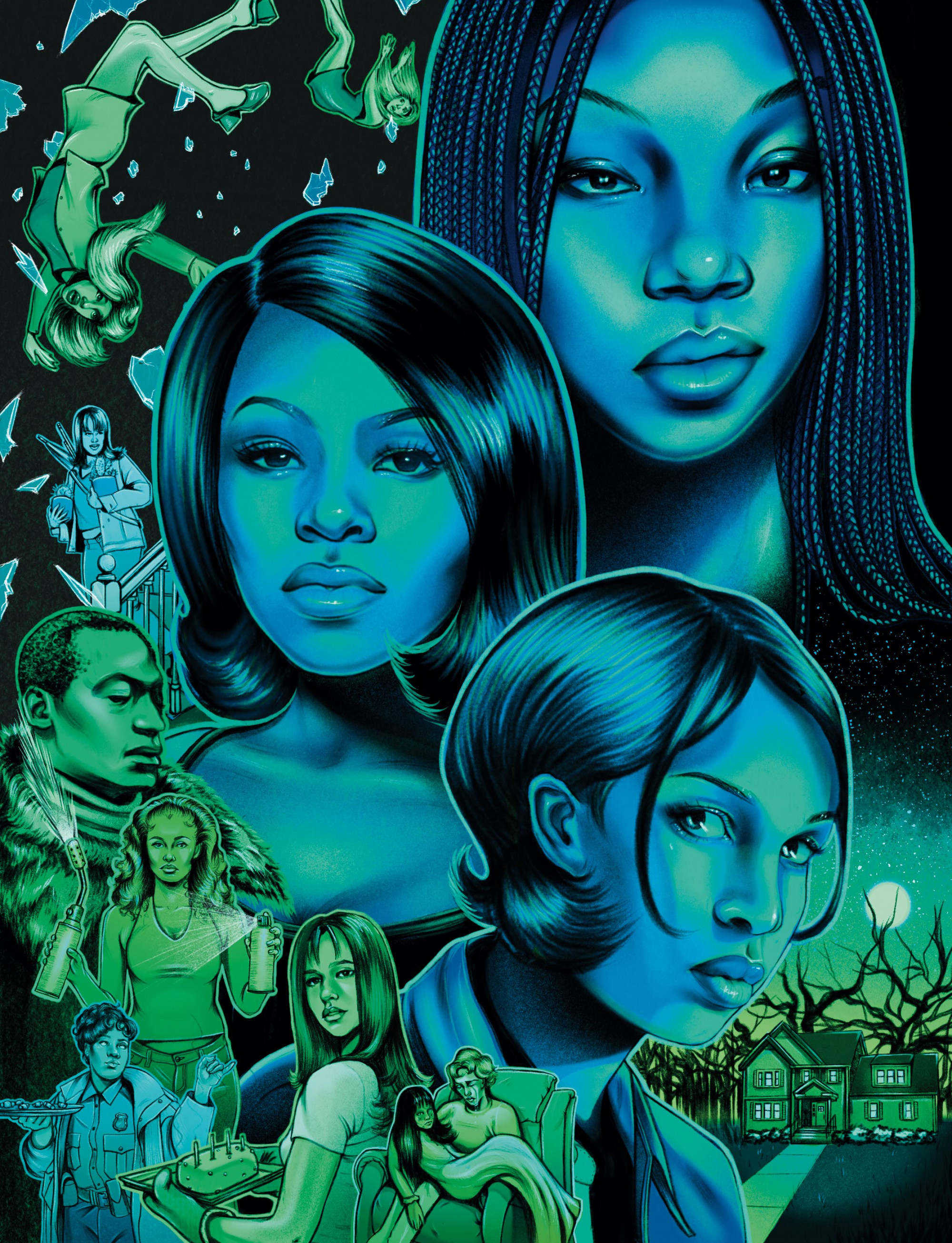 Illustration by Monet Alyssa
EXT. YOUR BASIC-ASS SUBURBAN SLASHER HOUSE—NIGHT
KARLA (Brandy), DONNA (Nia Long), & HALLIE (Elise Neal) approach the house. There's a party inside. KARLA pauses in the middle of the walkway, the other two behind her. Three white girls crash through upper-story windows simultaneously & hit the ground in ceremonious showers of glass; two of them are Sarah Michelle Gellar.
HALLIE
(to Karla)
Move your ass, okay? You're late.
DONNA
Late? You're always late. There's nothin new.
Loretta Devine walks out the front door with a plate of finger foods in one hand & a gun in the other, waving at them with her pinkie as she passes, chewing.
KARLA
You know what, I have an idea: why don't we all—
DONNA
(stomps out her cigarette & kicks the butt into the grass)
I'm right here with you.

INT. HOUSE PARTY
The three stand together in the foyer, staring into the party. The music is Garbage. Tony Todd dances with himself in a hallway mirror, humming "Return of the Mack." In the living room, Virginia Madsen stages La Pietà in a recliner, her tears wetting the cheekbones of Linda Blair. Patricia Arquette stands behind them holding a wrinkled sheet of paper; between poses the three workshop her acceptance speech / a White Women's Bill of Rights.
DONNA
Somebody needs to tell me what's going on.
KARLA
What the hell would you call this?
HALLIE
It's a party. Free beer? Meet the girls?
They look up. On the ceiling, scrawled in burnt sage ash: KASI LEMMONS / THIS.
KARLA
Aint nothin free in this world. Everybody says it, and it's true.
DONNA
I don't understand.
HALLIE
It's a sorority.
DONNA
I don't understand why there's so much blood.
Somebody's phone bleats the audio of Jennifer Love Hewitt yelling "what are you waiting for, huh?" on loop; it's an alarm. Jennifer Love Hewitt pulls a crabmeat meatloaf outta the oven, drowns it in cocktail sauce, & sticks a birthday candle in it. Rebecca Gayheart approaches the crab cake with a blowtorch & a can of hair spray.
KARLA
We gotta get the fuck outta here.
DONNA
(somehow smoking a J already)
Do you smell flowers in here or something? It smells like jasmine or hyacinth or something.
KARLA
What'd I say?
HALLIE
"Stupid people go back, okay? Smart people run. We're smart people, so we should just get the fuck outta here."
DONNA
It's Friday night. I think you're taking things a little too seriously. Where you goin?
KARLA
(backing toward the door)
I don't wanna be the one to say I told you so.
HALLIE
(waving brightly at random final girls)
I just think, despite its trivialities, it is a life-affirming, mentally stable, healthy environment for you—
DONNA
You're so dramatic.
HALLIE
I'm her therapist. I mean, look at this freakin place.
Neve Campbell descends the stairs with a potted cactus in each arm; slung over her shoulders & crisscrossing her back are an assault rifle & an umbrella. She walks into the thick of the party, where the flaming crab cake is being presented to an excited Jamie Lee Curtis, who's still having her face applied by Heather Langenkamp.
KARLA
The fuck are you talkin about? Man, this classifies as a fuckin emergency.
DONNA
I'm gonna take you home now, okay? You are gonna drive yourself crazy.
KARLA
Nobody thinks you're crazy.
HALLIE
It's okay to break. Just lower the walls for the next few days, okay? This self-induced isolation you got going? It's not healthy.
KARLA
Oh, girl. You don't have to worry about me. I'm made of steel.
KARLA keeps backpedaling until she walks completely through the storm door à la Michael Myers in Halloween II. More glass.
DONNA
(momentarily resembling the Nia Long of Soul Food: one cocked eyebrow & also a hairdresser)
You look like shit. You've got stuff all in your hair. I just wanna get you home.
KARLA
I am holding your hand.


Excerpted from With Bloom Upon Them and Also With Blood: A Horror Miscellany, which will be published on Halloween 2023 by Coffee House Press. The characters Karla, Hallie, and Donna appear in the films I Still Know What You Did Last Summer (1998), Scream 2 (1997), and Stigmata (1999), respectively.