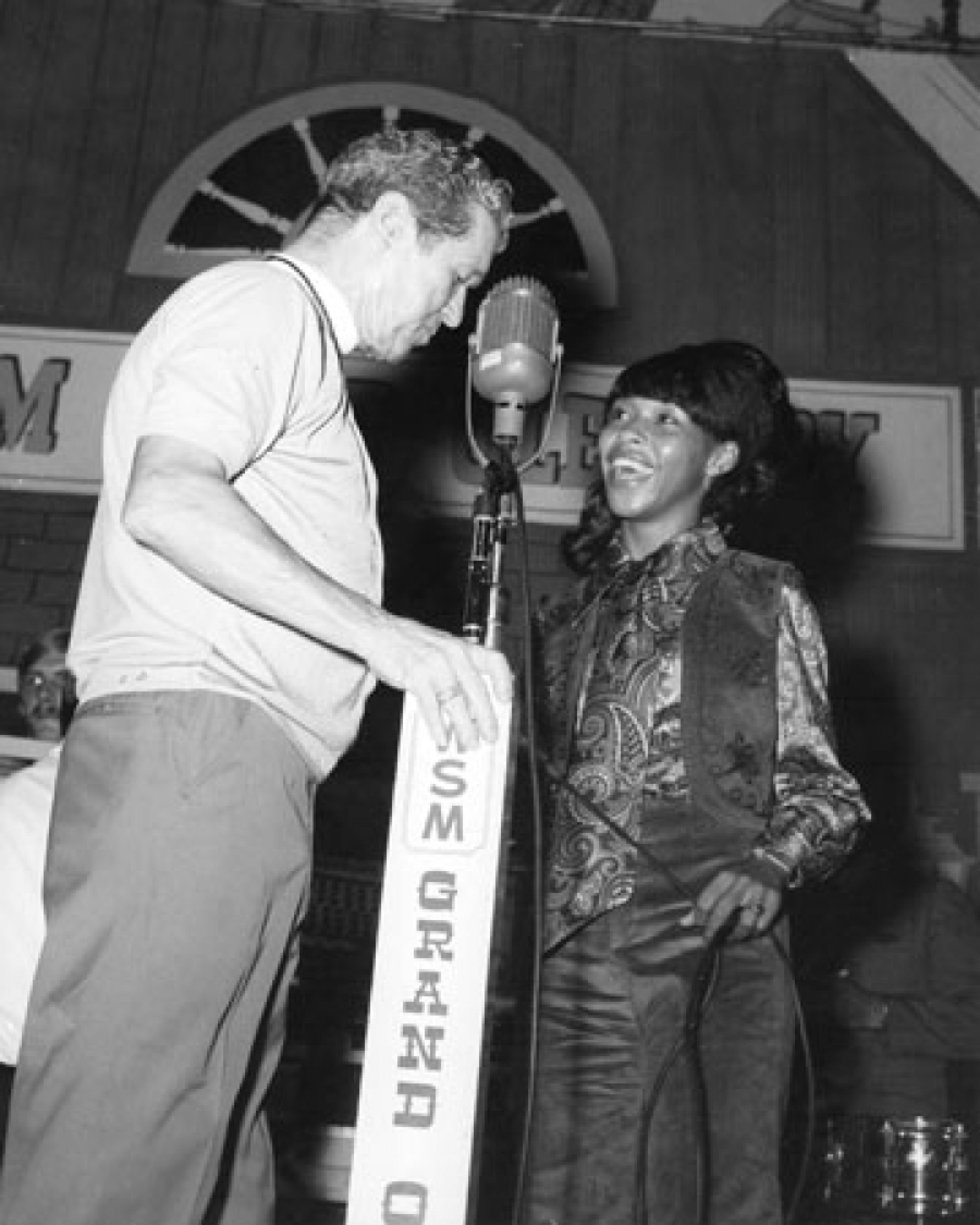 LINDA MARTELL'S "COLOR HIM FATHER"
By Alice Randall
The first time I stood on the Ryman Auditorium's Opry stage, the place was defunct, and I was breaking rules.
It was the summer of 1984. Folks on Music Row kept asking me if I was related to Johnny Rodriguez, and I kept telling them I was an ordinary American black person.
The "Mother Church" was locked up and passed over by country-come-lately Urban Cowboy fans flocking to the slick and ginormous—that was a new word then—Opry House installed in a corner of a theme park.
When a television producer I knew called to ask if I wanted a couple of days work on a Johnny Cash video shooting inside the shut-down Ryman, I didn't ask many questions.
A few days later, I was in a basement dressing room with Roy Orbison. A stunt chicken was in the dressing room, too. I was the chicken wrangler. It was my job to get the stunt chicken into a little, tiny, black Johnny Cash outfit. Looking at circa-1984 Orbison and a chicken in a cage wearing a Cash costume got me crazy claustrophobic. I slipped out of the dressing room and up to the stage.
I stepped into the sweet spot. I had been in Nashville about a year and a half. I knew the banjo was an African instrument. I knew Jimmie Rodgers had been influenced by black trainmen, and I knew Hank Williams had been influenced by a black street musician named Tee-Tot. I knew somecountry songs that celebrated black folks: "Reuben James," "Old Dogs, Children, and Watermelon Wine," "Mr. Bojangles," and "The Ballad of Curtis Loew." I knew I wanted to be the first black woman Harvard graduate to write a country song—and I thought I knew DeFord Bailey, the groundbreaking harmonica player, was the first and only black person to perform as part of the Opry.
Nobody had told me about Linda Martell.
In 1969, Linda Martell was a chocolate-brown beauty from South Carolina who had a hit song, "Color Him Father," on the country radio.
In the picture on her 1969 Plantation Records album cover, Color Me Country, Linda Martell looked perfect in an orange minidress. She was pretty in a soft-as-Lynn-Anderson way—except her shining, long hair was brown, her shining eyes were brown, and her glowing skin was brown.
Her daddy was a preacher, and she had a God-given voice. Her notes were sweet across a whole lot of piano keys. And the way she could bend notes, well, it made an eight-note scale fourteen, or I don't know how many. I know she could bend notes, she could yodel, and she could phrase to create a subtle counterpoint rhythm with the music. And she did it all with a squeaky-sultry voice reminiscent of Patsy Cline-but she was more like a girl Glen Campbell. Martell's scrubbed-clean (of blackness and the South and poverty) but sensual voice made San Francisco seven syllables. She stretched out the o-o-o till it sounded like something between a country moan and a blues wail. Hers was not a voice, or a face, to forget. But we forgot.
Eleven times, Linda Martell stood on the stage of the Ryman Auditorium and sang to the folks. Eleven times, she stood on the stage and stared out at the words painted across the Ryman balcony in large letters: confederate gallery.
When I stood on the stage of the Opry in 1984, those words shocked me. I suspect Linda Martell, born Thelma Bynem in Lexington County, South Carolina, on June 4, 1941, shrugged them off. Or maybe it amused her that folks in the Confederate Gallery had paid to hear her sing. Or maybe she didn't think about it at all that first August night or the nights that came quickly after.
Two thousand nine is drawing to a close. Forty years after Martell's historic but forgotten performances on the Opry stage, I spent part of a rainy October Music City day tethered by headphones to a turntable, listening to her one album over and over, thinking about Martell and the year it was released, 1969.
My 1969 was a hippie-private-school-D.C. 1969, where even black ten-year-old girls like me were fed a steady diet of Jimi Hendrix and Janis Joplin along with tacos and crepes, and anti-war protests. The only thing close to country music anybody listened to was The Country Gentlemen.
The South and the '60s Martell portrays in Color Me Country is altogether other from mine.
In her South, they know about dishwashers and televisions, but they don't have them. Mosquitoes are a serious problem. Christmas comes without presents. Cars are repossessed. People travel from the countryside to the city by bus-but they do travel. And if a wedding cake seems to be the prerequisite for sex in one song, in another it's clear that we have moved into an era in which good women can have enough lovers to almost confuse their names.
Sexual freedom and educational possibilities and new jobs are all in the air, but the atmosphere of the album stays close to the themes of father and mother and home—of fidelity and the countryside, even as it touches, tentatively, the new, modern freedoms.
Color Me Country opens with two cuts about rural-to-urban migration. "Bad Case of the Blues," despite the name, is stone pop-country—except for the yodel, which is stone old-school Jimmie Rodgers. The simple story of a country girl "living and working in the city" who gets "hooked on" a man who does her wrong and returns to the country to seek solace from her mother is made complex by the narrative insistence that we focus on the speaker's intelligence. More than once she calls herself "Miss Smarty," setting up the challenge, "If I really was a smart girl I could turn him loose." Martell inhabits a liberated woman's way of assessing her decisions about love with a rational intelligence that suggests this case of the blues is neither deep nor fatal. It's just a bridge back to Mama and the homeplace.
The second cut, the Ben Peters–penned "San Francisco Is a Lonely Town," is a variation on the Harlan Howard masterpiece "Streets of Baltimore." Here a young couple sets off on a Greyhound for San Francisco, only to discover the distractions of the big city dilute love. Peters, who wrote a signature song for country legend Charley Pride ("Kiss an Angel Good Morning"), captures the spunk and sorrow of the adventure—but more interestingly, Martell's performance captures a bit of San Francisco few have seen—the kids who arrived not in beat-up Volkswagens but on the bus; the kids who weren't white, who were brown; the kids who came not from Eastern cities, but from Southern towns. Linda Martell portrays just such a girl-woman convincingly.
In "Wedding Cake," "I Almost Called Your Name," and "There Never Was a Time"—all three written by Margaret Lewis and Myra Smith—Martell takes steady aim at the realities of grown-up women's lives, shooting down both the notion of wedded bliss and notions of unending wars between the sexes.
Written by Richard Spencer and originally recorded by the r&b group The Winstons, "Color Him Father" is arguably the most conservative—and the most subversive—song on the album.
"Color Him Father" works, in part, because it presents a kind of conservatism as childlike or childish, but, more significantly, because Martell delivers the voice of the child with a chilling, Oedipally inflected, yet innocent, tenderness. The opening is abrupt and dramatic: "There's a man in my house he's so big and strong." It is alive with the surprise of being rescued. The song transgressively re-centers country life around father, away from the mother. Even more radically, the song centers the family around a non-biological family member, the stepfather who took in a "Mama and seven kids."
Though the word color is repeated over and over, Linda Martell effectively directs, not pleads, not suggests, directs us to understand that stepfather's fundamental identity is as father, not his skin color.
Forty years ago, the Opry was a radio show, and long-distance telephone calls were expensive. Forty years ago, Linda Martell could have kept her race to herself. But about the time she was singing on the Opry, Linda Martell appeared on her album cover and she appeared in 1970 on The Bill Anderson Show and on Hee Haw.
I have wondered if those television appearances didn't have something to do with Martell's stalled country career. I have wondered if her producer, the late Shelby Singleton, had not been unwise when he put Martell's pretty brown face on the front of her one and only country album. I wonder if all the audience had known about Martell was her countrypolitan voice of sweet tone and broad range; with its booming elegance and phrasing syncopation; if all they had known was her ability to capture the eclipsing prettiness of freedom even as it coated the distress of the mid-twentieth century shivering as the farms gave way to the cities, what then? If she had forgone the album cover and the television appearances; if she had gone incognegro—if all of that had been different—would I have known her name when I stood on the Opry stage?
Let us all know her now and thank God for what she did accomplish.