How Helena Got Its Biscuits Back
By Warwick Sabin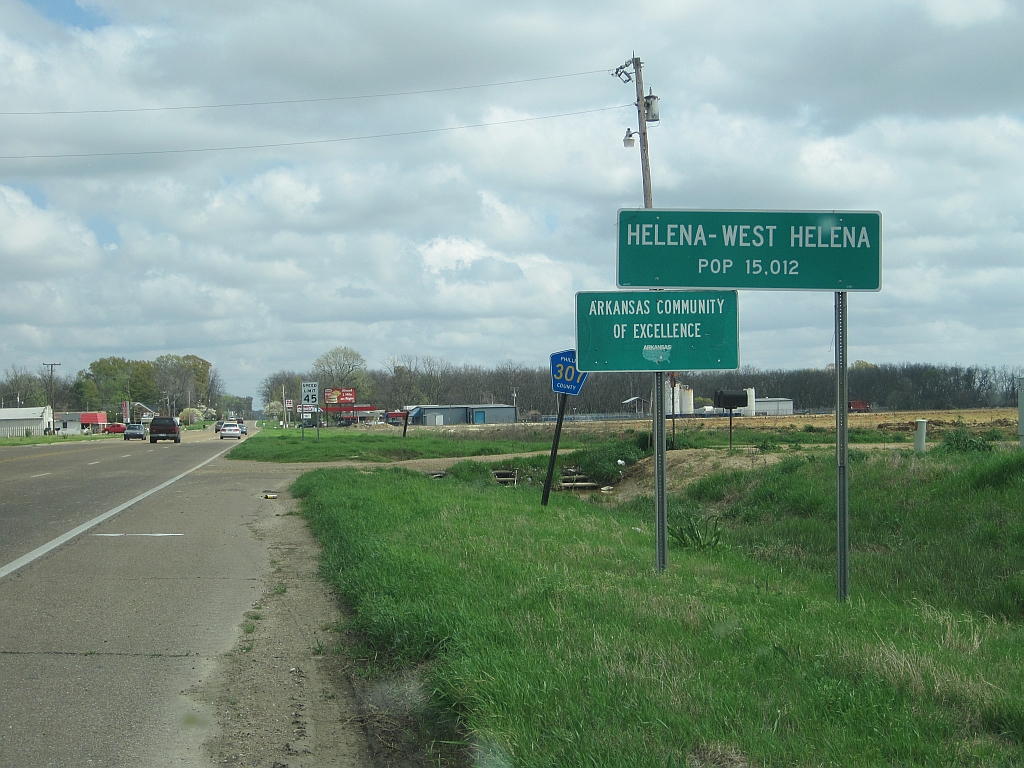 "Helena-West Helena, Arkansas" (2012) by Thomas R Machnitzki
For almost twenty years, it was known simply as "The Biscuit"—the King Biscuit Blues Festival, held annually in downtown Helena, Arkansas. The name was significant, in that it was linked to the King Biscuit Time radio show, considered to be among the longest-running daily programs in American history, having broadcast continuously from the KFFA studios in Helena since 1941. And while it's near impossible to find anyone who can testify to the properties of the title sponsor's flour, the blues music played on King Biscuit Time—the first show in the Delta region to feature music by African Americans—influenced and inspired listeners like B.B. King, Robert Nighthawk, and Ike Turner, who tuned in from their hometowns across the Mississippi River.
So it was particularly meaningful that B.B. King was just about to step on the stage to perform at this year's blues festival in Helena when the event's organizers announced that they would once again be able to use the King Biscuit name.
According to Munnie Jordan, who chaired the 2010 Arkansas Blues & Heritage Festival (as The Biscuit was required to be officially called for the last five years), no one had ever bothered to ask for permission to use the King Biscuit name when the festival started in 1986. And they didn't run into any problems until 2005, when the entertainment company in New York that held the rights to the name decided to license it to some people who wanted to create a competing King Biscuit blues festival in Memphis.
Even hometown Memphians were outraged. In a column in the Memphis Flyer that began with the words "Shame, Shame, Shame," Sherman Willmott accused the name appropriators of playing "regional dirty pool" and "stealing someone else's culture—namely Helena, Arkansas." As it turned out, the plans to use the King Biscuit name in Memphis never came to fruition, but the people downriver in Helena were gun-shy and let the issue rest.
It wasn't until this year—the festival's twenty-fifth anniversary—that Jordan and her supporters began to look into getting the King Biscuit name back, and they finally discovered that its current owner is Wolfgang's Vault, a vast archive of live music performances and recordings in San Francisco that includes the King Biscuit Flower Hour. Not to be confused with King Biscuit Time, the Flower Hour was a nationally syndicated radio program that ran from 1973 to 2007 and featured recordings of live rock concerts by performers like Bruce Springsteen and Blood, Sweat & Tears. What does that have to do with a brand of flour in the Mississippi Delta? As Wolfgang's Vault explains on its website, "The show's name was derived from the influential blues radio show King Biscuit Time, which was sponsored by the King Biscuit Flour Company, plus the well coined phrase of the hippie movement 'flower power.' Thus, a name and a company was [sic] formed from blues, biscuits and hippies—a well seasoned blend!"
Jordan says that as soon as Wolfgang's Vault understood the history of the blues festival in Helena, they allowed the King Biscuit name to be used again (for a modest annual licensing fee). And so the 2011 festival will be The Biscuit once more.
Helena's experience is yet another example of how the South often takes its rich cultural heritage for granted until someone from New York or California (or in this case, both) forces us to understand its true value.
Only in recent years have some Southern states begun to embrace, celebrate, and take ownership of the unique accomplishments of their citizens in the areas of music, literature, and food. Mississippi placed the first marker on its Blues Trail in 2005, Louisiana started its Culinary Trails project in 2008, and Arkansas dedicated a Rock 'n' Roll Highway in 2009, the same year that humanities organizations in Alabama, Georgia, and Mississippi organized the Southern Literary Trail.
Our major partner for this year's Southern Music Issue, the Alabama Tourism Department, has declared 2011 to be "The Year of Alabama Music," and they are promoting the people, places, and festivals that constitute the state's musical traditions. Alabama also has a Music Hall of Fame in Tuscumbia, not far from the legendary recording studios in Muscle Shoals. However, it is struggling financially, and its mission is in jeopardy.
With that in mind, the Oxford American will present several events in Alabama throughout 2011 to complement this issue and participate in The Year of Alabama Music. We intend to assist the local and regional organizations and institutions that are working to raise awareness of, and perpetuate, the cultural legacies that surround us.
After all, the South is often mercilessly derided by outsiders for the more shameful aspects of its history; for its standing in many socioeconomic categories; and for the political systems and attitudes that are largely responsible for both.
At the same time, our region produces music, literature, and food that are admired and respected just as energetically by non-Southerners.
There is probably a more profound lesson to be extracted from that contraposition. For now, we simply need to hold on to our biscuits while they are still hot.