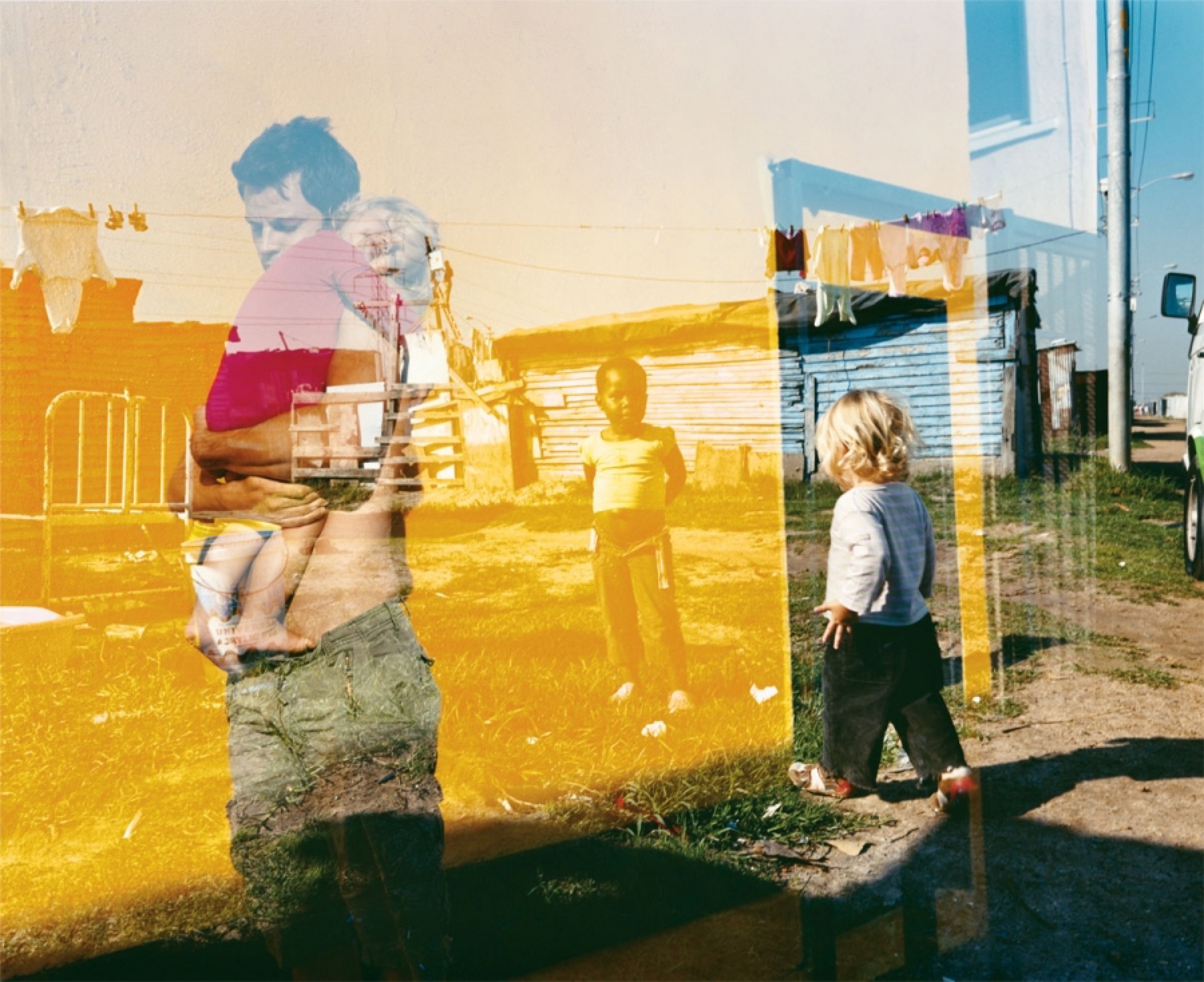 "Frame 01," from the Exposure series (2008) © Tierney Gearon. Courtesy of the artist and Jackson Fine Art, Atlanta.
Three Encounters
By John Jeremiah Sullivan
Half a mile from our house there's a little gas market, run by friendly Russians—Siberians, a few of them—whose presence in southeastern North Carolina remains inexplicable to me, and seemingly to them many days. Men in three neighborhoods make needless stops for glimpses of the register girls. The place stocks maybe sixty flavors of blunt, and a lot of dusty off-brand merchandise. One often has encounters there, or witnesses little scenes. On that morning, as I stood in front of the coolers on the far wall, choosing a ginger-ale brand, a girl walked in. Had there been a vinyl record playing, it would have scratched to a stop. Wearing jean shorts and a white tank-top undershirt, bone structure pure Scandinavian huntress, pale lank hair hanging. While the few of us already in there stared, a different creature sort of materialized in the sunlit door behind her. A shirtless man, in his prematurely aged fifties, with a beach-burnt face caved in on itself from toothlessness and wrong choices. Wearing a Gilligan-style hat and track-suit bottoms, flapping penguin-like in sandals, almost a Gabby Hayes aspect. Was he following her? No … they were together. As she got closer, I saw bruises on her limbs, and something off about her eyes. She seemed to stare at nothing. Messed up. They came and stood beside me. "God dammit!" the man hollered, as if addressing the entire store. "What's the matter, daddy?" she said. Her slurred drawl verged on a purr. This person was not her father. I was looking through a brief window onto some vastly dark trailer-park-pimp scenario. "They ain't got no goddamn Fanta is what's wrong!" he cried. They left quickly.
Walking home from the market—not that day, but another day the same summer—I had a second meeting, this time with a man who looked every bit of eighty. Dark black skin with a steel-gray beard, no shirt, wearing a shapeless cap of some kind. He stood beside a bicycle and was cursing at it, picking it up just a half-inch from the road and slamming it down. The chain was hanging, touching the pavement. The bike had fishing gear all over it in plastic bags. I drew up even with him and asked if I could help. "Yeah," he said, "do something about that goddamn devil." Not pointing at or indicating anything in particular, only this world, which even the Bible allows is Satan's to run. As I walked away he called out, "I wish the devil was a man, so I could chop him up and use him for shrimp bait!"
The third memorable moment to happen within a one-block radius during those months involved something a little girl said one Sunday morning. There's a federal military cemetery on the street that goes behind the market, with a long brick wall running around it, but a short wall you can hop up on and dance along if you're six years old. The girl looked about that, in a Sunday dress. Her father stood in the street waiting for her. Wearing shades, a pink shirt with a tie. Next to a fancy SUV. Eating from an ice-cream cone with one hand while spinning his keys impatiently in the other. The girl was skipping along the wall, reading the names on the gravestones. She stopped at one, pointing. "Abigail," she said. "That's my name." Many of the graves in the cemetery are husband-wife. She had seen the name of a veteran's widow from the nineteenth century. "We have to go, honey," her father said. She began climbing down. Just as I was about to pass, she mused, in a voice loud enough for her father to hear but somehow also to herself, "Abigail … that means I'm already dead, and she's still alive." Her father looked at me with his mouth open, not impressed but more like, What am I supposed to do with that? The girl was already singing a song as she climbed into the vehicle.

---
Enjoy this story? Subscribe to the Oxford American.