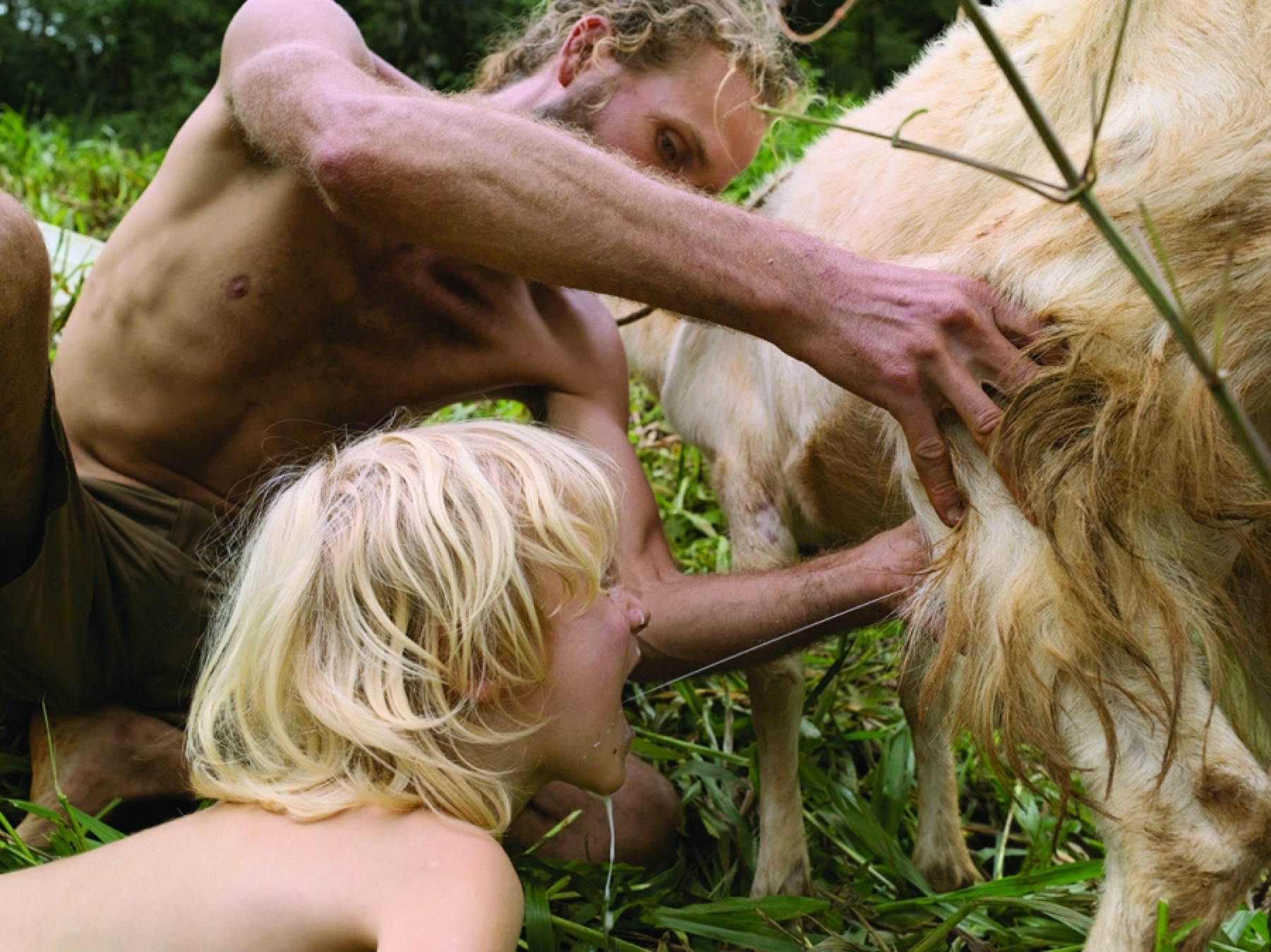 "Andrew and Taurin Drinking Raw Goat's Milk," by Lucas Foglia, from A NATURAL ORDER, published by Nazraeli Press
Waiting for the Dirt
By Ragan Sutterfield
Walking through the sliding glass doors of the Peabody Hotel, across plush carpets under high industrial chandeliers, the first person I saw was a guy in a t-shirt and kilt. Not a plaid kilt, but a leather kilt—more like a skirt that a Roman soldier might wear. The man had a name badge around his neck with ribbons hanging from it and it turned out he was one of the conference organizers. Welcome to SSAWG, the Southern Sustainable Agriculture Working Group—weird farmers of the South.
Like everyone else at the conference, I came to Little Rock, Arkansas, on this January weekend for the dirt. The dirt and everything that arises from it—which, if you were to ask most of the people standing around waiting for the workshops to begin, is everything. Since the staff of the Peabody and Statehouse Convention Center keep the carpets vacuumed and brass rails polished, many people brought their own dirt. Ray Archuleta was one of them. 
He opened his workshop, "Soil Health: Am I Helping or Hindering," by clearing the air. Yes he worked for the USDA. But even so, he assured us, he was on our side. He made clear that he had no big agribusiness, chemical farming agenda and began lauding Manasubo Fukuoka to put us all at ease. Fukuoka was a pioneer of the organic movement—the creator of do-nothing farming, which preaches that nature is pretty good at growing things if we get out of the way. Archuleta was here to tell us the same truth. Get out of the way. "Stop tilling your soil!" Archuleta proclaimed in a raised voice, like some frustrated father whose kids keep making the same mistake. He walked us through it—tilling destroys soil ecosystems, lays waste to the rhizosphere, the sugar-laden bacterial feeding ground of soil. You want to break up your soil? Put organic matter on top and the earthworms will do everything a tiller would without the damage. 
By the time Archuleta was halfway through his talk, the convention center's stadium-style lecture room was filled with people standing along the walls, sitting on the stairs. In front of me there was a black man in his sixties wearing a leather newsboy cap. We had talked while waiting for the workshop to begin. He was a watermelon farmer from Texas, a conventional farmer who uses chemical fertilizers when he needs to. He was here to learn something new. On the other side there was a twenty-something woman who grew up in the city, had an expensive liberal arts education, and dressed like she thought she would dress if she had grown up in the country. There were a lot more people like her than him here.
In fact, looking around the room you'd think that this was SXSW, farming edition—rural-themed hipsters slouching in Carhartt jackets they'd bought online. Archuleta got two volunteers to help him fill tubes with soil samples. He had soil from two farms, he told us, farms that were right next to each other. We were supposed to judge: Which had better soil? Beneath the tubes were clear water basins. Archuleta asked the volunteers to pour water through the tubes. The water quickly drained out of one tube, the bowl beneath it a muddy mess. The water passing through the other soil sample slowly trickled through, the soil retaining the water rather than eroding with it. The water beneath was only slightly cloudy. "This soil is from a no-till farm," said Archuleta, pointing to the clear water beneath. We all felt guilty for ever pushing a tiller through our garden. Sell your Troy-Bilt stock.
Next on the program was an information exchange: pastured poultry, predator control, online farmers' markets, and so on. Most people were hanging around in the lobby, gathered in little groups offering informal exchanges. I saw a group of people I knew from the Little Rock local-food crowd. There was Kelsey, who just got hired on to run a greenhouse and garden at a public children's library. Sam runs an online farmers' market and advocacy organization called the Arkansas Local Food Network. Damian operates a community garden between two schools. Then there was Nathanael, who is starting his own urban farm on a cell phone tower lot in the middle of the city. Only a couple were over thirty and all of them were working to cobble together some kind of living that will get them close to the soil.
Ryan Neal walked up, just out of the session called "Profitability: How Does it Happen and How Much Can I Expect?" Not much, unfortunately. Ryan shared the grim numbers, around $25,000 at best. Ryan is employed as a farmer—he's a garden manager for Heifer International's educational ranch. He grows and sells the produce for the ranch, and he gets paid even if a flood comes and wipes out his crops. He also has family land and is slowly working it, preparing for the day he'll farm it full-time. He and his wife had a blueberry party—a camp-out with friends to plant blueberry bushes. They planted more than a thousand to get a start on the half-decade it takes for blueberries to really begin producing. Even with all the careful planning, all of the hard work that lies ahead, the best Ryan can hope for is less than minimum wage.
It was still too early for lunch so I went down to the exhibitors' hall. It was filled with what you'd expect to see at such a conference—organic seed vendors, a book table with titles like "How to Grow More Vegetables"—but then there was the Weston A. Price Foundation and the Farm to Consumer Legal Defense Fund, both of which represent the speakeasy side of the "good food movement." See a Weston A. Price Foundation brochure at a farmers' market stand and you know you can start asking around for some raw milk.
Raw milk is the kind that comes straight from cows, the kind most states and the federal government think you shouldn't be drinking. That makes sense when milk comes from feedlot cows that wade through shit to get to the milking stable, but Weston Price partisans argue that raw milk has health benefits and that people should be able to buy it from small farmers who raise their cattle on pastures. Officials sometimes raid small farms that sell raw milk, seizing computers and impounding milking machines. That's why they need legal defense.
At another table were some Greenhorns, with hand-drawn buttons to go on your messenger bag: "Corn glut, big gut" and "Garden victorious!" The Greenhorns is an organization with a mission to "promote, recruit and support new farmers in America." They have pig roasts in Brooklyn and "farm hacks" in places like Ann Arbor where young farmers share information. The booth at SSAWG was pushing the Homegrown Hootenanny and the Young and Beginning Farmer Mixers, where young farmers can get together, drink local beer, and listen to Little Rock bands like Tyrannosaurus Chicken. I'd seen the mixers advertised on the Greenhorns blog, which is called The Irresistible Fleet of Bicycles. 
Staffing the Greenhorns booth was Joe Reynolds, a farmer in his mid-thirties from Atlanta. He has red shaggy hair and a red shaggy beard, which on his thin frame make him look not a little like a Dr. Seuss character—a young Farmer I Am. Joe and his "sweetheart," Judith, operate "Love is Love Farm"—a brand more than a place that got its name from a song by the post-punk band Lungfish that speaks to the "alchemical connections of life." The lyric that inspired them is  "Love is love in the womb of wombs." The couple have been farming full-time for six years, tenants on other people's land. They're part of a whole new hipster peasant class of tenant farmers, working through the same old problem of land ownership.
On Saturday, I ran into Cody Hopkins, who was wearing a suit for his presentation on "Beginning Farming Basics: Acquiring Land." When I saw Cody I felt a kind of embarrassment. Cody is an icon in the local food scene in Arkansas, and he fills a role I once had—the young farmer star. Right around the time Cody began farming I was basically finished, my credit cards maxed out, pushed to the point where I had to sell my cattle, my chickens, my pigs—the same pigs that had once been featured in the pages of Time magazine. Cody used to call me; he wanted to visit my farm but I kept putting him off, because it was in shambles, and I was too ashamed to let him see what was left. But Cody and I have a different connection now—we were both mentored by the same farmer and we'd both been screwed.
 A few weeks before SSAWG two big men with badges came to my house. I wasn't there, but my wife called. "They're FBI or something." They wanted to talk and they found me, badges flashing, at a local coffee shop. USDA officers. They showed me an invoice for a payment from an organization I'd never heard of with my name on it. It was for several thousand dollars, for work that included research trips to Kansas. I hadn't been to Kansas since college. The officers told me they didn't think I'd received the payments, that I just needed to sign a form saying I'd never seen them. The documents, they told me, were part of a scam, a USDA grant that had been paid to my old farming mentor. They said he had used my name, among others, to create what looked like a small farm feasibility study, but all the money had gone to him. They asked me for everything I knew about him—his relationships, his business partners. They tested their various theories on me for why he did it and I told them what I thought was true—that he was in debt and too proud to go bankrupt. He'd been farming since he was twelve, he knew his stuff, he was a pioneer in the sustainable livestock world, and had introduced me to every who's who in the sustainable farming movement from Wendell Berry to Joel Salatin. And this was how all that experience ended—with my name on a fraudulent invoice.
After the first full day of SSAWG I went to the Homegrown Hootenanny. Young farmer types wearing trucker hats and western plaid were walking down Little Rock's South Main Street, eating locally grown food, drinking locally brewed beer, listening to local music. It was all so festive and I know I would have loved it years ago, but now I'm on the outside, wanting that connection again. There is nothing, I can tell you, like watching a pig give birth nested deep in a bed of hay. How a two-hundred-pound sow with eight half-pound piglets will slowly ease herself to the side so as not to crush her babies, letting them all gather and nurse. I used to live with the smell of wool on my hands, the lanolin keeping my skin from cracking in the cold. I knew that when the lespedeza was young in the field it was tender and full of protein for the cows; I would watch for the dung beetles in the spring that would roll up the manure and put it in the ground, fertilizer for the next growth of grass. I would take my cattle to the butcher shop, see them shot in the head, help the butcher package the steaks cut from their aged carcasses. I was proud and confident of the goodness, the connectedness of what I sold directly to the customers who would come week after week to buy from me at the farmers' market.
All of these young people here—eager to learn about soil, ready to live in the dirt—I understood what they were after. They realize, "I could have this computer job and do this meaningless shit or I can do this, which is growing," as Patryck Battle, an old back-to-the-lander put it to me. But they're going to have to do it from the margins, bootlegging milk and bootstrapping their financing. Small-scale farming just can't exist in our money economy, the economy in which ideas sell and food has to be subsidized with government dollars. So these young farmers will keep waiting—working backyards and side lots, growing on other people's land as tenants. They'll rediscover everything that farmers forgot when they started buying their seed and fertilizer from Dow and Monsanto, putting it in the ground with the government-subsidized John Deere. They'll go to conferences like SSAWG and keep paying attention to the dirt until one day we run out of oil and society realizes that knowing how to grow food is the only thing that matters. 
---
Enjoy this story? Subscribe to the Oxford American.