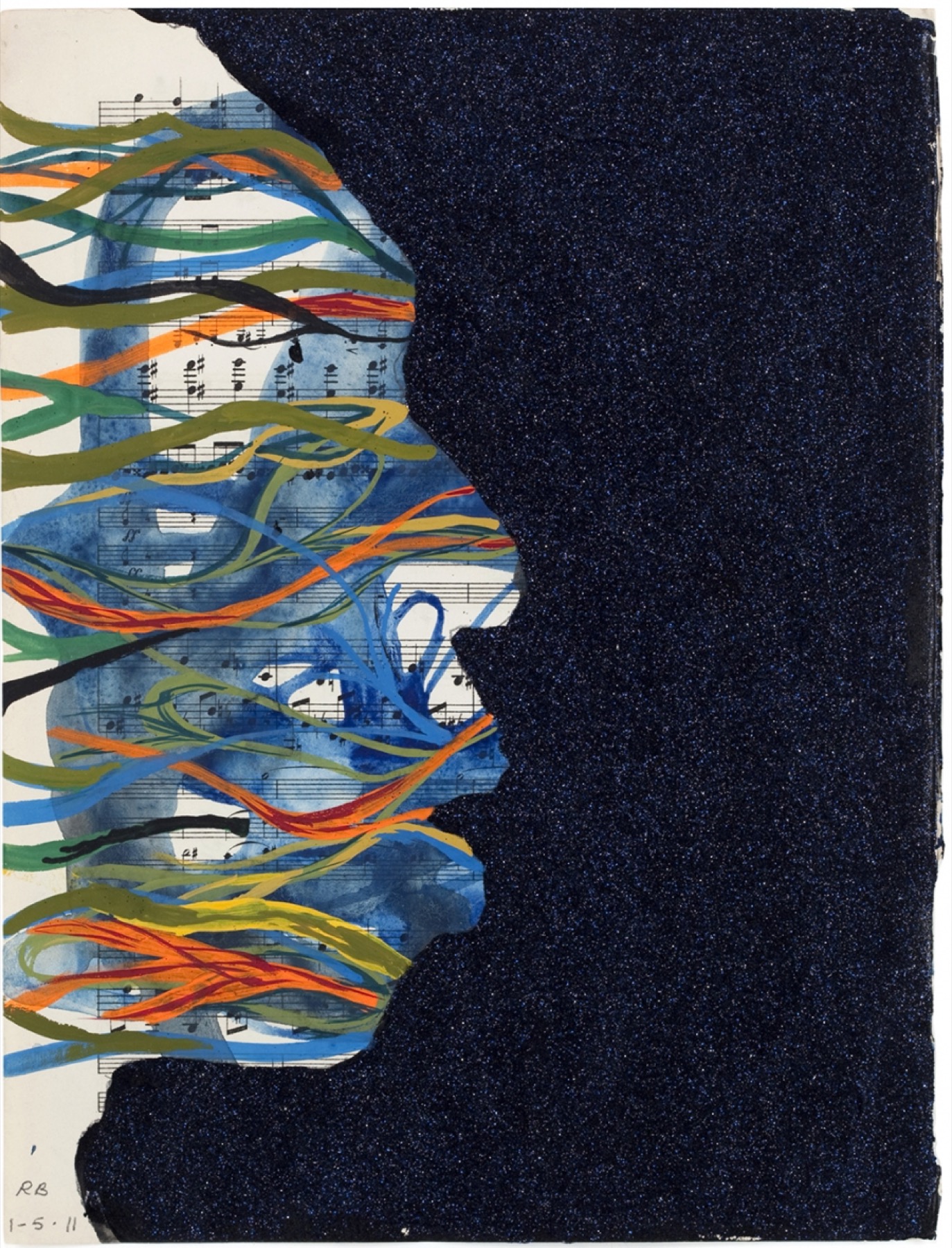 © Radcliffe Bailey. Courtesy of the artist and Jack Shainman Gallery, New York
Country Notes by Country Folks
By Regina N. Bradley
I'm from Albany, Georgia. We're in the southwest corner of the state. About a three-and-a-half-hour ride south from Atlanta. Ninety miles north of Tallahassee. Wedged between leaning cornstalks, flat farmlands, and plantations. W.E.B. Du Bois came down for a visit once. Seemingly unimpressed, he in his Northeast urban snooty candor declared black Albanians "sturdy, uncouth country folk, good-natured and simple, talkative to a degree, and . . . far more silent and brooding." When the July sun, a silent terror in its own right, tried to beat down on him, Du Bois reported it to be "a sort of dull, determined heat that seems quite independent of the sun." For the record, southwest Georgia heat whoops ass. It's dense and wet and sticks to skin like melted glue.
After Du Bois's visit in those early years of the nineteen hundreds, Albany black folks pushed forward in their own unbothered way. Like many rural places across the South, a callus of racial tension and segregation hardened, but eventually black folks buzzed with keywords like "protest," "desegregation," and "Martin Luther 'the' King Jr." Local leaders like W. G. Anderson, Slater King, and Marion S. Page encouraged blacks to fight for their civil rights, and in the early 1960s Albany's freedom movement rose on a national scale. Student Nonviolent Coordinating Committee representatives traveled to Albany to set up voter registration drives. Students who attended the historically black Albany State College (now University) participated in, and were jailed for participating in, sit-ins and marches. Albany's young folks used their own talents to protest, including Bernice Johnson Reagon and Rutha Mae Harris, who, along with SNCC representatives Charles Neblett and Cordell Reagon, formed the Freedom Singers. When they were arrested in Albany, the group "sang across the cells, trying to keep our spirits up," Harris once told my Sunday school class during a Black History Month program.
White folks didn't like any of it, and they threatened physical and economic violence. "They would fire anybody they found out was part of the movement," my grandparents told me. "We wanted change but had to take care of our families and make money." Black folks had to keep the momentum going behind the scenes.
Albany State, under threat of losing funding, expelled students who protested. Morale started slipping, so movement leaders called in Martin Luther King Jr., who came to Albany in 1961, marched, preached, and was jailed. Although King and his people refused to post bail, someone anonymously paid for it and they were released. According to folks whispering around town, then–police chief Laurie Pritchett had set up King's bail to be paid, a tactic he used to lower protesters' morale and undermine movement efforts. Pritchett proved a formidable foe, jailing protesters in Albany and across southwest Georgia, a region as hostile to black freedom as any. Perhaps King got humbled a bit by the realization that rural Southern black folks' blues and struggles weren't like his native Atlanta. His failure to rectify Albany's race relations in a fell swoop forced King to understand that there was no such thing as a successful cookie-cutter movement for redeeming black folks' civil rights.
Like that July sun that beat down on Du Bois's back, Albany continued to protest, a slow burn independent of the national movement. But momentum and enthusiasm died down after 1964, until all that was left were murmurs during Black History Month programs, family reunions, and Sunday church services. For a long time, Albany's status as a civil rights battleground remained deeply attached to local lore.

I grew up in post–civil rights Albany. I was a member of the generation of black children obligated to participate in pageants and essay contests dedicated to preserving the legacy of the folks who fought for the rights I enjoyed daily. Some of the former student protesters were teachers at my high school, like the Reverend Dr. Janie Rambeau, who marched and was expelled from Albany State.
I lived with my grandparents on the south side of Dougherty County on Hardup Road. There were plantations on either side of our house. Rows of corn and melons flanked our back yard—as a little girl I wondered if the melons were green balloons waiting to be popped. Flying cockroaches would hang from the tips of low-hanging tree branches, and kamikaze dove into your face if you walked underneath them. Lime perfumed the air early in the morning and late at night. The quiet on Hardup Road was thick and stuffed my ears. A random mooing cow or car kickback was welcome. There was very little to do but watch satellite television, listen to music, and walk the road. We literally lived in "the field."
Music kept me sane. The blues was for Saturday morning cleanups with Paw Paw and Nana Boo before going to Albany State football games at Hugh Mills Stadium. Gospel Cavalcade was for Sunday rides to church. But hip-hop was mine, for all occasions.
My bedroom was always piled with homemade mixtapes I pulled from the radio. My first mixtape was special because it marked my move in 1998 from northern Virginia to the Dirty South—I still remember how LL Cool J's verse on the remix of Montell Jordan's "Let's Ride" abruptly shifted into Three 6 Mafia's "Tear Da Club Up '97." Mixtapes were painstaking work: listening to the radio for hours to songs I didn't like, finally hearing the song I'd been waiting for, starting at the right place on the tape, and stopping the recording before commercials or another song came on.
Some songs, like Atlanta-based Goodie Mob's "Black Ice," made it on every mixtape I ripped. Big Gipp's opening lines—"Now you know and I know / I done bumped every hole in the wall, y'all"—could be read as a double entendre for being knocked around by life and also getting high. This song invoked my uncertainty about school and the risks of moving forward without a clear vision of what I was doing, anxieties that conflicted with advice from my grandparents, who encouraged me to go on faith, perched on the sacrificial shoulders of black folks before me.
Mixtapes were currency at Albany-area high schools, bartered across cafeteria tables, under school desks, through slits of car windows, and out of trunks. They featured Albany and surrounding-area hip-hop acts like Field Mob, Suthern Klick, THER.I.P.Y., Ness Lee, Ole-E, D.R.U., and Big Nod, who spun stories of growing up in the rural South. Southern hip-hop made room for a new generation of young black folks to speak their truths.
There's a distinction between urban and rural in Southern hip-hop, and in Georgia this difference was especially prominent during the mid- to late 1990s. Atlanta rappers, especially OutKast, were at the time bearing a huge burden of outside criticism—the ideas from New York and California that Southerners were incapable of producing legitimate hip-hop music and culture. Atlanta was eventually able to successfully garner attention as a viable hip-hop hub and, through its brandishing, came to represent all of Georgia. Georgian rappers who hailed from rural hometowns, and also wanted legitimacy, switched their allegiances from the country to the more visible Atlanta in order to receive a shot at being commercially successful.
Field Mob, though, represented "the 'Bany." While urban hip-hop ushered in an era of "bling" and hyper-materialism, the Albany-based duo trademarked their country-ness. Together, Shawn "Shawn Jay" Johnson and Darion "Smoke" Crawford refused to shy away from their country upbringing and poverty. Joining forces after battling at Monroe Comprehensive High School, Field Mob used their experiences of growing up poor and black to make country a serious Southern hip-hop trope, creating a brand of music that was especially janky and uncouth. Field Mob looked to the future, refusing to romanticize the post–civil rights South as the "mountaintop" fought for during the sixties. They recognized how slow living and slavery's rolling and residual effects still dominated lesser-developed parts of the rural South. Country black folks' experiences didn't easily situate within the urban version of hip-hop. "We [wanted] to be mascots for the country," Shawn Jay once said in a radio interview.
Field Mob's 2000 debut, 613: Ashy to Classy, shone Albany in a more contemporary light, as a city struggling with socioeconomic troubles not ameliorated by the civil rights movement. Their first single, "Project Dreamz," became poor and rural black folks' anthem—the song was in constant rotation on the local hip-hop stations, 96.3 WJIZ and the now-defunct HOT106.1. Composed of plucky guitar strings, percussion, and scratching synthesizers, with well-placed church hollers throughout the chorus, "Project Dreamz" presented a solemn view of growing up poor in rural Georgia. Across radio waves and school hallways people sung the song's hook: "If you ever been broke put your hands up." The punch lines were catchy and painful, conjuring images of drug abuse, soul food, and poverty ("have you ever bathed with soap the size of a Cert?") that resonated with people outside of Georgia's urban center. You could feel the power in these lines, listening as Smoke's high and nasal voice complemented the octave dips in Shawn Jay's gravelly delivery.
Field Mob was also aware of Albany's status as a "ghost town" of the civil rights imagination, and their second album, From tha Roota to the Toota, recalls Albany's racial tensions and history. "It's Hell," a song featuring fellow Albany rapper Ole-E, references slavery and slave masters. The use of vibrato in scripture, call-and-response, and the chorus in "All I Know" pulls from the backwoods Baptist sermonic tradition of redemption and "come as you are" rhetoric. The accompanying music video best illustrates it: rapper CeeLo, in traditional pastoral robes, raps from the pulpit while church members, wearing clothes ranging from "Sunday best" suits and dresses to street clothes (baggy jeans, short skirts, and polo shirts) wave hands in praise. But "Don't Want No Problems" takes modern racial tension head on: 
I'm from the home of racist rednecks and Confederate flags
You could strand them hussies, politicians, and drags
Cotton pickin', slave tradin', and nigga lynchin'
Lead to more oppression, me Cricket caught trigger pinchin'
Shawn Jay's flow is then interrupted by a cop's Doppler siren before the group determines "he kept goin'," and then Shawn Jay raps, despondently: "It's like I got enemies. 'Cause of my race they hate me." The song ends with a final, futile appeal from Smoke—"I'm sick and tired of being sick and tired," a recasting of Mississippi Freedom Fighter Fannie Lou Hamer's now-famous sentiment. The line glides over the repeated coda of "Leave me alone." This music couldn't be more relevant if it were written tomorrow.
---
Enjoy this story? Subscribe to the Oxford American.