Dope Over Decades
Killer Mike turns forty
By Austin L. Ray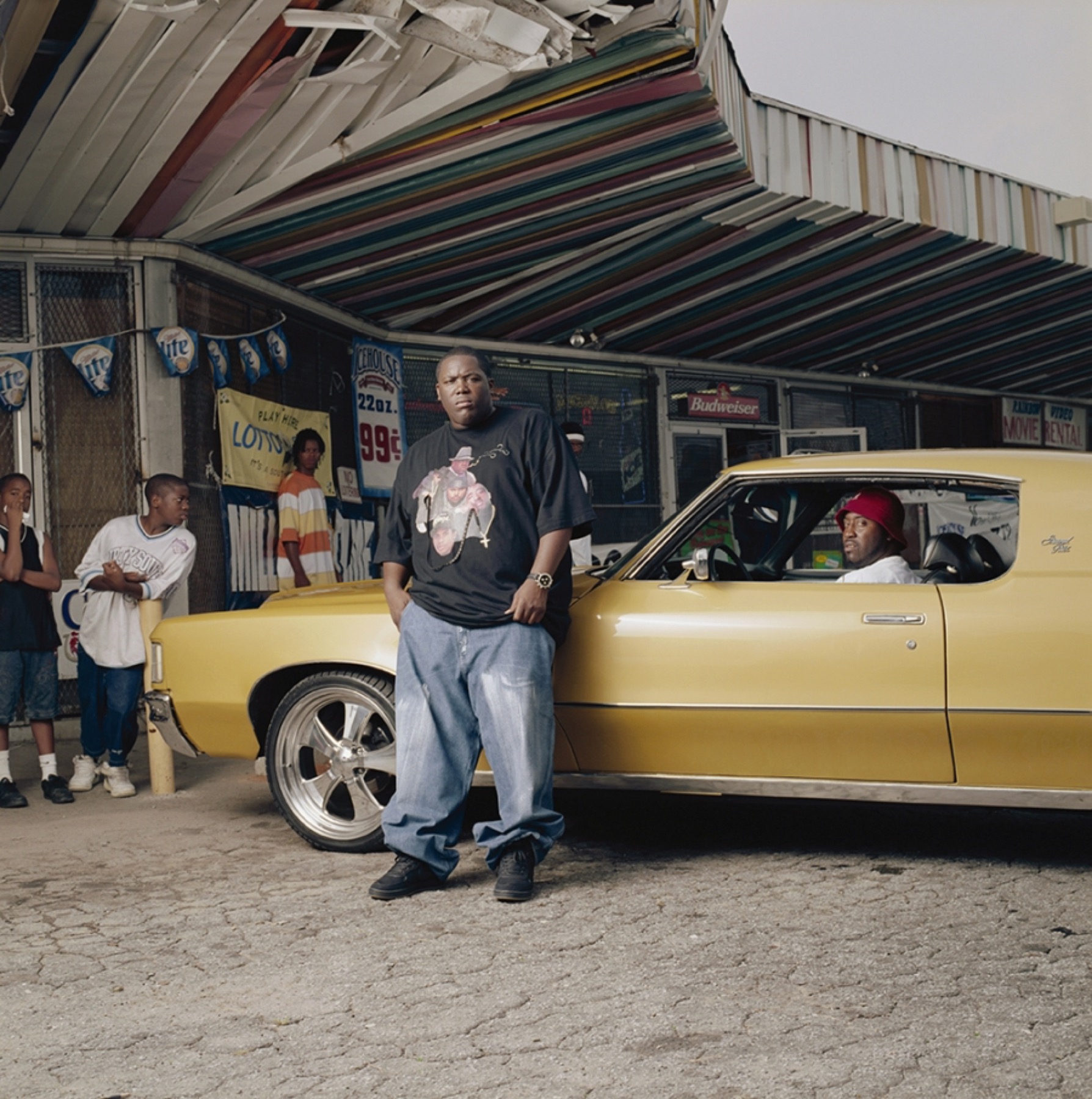 Killer Mike. © Bryce Duffy/Corbis
When I called Killer Mike he was at Hartsfield-Jackson International, about to leave for England, where his rap duo, Run the Jewels, would be performing for a crowd of 175,000 at the iconic Glastonbury Festival. It was 8:15 P.M. on a Wednesday in June, and I wanted to ask him what it's like to be a rapper at the top of his game at age forty. But he was running a little late, and before he could play one of the biggest shows of his life, he had to clear the TSA in Atlanta. He said he'd call me right back.
"If you don't hear from me by 8:35, you call me back," Mike said. "That means I've been detained, and your story just got a whole lot more interesting."
With very rare exception, rap music is a young person's game. Even in Atlanta, home to many of the biggest artists in rap history, a city that's proven itself the rap capital of the world time and again, a new generation has taken over—Andre 3000 and Big Boi, CeeLo, T.I., and Young Jeezy have ceded the scene to the next wave of artists like Future, Migos, Young Thug, and Rich Homie Quan. Yet, at the age when most rappers have effectively retired, burned out, or become irrelevant altogether, Killer Mike is releasing some of the best music of his career to the widest audience he's ever reached. He broke through fifteen years ago, as a guest on a couple of standout OutKast tracks: "Snappin' and Trappin'" from 2000's Stankonia, and a year later on "The Whole World," for which he won a Grammy. But Mike has flourished like never before with Run the Jewels, the partnership formed in 2013 with the critically acclaimed, veteran Brooklyn rapper El-P. In September, they performed the song "Angel Duster" (backed by celebrated art-rockers TV on the Radio) on The Late Show with Stephen Colbert. It was Colbert's second week as host, so the show was drawing intense media scrutiny and no doubt every guest was carefully considered. "I kill my masters, I mentor none," Killer Mike rapped during the performance. "That means when I die that's it / My style is gone, I'm a one of one." Afterward, when Colbert went in for a handshake, Mike gave him a giant hug.
Michael Render was born on April 20, 1975. If you know much about him, then his day of birth may seem like a put-on. For instance, he celebrates 4:20 every day by lighting up and announcing it on Twitter, sometimes twice. (His Twitter bio reads: "I like my woman, my kids, weed, polo, and politics.") His fortieth 4/20 wasn't just a milestone, it was an event—Mike's wife, Shana, threw him a surprise party. "Aw, man, I cried like a baby," he told me. She invited friends from all over the country, and all points of his life. "Everything from ex-girlfriends to my mom, my friends from as far back as kindergarten to my accountant, who I had just hired. It was beautiful, man. She told me to get down there, and I walked in the room and saw the bottle service and thought I had honestly walked into someone else's party. I walked back out the door! It was like, 'No, idiot, this is your party!'"
The celebration was held at a hookah lounge next to Mike and Shana's barbershop, about twenty minutes southwest of downtown Atlanta. He was surprised by the party, sure, but not by the person who organized it. "Shana is the number one wife," Mike said. "I couldn't see myself without her." That night, she also gave him a surprise birthday present—a second barbershop in Atlanta's Old Fourth Ward.
The new Graffitis SWAG Shop is located along Edgewood Avenue in the O4W, a long-blighted neighborhood that has seen massive revitalization in recent years. Up the street, Sister Louisa's Church of the Living Room & Ping Pong Emporium is slammed on weekend nights; it's the kind of place where celebrities like Lady Gaga and Owen Wilson show up for a drink or a game. The restaurant Staplehouse is the talk of Atlanta's foodie community. There's an arcade-themed bar called Joystick.
Mike got into barbershops because of their importance in the black business community. He'd seen too many located in some rough places, so in 2011 he and Shana designed SWAG (Shave, Wash, and Groom) to be more inclusive—a safe space for anyone who might need it. The new location is painted a stunning bright red with ornate gold lettering on the window. Beneath the logo is the phrase: not your ordinary barbershop. I met Killer Mike there a few weeks after he got back from Glastonbury. He hopped out of his pickup clad in all black (t-shirt, cargo shorts) except for a pair of sharp, blue-and-orange Nikes. I noticed, too, that he was without his sling. "I can't fight, but I can hug pretty good," he told me, when I pointed this out.
At South by Southwest in March, Mike tore his rotator cuff fighting off a fan who had climbed on the stage and rushed El-P. "I didn't really know what to think, it was all instant," he said. "But I knew I hurt something in my arm and I knew we couldn't stop the show." It required surgery, which he had nine days after his birthday, and he'd been touring in a sling since. When I saw Run the Jewels at Big Guava Festival in Tampa less than two weeks after his operation, he sashayed wildly around the stage shouting, "One arm and all, motherfuckers! One arm and all!" I reminded him of that show and Mike admitted that his physician "strongly suggested I shouldn't perform. But he's obligated as a doctor to say that." The injury has taught him "to look at life a little differently, you know? I know my body is hurtable now. I don't wanna stop doing this, so I gotta stay strong."
Mike's self-reliance grew from his childhood in the West Atlanta neighborhood of Adamsville. Although his mom was one of the first people to expose him to rap music, he was brought up primarily by his grandparents, Bettie Clonts and Willie Burke Sherwood. "The people who raised me were forty-three and fifty-three when I was born," Mike told me. "We took a vacation every year. We fished, we hunted. They talked shit, drank liquor. I met them at this age," he explained, referring to his own. "And they were active."
"By the time I was nineteen years old, I could shoot, I knew how to fish, I knew how to grow food," Mike said. "I had seen my grandparents do everything that could be done for us by themselves. That breeds a confidence. I was just never taught to be afraid."
Fearlessness and confidence are a defining theme for Run the Jewels. With El-P, Killer Mike creates aggressive, intransigent music with song titles like "Close Your Eyes (And Count to Fuck)," with bonkers-inspirational lines delivered in relentless crescendo that make you feel like you could go outside and rip a tree right out of the ground.
Aside from braggadocious self-canonization and head-spinning cultural references, the duo's two albums, Run the Jewels and Run the Jewels 2—along with Mike's last solo effort, R.A.P. Music, which El-P produced—are also vehicles for powerful activist messages and political calls to arms. On the song "Reagan," Mike condemns the fortieth president on a variety of points ("thanks to Reaganomics, prisons turned to profits / 'Cause free labor is the cornerstone of U.S. economics") but also his contemporaries: "We should be indicted for bullshit we inciting / Hand the children death and pretend that it's exciting." On Run the Jewels' "Early," he uses a harrowing first-person narrative where a stop-and-frisk escalates into an arrest and the narrator fears for his life. For his part, Mike rejects the political label, preferring to call himself a "social commentator."
As Mike's fame has increased, he's become a reliable, eloquent representative in the public forum. He spent a lot of 2015 speaking about social issues in television appearances, at colleges, including MIT, and in publications like the FADER and Billboard. He attended the White House Correspondents' Dinner in April, where he says Arianna Huffington "whisked me around the room like the socialite extraordinaire she is." In September, Run the Jewels was among a handful of artists to play Banksy's Dismaland, an art-exhibition-as-theme-park of sorts, where Mike held one of Banksy's original works and cried, comparing the moment to that iconic photo of Michael Jordan holding the NBA Finals trophy. When I asked him if he thinks it's important to make the most of his time back in the spotlight, if he feels a certain responsibility to use his platform for good, he was adamant.
"Absolutely," he said. "I don't feel that all rappers have that responsibility, but I feel like I have that responsibility. I used to work just down the block. Come on."
He walked me from the back room of the barbershop and out onto Edgewood Avenue. Even at 4 P.M. on a Thursday, the street and sidewalks were bustling. He pointed into the distance.
"You see that big, square building?" he said. "Just past the trees, that's the United Way building right there. I used to be an organizer for this city in there. Hell yeah, it's important for me. I'm still him. I just got lucky and I rap. But I am still very much Michael Render."
Killer Mike wasn't always as focused and clearheaded as he is today. After the initial success of his collaborations with OutKast and his debut album, Monster, which went gold in 2003, Mike got lost down the usual avenues of excess that accompany sudden fame. Not too long ago, he'd nearly given up on rap altogether. His musical output slowed, he and Shana opened their first barbershop and Mike mainly kept to himself. He played shows, but would go home right after. He did some voice work for a short-lived show on Cartoon Network's Adult Swim called Frisky Dingo, which led to an invitation from Adult Swim VP Jason DeMarco for Mike to contribute to Aqua Teen Hunger Force Colon Movie Film for Theaters Colon the Soundtrack. It was DeMarco who would connect Mike and El-P. When the latter produced Mike's comeback album, 2012's R.A.P. Music, the veteran rappers discovered and developed an artistic synergy (not to mention a rather adorable best friendship) on which Run the Jewels was founded.
The last few years have represented not just a career pinnacle, but a welcome stability in his personal life, too. "I treat my artistry better, I treat myself better, I treat my wife better," he told me. "What matters now is longevity. I'm not going out and buying brand new hot rods. I'm not philandering around. I'm not buying silly, gaudy, frivolous—whatever hip-hop is selling that year. I'm pretty much just a middle-class dad and husband, and that's fine. My sneakers are doper than everyone else's at the PTA meeting, though."
Meanwhile, Run the Jewels is preparing to follow up on the runaway success of their first two albums. Unsurprisingly, Mike is looking at his next step as a challenge, expressing his goals in the context of his heroes: "I don't know if you remember the time between ATLiens and Aquemini, but ATLiens made you think OutKast had gotten bigger than any of us ever thought they could get," he said. "Before they came with Aquemini, it was like, 'What the fuck could they do? What could get better than this?' And that's how I feel in my soul. I just wanna be dope over decades, and I feel like I'm just getting credited for being dope. Just now."
I asked Mike if there's anything more he wants, anything he wishes he had. "I just feel in my soul that we've got something bigger in us," he said. "It's wild, I'm grateful, but I just want it. I wanna rock stadiums. I believe the rap I do is worthy of that. It's like when you're a kid rapping or playing air guitar in front of a mirror. Whatever you do, in your mind, you see a stadium."
After moving the conversation outside, we had stayed on Edgewood. Mike loves people, and that comes through in all of his interactions, whether he's debating a talk show host, tweeting at his fans, or talking to the young daughter of one of his barbers. Of course, many people recognized him on the street. When a young man approached us seeking counsel about rapping, Killer Mike stopped. He listened intently. And he offered advice where he could.

"Untitled" by Killer Mike is track eight on the Georgia Music issue CD.