The Music of Georgia
By Oxford American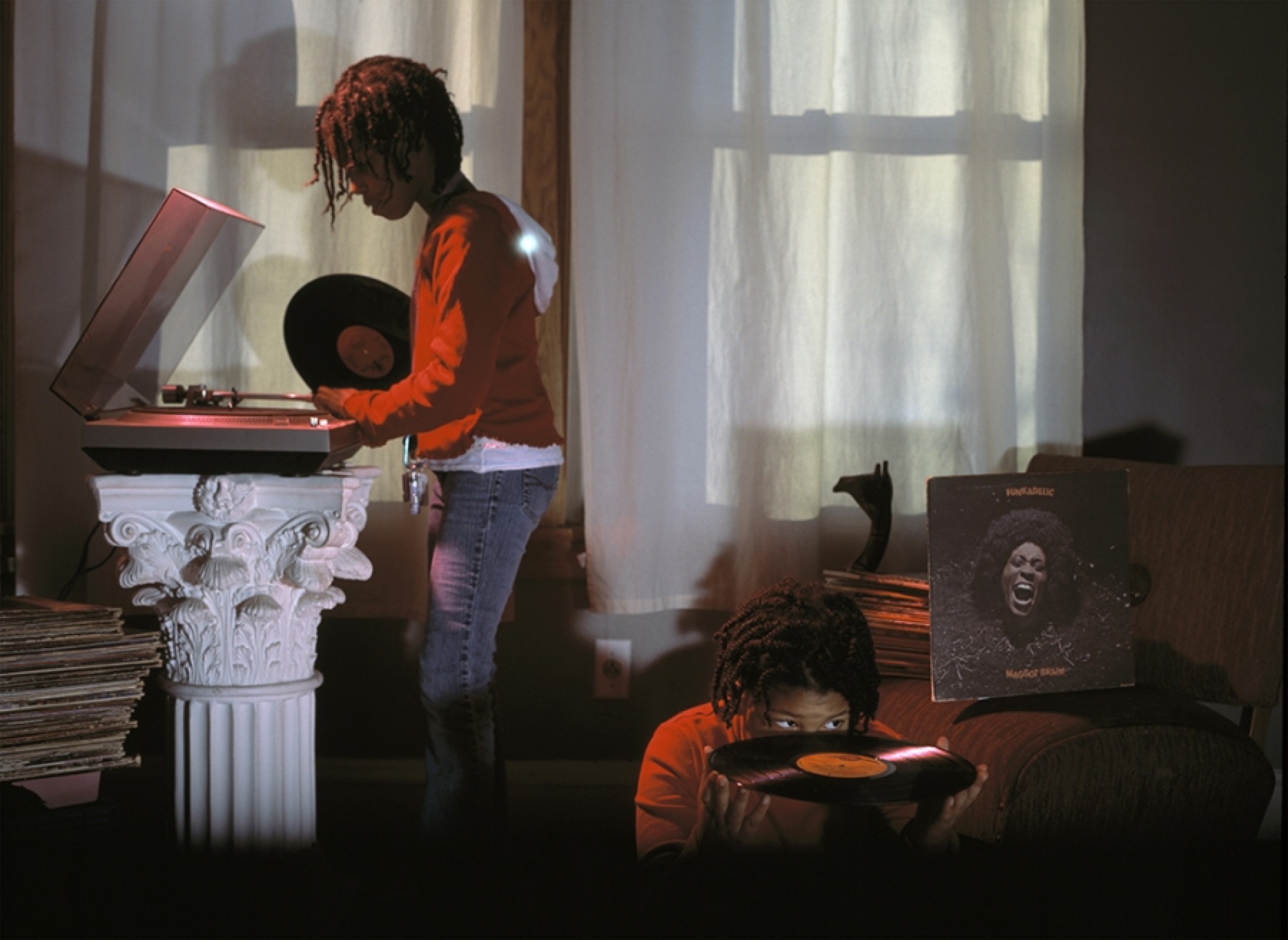 "1200 meditations, things my mother gave me," by Cecil McDonald Jr.
Notes on the 25 songs included with the Georgia Music Issue 
---
1. "Cold Sweat (False Start)"
James Brown
The precise origins of new genres are generally matters of debate. When jazz emerged in New Orleans, Buddy Bolden was the most innovative cornet player in town, but it's generous to give him sole credit for creating the form. The Sex Pistols had a hand in popularizing punk, but they were standing on the shoulders of countless groups before them. Let's not even approach the perpetual rock & roll negotiations. There is, however, at least one clean exception to the rule: James Brown invented funk.
This is a remarkable achievement, given the relative simplicity of the recipe: a driving rhythm with emphasis on the one beat, a reliable hook, r&b instrumentation. "Cold Sweat," written in 1967 with bandleader Pee Wee Ellis, is among Brown's greatest compositions, and also one of his most basic. At the height of his powers, Brown seemed to be tapping an inexhaustible wellspring of funky inspiration, and he wrote on the fly, often hustling his band, the inimitable J.B.'s, into a studio in whatever town they happened to be in. In this "false start" from sessions at King Studios in Cincinnati, we are granted a glimpse at Brown's process and his famous perfectionism. The engineer labels the take, Brown counts it off, and the band sets in flawlessly. But immediately the maestro hears some imperceptible slack and stops them, in unison, at the top of the next bar. With his God-given instruments (hands, mouth) he communicates the precise message called funk.
Before then, no one had heard music quite like this, including the J.B.'s. Thereafter, no one would be able to shake this new sound. James Brown was both the medium and the architect, the prophet and the divine in one body. And while Brown certainly didn't invent hip-hop, he's a worthy subject in that conversation, too, because of beats like this one.
In the issue: Peter Guralnick on Blind Willie McTell and James Brown
---
2. "Watch the Dog That Bring the Bone"
Sandy Gaye
Georgia's soul and r&b legacy is crowded with stars; it is staggering to consider that Otis Redding, Little Richard, James Brown, Ray Charles, Sam & Dave, and Gladys Knight shared the same home state. But in the sixties and seventies, there was a lesser-known homegrown scene in Atlanta that produced a wealth of deep soul numbers that speak for themselves, when given the chance.
Numero Group's 2008 compilation Eccentric Soul: The Tragar & Note Labels is an entry point—you'll find cut after cut of high quality, overlooked Atlanta funk and soul. The fiery blaster "Watch the Dog That Bring the Bone" (1969), written by Richard Marks and Bill Wright, arranged by trumpeter Tommy Stewart, and performed by Sandy Gaye, is argument enough for paying attention to Georgia's "second-tier" soul arena.
In the issue: Brian Poust commemorates Atlanta's deep soul scene
---
3. "Ohoopee River Bottomland"
Larry Jon Wilson
In November 1975, Graham Leader and James Szalapski, inspired by the Outlaw country movement in Nashville, got an idea for a film. It would be a non-narrated documentary about their favorite singer-songwriters, starring the music itself. They began filming less than a month later. On day one, they booked studio time in Nashville and invited a musician to cut a song live on tape. It was a risky set-piece scene, and they were nervous. And then the musician didn't show. They called around. They tracked him down in a distant hotel, where Leader roused him from bed and got him coffee and scrambled eggs on the way to the session.
The songwriter was one of the very best: Larry Jon Wilson from Augusta, a purveyor of country-funk with a swampy baritone and deep pride for his Georgia roots. The film is called Heartworn Highways, and it's now a classic artifact of Americana. His take that day became the opening scene: after the credits roll over Guy Clark's "L.A. Freeway," Wilson is shown in the studio working up a new version of his traveling song "Ohoopee River Bottomland," about a prodigal son of Georgia. As the last notes fade out, Larry Jon gives his stamp of approval—"Oh, hell yeah."
---
4. "Brass Buttons"
Gram Parsons
Gram Parsons's album Grievous Angel was released four months after his death at age twenty-six from an overdose of morphine and alcohol, which makes the song "Brass Buttons" all the more heartbreaking. Parsons wrote it after his mother, Avis, died from cirrhosis. In a painfully intimate portrait, he remembers her life and mourns her absence. "The sun comes up without her," he sings in a clear, melancholy voice. "It just doesn't know she's gone." Grievous Angel features Emmylou Harris as a guest vocalist on every song but one. "Brass Buttons" is Gram alone, his lyricism on full display and his grief laid bare.
In the issue: A portrait of Gram Parsons and his "Nudie" suit
---
5. "See See Rider Blues"
Ma Rainey & Her Georgia Jazz Band
Gertrude "Ma" Rainey grew up poor in Columbus, Georgia, along the Chattahoochee River. Both parents were singers, and by her teens she was performing with traveling minstrel shows. Her deep voice could be rough and her range was limited, but Ma Rainey had an undeniable presence onstage, wearing gold caps on her teeth, gaudy jewelry, and peacock feathers in her hair. In an era dominated by slick and glamorous female vocalists, Rainey brought the red dirt of country blues to the glittering popular music of the moment.
On "See See Rider Blues," recorded for Paramount in New York in October 1924, her revolving Georgia Jazz Band was at its finest, with Fletcher Henderson, Charlie Green, Buster Bailey, Charlie Dixon, and a fledging hot cornet player named Louis Armstrong. This is the original recording of an American standard—covered by Elvis, Ray Charles, the Grateful Dead, and countless others. It's a traditional song, but the credits rightfully bear her name: Ma Rainey, the Mother of the Blues.
In the issue: Cynthia Shearer honors the genius of Fletcher Henderson
---
6. "Georgia Buck" 
Precious Bryant
In 1969, the Atlanta folklorist George Mitchell came to Waverly Hall, a tiny town near Columbus, to record, in his later words, a "Georgia musical treasure." Precious Bryant, a finger-style guitarist and blues singer in the Piedmont tradition, was twenty-seven years old. Her signature song was "Georgia Buck," an instrumental based loosely on early country recording artist Sam McGee's "Buck Dancer's Choice," which Bryant had learned from her father.
This rendition was captured at her home in Talbotton in 2007 by Neil Rosenbaum and his father, Art, for Neil's excellent documentary film Sing My Troubles By: Visits with Georgia Women Carrying Their Musical Traditions into the 21st Century. Precious Bryant died in 2013 at seventy-one.
---
7. "Raggy Levy"
Jake Xerxes Fussell
As the son of folklorist Fred Fussell, Jake Xerxes Fussell grew up in Columbus awash in the vernacular music of the South, and of Georgia in particular. His father often took him on fieldwork missions, canvassing the rural Southeast for unheard music with George Mitchell and Art Rosenbaum, absorbing his seniors' shared curiosity and enthusiasm for traditional music. Jake took up the guitar at a young age and studied under his father's friend Precious Bryant. Eventually, he took a degree in the famous Southern Studies program at the University of Mississippi. In 2015, Jake Fussell released his first album, which showcases a singular combination of pedigree, experience, education, and talent. The album's source list (from Bryant to Uncle Dave Macon) is a syllabus unto itself.
"Raggy Levy" is taken from Doug and Frankie Quimby of Brunswick, Georgia, associates of Bessie Jones, whose own version with the Sea Island Singers was recorded by Alan Lomax in 1960. Rosenbaum notes, "Jake is still listening and learning, and coming up with music that takes us to a deep place in the American spirit."
---
8. "Untitled" 
Killer Mike (featuring Scar)
In 2012, Killer Mike released R.A.P. Music, a no-holds-barred assault on complacency, prejudice, American history, and the rap music establishment. The acronym in the title stands for Rebellious African People.
"Untitled" features Terrence "Scar" Smith, a songwriter, vocalist, and associate of Atlanta's Dungeon Family collective, whose voice can also be heard on tracks from stars like OutKast and Janelle Monae. Over a beat engineered by El-P, his soon-to-be partner in the duo Run the Jewels, Killer Mike confronts a harrowing prospect: that any famous, outspoken black man must grapple with the threat of his own assassination. He raps with appropriate abandon, making preparations for a future he may not live to witness, as if this were his last chance to claim allegiances and define his platform. Streetwise and bookish, weaving in references both overtly political and intentionally obscure, this is Killer Mike's great anthem, the song he would have us remember him by.
In the issue: Killer Mike turns forty
---
9. "I Want the Lord to Do Something For Me"
Evangelist Hattie Finney & the Straight Street Holiness Church Choir
Recently, at a flea market in Canton, Georgia, Deerhunter's lead singer, Bradford Cox, came across a gospel 45 by a group he'd never heard of. The plain yellow label looked like a self-release and bore an address in Fort Valley, near Macon. Cox bought it for five cents. He then took it to his friend in Atlanta, the gospel aficionado Lance Ledbetter, who was familiar with the Straight Street Holiness Church but had never heard these particular songs. The A-side was "I Want the Lord to Do Something for Me," credited to Rev. Milton Phelps with Evangelist Hattie Finney on lead vocal. Ledbetter was immediately struck.
According to Jeannette Finney, daughter of Evangelist Hattie, who led the church for more than fifty years, the recordings were made in the mid-seventies. Still, as an amplified gospel the song is dated to a specific period, just after the introduction of the electric guitar, in the forties, when preachers plugged in at church. This was the music-centric brand of worship that Little Richard and James Brown must have grown up hearing in Macon and Augusta.
Jeannette says she connects with her mother, who died in the late 1990s, through music: "All the way through it's spiritual, and she was a very spiritual woman." Hattie Finney began preaching in traveling tent revivals at age nineteen before establishing the Straight Street Holiness Church in Fort Valley. On this recording, we hear Rev. Phelps's crude guitar pattern create a droning bottom over which Hattie Finney leads the choir, from behind her drum set. It is divine providence put to song, at once a fervent call for God's guidance and a passionate submission to His love: "I need the Lord to do something for me. I want the Lord to do something for me."
---
10. "Sweet Picking Time in Toomsboro, Ga."
Tut Taylor (with Norman Blake)
Robert Arthur "Tut" Taylor, who died last April at age ninety-one, grew up in a community called Possum Trot by Georgia's Oconee River. It appears on no map. Left to his own devices, young Tut developed an idiosyncratic flat-picking style on the Dobro, which slowed him down at first but then allowed him to cultivate a deliberate, now highly acclaimed style. In the early 1970s, he flourished alongside the guitarist Norman Blake, another Georgia-bred bluegrass legend. Blake was from his own speck across the state called Sulphur Springs—the kind of place where a boy can fit in a lot of pickin' practice.
By the time Taylor and Blake crossed paths in Nashville, theirs were the hottest hands in the business, and when they each started recording proper albums of their own songs, they did so with one another's backing. "Sweet Picking Time in Toomsboro, Ga.," a blistering instrumental number from Taylor's 1972 album Friar Tut, is emblematic of their exchange. As the last notes ring out and then fade, you can almost see the men leaning away from the flame of shared concentration, grinning over a take they knew was in the bag.
---
11. "Ain't No Chimneys in the Projects" 
Sharon Jones & the Dap-Kings
Representations of Christmas are among the more narrow images still proffered to our popular consciousness, a homogenous, bygone ideal of an America that never spoke for us all. Augusta native Sharon Jones is hardly a political musician, but she is an emotional one, and this story of youthful innocence meeting blunt grown-up reality can serve as an effective protest of exclusive holiday perceptions.
"When I was a child I used to wonder how Santa put my toys under the tree," Jones sings. "I said, 'Momma can you tell me how this can be, when there ain't no chimneys in the projects?'" Sharon Jones isn't the first artist to voice this sentiment. For instance, in 1994, OutKast rapped: "Ain't no chimneys in the ghetto, so I won't be hanging my socks."
A couple months ago, Sharon Jones & the Dap-Kings released It's a Holiday Soul Party, a collection of originals and funked-up classics, including their own "8 Days (of Hanukkah)" and the best rendition of "Little Drummer Boy" we've ever heard. Now, here is a holiday tradition that everyone can get down to!
In the issue: Sharon Jones's Augusta homecoming
---
12. "The Living Bubba" (live)
Drive-By Truckers
In an age when rock & roll done in the classic mode can seem passe (or more often just bad), Drive-By Truckers, now in their twentieth year, have provided a consistent reminder that to "turn your demons into goddamn walls of noise and sound" remains a worthwhile pursuit. The Southern rock monster is led by Patterson Hood and Mike Cooley, with whatever third singing, songwriting, shredding compatriot can cut the mustard next to the two of them (Rob Malone, Jason Isbell, and Shonna Tucker each contributed gamely in their stints with the band). Though Hood and Cooley were both raised in North Alabama, where they played together in Adam's House Cat, DBT has been based in Athens, Georgia, from the beginning.
Hood has called "The Living Bubba," from their first album, 1998's Gangstabilly, the best song he's written. (That's a tall order.) Penned in homage to the Atlanta musician Gregory Dean Smalley, who succumbed to AIDS when Drive-By Truckers was just getting together in the nineties, "The Living Bubba" tells the unadorned story of an artist facing a slow death and making music until his final breath. This version appears on DBT's latest album, It's Great to Be Alive, recorded over three nights last year at the Fillmore in San Francisco. "I keep on living just to bend that note in two," Hood sings on the final chorus, before Cooley joins him in a harmony almost three decades in the making: "And I can't die now, 'cause I got another show."
In the issue: Patterson Hood pays tribute to Athens songwriter Vic Chesnutt
---
13. "Awake"
Smoke
Atlanta's Smoke is frequently likened to Tom Waits—an understandable comparison thanks to lead singer Benjamin's gravelly vocals—though we prefer this simple declaration from singer-songwriter Kelly Hogan: "Smoke is the sound of Cabbagetown to me." What a mesmerizing and melancholy sound that is, self-described by the band as "the queer Southern blues." Among many others, Smoke influenced fellow Cabbagetown musician Chan Marshall (better known as Cat Power), and after Benjamin's early death in 1999, he was memorialized in Patti Smith's song "Death Singing."
On "Awake," cornet and cello provide a beautiful counterpoint to Benjamin's aching ballad of desolation, which contains the sobering wisdom of a man who understood his days were numbered. "You don't want it tomorrow if you've got it today," Benjamin warns. "Tomorrow never happens anyway."
In the issue: Life and death in Atlanta's Cabbagetown
---
14. "The Winter Is Coming"
Elf Power
By the turn of the new millennium, the Elephant 6 Recording Company was an established institution, a mysterious band of merrymakers emanating psychedelic lo-fi indie rock from the woods outside of Athens. With 1998's In the Aeroplane over the Sea, Jeff Mangum's Neutral Milk Hotel had transcended the popular chasm and assumed the public face of the operation, an uncomfortable burden that would soon undo that band and, ultimately, the collective itself. But before the recognition arrived, Elephant 6 was just a bunch of creative friends making music together. Mangum's many collaborators peopled a variety of cross-pollinating bands, including the Olivia Tremor Control, Apples in Stereo, of Montreal, and the anonymous all-hands production known as Major Organ and the Adding Machine.
Elf Power, formed in 1994 by Andrew Rieger and Laura Carter, was at the center of the collective, and as Neutral Milk Hotel voluntarily faded, they rose. "The Winter Is Coming," from the 2000 album by that name, captures both the wildly fun, collaborative spirit of Elephant 6 and Elf Power's own particular craftsmanship. The band went on to collaborate with Athens's greatest songwriter, Vic Chesnutt, and Carter and Rieger formed Orange Twin Records to raise funds to establish a conservation community. Elf Power is still creating strange, imaginative music, most recently with 2013's Sunlight on the Moon.
In the issue: Andrew Rieger shares memories of his favorite Athens shows
---
15. "Tried to Be True" 
Indigo Girls (with R.E.M.)
Amy Ray and Emily Saliers met in elementary school in Decatur, Georgia, and started playing together in high school. They formed the B-Band while at Emory University before rechristening themselves the Indigo Girls in 1985. Thirty years later, the beloved folk-rock duo has released sixteen studio albums—most recently, One Lost Day last June—and they are known as much for their activism as for their intensely personal lyrics and interwoven vocals.
Their self-titled 1989 album won the Grammy for Best Contemporary Folk Album and includes the classics "Closer to Fine" and "Kid Fears," which features vocals by Michael Stipe. His fellow R.E.M. band members Bill Berry, Mike Mills, and Peter Buck join in on "Tried to Be True," which Amy leads in her ferocious alto. Though "Tried to Be True" is more rock song than ballad, it takes but a brief introduction to the band to understand why New York Times critic Neil Strauss once wrote that in their early duets, Amy and Emily "could delve into winning harmonies and energetically pick their guitars in counterpoint as if connected by an invisible bond."
In the issue: Jamie Quatro on the Indigo Girls

---
16. "Potter's Field"
Alice Swoboda
When she answered an Atlanta newspaper advertisement seeking songwriters in the early 1970s, Alice Swoboda did not intend to perform her own material. Thankfully, the producer Jesse Jones recognized her talents and convinced Swoboda (nee Harper—she took her stage name from a New York Mets outfielder) to record four sides before she grew disenchanted with performing.
The haunting ballad "Potter's Field" is a masterwork, blending aspects of soul, r&b, jazz, and folk. Swoboda still lives in Atlanta and continues to write music, though strictly for her own entertainment. "I'm always going to have a guitar somewhere nearby," she tells us, but she has no interest in recording again. "My heartbeat is for the homeless, the hopeless, the helpless."
---
17. "Diamond Joe"
Bessie Jones
In 1935, the New York folklorists Alan Lomax and Mary Elizabeth Barnicle met Zora Neale Hurston in Florida and the trio embarked on a three-week fieldwork trip. They ended up in Georgia's Sea Islands, where they encountered an extraordinary shouting strain of gospel music in practice by the isolated black community there. When Lomax returned to St. Simons Island in 1959, he met Bessie Jones, a historian, storyteller, educator, and singer who was compelled to carry the old traditions forward. Though she preferred to sing in a group, her unaccompanied voice is stunning, as evidenced on "Diamond Joe." Lomax made hours of recordings, and helped Jones spread knowledge of the Sea Island tradition through staged performances around the country. She died in 1984, but the oral history she left behind, in song and story, will ensure that Jones's mission carries on, if not in practice, at least in spirited memory.
In the issue: Bessie Jones, vision and voice
---
18. "As Bad As I Am"
Ruby the RabbitFoot
Athens artist Ruby the RabbitFoot's music was described by American Songwriter as "sugary vocals dunked in black coffee lyrics." Ruby herself has called her sound "three-quarters vanilla." Whatever flavor she brings to mind (rock candy?), her 2014 debut, New as Dew, is one of our favorite pop albums in recent memory, with catchy melodies delivered in a crystalline voice that often belies dark messages about the complications of romantic love. Raised on St. Simons Island, Ruby the RabbitFoot took her professional name because of superstition. "Attaching that kind of thing to yourself can't hurt," she's said by way of an explanation. "As Bad as I Am" is a veiled take on that most basic pop preoccupation: unrequited love. You can almost hear the tongue in her cheek.
---
19. "I've Got Dreams to Remember (Rougher Dreams)" 
Otis Redding
What is left to say about this man from Dawson, Georgia, who didn't live to see twenty-seven, yet managed to so profoundly influence the landscape of American music? Otis Redding was an excellent songwriter and a wonderful performer, but we enshrine him most of all for his staggering emotional fluency. Redding's voice had a primal rawness, and he used it to convey the essence of heartache, ecstasy, desire, and joy. He could wholly inhabit planes of feeling at will, for a few minutes at a time. In this moody outtake of his posthumous hit "I've Got Dreams to Remember"—a version referred to as "Rougher Dreams" for its darker lyrics—we get despair. It is the only song he cowrote with his wife, Zelma, based on a poem she wrote while he was away on tour. It sounds like it hurt coming out.
---
20. "Aquemini"
OutKast
This past September, the New York Times put the twenty-four-year-old rapper Young Thug on the cover of its annual Fall Arts Preview section. The writer discussed his consistent self-reinvention and declared him hip-hop's "most challenging and thrilling" artist. What wasn't mentioned is that Young Thug hails from Atlanta. Because why would it be? Many of the genre's great innovators have come out of the ATL; it's the epicenter of the hip-hop universe.
The omission would have been unimaginable twenty years ago, when New York City and Los Angeles were the only known galaxies in that sky. Then something shifted: OutKast happened—and their emergence was as monumental to the genre as Copernicus to astronomy.
"Aquemini" is the title track from OutKast's seminal third album, released in 1998. By this point, the duo of Big Boi and Andre 3000 had established their Georgia roots (Southernplayalisticadillacmuzik, 1994) and their otherworldly ambitions (ATLiens, 1996) under the guidance of the Atlanta production trio Organized Noize. With Aquemini, knowing that they were only as funky as their last cut ("You focus on the past, your ass'll be a has what"), Big and Dre took on more of the production duties and achieved their purest vision as a duo. "For Southern music, period, it meant nothing was the same," Killer Mike told XXL magazine in 2013. "Aquemini progressed our music twenty years."
The song itself is an object lesson. The table is set with moody guitars, a laid-back bass line, and a simple rimshot drumbeat punctuated by a repeating blast of horns—with enough mysterious sounds underneath to make Lee "Scratch" Perry turn his head. In alternating verses, the rappers break bread, cementing the binary mythology of OutKast. Big Boi (Aquarius): "We missed a lot of church so the music is our confessional." Andre 3000 (Gemini): "Sin all depends on what you believing in / Faith is what you make it."
Any notes on "Aquemini" must also take heed of Andre's closing verse—the meter, the message, the mind. Be not afraid of greatness. Hear him, revolve.
In the issue: Kiese Laymon on OutKast's Southern stank

---
21. "Lonesome Atlanta Blues"
Bobby Grant
Bobby Grant is a mystery of the 78-rpm era. Facts are scarce. He made one record, a pair of slide-guitar country-blues numbers: "Nappy Head Blues" backed with "Lonesome Atlanta Blues." According to the matrices kept by Paramount Records, Grant recorded the sides in Chicago circa December 1927. His name appears again as the possible guitar accompanist on Ruby Paul's B-side "Last Farewell Blues," recorded around the same time. Collectors, historians, and conspiracists have proffered a variety of theories about Grant in the quarters of the Internet where these debates tend to unfold. Could he be Georgian Barbecue Bob (Robert Hicks), employing a one-time pseudonym to duck contractual obligations with Columbia Records? Or perhaps another name assumed by Joe Holmes, the Mississippian who recorded the four Paramount sides credited to King Solomon Hill? Some hear Alabama in the playing technique, others the Delta. The mystery is further convoluted by an inconvenient but unavoidable piece of evidence: the voices on Grant's two sides are markedly different.
Whoever wrote (and sang?) "Lonesome Atlanta Blues" seems familiar with the city—and with missing it, as he longs to be back there "down on Decatur Street," the infamous heart of Atlanta's African-American district. It is neither the most lonesome country blues song nor the most emblematic of Atlanta, and the playing and singing is not exceptional next to, say, Blind Willie McTell. But "Lonesome Atlanta Blues" is a mysteriously beautiful time capsule worthy of examination nearly a century on. Whether his "dirty old feeling" was the sadness of a lifetime or just an afternoon blues, "Bobby Grant" captured the feeling of being far from home, alone.
---
22. "Recent Title"
Pylon
Pylon's ambivalence about being a band is far from apparent in the tight power of their records or the energy of their live performances. Nor would you expect, based on their status as progenitors of Athens's storied music scene, that singer Vanessa Briscoe "never planned on being a musician." In fact, it seemed that none of them did. The members of Pylon were artists in the first instance, and saw playing music as yet another means of creating art. They kept at it as long as it was fun, releasing only two records before disbanding in 1983.
If "Recent Title" had been included on their 1980 debut, Gyrate, for which it was recorded, fans might have picked up on the lyrical clues. It is a defiant stand against obligation, against doing anything at all. "I can do what I want to," Briscoe sings without irony. "I can say anything I want to about anybody, or I can just stand here." The song culminates with a livelier message: let's dance.
In the issue: Michael Lachowski of Pylon in conversation with Graham Ulicny of Reptar
---
23. "Midnight Rider" 
Allman Brothers Band
We've placed one of the most recognizable rock & roll songs ever made toward the end of the CD to lend it some needed contextual freshness, like a fat red rose in a bouquet. If you can listen to this song anew, what you'll hear is the birth of Southern rock—body and soul. There's a reason "Midnight Rider" is a fixed point in the trajectory of rock music. The Allman Brothers Band had something the likes of which has not been heard before or since. As was written in Vicksburg: REMEMBER DUANE ALLMAN.
In the issue: Amanda Petrusich hears the Allman Brothers Band
---
24. "Midnight"
Futurebirds
By 1962, Ray Charles was the king of r&b, perhaps the most famous black man in the world, and among the most revered musicians working in any genre. That is to say: he could do anything he pleased. So he went to Nashville and made two albums of country standards, reimagined in the Ray Charles way. Modern Sounds in Country and Western Music and its follow-up, Volume Two, are massive genre-bending achievements. They even stand out in a career as staggering as his.
"Midnight," from the second album, was written by a pair of songwriting legends with ties to Georgia, Boudleaux Bryant and Chet Atkins, and had already been made famous three times over by country stars in the 1950s. Ray transformed it. We've taken the song a step further by asking the Athens rockers Futurebirds to try it on. In this recording, made especially for the Oxford American's Georgia Music issue, Futurebirds proved up to task, washing Charles's rendition in a lovely psychedelic haze.
"My granddad gave me his copy of Modern Sounds Two about six years ago, and 'Midnight' is the song I always come back to," singer Thomas Johnson said. "The track is so moody and groovy. We hope we did the song justice."
Preview "Midnight" by Futurebirds

---
25. "Moon River" (1961 demo)
Henry Mancini & Johnny Mercer
Sometime in the winter or spring of 1961, Henry Mancini composed the tune for what would become one of the most recognizable songs of all time, thanks to Audrey Hepburn and Breakfast at Tiffany's. The words she sang from that windowsill were written by the great lyricist Johnny Mercer, inspired by memories of his childhood on the Vernon River, an inlet south of Savannah. Genius loves company.
Since they only composed "Moon River" for the film, it was believed that Mancini and Mercer never actually recorded the song together, but in the fall of 2014, Chris Mancini found an acetate demo recording among a box of his father's things in the attic: Mancini and Mercer, piano and vocals. It's not hard to imagine the men cutting this take the moment they'd finished writing the song, the melody yet unproven, the ink barely dry on the lyrics. Here it is, my huckleberry friends: the spectacular first take of an American musical masterpiece. 
In the issue: The moony lyricism of Johnny Mercer
---
The Oxford American's Georgia Music Issue CD would not have been possible without the generosity of the creators and rights holders of these songs. Detailed credits and thanks can be found within the magazine.
Liner notes by Maxwell George, with additional research by Eliza Borné and Grant Taylor.
---
Enjoy these liner notes? Subscribe to the Oxford American.