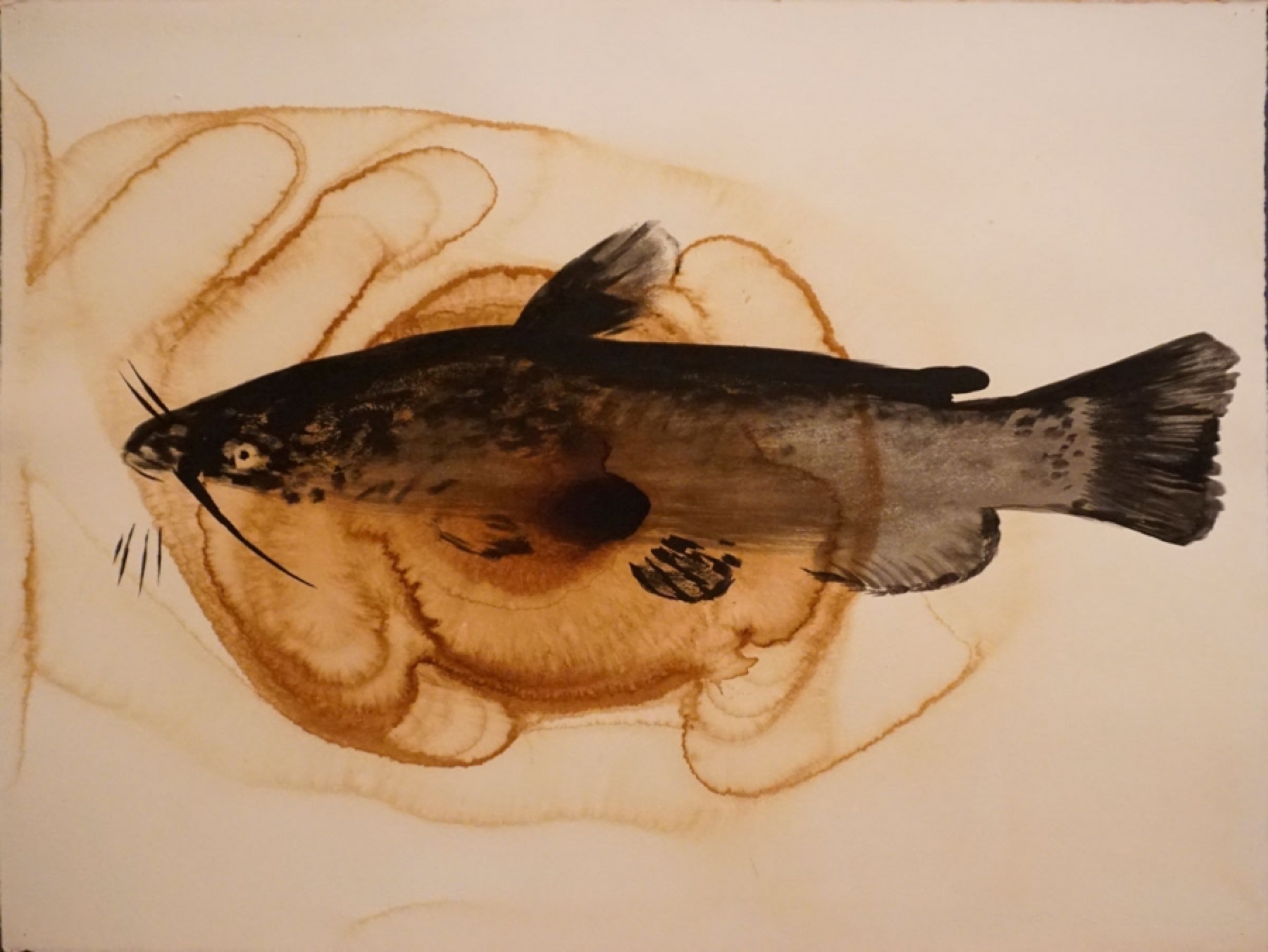 "Catfish" (2013), by David Ellis
Georgetown One Stop
By John O'Connor
Searching for no end of fish
---
I'd been fishing alone in the rain, catching squat, some runt largemouth was all, when on the third day I drove to Searcy, Arkansas, where the spell was broken. It wasn't redemption I was after so much as I wanted to test a theory that I could fish just as poorly among friends. My pal Dacus and I spent an evening hauling corpulent bluegill from a roadside pond with his father, Bobby T, who hollered "Whooo-weee!" whenever one of us got a strike. It felt good to prove my theory wrong.
Bobby T called them "bream" (pronounced brim), not bluegill, as we did in Michigan, and said what he'd really like is some catfish. So we headed over to the Georgetown One Stop for supper, about the only place left, he said, where you could still get genuine White River–caught catfish, short of catching one yourself. We had catfish in Michigan, but it had never occurred to me to fish for them, let alone eat one. Not out of any bottom-feeder snobbery; I inhabited a salmon-patty milieu was all. But Bobby T was from Newport, Arkansas, the heart of White River catfish country, and I was given to understand that as a fisherman I was obliged to educate myself about catfish. It followed that if I wanted to have a lucid conversation about catfish, I needed to eat at the One Stop.
This was maybe five years ago, so some of it's a blur: a dozen unbending miles down AR-36 to Georgetown, through rust-colored fields and forests in spring twilight, the Little Red River, a branch of the White, sailing along beside us. Swaybacked porches. A sky stretched out darkly like a country lake. In that short distance I noticed a shift from the eastern edge of the Ozarks to Delta bottomland, where there were fewer trees and cars and more fishing shacks. I'd just read that Hernando de Soto, while fording the White River not far from here in 1541, saw "no end of fish." It comes back to me that in Kensett we passed a yard where a zorse, or it might've been a zedonk, was tied to a stake. Dacus, without elaboration, said its name was Trouble. 
The highway dead-ends at Georgetown, which was once a proper mill town with a hotel, drugstore, mattress factory, the mill that made hammer and ax handles, two churches for upwards of five hundred souls, even a movie house. No longer. Just the One Stop, the name meant literally. When the river is up, AR-36 can flood out, ditto the other road in and out of town, cutting Georgetown off completely.
The One Stop, set off Main Street, looked like a deserted barracks or a survivalist's cabin: porch roof of corrugated tin, slack American flags. Inside were newly minted Sam's Club folding tables and chairs and hundreds of photographs of people holding strung-up catfish and trout or kneeling over dead whitetail deer that looked oddly animate, like they might get up and run off. We arrived when most folks would be quitting work, but it was packed. I think the plate was nine dollars, all-you-can-eat, and I might've stopped after two. The owner, Joann Taylor, brought them out three or four at a time, white enamel ovals pyramided with catfish fillets, hush puppies, sliced white onion, cupped coleslaw, pickle, and lemon wedge. Dacus, a De Kooning of the condiment school, whipped together tartar sauce, ketchup, mustard, and Tabasco into a purplish glop. As we ate, I could see steam rising out of the kitchen, hear the clang of cast iron. 
This was none of your salmon-patty mealiness, no gummed-up Progresso crumbs feebly masked by mom's dill sauce. It struck me that I hated salmon patties. By contrast, the catfish was tawny and sweet, faintly smoky, and it cracked apart on the tongue, tumbling weightlessly down the hatch. We overdid it, the three of us, grunting and lip-smacking, sweat blooming under our caps, balled-up paper napkins everywhere, catfish remnants smeared across our faces. I won't lie. The gastric repercussions were thunderous, but at our table a mutual amnesty presided. That night, a morsel popped from my rolled shirtsleeve. It still tasted good. 
Joann landed in Georgetown in '97, pitching in with her sister, Jeanie, to run a mini-mart and wildlife-check station that had some gas pumps. She served catfish lunches on the side—but no frozen, farm-raised stuff. Joann, a purist, bought cats directly from White River fishermen. By then, just about everyone else had gone over to farmed cats—Dondie's in Des Arc, Murry's over in Hazen, the Riverfront Fish Market on the Cache River near Fredonia. Her recipe, Bobby T said, was beside the point. The salient detail was White River catfish. Joann's lunches became so popular that she tore out the gas pumps and tossed the Skoal racks and went full-on catfish, becoming, in a few months, a kind of desert prophetess working to preserve (albeit inadvertently) an obscure regional tradition before it was lost forever. By conventional measure, Georgetown had gone to seed. By another, it was flourishing.
Although some Food Network stooge would surely find the One Stop eventually, for the moment it lacked any officious culinary sanction, which seemed important. Joann was cooking for her neighbors, sawdust clinging to some of them, others redolent of fish slime and beer and gasoline, excepting the ladies of course, painted up ferociously in brilliant crimsons and blues. Everybody momentarily at peace. The hottest part of the day gone. Not an ironic moustache in sight. Fried catfish like you couldn't get anywhere else. 
The biggest catfish on record, an adult female Mekong giant caught in Thailand in 2005, measured nine feet long and weighed six hundred forty-six pounds. By comparison, North American catfish are plausibly sized (a sixty-pound channel cat is Guinness territory and blues rarely top one hundred), though it's true they'll eat almost anything. In the South, catfish have been found with the remains of raccoons, rattlesnakes, baby turtles, menthol cigarettes, and a mini basketball in their stomachs. Anglers sometimes target them with "stink bait"—typically a slaw of raw chicken liver, fish blood, and Limburger cheese that has sat around in the sun for a few days. Of our fifty or so native species, three in particular are worth knowing about: blues, channels, and flatheads. They live basically everywhere east of the Rockies, from Manitoba down through the Mississippi and Ohio river basins, the Great Lakes, the Dakotas, and south to Louisiana, Arkansas, Georgia, and the Mobile Bay drainage, all the way into Mexico. Our polymorphous regionalisms give a sense of their dispersal: chucklehead, shovelhead, mud cat, granny cat, tabby cat, johnnie cat, Op cat, Appaloosa cat, Russian cat, bashaw, humpback, forktail, fiddler, eel cat, willow cat, Morgan cat, Mississippi cat, to name a few. Blues are the biggest. Channels the most common. Flatheads the best eating.
An inescapable attribute of catfish is their remarkable hardiness. They've evolved over millions of years to tolerate murderously sluggish, oxygen-poor, alkaline-rich water. Catfish can even survive without water for several hours and, should the need arise, some can crawl a fair stretch from one body of water to another, and even scale cave walls and rapids. The Eurasian wels catfish will hurl itself ashore to seize a pigeon, casually swallowing it whole. 
Another inescapable attribute of catfish is how unsightly they are. Downright revolting. Comically so. Barney from The Simpsons shares a likeness. Admiral Ackbar. The bug-eyed Marty Feldman as Igor in Young Frankenstein. For some people, for instance my wife, this presents a culinary impasse—just to harmlessly float the idea of eating catfish on an otherwise lovely night out, let alone to suggest frying one at home, is to cast a dark shadow indeed. We northerners are fairly clueless about catfish. As much as anything else at the seafood counter, they can educe for us a heady, collective shudder, like a nightmare drug up from some primordial chamber of horrors. It must be admitted that their cadaverous, thick-lipped, thin-whiskered mugs have something of the pederast about them. But to catfish chauvinists I say, take a good look at a flounder. It doesn't help that fried catfish are often thought of as a poor person's food—cheap, artery-clogging, abundant. Not to mention they're a pain in the ass to clean. Our bias against catfish is also rooted in the widespread notion that bottom-feeders have more pollutants than other fish. This isn't always the case; imported catfish can be a dicey proposition, but domestic cats do not contain mercury or other neurotoxins.  
Most sensible people would agree that, beheaded and fried in lard, catfish are delicious, and a few hush puppies don't hurt either. This is notably true in the South. In his excellent American Cooking: Southern Style, Eugene Walter writes that, "To a Deep Southerner, black or white, the very word catfish sets up a chain reaction of associations, all pleasurable." Walter, who grew up in Mobile and helped start the Paris Review, preferred channels to flatheads, judging their sweet, pale flesh superior, and found that a platter of fillets dusted in water-ground cornmeal required a "drooling-bib" and "stretcher service afterwards." He was writing in the 1970s, under contract to add a Southern cookbook to Time-Life's Foods of the World catalog, though to call American Cooking: Southern Style a cookbook isn't quite right: a culinary lexicon is more apt; a lyric treatise on the salutary rewards of cooking with pig fat; a discursive, reverential road trip through the South's hallmark cuisines. It's fitting that by the time Walter gets around to catfish, he's in Arkansas—Stuttgart to be exact, a Delta town practically within casting distance of the White River.
Shaped like a fishhook, the White skulks across a 28,000-square-mile watershed from the Ozarks in northwest Arkansas on up through Missouri, where it runs past Branson, then turns south again, flattening diagonally across the top-right quadrant of Arkansas, sprouting nine tributaries in a seven-hundred-mile dash to the Mississippi. Its hypothermically cold water and abundant baitfish like shad and herring produce a year-round Nathan's Hot Dog Eating Contest for predatory fish. Among anglers of outsized ambition, the Upper White is a famous trout fishery—browns in the two-foot range aren't unheard of—while the Lower White, starting below Newport, is hallowed catfishing grounds. 
It used to be that if you were talking about Arkansas catfish, you were talking about White River catfish. From the 1940s to the early '70s, catfish houses all over the state made a point of advertising it. On menus, and on signs out front: WE SELL WHITE RIVER CATFISH. The implication being that anything less was cut-rate, bottom-shelf. Outpost towns on the Lower White—Des Arc, DeValls Bluff, Augusta, Clarendon, St. Charles—drew weekend nomads from far-off rangeland and Little Rock and Memphis, spilling outside on buffet lines, fanning themselves under Delta skies, seeking something wild, pure, cold-river caught. One felt lucky to partake.
All that changed. It wasn't overnight, and I'm simplifying here, but to start, a guy named Edgar "Chip" Farmer out of Dumas more or less birthed the U.S. commercial catfish industry in the '60s. From a dozen fingerlings in ponds chopped out of his rice fields, Farmer expanded into one of the largest aquaculture outfits in the country. The Delta's thick alluvial clay made excellent catfish ponds. A few silty, marginal acres can support upwards of 100,000 fry. Eventually, Alabama, Louisiana, and Mississippi caught on. When the domestic cotton market tanked in the '70s, catfish saved many Southern farmers from foreclosure. At one point, Arkansas had 35,000 acres in production, yielding hundreds of thousands of pounds of cats a year, so much that most of them got exported. You can hardly blame restaurant owners for shifting toward abundance and a reliable delivery schedule (the old "river rat" anglers tended to fish when it suited them) and a price point more within the local purse.
Then people started worrying about the rivers. Right about when Chip Farmer was getting started, catfish in the state's big three arteries—the Mississippi, Arkansas, and White—were found to have traces of endrin, an insecticide linked to neurological abnormalities in humans (so, too, were commercial catfish, but that news didn't travel). So farm-raised cats became the thing. Even Eugene Walter, drooling over his golden fillets a mere dozen miles from the White River, was eating commercial catfish.
Like much of what we eat today, Arkansas's cats have been thoroughly and profitably denuded, standardized, made invariable. They originate in rectangular, five-to-fifteen-acre, four-to-six-feet-deep levee ponds with a capacity of about 7,000 fish per acre, most of them in southeast Desha and Chicot counties. Because of algae and aquatic bacteria, ponds can cast a glow. This, combined with toxic effluent from pesticides and antibiotics from modern farming, is why a good chunk of Arkansas bottomland today resembles Sherwin-Williams color samples: Quench Blue, Sea Salt, Jacaranda, Oh Pistachio. To deal with parasites, commercial farms maintain robust biosecurity programs, including kill permits for predatory cormorants and propane cannons to scare off pelicans that defecate in the water.
Not to shit all over farm-raised catfish, which tastes just fine to me; put some fries or hush puppies on that plate, a splat of tartar, coleslaw, pickles, then, yes, stretcher service would be appreciated. But there are those who feel that something has been lost, something momentous, something like the very essence of catfish, which from our earliest association has been bound up in the hidden enticements of a river or lake. We've become depressingly conversant with the industrial variants of our food. The original versions often fail to retain any meaning. No doubt many people prefer it that way: an efficient, predictable hell of sameness.
Except that, not everybody. For some, catfish has a default setting. Consider this, from the angling classic Fishing for Catfish, a rare literate gem of the how-to genre written by Arkansas native Keith "Catfish" Sutton, our most eloquent evangelist for a species once universally dismissed as a "trash fish" by anglers and diners alike (I'm quoting from the editor's introduction): "[C]atfish and the places they reside make us smile, and we are drawn to the fish and to those places with a longing that is life changing, and eventually, life defining." 
A sad corollary to all of this is that the U.S. commercial catfish market tanked, too. By 2007, a cheap catfish import from Southeast Asia called "swai" had begun to undercut domestic sales and put farmers across the catfish belt of Arkansas, Alabama, Louisiana, and Mississippi out of business (swai, an endangered species of the Mekong Delta, was packaged simply as "Delta catfish" and as "grouper"). Rising feed and fuel costs, then a viral infection that rent farm-raised cats with a ghastly, measles-like rash, nearly sunk the entire industry. Arkansas's 35,000 acres shrank to 5,000. 
I can't help but think of two characters in Larry Brown's last novel, A Miracle of Catfish: Ursula, the lugubrious forty-pound channel cat plucked from a riverbed to become brood-stock for a catfish operation, who flails against her aquarium life of fishmeal and glass walls, and her human counterpart, Tommy Bright of Arkansas, a flawed but honorable guy in the Brownian mode, overextended financially and romantically and probably morally, though resonating inner-core warmth. Briefly successful in the fish-stocking business, Tommy loses everything in one bad roll at the "Indian casino." It's the last straw for his old lady. And the bank. And Tommy himself, who's too old to start over. The last we see of him, he's careening into the tremoring dusk, taillights flashing. Before leaving town, his penultimate act is to do right by Ursula, to whom he feels indebted—his prosperity, his one hot streak in life, was her work. In a roundabout way, he loves her. So he sets her loose, plops her in a Mississippi catfish pond to resume a version of her former existence.
Fish. Why did he think they were the answer? For a long time they had been. . . . He wished he could go back to that time and live there again. But that world was gone.
I, too, had always wanted to return. Not just to the One Stop, but to Searcy, to Georgetown. In Michigan, snow on the ground, the sky achieving the consistency of gruel, Arkansas was light-years away. I got an occasional email from Dacus, a voice message from Bobby T: "When we going back?"
In 2011, the White River flooded its banks, nearly carrying off the One Stop's fridge. Georgetown rallied. Folks chipped in to help Joann rebuild. Still, we dithered, Dacus and Bobby T and I, figuring there'd be time. A couple of years later, things were conceptually coming together—a One Stop pilgrimage and fishing trip up and down the White and Little Red: a johnboat, Old Milwaukee, six or eight rods out, drift fishing in the current, or just finding a hole and sitting on it—when word arrived that we were too late. Joann had retired. The One Stop was finished. The dream was dead.
In May 2015, a Yelp post announced the One Stop's return. New owners, same fish, it said. I'd been in the habit of checking the site for updates, my feeling being that, insofar as I could distill hope to a manageable size, the One Stop's resurrection would definitely, providentially arrive. And out of the blue, an all-caps missive from Wally J. of Searcy: "[I]t's back . . . original recipe . . . OH THE FISH. EXCELLENT!! Absolutely THE BEST CATFISH I ever put in my mouth."
Plans were hatched. Bobby T would do reconnaissance, see how the cooking measured up to Joann's. Dacus, coming from New Orleans, would meet us in Searcy. I started looking for flights, went and bought a gang of thirty-pound test line. Then a bunch of stuff happened. My daughter was born, for starters. Logistical paroxysms. The short of it was, plans were squelched.
From Yelp came more One Stop news: Justin S. wrote: "We drove by it 3 times before we realized it. That would be my only complaint—poor signage. The food was great." Morris R.: "The new owners are family . . . Three generations of ladies . . . I asked our server who made the pies and she said; 'Grandma makes all the deserts [sic].'" I finally picked up the phone.
Grandma turned out to be Jason Goodwin, thirty-six. He and his wife, Brandy, had bought the One Stop from Joann more or less on a whim. Although he'd never set foot in a commercial kitchen, Jason did all the cooking himself. He'd been working at a packaging plant nearby and wanted a change, felt a harmonic tug from Georgetown. "It's probably one of the peacefullest places you'll ever be," he told me, sounding enamored, like a man who had suddenly changed the picture he had of himself.
Joann had included her recipes with the sale. Jason tweaked the hush puppies and coleslaw, added fried shrimp, cheeseburgers, and cobblers to the menu. But the catfish—three hundred fifty to four hundred pounds of White River flatheads and channels bought weekly from a DeWitt river rat—was unchanged. The plate cost $11.50. 
"The recipe is so simple, you'd flip if I told you," Jason said. "Heck, I'll tell you. It's Tony Chachere's Creole Seasoning and white cornmeal."
I started to ask him about White River catfish versus the inferior farm-raised kind, anticipating corroboration of my favored narrative. Of course, as with Tommy Bright, the stories we tell ourselves are often revealed upon closer inspection to be fragmentary, half-baked. It's the you-can't-go-home-again quandary. While it's tempting to load our desires with wistful hang-ups about the past so they feel freighted with meaning, the truth is more complicated. 
"You can't tell no difference in taste between river fish and pond-raised," Jason insisted. We had a good connection. It was early spring. I could hear birds chirping in Georgetown. I asked him to clarify. "The only reason I use White River catfish is because it's way cheaper," he insisted. "The trick is cutting it. You have to cut out the mud vein. If you go to a supermarket and buy a box of catfish fillets and look at the backside, it's got this gray, veiny stuff on it. That's the mud vein. It's what makes catfish taste bad. You cut that off, it'd taste no different from the river fish we're serving right now."
I think he could tell he was upsetting me, because he backpedaled some, allowing that White River catfish was "a cleaner fish . . . it's in flowing water all the time . . . it's not pink like pond fish. It's white like chicken." But, and he said this emphatically, so I understood, so that it would close the subject, which was one he knew intimately, "It's real simple. If everybody knew how to cut mud veins, we'd be out of business. As far as taste is concerned, that's all there is to it."
Anyway, I'm not sure it mattered. The One Stop was back. AR-36 buzzed with weekend carloads of Georgetown pilgrims. We were headed there ourselves. Bobby T, who'd taken to calling me "Catfish John," had it on his calendar. Until a Facebook post from Jason appeared. I should've seen it coming.
He'd had a good run, Jason said, had kept it going for more than a year, but he couldn't make it work. The One Stop was kaput. Again. I tried calling him, emailing. Nothing. Bobby T drove over to Georgetown. The place was shut tight. It seemed as if Jason had gone into hiding. Even his Facebook page disappeared. I got it. Things like this, it's like that mud-vein business: you want to core it out and toss it aside, move on.
I like to think you can't kill the One Stop, that it'll come back around eventually, in some form or another. It might take a while, but it wouldn't surprise me. In my head, I'm counting on it. I've got some stuff to take care of first. Up in Michigan, I'm digging myself out. Stocking my tackle box. Rereading Fishing for Catfish. Dacus thinks his car might even make it to Georgetown. We're awaiting a signal from Bobby T—"Let's go fishing," it'll say. It's been too long. 
---
Enjoy this Southern Journey?  Subscribe to the Oxford American.