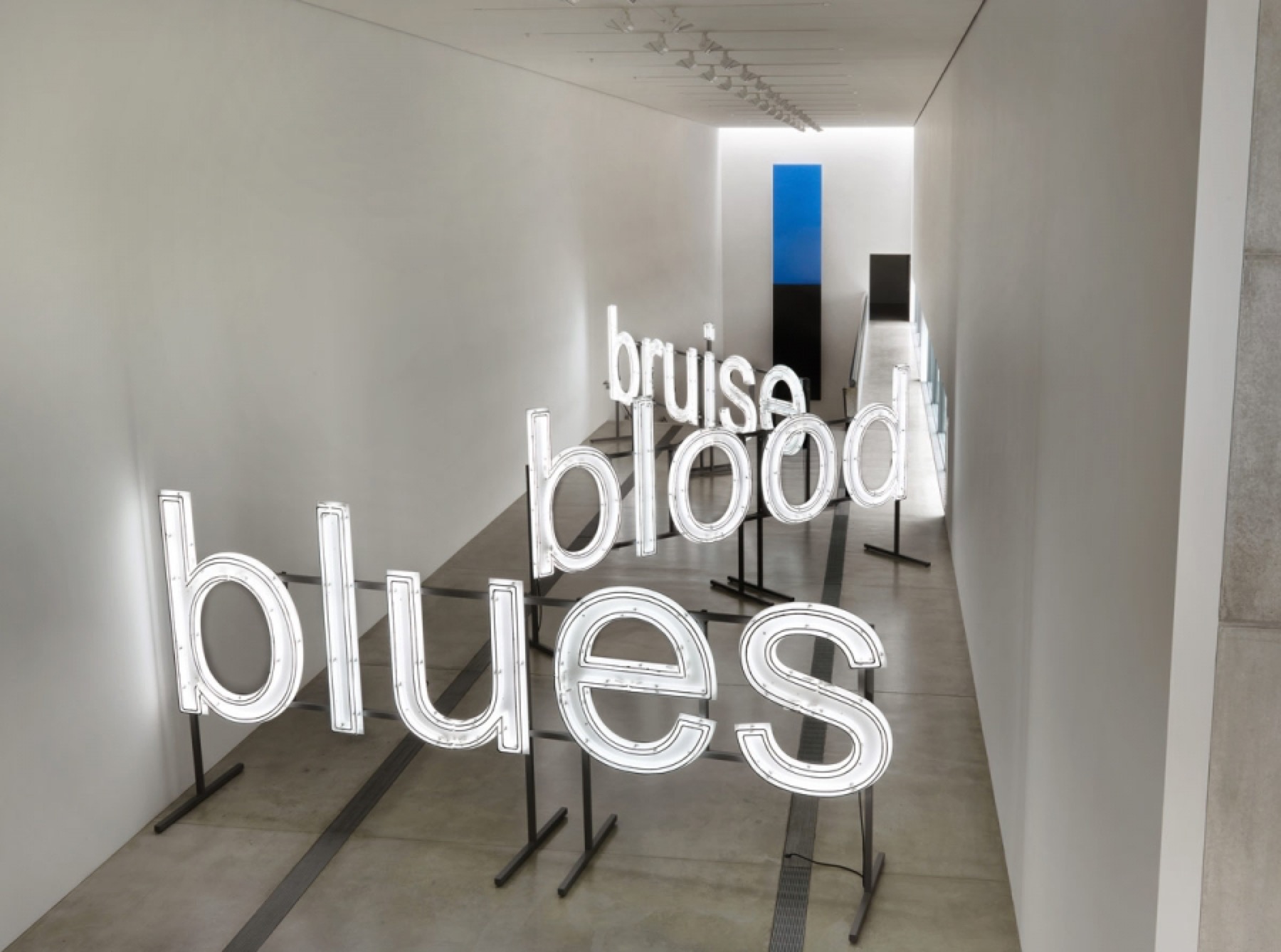 Glenn Ligon "A Small Band," (2015) | Neon and paint 74 3/4 x 797 1/2 inches | Courtesy of the artist; Thomas Dane Gallery, London; Luhring Augustine, New York; Regan Projects, Los Angeles | © Glenn Ligon | Installation view of Blue Black, Pulitzer Arts Foundation, 2017 | Photograph © Alise O'Brien Photography
Right in Time
By Eliza Borné
A Letter from the Editor
---
In June, my family took a weekend trip north to catch the Cardinals in St. Louis, a gift to my dad, who grew up near the Arkansas-Missouri border and has rooted for the Redbirds from birth. Our first night in town, I took a stroll at dusk along Grand Boulevard. I turned a corner and happened upon a striking angular concrete building; it was the Pulitzer Arts Foundation, designed by Tadao Ando, which had just opened an exhibition called Blue Black. The curator, conceptual artist Glenn Ligon, was inspired by Ellsworth Kelly's painted wall sculpture "Blue Black" and Louis Armstrong's rendition of the song "Black and Blue." Ligon selected fifty-four artworks for the show to create a "meditation on the formal, political, and metaphysical ways the colors have been used," including pieces by Kerry James Marshall, Bill Traylor, Kara Walker, Carrie Mae Weems, and others, all presented without wall texts or an overt system of categorization: an abstract, emotional "meander through blue and black."
Presented just a few miles away from the street where Michael Brown was killed three years ago, the show is a moving commentary on racial violence and identity. Some of the works in Blue Black, many of which are strikingly beautiful, even dazzling, evoke horrors such as the transatlantic slave trade, police violence, and the AIDS epidemic. "As a form, the blues is an autobiographical chronicle of personal catastrophe expressed lyrically," wrote Ralph Ellison in 1945, a line Ligon has quoted in interviews about his exhibition. I visited twice in twenty-four hours, and the experience has been at the front of my mind in the weeks since, as we assembled the stories and art in this issue—which in its own way meanders through similar themes and moods.
One artist in the Blue Black show is Lynette Yiadom-Boakye. As it happens, Frederick McKindra writes of her work in "Becoming Integrated," his first essay for this magazine; Yiadom-Boakye's painting "Medicine at Playtime" appears alongside the piece. In Little Rock, where the Oxford American has its headquarters, city officials are preparing to commemorate the sixtieth anniversary of the desegregation of Central High School: "the cradle of integration," writes McKindra, "the place where the integration narrative achieved its most evocative display." A Central High alumnus, McKindra ponders black selfhood, black joy, and how the heroic legacy of the Little Rock Nine helped form his identity as he grew up in its wake.
McKindra's ideas are powerful and provocative, and they've led me to reframe how I view a history I thought I knew well. I too attended Central High, and, like McKindra, I feel a deep love for that "precious" building, with "its façade photographed so often it appears vain" and its "past both shameful and triumphant." It is a complicated love, especially because this is a fraught moment to celebrate progress in our public schools; like many urban districts, the Little Rock School District is in crisis.
In an essay about the removal of the Confederate monuments in New Orleans, Jeanie Riess shares a personal story of a divided city "doing the hard work of reckoning with its past." It is an ongoing project: reckoning with our past, making the South a better place to live and dream and learn and work. Take the news from Mississippi. This spring in Jackson, citizens of the state's capital witnessed a mayoral race that felt charged with possibility. Chokwe Antar Lumumba, the frontrunner during the primaries, was a thirty-four-year-old attorney with a family legacy of activism and a platform to make Jackson "the most radical city on the planet." His candidacy was born from a movement to build a new society based on self-determination and black mobility. Katie Gilbert followed Lumumba's campaign for more than a year, and in "The Socialist Experiment" she reports on the neglected city and meets the people who moved there to make change. With Lumumba's rise, they are now faced with an unsettling question: Can he be both a politician and a revolutionary?
All year, I've been writing about the Oxford American's twenty-fifth anniversary, which we've marked in a number of ways: by publishing a three-part excerpt from Jesmyn Ward's novel Sing, Unburied, Sing (find the final installment in the fall issue); launching The By and By (a new story series on our website); and establishing the Oxford American Jeff Baskin Writers Fellowship (our inaugural fellow, Molly McCully Brown, joins the staff this month). On November 2, we're throwing a blowout party in North Little Rock to celebrate the OA's quarter-century and fundraise for our continued success. Lucinda Williams will be our special guest, and I can think of no better performer for this occasion; she has appeared on three of our music issue compilations over the years. And then, on November 21, our nineteenth annual music issue—the Kentucky edition—will be available: a showcase of stories and songs from the Commonwealth. As always, the magazine will be published with a killer soundtrack. As always, my favorite moment of the process will be sharing the issue with you.
No reason to feel restless until then, however; this issue is rich with music. Jonathan Bernstein pays tribute to the Soul Clan, an overlooked supergroup. Michael Collins visits Pulitzer Prize–winning poet Yusef Komunyakaa's favorite jazz club. Halfway around the world, a trumpet player and drummers lead a funeral procession before Osayi Endolyn buries her father. In "Honky-Tonk Man," David Ramsey mourns another father—his wife's—and feels "the peculiar joy of listening to a sad song together with someone you love"; it's a wonderful essay about family bonds and the music of Kentucky native Gary Stewart. "For all of their blues, Stewart's songs aren't bummers," Ramsey wisely writes. "They're ecstatic revelries."
---
Order the Fall 2017 issue today or subscribe to the Oxford American.