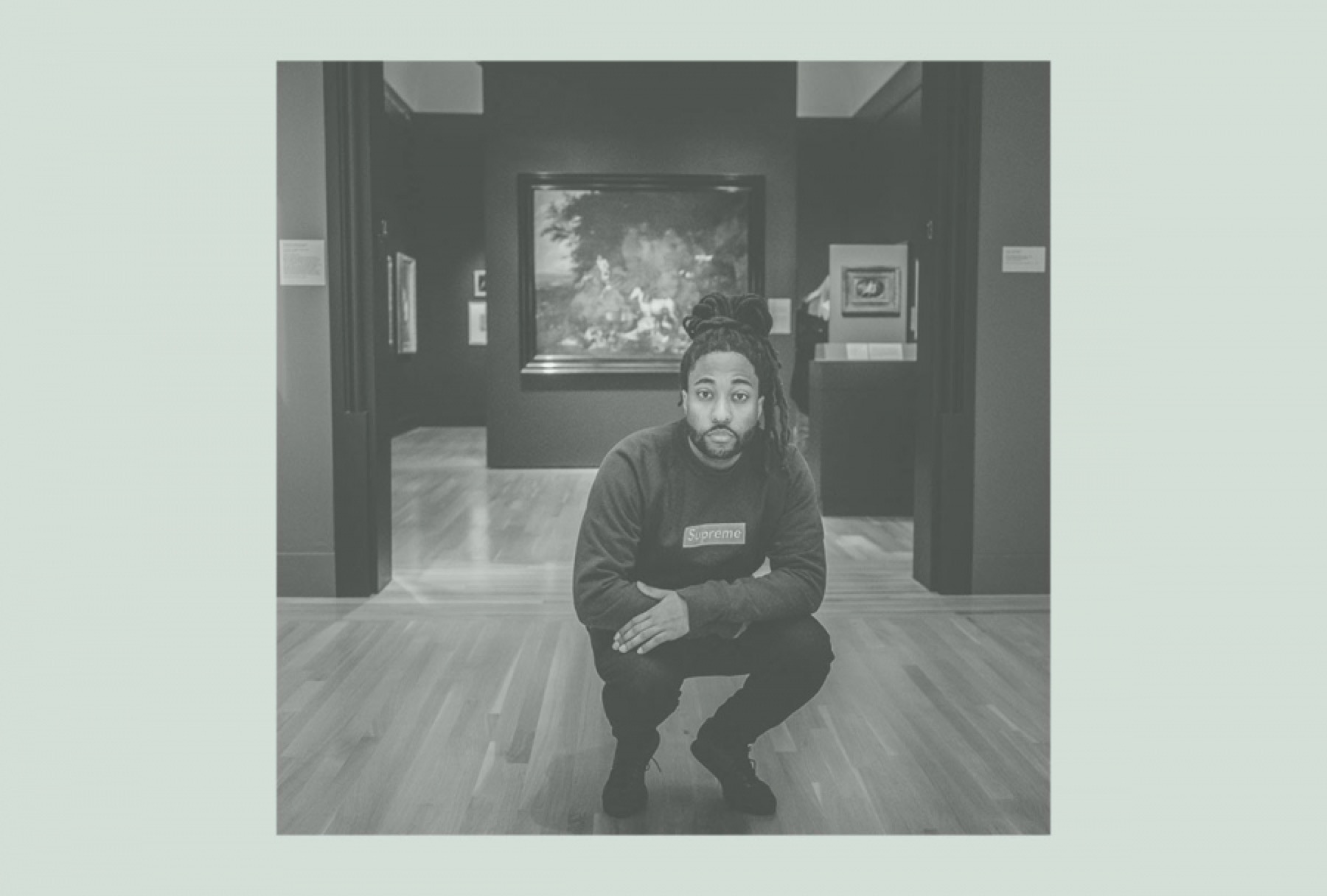 "Rainbows"
By Minda Honey
2017 Southern Music Issue CD featuring Kentucky
Track 5 – "Rainbows" by James Lindsey FEAT. Cicily Bullard
---
In January of 2017, James Lindsey performed at the ninetieth anniversary party for the Speed Art Museum in Louisville. It was appropriate that the performance doubled as an album release party for his EP Same Sky, containing the first new tracks from Lindsey following a four-year hiatus. The museum, the largest art museum in Kentucky, was reopening after a major remodel and expansion, and it had been closed for as long as Lindsey had been quiet. I'd followed Lindsey's career from California but had recently moved home. This would be my first time catching him playing live. Louisville had grown while I was away, and I wondered in what ways Lindsey had grown as an artist. He pulled the title and the vibe for his EP from one of his new lyrics. "Might not all pray to the same God, have the same taste, but we got the same sky," he sings in "Rainbows." 
Previously, Lindsey, who is now thirty-one, recorded under the moniker JaLin Roze, but he made his return to the local music scene using his birth name and with a renewed sense of authenticity. He says he retired the name from his youth to be seen fully as an artist, as more than just a rapper. I wonder if he knows that Wordsworth wrote an ode to rainbows, too, describing them as a reminder that the natural world has and will always fill him with joy. "The Child is the father of the Man," Wordsworth writes. We are all shaped by our youth. James Lindsey. JaLin Roze. James Lindsey. Louisville's son, we see you. 
When Lindsey raps "I'm talking rainbows," I think he must be talking black joy. I think he must be talking the kind of rainbow you see in the shimmer-swirl of color that floats over the curve of a soap bubble. How alike they are, soap bubbles and black joy: Beautiful. Carefree. Tenuous. Lindsey says that "Rainbows" is about mass incarceration, about a cousin who came home after ten years in prison. ("Ain't it crazy how the chips fall, how a pit stop can turn into a pitfall. See, that coulda been me on the other side.") On his release day, his cousin must have been like a soap bubble: Beautiful. Carefree. Tenuous. Lindsey must have seen it all in his cousin and in himself, too. 
You can hear it in the song. An angel comes to Lindsey. "It spoke and told me after rain it comes the shine"—words of comfort. Then warning: "New day, same shit, same hood, same clique, same whip, same sky, comes after the rain." As the song goes on, Lindsey rattles off his dreams for the future, the dreams that keep him moving forward. To be black and joyful in America is to be resilient—always. 
Rainbows are both promise and illusion. The Bible tells us of Noah and the Flood and the covenant between God and Man, that never again will we be destroyed by rain. Science tells us that rainbows are nothing more than sunlight refracting off water droplets in the sky. 
Even when we can't see the sky, we can see rainbows. We see them in the curve of soap bubbles and in water resting on oil slicks. How many rainbows did Lindsey's cousin see in the ten years he was locked away? How many reminders of beauty, of his humanity, did he have while shackled by a society that would have him believe he is less than a man? What did he see in the sky the day he walked free? 
When Lindsey performed "Rainbows" at the Speed, black joy emanated from the stage. We could feel church rise up in that room; we became a congregation with arms raised in praise. Inside the museum, there was no arc of color, no sky; the wall-to-wall, floor-to-ceiling windows let in only night. But when we looked to Lindsey and he angled the mic toward his face, we could see the light shining on him: promise. James Lindsey. JaLin Roze. James Lindsey. Louisville's son, we see you. All of you.
---
Order the 19th Southern Music Issue & CD featuring Kentucky.