Ballad Recs
Weekly Ballad Recommendations from the OA Editors and Staff
By Oxford American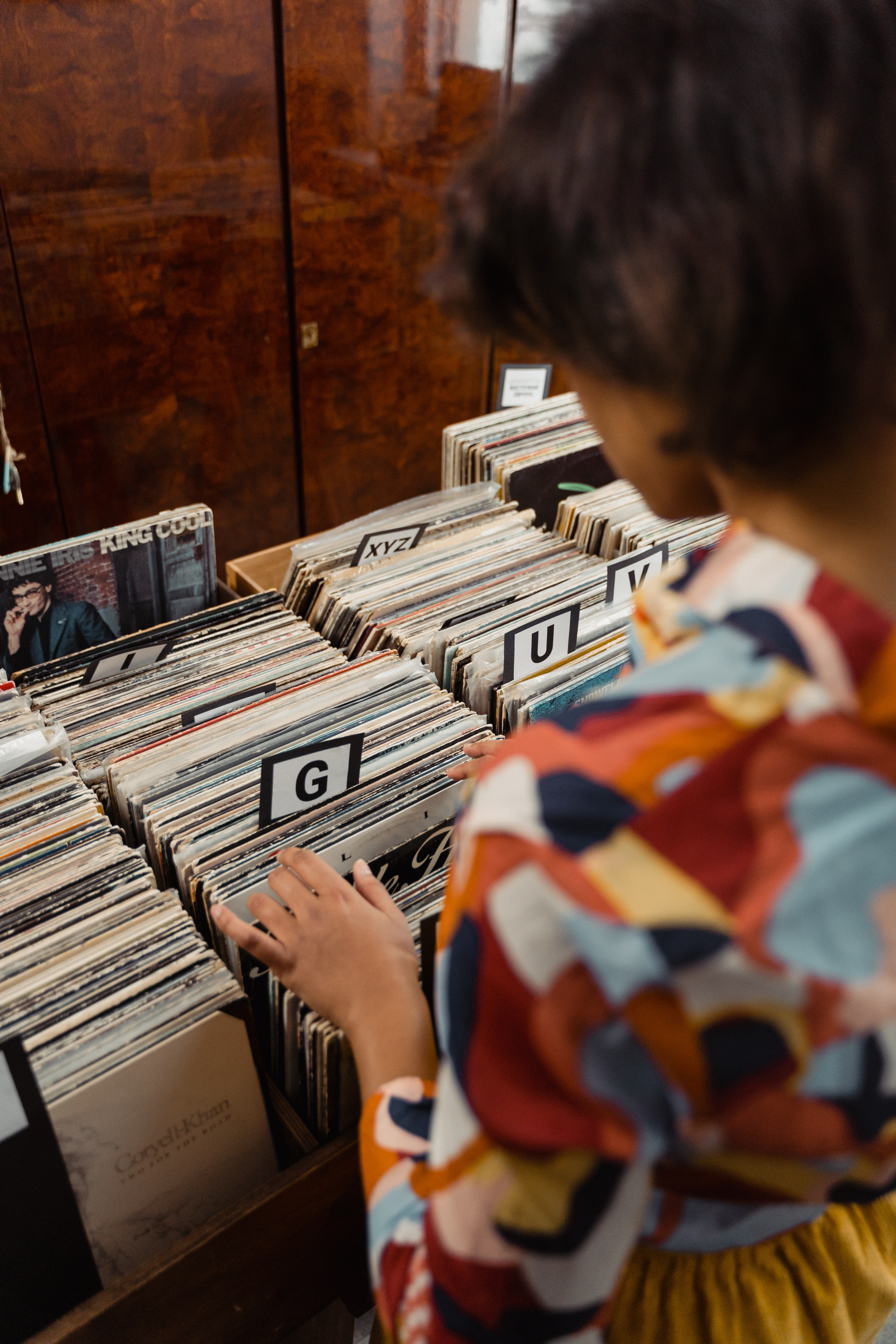 Photo by Tima Miroshnichenko via Pexels
Isaac Hayes's "(They Long to Be) Close to You"
Composed by songwriting duo Burt Bacharach and Hal David, "(They Long to Be) Close to You" earned its spot in the sentimental ballad hall of fame in 1970. That summer, the Carpenters' soft-rock version spent four weeks atop the charts. This remains the best-known rendition, and deservingly so: Karen Carpenter's cozy, lucid contralto is so specifically heart-wrenching that I have trouble hearing her sing why do birds suddenly appear without getting a little weepy. But other versions affect me, too. I like the post-disco grooves of Gwen Guthrie's rapturous 1986 reimagining, and how Dolores O'Riordan's Limerick accent sounds on The Cranberries' cover from 1994. I like Stevie Wonder's modulated vocals from his 1972 performance on The David Frost Show, and I like when Frank Ocean samples those vocals on "Close to You," a short song from his zeitgeist-shifting 2016 album Blonde.
While all of those renditions warrant recommendation, the version that I'm spotlighting here is by the velvet-voiced singer and songwriter Isaac Hayes, one of the primary musical minds behind the influential Memphis soul label Stax Records. His take was arranged with help from Supremes collaborator Dale Warren and features instrumental support from members of the Bar-Kays. Included on Hayes's 1971 album Black Moses, the recording sounds as lavish and ambitious as that roster of co-conspirators suggests. Hayes doesn't just embrace the original's sometimes-maligned message of dewey-eyed reverence, he also amplifies it, underscoring the lyric's references to angels and falling stars and moon dust with orchestral flourishes and heavenly background vocals. It's a long song, clocking in at just over nine minutes. But its sauntering structure doesn't feel like an indulgence so much as a reminder—of how romance distorts time, of the way love can make a single moment stretch and slow without logic.
— Patrick D. McDermott, Multimedia Editor
Angel Olsen's "The Blacksmith"
Listening to a folk ballad is the kind of thing that can pretty quickly turn into a research project—clicking through links in Wikipedia articles, sifting through indexes, tracking different versions—and, honestly, that's at least half the fun. In the case of "The Blacksmith" (#816 in the Roud Folk Song Index), the rabbit hole leads you to Romani singers in southern England, hexatonic melodies, Victorian hymn writers, and, inexorably, to the all-powerful Shirley Collins. But at the end of the day, when all the footnotes and tangents have been read, what really matters is the song: a voice, and a story, and all the feelings that those numbers and fun facts can't really capture. The version of "The Blacksmith" that brings this into sharpest focus for me is the one sung by Angel Olsen. The Asheville-based singer-songwriter, better known for her spacey, emotionally raw brand of indie-pop, sings the ballad with all the conviction she brings to her own compositions. Her live-wire voice is by turns timid and vengeful as she narrates the song's tale of betrayal and heartbreak. Accompanied only by a picked guitar, her singing echoes out into the dark space of the recording, where this centuries-old ballad feels devastatingly present.

— Christian Leus, Assistant Editor
Ethel Cain's "A House in Nebraska"
Everyone needs to know who Ethel Cain is, and her voice is ready to command that attention. On the haunting concept album Preacher's Daughter (2022), the character of "Ethel Cain" reflects from the afterlife after being violently murdered and cannibalized by one of her lovers. The album's narrative is reminiscent of a murder ballad—unfolding, as she describes it, like "a cautionary tale." The Gothic Americana aesthetic is a perfect match for the powerful electric guitar and echoing piano keys of "A House in Nebraska," a song from the record's first half that gives a voice to the ballad's victim before her desires lead to tragedy. The seven-plus minute track exemplifies the heart of Ethel Cain—her desire to love and be loved. Listening feels like eavesdropping on a confession Ethel is only ready to tell herself.
Ethel Cain is the professional persona of twenty-five-year-old singer-songwriter Hayden Silas Anhedönia, and Preacher's Daughter's meditations on religion and the American psyche pull inspiration from her own experiences as a young transwoman in the North Florida city of Perry. She told the Washington Post that Preacher's Daughter is her twisted love letter to the South: "I would really hope that through making art the way that I do, people could see that you can be from the South, you can be from a rural area, you can be all these things and also be trans," said Anhedönia. "It is such a diverse community, and there's a lot of love there."

— Paige Fuhrman, Editorial Intern
The Rolling Stones' "Sweet Virginia"
"Sweet Virginia" by the Rolling Stones, from their 1972 album Exile on Main St., is often referred to as a ballad because of its lyrical content, its melodic structure, and the group's emotive delivery. The Rolling Stones, despite being a British band, were heavily influenced by American roots music, including country and blues from the South. "Sweet Virginia"—a melancholy track hinged on a relaxed tempo, twangy licks, and Mick Jagger's drawling vocal—captures the slow, soulful vibe of the region that inspired the band. My favorite rendition of the song is a live performance filmed in Texas. It features a stripped-down arrangement centered around Mick Jagger's and Keith Richards's vocals, wistful acoustic strumming, and Bobby Keys's soulful saxophone solo. The footage, which was recorded in Fort Worth in 1972, exists as a reminder that you don't always have to be from the South to create an unforgettable Southern ballad.
— Shobhi Kandasamy, Project Specialist
Beyoncé's "If I Were A Boy"
Focus for a moment on the power behind the first chorus of Beyoncé's 2008 single, "If I Were a Boy." I'd listen to her… she sings, deep from her stomach, crystal-clear. Then, a signature Bey modulation, breaking through the lyrics: cause I know how it hurts… her breath behind each note rising slightly to create an impassioned, nasal sound. Goosebumps. The voice, and the queen, who by now has reached an unparalleled height of acclaim, never fails to win me over in this moment. Seconds later, she pulls back from the belt of the chorus to a soft almost-whisper to lead us to the second verse. If I were a boy / I would turn off my phone… Another round of goosebumps. This song, a pop-r&b ballad, opens her third solo album I Am… Sasha Fierce, and is a forceful start to the downtempo first half of the album. And while it would be another five years until the self-titled, Beyoncé, made me a full-blown fan with the irresistible "Drunk in Love," "If I Were a Boy" made me, a pop-music skeptic, listen more closely to the former Destiny's Child. Here was a pop singer identifying the core emotional truth of sexist double standards and there is no doubt that her fierce voice feels that pain. Of course, Lemonade tackled the struggles of infidelity, jealousy, and anger more directly, but it's clear that "Someday you'll wish you were a better man" is a lyrical and emotional precursor to "What a wicked way to treat the girl that loves you."
— Allie Mariano, Managing Editor
Gregg Allman's "Queen of Hearts"
Full Disclosure: Ballads? I really didn't have a good sense of what all that included. But then life spoke up, and in an early morning wake-up and out of the blue, the ballad to share revealed itself, like some lit magical fuse linking the present with the near and distant past. I YouTubed "Queen of Hearts" by Gregg Allman, from his Laid Back solo album. I listened, holding back those lump-in-the-throat kind of tears around vulnerability and love. Its opening lyrics and soulful notes grab and hold you—Once I was glad / Always happy never sad / And every day / Seemed like Sunday. And later: Ya see the fact is more or less / You're gamblin' with your own happiness. Then he injects some extremely uplifting riffs—blending jazz, blues, r&b, and Southern rock—before dropping right back into the deeply soulful. It all still transports me. In 2013, Gregg Allman performed the song at the King Biscuit Blues Festival in Helena, Arkansas: The night, his voice, and the emotion were all crystal clear. Three of my good friends got on his bus to meet him. I didn't get to, but it didn't matter, because I knew he and "Queen of Hearts" had already and forever pierced my heart.

— Kathleen King, Senior Account Executive
Gladys Knight & the Pips' "Midnight Train to Georgia"
This song will always remind me of my mom. She sang it often, telling me it was a love story about a woman leaving behind a life of show business and stardom after her lover had given up on his dreams. I'd rather live in his world, than live without him in mine, she'd croon. It was the song that taught me that music can have characters and conflict—that there are narratives we can dance to.

Written and recorded by Jim Weatherly under its original title "Midnight Plane to Houston," Whitney's mom, Cissy Houston, changed the mode of transportation and final destination, also switching the song to a woman's point of view. But it wasn't until the release of a funky, faster-paced rendition by Atlanta-based family band Gladys Knight & the Pips that the song gained global acclaim—topping the charts in the U.S. and U.K., snagging a Grammy, and spending eternity in the Hall of Fame.

The song brings solace to those whose dreams have gone sour, but a part of me believes the narrator never wanted to leave. The contention is found not in the lyrics but in her cadence, the way Knight weaves regret into the melody. The Pips provide more than just backing vocals; they are almost angels atop her shoulder, tempting her to please her man and surrender her dreams.

There was never actually a train that ran from Los Angeles to Georgia at midnight in 1973, but the song's emotional arc is as real and resonant as anything, an iconic testament to sacrifice and devotion that will ring true for eternity.
— Sarah Graham, Donor Services Coordinator
The Chicks' "Travelin' Soldier"


When I was in third grade, "Travelin' Soldier" by The Chicks (written and originally recorded by Bruce Robison) became part of the weekly rotation of songs that I would put on my CD player and cry to. Others included "Angel" by Sarah McLachlan and a haunting Vacation Bible School rendition of the hymn "You Are My All in All" sung by a choir of children. All three songs are arguably ballads, with wailing choruses professing love: to a Vietnam combatant, a struggling addict, and God, respectively. The crying value of "Travelin' Solider" came from the twist enabled by the ballad format—each verse tells the story of a high school waitress falling in love with a lonely soldier via letters, and each time the tightly harmonized chorus concludes "a soldier's comin' home." Only after the last verse, which reveals that the boy has died in combat, do we realize he's coming home in a coffin. My tears weren't particularly patriotic—the song is devoid of glory. If anything, what comes through is the waste of war, perhaps of Vietnam in particular. The soldier is "two days past eighteen" and is glumly waiting for the bus to take him to boot camp when he meets the waitress, which suggests that he was unhappily drafted. The hometown busybodies tell the girl it's no use waiting for the soldier to return, and when he dies, "nobody really cared." The soft sucker-punch of the last verse tells of the girl "crying all alone." One thing's for sure: This is not Zac Brown Band's "Chicken Fried."
— Hannah Wilson-Black, Editorial Intern
Andy Pratt's "Avenging Annie"


I love a story song. I kicked around writing about "Super 8" by Jason Isbell; Amy LaVere's "Red Banks"—in which the man ends up in the river; Bob Seger's "Night Moves"; Mark Knopfler's "Romeo and Juliet" (by way of the Indigo Girls cover); "The Ballad of John and Yoko" by the Beatles; "Puff the Magic Dragon," which kills me every time… But I'm choosing a song a friend put on a mix cd for me awhile back (yes, I'm old): 1973's "Avenging Annie" by Andy Pratt. A really wild song both lyrically and musically, it features Pratt, singing in falsetto and in the first person as Annie, telling the story of being in love with "a city boy, Floyd the outlaw," inspired by folksinger Woody Guthrie's song about Georgia-born outlaw Pretty Boy Floyd. Annie is an outlaw herself who has "the Avenger from Oklahoma added to [her] name." But as badass as she is, the abusive Floyd breaks her down during the five years they live in California. Knowing that she can't save him and has to save herself, she delivers the amazing line "I could see through the haze he / looked so cra-zy…" and leaves him. Late in the song, she says, "Now I live out on a mountain top, and I'm almost thirty-five, and I've found my peace and I've found my release and I'm happy just to be alive." She ends the song by saying she might eventually go back to Floyd, "who gave up murder and theft right after I left." Classically trained, Pratt plays the piano insistently and beautifully, a perfect backdrop to this story of outlaws who fell in love and then parted. Roger Daltrey of the Who covered it in 1977 but in third person and in a lower vocal register; it lacks the intimacy and punch of the original. Give it a listen. And then dust off your falsetto and blow your friends away with this one at karaoke.
— Ali Welky, Copyeditor
Nick Shoulders and the Okay Crawdad's "Won't Fence Us In"


Years ago, I was the steward of a 44 x 9-foot mural in downtown Little Rock, The Struggle in the South (1935) by Joe Jones. Looking after this artwork sparked my deep dive into the labor movements of the rural American South, aligning my placemaking sensibilities with the storytelling protest songs of the mid-20th century. Woody Guthrie's Dust Bowl Ballads and songs like Pete Seeger's and Lee Hays's "If I Had a Hammer"— folkloric songs that tell a story of resistance—became the epitome of "ballads" for me. (Of note: Lee Hays attended the socialist labor college in Mena, Arkansas, where the aforementioned mural was initially painted).
The modern equivalent of this musical tradition is Nick Shoulders & the Okay Crawdad's "Won't Fence Us In," which was released by Gar Hole Records in September 2023. The song opens with a nostalgic longing for an expansive land now replaced by modern encroachments like mono-crops and banal golf courses. This ballad isn't just a critique; it's a visceral lament, rebelling against confined cultural, physical, and ideological spaces and the corrosive forces of parasitic economic and social systems. The song and other tracks on the All Bad record are a tribute and warning to Shoulders's native Arkansas, depicting a dichotomy that resonates with my own experiences and upbringing in the region. In "Won't Fence Us In," Nick Shoulders & the Okay Crawdad craft a layered, kinetic narrative of the American South as I recognize it: in dynamic metamorphosis—complicated, paradoxical, and profoundly original.
— Ashley Clayborn, Outreach Coordinator
Lionel Richie's "Hello"


Lionel Richie's "Hello" is perhaps the ultimate ballad. It is an emotional tale about unrequited love, telling the story of a person deep in emotional distress who's trying to reach out to somebody he loves but is always unable to speak up. It also maintains the conventions of a ballad with its musicality. The tune is gorgeously haunted, slow enough for listeners to indulge in each lyric.
An artist of humble roots, Lionel Richie, born in Tuskegee, Alabama, injects the song "Hello" with his Southern charm. Although not explicit country or folk per se, the tune is steeped in Southern accents via Richie's vocals, and a hint of twang. For me, "Hello" is not just a tune: It is an accompaniment to my cherished memories. This song calls back all those emotions and things I have gone through—it tugs at my heartstrings; it is timeless. From intimate dinners to walks along the beach, this song has been the soundtrack to many romances and listening to it takes me back to my sweetest memories.
— ShaVon Taylor, Accounting & Human Resource Manager
Bobbie Gentry's "Ode to Billie Joe"


Growing up with two parents from the Mississippi Delta, this song always seemed like a birthright or soundtrack to my youth. It's a haunting story: It's unclear exactly why Billie Joe jumped off the bridge (in fact, there are many iterations of the question being asked of Google), but we all have ideas. I think I know which bridge the song references, but I also believe there are probably different bridges that other people feel the song describes. Also, there's a line, "pass the biscuits please"—you can't get much more Southern than that.
—Cristen Hemmins, Senior Account Executive