Oxford American Named Whiting Foundation Literary Magazine Prize Recipient
By Oxford American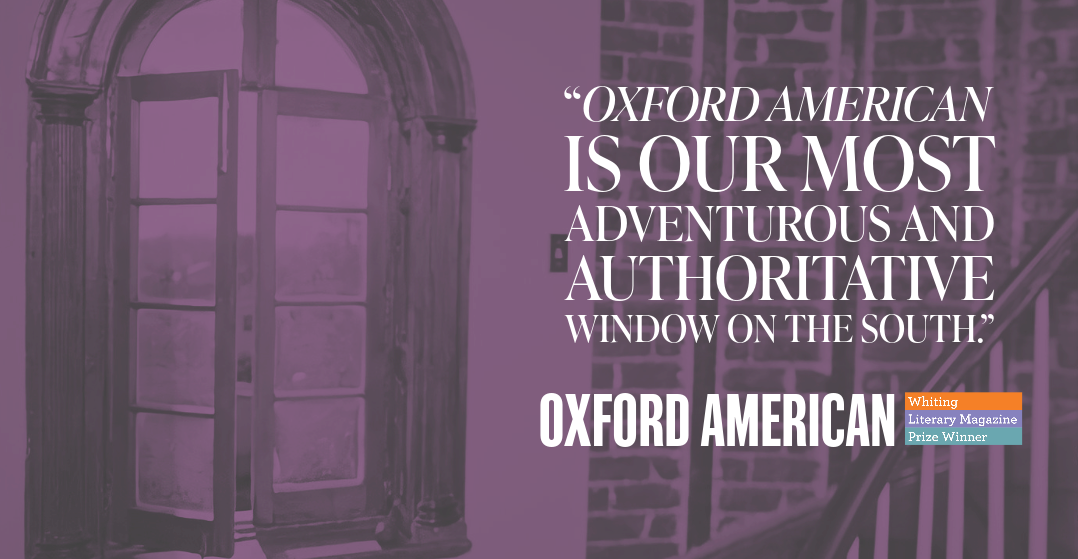 The seven 2023 Whiting Literary Magazine Prize winners were chosen from a pool of more than seventy applicants. Each grant consists of $20,000 outright in 2023, with a matching grant of up to the same amount in 2024 and in 2025 as well as networking and professional development support for the magazines' ambitious plans. To help the winners strengthen their network of support and ability to fundraise, the awards in the second and third years are made as matching grants, in which the Foundation doubles new gifts. Each magazine will also receive time with an expert fundraising consultant and other professional development support throughout the program.

About the OA, judges stated:


Oxford American is our most adventurous and authoritative window on the South, pushing beyond headlines to deliver a textured, ever-evolving portrait of its cultural wealth. Drawn in by eye-catching art direction and dazzling editorial letters, readers stay to savor the unique weave of the journalistic with habit-forming fiction and vivid travel writing. A generous intellectual hospitality serves the magazine's Southern neighbors and a broad national readership all at once. Oxford American is a spring of innovation, honoring tradition while forging something new.

Oxford American will join a cohort of 2023 winners that includes:
- Guernica (Brooklyn, NY), a digital magazine with a global outlook, exploring connections between ideas, society, and individual lives, which also features work translated into and from English
- Los Angeles Review of Books (Los Angeles, CA), a crossroads of West Coast literary culture reinventing book criticism for the internet age
- Mizna (St. Paul, MN), a gorgeously curated journal reflecting the literatures of Southwest Asian and North African communities
- n+1 (Brooklyn, NY), a magazine that takes literature, culture, and politics as aspects of the same project, acting as an incubator for important thinkers
- Orion (Great Barrington, MA), a rich assemblage of new thinking about nature and culture that invites readers into a community of caring for the planet
- The Paris Review (New York, NY), a leading journal of contemporary literature with a lively mix of exceptional poetry, fiction, and nonfiction

The Whiting Literary Magazine Prizes were launched in 2018 to acknowledge, reward, and encourage publications that actively nurture the writers who tell us, through their art, what is important. The full slate of winners since 2018 can be found on the Whiting website here. The purpose of the prizes is to recognize excellence and to empower outstanding nonprofit publications to develop and implement ideas that will have a transformative impact and help sustain their crucial work as champions of writers.

These prizes mark an important stage in the evolution of the program, which has shifted to a triennial model — new application cycles will open every three years, with more, larger prizes in each cycle. The Foundation has also expanded eligibility to include nonprofit magazines of any budget size and adapted the professional development on offer to emphasize the creation of a single cohort that learns and grows together. These changes will help further empower winning magazines to build sustainability, reach impressive goals, and work collaboratively to develop new ways to contribute to the literary world.

"The evolution of the Whiting Literary Magazine Prize means that we can gather even more exceptional magazines to learn with and from each other, celebrating intrepid talent scouting, sharp editing, and sparkling design," said Courtney Hodell, director of literary programs at the Foundation. "These magazines are publishing the work that launches conversations and careers."

The Oxford American is a national magazine with a regional point of view, and remains dedicated to the complexity and vitality of the American South. It began publishing in 1992 out of Oxford, Mississippi, and strives to reflect the multicultural tapestry of the region as it truly exists–to explore many Souths and trouble familiar, singular stereotypes. Oxford American publishes a wide array of literature written in diverse registers, including investigative reportage, memoir, cultural criticism, fiction, poetry, and book reviews, in addition to an iconic annual Southern music issue. Oxford American celebrates the South's immense cultural impact on the nation — its foodways, literary innovation, fashion history, visual art, and music — and recognizes that as much as the South can be found in the world, one can find the world in the South.