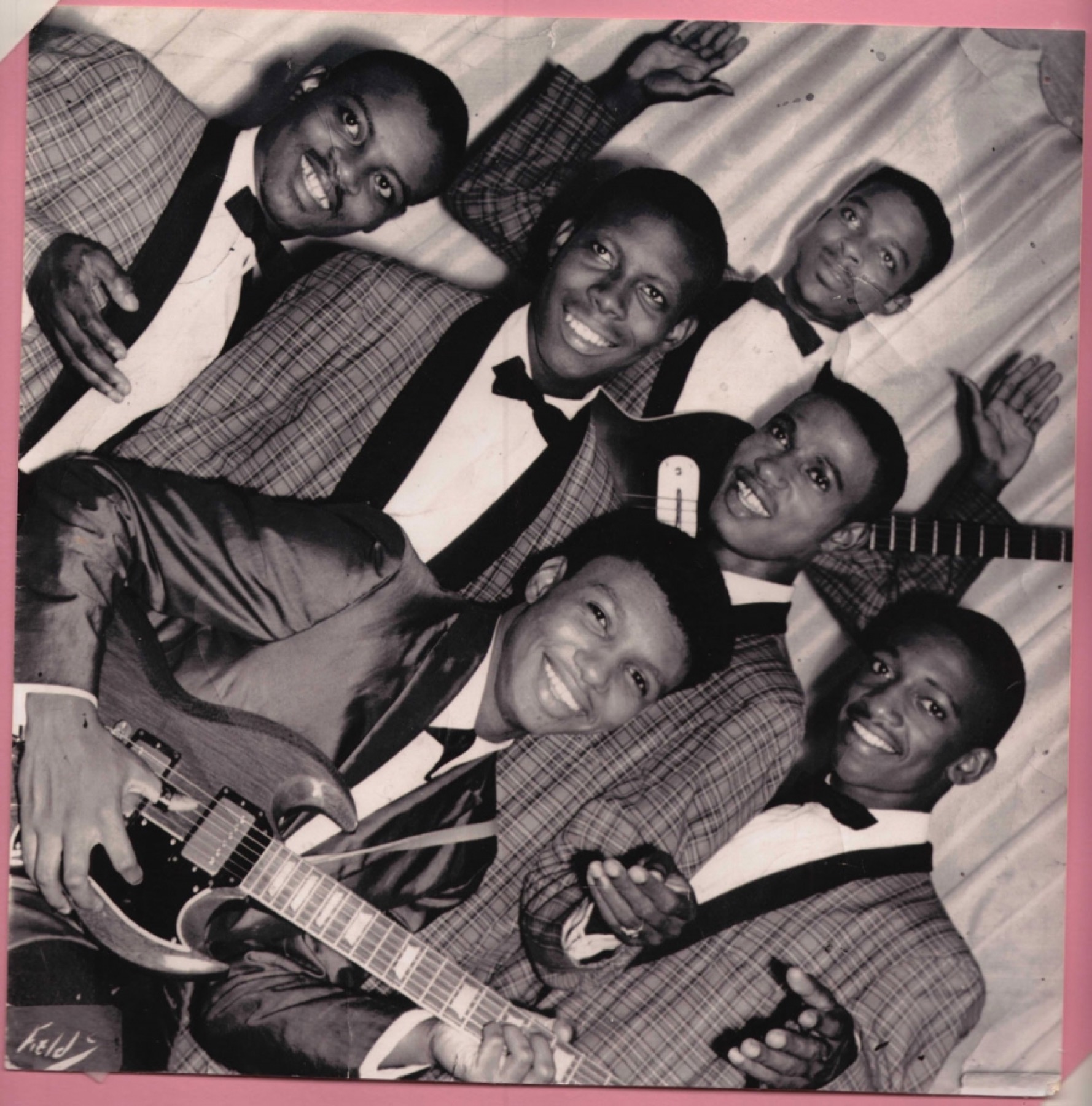 The Teentones at an Atkins High School talent show. Courtesy of Carl Johnson. Clockwise from top left: Aaron Hall, Harold Moore, Donald Officer, Carl Johnson, George Howell, Wesley Johnson
A Teentone in Rome
By Jon Kirby
It's February 2, 1965, and over on NBC, Paul Anka's got jokes. Hullabaloo viewers return from commercial break to see Rocky Roberts and the Airedales' long player Monkey, Bird & Riviera in the cartoonish crooner's paws. "This is one of the many hit LPs made by five very famous Americans. Let me read you something that's on the back of this album." After fabricating a few lines of flippant French, Anka fesses up. "I'm sorry—I'd better explain this, because this is printed in French." 
"Rocky Roberts and the Airedales are famous American stars, but they're not stars in America. You see, a few years ago they were in the Navy stationed in France and when they got out, they started to do some performances around Paris. And they got so popular they just never got a chance to come home—not until tonight. So Maintenant, Mesdames et Messieurs, voila! Rocky Roberts et Les Airedales!" 
As the all-black troupe barrels into its "Surfin' Bird" facsimile "T. Bird," Roberts's mesmerizing movements are complemented by the hypnotic bop of saxophonists Henry Hooks and Eddie Taylor, and bassist Wesley Johnson. The cameras remain glued to Roberts—in a tailored suit and dark sunglasses—as he smiles, smirks, and sneers, commanding complete control through the tune's hairpin grooves and syncopated breaks. Only when Jesse King jumps from behind the piano to shimmy with Roberts can we fully appreciate the chugging bass runs of the silhouetted and pompadoured Johnson, who locks into a twelve-bar blitzkrieg with drummer Melvin Glover. The Airedales Anka speaks of—those swinging sailors—were long gone. Onstage in the background of the Hullabaloo set, these new recruits had been just recently gathered from the scattered talent pools of Virginia's Tidewater region to help propel Roberts's career. But within a few years, Johnson would supplant Roberts in Europe's burgeoning soul scene, going from the margins of NBC's Tuesday night lineup to a revolutionary role creating a lane for artists of color within the Italian music industry. 
I first heard Wesley Johnson's name in 2008 while speaking with Carlotta Fleming (née Samuels) about her vocal group, Odyssey 5. After recording their lone LP, First Time Around, for Brunswick Records in 1974, she'd spent a few years in Italy singing in a group called Wess Machine, the namesake disco ensemble of a man named Wesley Johnson—a Winston-Salem native who'd been moving and shaking to some degree in Italy. I didn't get tied up in the few details Fleming had to offer, so I was floored a decade later to encounter a box of Wesley Johnson LPs—all Italian pressings—in a Jamaican record shop. These beautiful, gatefold affairs revealed that Johnson was not some draft dodger or bail hopper, but a prolific expat whose overseas success story remained mostly unknown back home. In Winston-Salem, his sister Linda told me the best person to speak to about Wesley would be his best friend, Carl Ray Johnson, whom I knew as the drummer and primary songwriter for the Eliminators, another important local soul combo from the seventies. Luckily, I was already in touch with Carl. A few years earlier, I'd digitized a charming batch of unreleased recordings by his high school combo, the Teentones. 
"That's Wesley singing on those tapes you did for me!" Carl said when I reached him to talk about Johnson. Those sessions—dumped from a lone acetate to quarter-inch tape in the seventies—constituted an invaluable glimpse into the accents and sounds that would have been reverberating from East Winston porches and street corners in the early sixties. Forged at the intersection of doo-wop, soul, and rock & roll, Wesley Johnson would take the Teentones' style abroad, to germinate the Winston-Salem sound across the pond. He was born here and he would die here, but what would happen in the middle would be anything but ordinary.
"Art is something that opens your mind," said Wesley's brother Orlando Johnson from his home in Italy, "makes you do things you'd never do. I think for him, it was an adventure to go out and see what could be done, with his life as a musician." Wesley was the firstborn in a family that would grow to include Marvin, Linda, Orlando, Bonita, and Randy. Wesley spent most of his youth in the Cleveland Avenue Homes, a modest strip of brick duplexes spaced evenly along East 15th Street like sideways dominoes. In 1954, nine-year-old Wesley met eleven-year-old Carl Johnson in the band room at the 14th Street School on Cameron Avenue. They bonded over a shared affection for the emerging rock & roll sound championed by Little Anthony and the Imperials, the Moonglows, and the Flamingos. "We weren't blood brothers but we were just that close," Carl said when I visited him in May. From among their vocally inclined peers in the Cleveland Avenue Homes, they recruited Harold Moore, Aaron Hall, and George Howell for a group they would name the Teentones. 
Upon arriving at Atkins High School, the quintet came under the mentorship of musical director Harry D. Wheeler, who gave the underclassmen cues regarding repertoire and arrangement. They became regulars at the Atkins variety shows, as well as the Wednesday night talent contests at Lincoln Theatre, a black movie theater on North Church Street. With an uncanny ability to impersonate popular vocalists, Wesley took the lead, channeling Little Willie John, Little Anthony, or Smokey Robinson. And when their classmate-turned-manager Cary Cain purchased a guitar from Camel Pawn, it was Wesley who taught himself each song in the Teentones' expanding repertoire. Carl Johnson began writing original material. "See, our music, it was rhythm and blues, but then again it wasn't?" Moore remembered, struggling to properly classify the Teentones' stylistic profile. By phone from his home in Kentucky, he settled on "music from the heart—unfiltered." 
"Man, we had some harmonies so tight back during that time, you couldn't stick your hand in between 'em!" boasted Carl. "We woke up singing together and went to bed singing together, that's how much we wanted to get into the business—dreamed about it." Still in high school, they pestered each performer that passed through town, seeking advice or a chance to sing during intermission. Little Willie John's manager, Clarence Avant, relented, instructing them to send a demo to his office in New York (instructions he forcibly repeated when the group arrived at the address, unannounced, seeking an in-person audition). 
In nearby Greensboro, Joseph Robbins ran a small recording studio on North Spring Street, which advertised a forty-foot room with carpet and drapes, grand piano and organ, plus an echo chamber. His listing in the Winston-Salem phonebook—the lone entry under "Recording Studios"—concluded with the Robbins motto: "We Record Anything Worth Keeping." Joseph Robbins Jr., now living in nearby Reidsville, remembers his father as "a helpful kind of person. Groups getting started, who needed some records to sell at their concerts—that was the thrust of it." The Teentones elected to cut their demo as an acetate—a single disc, etched in real time, which prohibited the client from second takes or correcting mistakes. For the session, Atkins classmate Don Officer played the electric bass. Sans drum kit, Richard Marcus performed percussion on Wesley's empty guitar case. The result was a lo-fi, ten-song testimonial to why the Teentones deserved to sing from a platform more prominent than the Piedmont could provide. 
Spurned by Avant, Carl and Cary toted the fragile Robbins disc back to New York City to start fresh with Roulette Records. While it had been an asset in their hometown triumphs, the Teentones' tendency to mimic the singers they admired worked against them. "In so many words, they were saying we didn't have any style because our singer was singing like Frankie Lymon," Carl told me. "Plus, the material we had was, I guess they would say, 'not commercial.'" 
"Me and Wesley used to always sit and talk about making it, and I knew we wouldn't make it as a group," Moore said. "I told Wesley, 'Listen man—if the opportunity opens up for you, you need to take advantage of that.' Like the Bible says, there's a time to live, a time to die, a time to mushroom into what God has prepared you for—it's a time for everything!" 
With the members outgrowing their handle, the fibers connecting the Teentones began to fray. After graduation, Carl Johnson got married; soon after, Moore moved to New York City. "We had put so much in it—rehearsing, writing songs, winning all the variety shows—all that was a joy," Aaron Hall explained from his porch on Winston- Salem's northside. "But things change." 
The year is 1972 and Wesley Johnson is standing stately below the Arco della Pace in Milan's iconic Porta Sempione. Staring coolly into the camera, Wesley straddles a maraschino red motorcycle, flanked on both sides by grinning bandmates. The fleet does not go unnoticed—onlookers and fans are urged to stand out of frame until the photographer can complete his shoot. Donning matching jackets and commanding comparable Kawasakis, Wesley Johnson and his Airedales are here to generate album art and promotional imagery for their forthcoming release, Vehicle, on the Milan-based label Durium Records. 
The men might have appeared more amused if this weren't their sixth full length for the Italian imprint in as many years. Like the albums that preceded it, Vehicle was a mixed bag of English-language originals, dramatic Italian ballads, and American soul covers (like the titular Ides of March number). Each collection was sublicensed to labels across Europe to meet the demands of Wesley Johnson's growing Spanish, Greek, and Turkish fan bases. Each album yielded a crop of 45 rpm singles, encased in vibrant full-color picture sleeves that would reach even deeper into Europe's soul music underground. Shipped at a cheaper rate than LPs, signed 45s periodically arrived in the mail in Winston-Salem, affording friends and family brief glimpses of the former Teentone, a decade departed from his hometown. 
The last anyone had seen of Wesley, he'd said he was leaving for Norfolk, Virginia, to play bass with Gary U.S. Bonds—news that came as a surprise to Gary U.S. Bonds. "No, I don't remember him at all," he said when I reached him at his home in New York. "For one thing, I didn't have a band back then." On shared bills with his marquee contemporaries—B. B. King, Sam Cooke, Ruth Brown—the performers relied on either a house band or a touring orchestra (usually the Bobby Comstock Band, composed entirely of Caucasians from Ithaca, New York). Occasionally, Bonds recalled, he would take local saxophonists Earl Swanson or Gene "Daddy G" Barge out on the road, perhaps a teenaged drummer named Melvin Glover. "Ninety-nine percent of the time, they were the only black musicians I had with me. Melvin's the only artist I worked with who went to Italy—but he's a drummer!" 
Carl Johnson recalled Wesley skipping town with a saxophonist named Eddie Taylor, a face he would later see in promotional materials for the Airedales. "I went down to Winston just to play a gig," said Taylor, who now lives in Munich. "He asked me 'What's happening, man, in Virginia, where you are?' I said, 'Not much—I'm working down here where you are!' So he said, 'Well if you do anything, just give me a call'—and that's exactly what happened." When pressed for a connection to Bonds, Taylor laughed. "I could imagine [Wesley] saying something like that—because he probably wanted to impress everyone—but we had no deals with Gary U.S. Bonds." 
Instead, it was a drummer and naval officer named Doug Fowlkes who would recruit Johnson. While on shore leave in 1961, Fowlkes had parlayed a Parisian talent show appearance into a record contract for his group, the Airdales (a slang term for Navy airmen). The Airdales owed much of their allure to Rocky Roberts, a striking singer and captivating dancer whom Fowlkes had befriended aboard the USS Independence. Both discharged in 1962, Fowlkes and Roberts conspired to assemble a civilian band for another tour of duty with the Airdales. "[Roberts] was his dream man," Taylor said, "so he put us around him." Altering the spelling to "Airedales"—denoting a breed of terrier—Fowlkes enlisted local pianist Jesse King and saxophonist Henry Hooks, along with Taylor and Johnson. In a decision that can only be explained as coincidence, Fowlkes hired drummer Melvin Glover—Gary U.S. Bonds's former timekeeper. 
While Fowlkes created an abundance of opportunities for the group—plentiful studio work and tours across Europe and North Africa—other aspects of his managerial style upset individual Airedales, especially his custom of claiming half the songwriting credits for compositions he had no creative role in. "Doug Fowlkes couldn't write no music and he actually couldn't play no music," said Glover. "Everybody took everything for granted," Taylor conceded. "It wasn't anything special to us. It was just playing gigs and earning a living and enjoying life—that's all. I think it went pretty well!" 
Sensing better, more-longterm opportunities in Italy, the Airedales migrated to Rome in 1966. The following year, when Roberts left the group to pursue a solo career, Wesley took the reins, rebranding them Wess and the Airedales. Glover returned to Norfolk the following year, and Wesley recruited his brother Marvin. In 1975, Orlando joined them. Italy suited the Johnson clan. "[Southern culture] is very similar to Italian culture," explained Wesley's daughter, Romina Johnson. "It's very family oriented. It feels like everybody knows everybody. And it's quite warm—it's a warm place to live." The Carolina diaspora continued to grow. During a return trip to Winston-Salem, Wesley accompanied Carl to the Dungeon Club on North Liberty Street to check out Odyssey 5—a female quintet that had just released an LP on Brunswick Records. He persuaded three of the five singers to join him in Italy as the first signees to his Wesley International imprint. 
"When we were with him on tour, it was unreal!" recalled Jackie Sinclair, who, along with Carlotta Samuels and Sylvania Wilson, fronted Johnson's new disco outfit, Wess Machine. "It was like, 'Where did these people come from?' They'd pull you off the stage if you wasn't careful. They just loved us and they loved Wesley even more." In 1975, he placed third in the highly publicized Eurovision Song Contest, representing Italy with Dori Ghezzi. Shortly thereafter Johnson and Ghezzi intertwined their recording careers, releasing an album a year through the decade's end. Their prolific and progressive partnership—as likely the first interracial singing duo in Italy, if not the world—raised Wesley Johnson's profile from soul man to superstar. "That was the beginning of him kind of going over to the other side," said Airedales saxophonist Jimmy Sampson. "We did do some things with the band occasionally, but Wess wanted to go solo, so he was doing concerts, television things on his own. So the band was kind of left high and dry." 
As infrequent as his trips to Winston- Salem were, he mostly avoided contact with his friends and former Teentones bandmates. "His mother is the one that tried to keep us together," Carl Johnson told me. In 2009, Wesley returned to Winston-Salem after a show in New York. "I wanted to travel with him to New York," his daughter Romina recalled. "He had been hospitalized two or three times—but he said, 'No, you know I want to go and see Grandma—and we'll go back for Christmas if I come back alive.' That's what he said to me." 
On the day of his arrival, friends and family gathered at Mrs. Johnson's home off Peacehaven Road. "Wesley really looked sick," Jackie said. "I overheard him talking to Marvin—he had left his clothes and stuff in New York, he couldn't get out the bathtub—he'd had to wait for someone to come and help him out." Wesley's mother urged Carl to make time the following day to visit with her oldest son. "She said that he'd like to try and get together that next day," Carl said. "A couple hours later, she called me back to say he'd died in her bedroom—sitting in her chair." He was sixty-four. "I've heard that people know," said Wesley's sister Bonita. "Some people just know when their time is coming—and they start doing things some kind of way." 
Fans and family alike can only speculate why Wesley Johnson is not better known, here or abroad. "Wess was utterly fantastic," said Sampson, "a fantastic voice, and a fantastic leader, too. But what can I say? It's like, they had a commodity, and when it was going well, everybody was after it. Then the Italians were coming up with their Italian thing—which was their thing. So when things started to settle down, people just kind of moved on." 
"We were very tight, all of us," Carl said, "but Wesley was different—you could tell he had his sights set on something else. It just wasn't meant to happen; our paths were not meant to be crossed again—not on this side." 
---
---
Enjoy this story? Subscribe to the Oxford American.