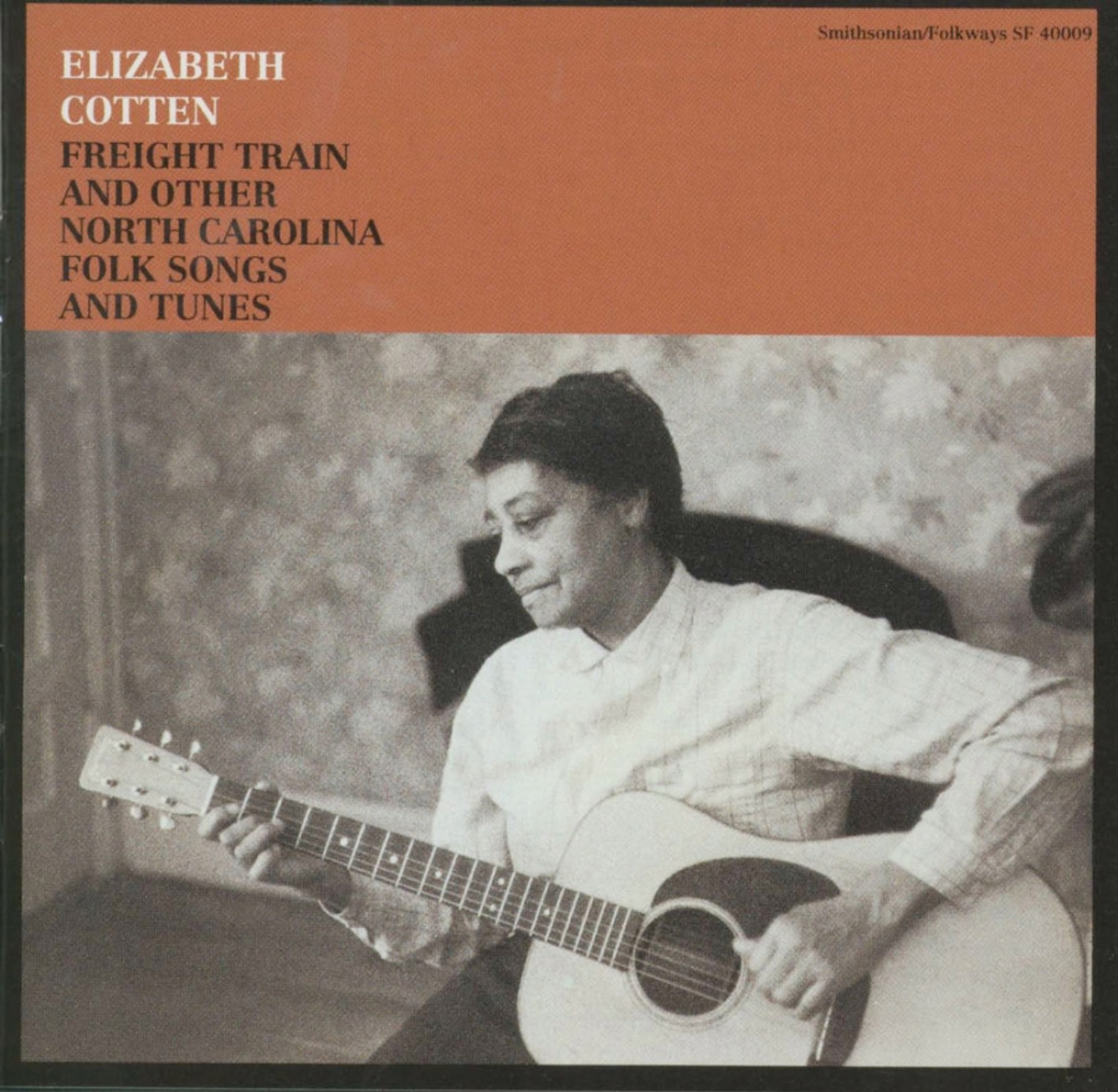 Courtesy of Smithsonian Folkways Recordings
"Holy Ghost, Unchain My Name"
By Tift Merritt
2018 Southern Music Issue Sampler featuring North Carolina
Track 15 – "Holy Ghost, Unchain My Name" by Elizabeth Cotten 
---
Elizabeth Cotten isn't just North Carolina's Mississippi John Hurt. She is the patron saint of North Carolina music, the very great-grandmother at the top of our musical family tree. Her sweet picking, her easy tone, her gentle spirit—her kindness made a way for Nina's rebellion. Thelonious sent postcards, Blind Boy Fuller called late at night, Reverend Gary Davis and Sonny Terry showed unannounced for dinner. Doc Watson's elder kin; Etta Baker's big sister; shepherd to Lowman Pauling, the unsung guitar hero from Winston-Salem who is said to have invented intentional feedback. Mentor to Alice Gerrard, beacon to all of us North Carolina folkie wannabes, revered by those of us with any musical knowledge, and—music's highest compliment—sung by many of us who don't know how we know the words. This Chapel Hill woman is the very heart of what we call Piedmont blues. 
Where do any of us fit within traditional music? How do we carry the measured time of a slower drawl into the metallic echo of the instant world? My father taught me to finger-pick. He showed me how to plant my little finger on the pick guard and set to repeated motion holding down the rhythm. It hurt to do it for too long. The sound wasn't fancy, it wasn't showy, it wasn't a guitar solo. But if a song were a quilt, this was the denim square. I was twelve, I lived in Raleigh, and I thought I was a folksinger because I played by ear and it was a family thing we did together. The boys my age were learning the "Blackbird" pattern, the "Stairway to Heaven" licks. INXS was on the radio. Nobody said Piedmont blues. I preferred the earthy, the old, but mostly whatever had chords I could figure out easily and actually play. My dad wasn't a hardcore folkie; he just loved Dylan and Tom Rush, and we just happened to live in the Carolina Piedmont. It wasn't until many years later, until after Kitty Wells and Townes and Percy Sledge and Emmylou and Tom Waits and Mississippi John Hurt, that I realized I was, by the skin of my teeth and not without some presumption, a lucky part of something bigger—musically, geographically, maybe even spiritually. When Freight Train plays, I hear Libba Cotten, raising her children and keeping up her guitar callouses in the off-hours. I hear Libba Cotten cut right through the noise playing the real Piedmont blues. No mistaking the sound of that place. 
Folk music is one of the original outsider art forms not by accident. A particularly biting portrait of our world is that Cotten was discovered while keeping house for Mike and Peggy Seeger in Washington, D.C. By then she was a grandmother, a longtime domestic worker who, in her spare time, picked the guitar, made up songs, and sang other songs she loved. She was the first person to play legendary McCabe's Guitar Shop in Santa Monica, taking up touring in her sixties when many musicians would likely retire if they could. In film, you can see her comment with some real astonishment that the Seegers did the dishes and just asked her to sing. The sound of her life—her humility, her heart and all its everyday miles—makes her guitar ring the way it does. She birthed us all with her plainspoken truth and there is no way to fake that. 
North Carolina Piedmont musicians are bound by this humid, cicada-filled, flat red clay slab we share. Tradition is a rock smoothed by decades of water; our own small contributions to push form forward don't mean so much without the rest of the rock. And who would want to be without it? I don't have the answers; I'm just one of the many children. I wake up in the Piedmont with my head down, I take up my work quietly, and when I say "Unchain My Name," I pray to the Piedmont blues. 
---
Order the 20th Southern Music Issue & CD featuring North Carolina.