Make Me Hot P, Hold Me Down P
By Dasan Ahanu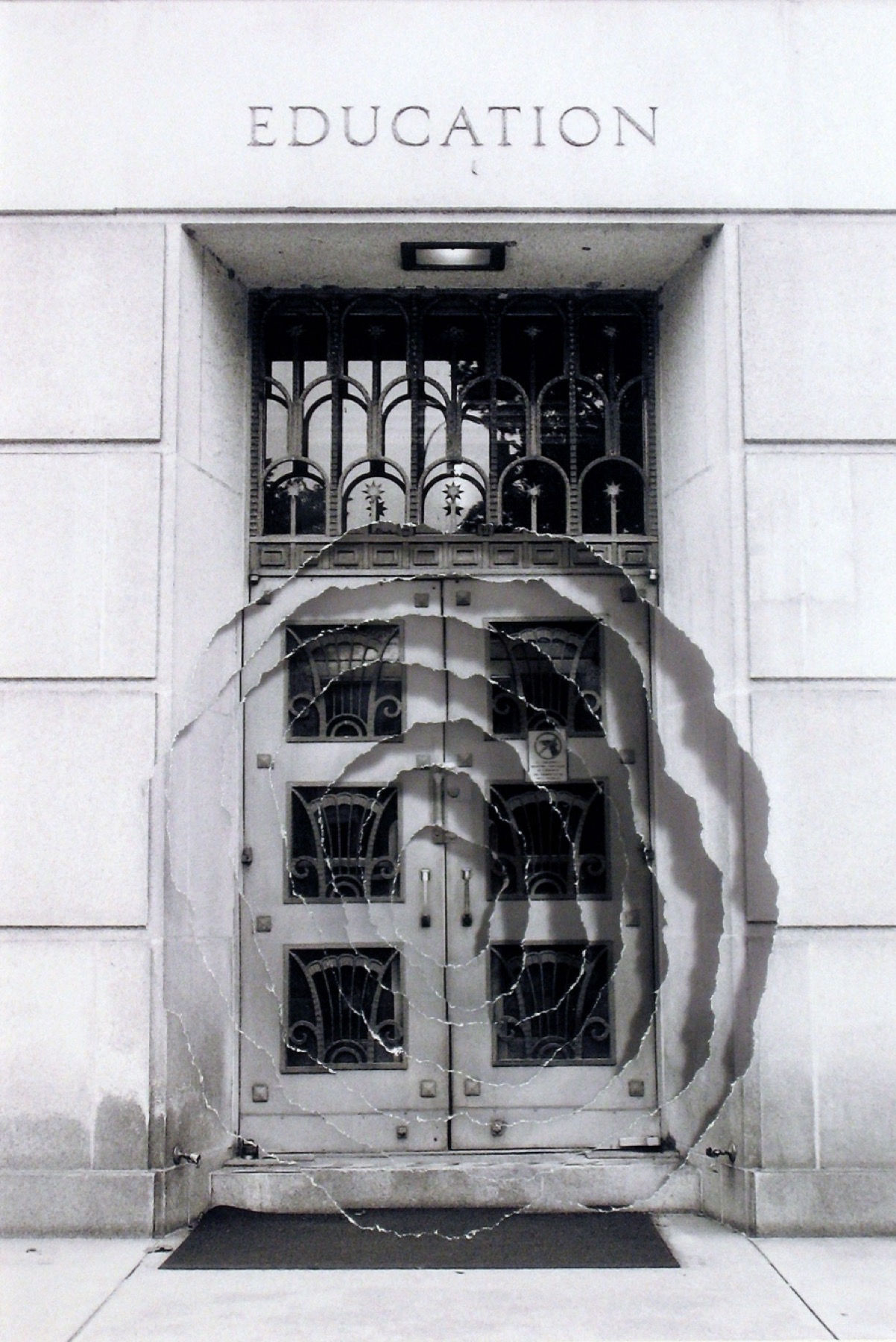 "Introjection: Education" (2006), by Scott Hazard. Courtesy of the artist
The first person I saw when I walked into Bright Lady Studios in Raleigh on a Monday evening this past July was a young man sitting at a desk, his eyes locked on a laptop screen, his hands hovering over a Maschine controller. Vohn Beatz, son of legendary producer S1, nodded as I passed, then immediately returned to the music he was working on. I entered the studio lounge and there sat rapper Reuben Vincent, a young protégé of Jamla Records who dropped his debut album, Myers Park (named after his Charlotte high school), in 2017. I heard voices down the hall and followed them into the recording room, where I found Soul Council producer Kash talking with Tia Watlington, Jamla's director of product management, and songstress Heather Victoria about Heather's new single "Japan." I knew that this was just a taste of what any given day is like at Bright Lady—young artists honing their craft, label mates planning the next release, or your favorite artist in town looking for that signature sound for their new project. Anything is possible at the business and recording home of Grammy-winning producer and Jamla label head 9th Wonder. 
Many of us were first introduced to 9th's soulful, sample-based production during his time as a member of the groundbreaking Durham rap group Little Brother with emcees Phonte Coleman and Rapper Big Pooh. Their 2003 debut album, The Listening, was an underground classic and earned them a strong and loyal fan base. Since then, 9th has lent his unique sound and musical vision to a staggering cross section of artists: Jay-Z, Destiny's Child, Ludacris, De La Soul, Jean Grae, Masta Ace, David Banner, Murs, Buckshot of Boot Camp Clik, Royce Da 5'9", Black Thought, Marsha Ambrosius, Anderson .Paak—and that is just the tip of the iceberg. He won his first Grammy for his work with Mary J. Blige on her 2005 album The Breakthrough and gained further acclaim for producing "Honey" by Erykah Badu, a collaboration that earned 9th a second Grammy nod. This year he collected another trophy for producing "Duckworth" on Kendrick Lamar's DAMN., which won Best Rap Album over 9th's own label star and North Carolina mentee Rapsody. 
At the studio, I was just finishing a conversation with Tia when 9th walked in. He let me know he would be ready in a moment, checked in on everyone, then sat down for our interview. Over almost two decades now, we have both witnessed changes on the North Carolina music scene, especially with hip-hop, and I was looking forward to chopping it up with him about the reputation he has established, and what kept him here through it all. Bright Lady, which 9th opened in 2010, is both an incubator and a haven. It's the perfect place to talk about the passion he made into a livelihood. Sitting across from the man, I thought of the line Big Pooh rapped on the classic album they made together back in 2003: "You now in tune to the sounds / 9th is wonderful, I know you nodding right now." 
"For me, I don't think it's a thing you develop. I think it's either in you or not." 9th was responding to my opening question about the source for his musical passion. "It has a ton to do with your background and your upbringing. I don't know too many people where I grew up in Winston-Salem that's not into music." Patrick Douthit, now forty-three, was raised there in the seventies and eighties, a time when "music was such a part of the fabric of growing up," he remembered. "It was all around me." 
His parents were heavily involved in the church choir and his older brother, Charles, was an avid music collector who introduced him to soul, funk, disco, and rap records. By the time he was five, Douthit had started replicating sounds and melodies on piano. He joined the school chorus in fourth grade and the band at Hill Middle School, and by high school he was playing a half dozen different instruments and filling in for whoever in the band was missing on any given day. He was All-County Band and All-County Orchestra. The band room was an outlet, a place for him to explore his love for music. It's what Bright Lady is today to the sampling maestro we now know as 9th Wonder—a space for expression, creativity, and growth. 
9th was an exemplary student, too. At home, he liked to read encyclopedias for fun. When he was fourteen, his mother signed him up for a program at Wake Forest University called Project Ensure, which was created to serve gifted African-American youth in the Winston-Salem area. Thanks to the influence of that program and the show A Different World, 9th knew he wanted to enroll in a Historically Black College or University. After graduating from high school, he went to North Carolina Central University in Durham and planned to major in history. When he got there, his peers recognized his talent and wondered why he wasn't making beats. Music called. 
"In Winston-Salem, I wasn't around practitioners of hip-hop at all," he told me. "I saw it on Yo! MTV Raps and Rap City, but I hadn't seen it in practice." His friends heard him replaying melodies note for note from their favorite tunes—from Pete Rock & C.L. Smooth's "They Reminisce Over You (T.R.O.Y.)" and LL Cool J's "Back Seat (of My Jeep)" to Jodeci's "Lately"—and he was recruited for talent shows and drawn into conversations in the chorus room about his favorite hip-hop records. He settled into the campus community and made a name for himself as a hip-hop head. 
His trajectory changed course in 1995 when he became a father and transferred to North Carolina State University in Raleigh to be closer to his son and his son's mother. "At twenty, I started to not think of just myself anymore," he said. The move had an immediate impact on his ambitions with music. He heard DJ Resident playing rap on WKNC, NCSU's campus radio station, and went to the station to meet him—9th's first time in the room with a real beat maker. He met Leroy McDowell (now known as Son of Yorel), who made beats using the software Cool Edit and taught him the process of importing samples and sounds into the computer. One time, 9th was playing Rza's "Wu-Wear: The Garment Renaissance" in his dorm room and a guy named Cesar Comanche wandered in. Cesar would become a catalyst in the formation of their local rap collective. 
In 1998, 9th returned to North Carolina Central with the intent to graduate from the history program where he first started his college studies. He was just in time to meet Phonte Coleman, who had come to Durham from Greensboro to play football, though he was also making his name as an emcee and battle rapper. After numerous conversations about rap, 9th went to Phonte's dorm room armed with some of his beats. Because Leroy had some recording equipment, 9th and Phonte were soon traveling back and forth between Raleigh and Durham to make songs. Leroy lived in an NCSU building called 308 North Hall, so they started calling his dorm room 308 Studios. 
9th recorded in 308 until Cesar got an apartment off campus and set up a studio there. Soon, a regular crew of artists was coming together to make music at the newly formed Missie Ann Studios. It was there that the Justus League collective formed. Out the Justus League came Little Brother. From Little Brother came The Listening. 
When the album dropped, I don't think anybody was prepared for how good it was. I know I wasn't. 9th's beats seemed like they were meant for Phonte's rhymes. And it was fun; the album was woven together with skits crafted so well that Prince Paul would be proud. (One tongue-in-cheek song referenced 9th's burgeoning popularity as a local beatmaker: "Just make me hot P / Hold me down P.") Fifteen years later, Phonte recalled the feeling of making The Listening. "Once it was over, I remember sitting in my car listening to it, and I knew that our lives were going to change," he told me. "It was something I could sense, that our lives were never gonna be the same after that." 
At the time, the album was the antithesis of mainstream hip-hop, when Nelly and 50 Cent were dominating the airwaves and Southern rap was represented by Ying Yang Twins, Lil Jon, and Bone Crusher. With Little Brother, North Carolina had our own A Tribe Called Quest, our own De La Soul—our own soulful boom bap. Little Brother's appearance on the MTV news show You Hear It First remains a pivotal moment in North Carolina hip-hop history. One of our own had made it. Soon the underground heroes headed to the majors: Little Brother earned a record deal with Atlantic Records. 
In 2005, they released The Minstrel Show, a stellar project showcasing their chemistry, vision, and crisp rhymes, as well as 9th's signature production, with his ear for samples and use of fluid bass lines on full display. Rich in historical context, the album draws parallels between blackface minstrelsy and the modern music and entertainment industry. Like The Listening, it was woven together with wit, skits, and colorful characters. I thought it was genius. But the album did not meet with a warm reception. While underground outlets praised the project, mainstream critics didn't seem to enjoy the clever, yet critical, interrogation of black representation in pop culture as much as the rest of us did. I recall a rumor that BET resisted showing the video for their lead single "Loving It," deeming the music "too intelligent." (Phonte had anticipated the response, rapping on the album: "One day they giving you the thumbs up, the next / They telling 9th to go on switch his drums up the best / Is what they expect, but why they won't let the music / Just be what it is is anybody's guess.") 
Meanwhile, in addition to his work with Little Brother, 9th was building a following for his beats. In 2003, he dropped a remix of Nas's album God's Son called God's Stepson, which led to a call from Young Guru, at that time the go-to engineer at Roc-A-Fella Records. 9th was offered an opportunity to produce a track on Jay-Z's monumental The Black Album. That song was "Threat." The placement and the cosign from Jay marked 9th as a producer to work with. 
When you talk about North Carolina hip-hop with people outside of the state, the name Petey Pablo reverberates. The smash success of his 2001 call to take your shirt off and wave it 'round your head like a helicopter overshadows the genre's legacy here. But we can't forget acts like Yaggfu Front, college radio DJs (at WKNC) and emcees who signed to Mercury/Polygram in 1993. They were the first North Carolina hip-hop group picked up by a major, an inspiration to other natives. There is Payroll Records, the Greensboro label that opened the door for producers who would carve out long careers in the industry. Payroll was a platform for Ski Beatz—a producer on Jay-Z's Reasonable Doubt and the architect for Camp Lo's Uptown Saturday Night—and for the award-winning producer Andreao "Fanatic" Heard, one of P. Diddy's Hitmen. There is Greenville's Supastition, who built an international underground following through his Soulspazm releases. There is Durham's Kaze, who co-created the nationally syndicated TV show Hip-Hop Nation and was signed to Rawkus Records and Steve Rifkind's SRC Records. There is richness in the culture. Little Brother, the Justus League, 9th, Jamla, Rapsody—they all sit in this tradition. 
Still, it's tough. Many artists talk of how hard it is to get love in your own community. Little Brother spoke to that on their records—it can be said that it was only their national success that brought them acceptance at home. And places like North Carolina tend to export their creative genius. You can rattle off the names, past and present. John Coltrane, Thelonious Monk, Max Roach, the Dream, and George Clinton have their roots here but left the state with their families for other destinations. Nina Simone went off to attend Juilliard. Harold Vick and Roberta Flack left for Howard University. James Timothy Brymn studied at Shaw University in Raleigh but then left for the National Conservatory of Music of America. Ski Beatz and Jodeci found their place in the industry in New York with Roc-A-Fella and Uptown Records, respectively. New York is also where J. Cole grabbed Jay-Z's attention after heading north to attend St. John's University. King Mez had built a reputation as an adept emcee in Raleigh, but relocating to the West Coast got him connected to Dr. Dre and involved with Compton. The list goes on. 
9th made the decision to stay in North Carolina, and he has dug in. Much like Maceo Parker's eminence living in Kinston and Shirley Caesar's pastoring in Raleigh, 9th's home-state presence shows other artists that you aren't sacrificing by staying. He's turned this creative model into a healthy business, founding his own independent record label based on the lessons and experience gained from the Justus League's collective spirit. Jamla Records is committed to developing North Carolina artists. 
And while music took 9th away from his other passion, history—he never finished his undergraduate degree before his producing career took off—it has led him back to the college classroom. Part of his regular work now is lecturing, something he was doing long before he was invited to speak to an audience. After admiring 9th's production on "Threat," Dr. Mark Anthony Neal, chair of the Department of African & African American Studies at Duke, offered him an opportunity to collaborate on a course called "Sampling Soul." (At the time, 9th was an artist-in-residence with the music department at NCCU.) The class was such a success that Neal invited him to co-teach another course called "The History of Hip-Hop." 
In the class, which is still taught today, Neal and 9th root an understanding of hip-hop— its history and its place—within our broader culture. (The syllabus includes Amiri Baraka's Blues People and Manning Marable's Race, Reform, and Rebellion.) Neal told me that some students come to Duke just to work with 9th. He is the celebrity professor; he is also a valuable bridge. As a professor, 9th ensures that the culture is properly examined and explored in a way that considers the full experience of its creators. On this, 9th Wonder can provide a level of insight that very few can match. Like a talking catalog, he can cite the names of records and the dates they were released, and his years of crate digging have given him a wide range of reference points. He walks students through musical moments like a tour guide. 
During the 2012–13 school year, 9th was a fellow at Harvard University's Hiphop Archive & Research Institute. (This residency was chronicled in the documentary The Wonder Year, which looks at the craft of crate digging, sampling, and beat making through both a scholarly and aesthetic frame—exploring the artistic mindset of sampling while asking the viewer to consider the archival nature of building a catalog of records to sample.) At Harvard, he worked with Dr. Marcyliena Morgan and Dr. Henry Louis Gates Jr., and helped found the Classic Crates project, a collaboration of the Hiphop Archive and the university's Eda Kuhn Loeb Music Library. Thanks to this project, for the first time, hip-hop music will be archived in the library. 
The work that 9th has done, as a producer and now as a professor, mentor, and label head, could have drawn him to any major metropolitan city. Neal understands that he didn't have to stay. "You think about his relationship with TDE," he said, referring to Anthony Tiffith's Top Dawg Entertainment. "He could have easily packed up and been on the West Coast. He could have easily been in New York or Atlanta." But 9th feels strongly about what it means to be rooted in his home state. He is a father and husband who has been able to establish a comfortable environment while continuing to do the work he loves to do. It is one of the things that continues to tie Phonte, also still living in North Carolina, and 9th together (Little Brother disbanded in 2007). 
"I wanted to build my label here because I wanted a quality way of life," 9th told me that day at Bright Lady Studios. "There is a sense of calm that comes over you when you fly back into Raleigh-Durham Airport. I know that when I land I can come to the studio. Then when I leave, I can get in my car and go to Harris Teeter at two in the morning and ain't nobody in there. I can't do that in the city." Living in a place like North Carolina can afford an artist the freedom to create and work the way that they choose. It can also offer quiet and solitude, and a pace that lends itself to creative introspection. Above all, 9th Wonder has earned the right to keep himself home. "I'm trying to show kids, here is what you can do, not what is unreachable. That you can stay here and you can meet everybody," he said. "Everybody. To build a relationship with Nike, to talk to the president of Disney, to meet the president of Lucas Films, and to do this and be from here. I didn't have to sell my soul to do it. I didn't have to change myself. I can be planted right in Raleigh."
---
---
Enjoy this story? Subscribe to the Oxford American.