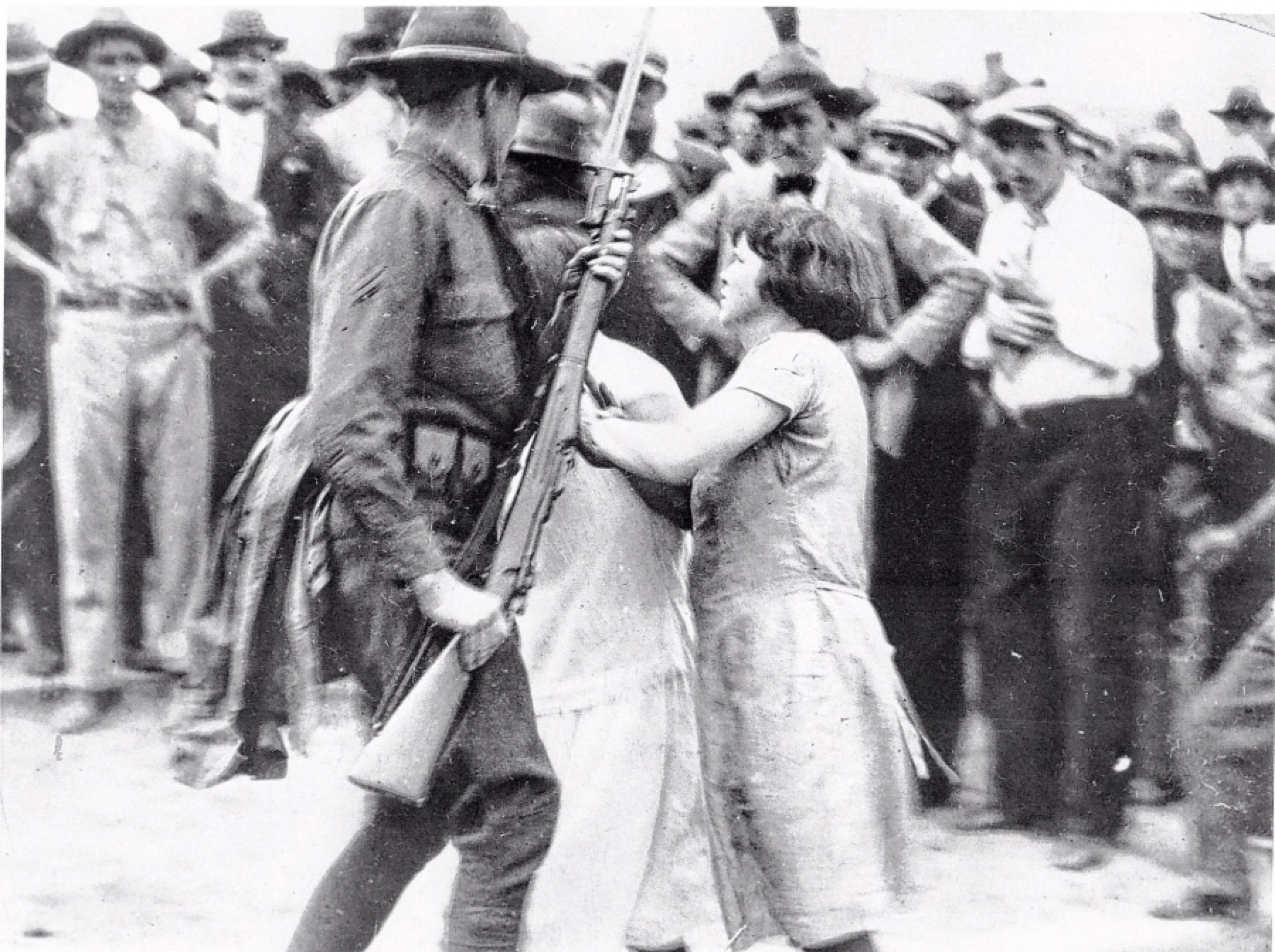 Workers confront the National Guard during the Loray Mill Strike, 1929
"Mill Mother's Lament"
By Wiley Cash
2018 Southern Music Issue Sampler featuring North Carolina
Track 20 – "Mill Mother's Lament" by Ella May Wiggins; Performed by Shannon Whitworth
---
E
lla May Wiggins had lost four children by the time she performed "Mill Mother's Lament" during the Loray Mill strike in the summer of 1929. She was only twenty-eight years old, and she earned nine dollars for a seventy-two-hour workweek on the night shift at a nearby mill. Her husband, John Wiggins, had abandoned his family, and she had recently discovered that she was pregnant by a fellow mill worker. 
When Ella—she had dropped Wiggins from her name—spoke or sang at a rally, she often told her story of life in the mills. 
I'm the mother of nine. Four of them died with the whooping cough, all at once. . . . I asked the super to put me on the day-shift so I could tend 'em, but he wouldn't. I don't know why. So I had to quit my job and then there wasn't any money for medicine, so they just died. I never could do anything for my children, not even keep 'em alive, it seems. That's why I'm for the union, so I can do better for them. 
After speaking, Ella would launch into one of her protest songs. She wrote and performed several original ballads during the strike, but "Mill Mother's Lament" was her best known. Based on the melody of the popular song "Little Mary Phagan," it portrays the heartrending plight of Southern mill mothers and their children. Ella had grown up in the Smoky Mountains, first on farms and then in lumber camps, where she and her mother took in laundry while singing old mountain ballads. According to accounts, Ella's singing voice was deep and seasoned with pain, and her lyrics reflected the plainspoken style of her speech. 
She had married John when she was still a teenager, and before she was twenty she left the mountains for a cotton mill in the South Carolina upstate. A series of setbacks, layoffs, walk-offs, and tragedies led the family north into Gaston County, North Carolina, where Ella and her children settled in Stumptown as the only white family in the African- American community. While working at a mill in Bessemer City she discovered a union leaflet that led her to the strike at Loray in Gastonia, seven miles away. She performed and spoke at rallies, eventually serving as union secretary. She traveled to Washington, D.C., and confronted North Carolina senator Lee Overman with issues of labor, gender, and race. She integrated the union with her African-American neighbors against the will of union leaders. 
Loray, which was built in 1900 by local investors, was one of the largest mills in the South. By 1929 it was operated by a Long Island–based company that had instituted labor practices unfamiliar to Southern mill workers. The stretch-out system made fewer workers responsible for greater output, the hank clock measured their work and determined their pay, workers were no longer allowed to leave during the night shift to check on children who were left home alone, and massive layoffs drove wages to poverty levels. 
The National Textile Workers Union, the labor arm of the American Communist Party, led the strike—and its demands seem simple by today's standards: a $20 minimum wage per week, a forty-hour workweek, an end to the hank clock, sanitary housing, equal pay for equal work, and union recognition. Loray scoffed at these demands, and the local newspaper began publishing violent anti-union propaganda. 
On June 6, 1929, a raid on the strikers' headquarters left Orville Aderholt, the Gastonia police chief, dead from gunshot wounds. Dozens of strikers were arrested and tried in a case that ended in mistrial. In September, while the jailed strikers were awaiting retrial, Ella led a group of unarmed workers to a rally. They encountered a roadblock comprised of the Committee of 100, a secret group of local officials financed by the mill. Ella's caravan turned back—then the truck carrying Ella was forced off the road, overturning in a field. Ella was shot. According to witnesses, her final words were, "My Lord, they have shot me." 
While Ella's murder was covered around the world, her name and reputation were sullied in local and statewide newspapers. I grew up in Gastonia, and my parents were both born in mill villages; though my mother's maiden name is Wiggins, I never heard a word about Ella May or the strike she died for until I went to graduate school out of state. In 2014, the Loray Mill was renovated into luxury loft apartments, and Gastonia began to come to terms with the mill's violent history. The renovation included a historical marker and a museum where Ella's legacy is shared. 
Her protest ballads have been performed by Woody Guthrie and recorded by Pete Seeger and, now, in a special recording for this issue, Shannon Whitworth. 
I visited Shannon at Echo Mountain Recording in downtown Asheville, North Carolina, on the day she recorded "Mill Mother's Lament." 
"I've tried to channel Ella May," Shannon said. "I want her to speak through me." 
When she began singing, I closed my eyes, imagined a field packed with weary strikers, and listened to a lament that still calls us to action nearly one hundred years later. 
---
Special thanks to Jessica Tomasin and Echo Mountain Recording. 
---
Order the 20th Southern Music Issue & Sampler featuring North Carolina..