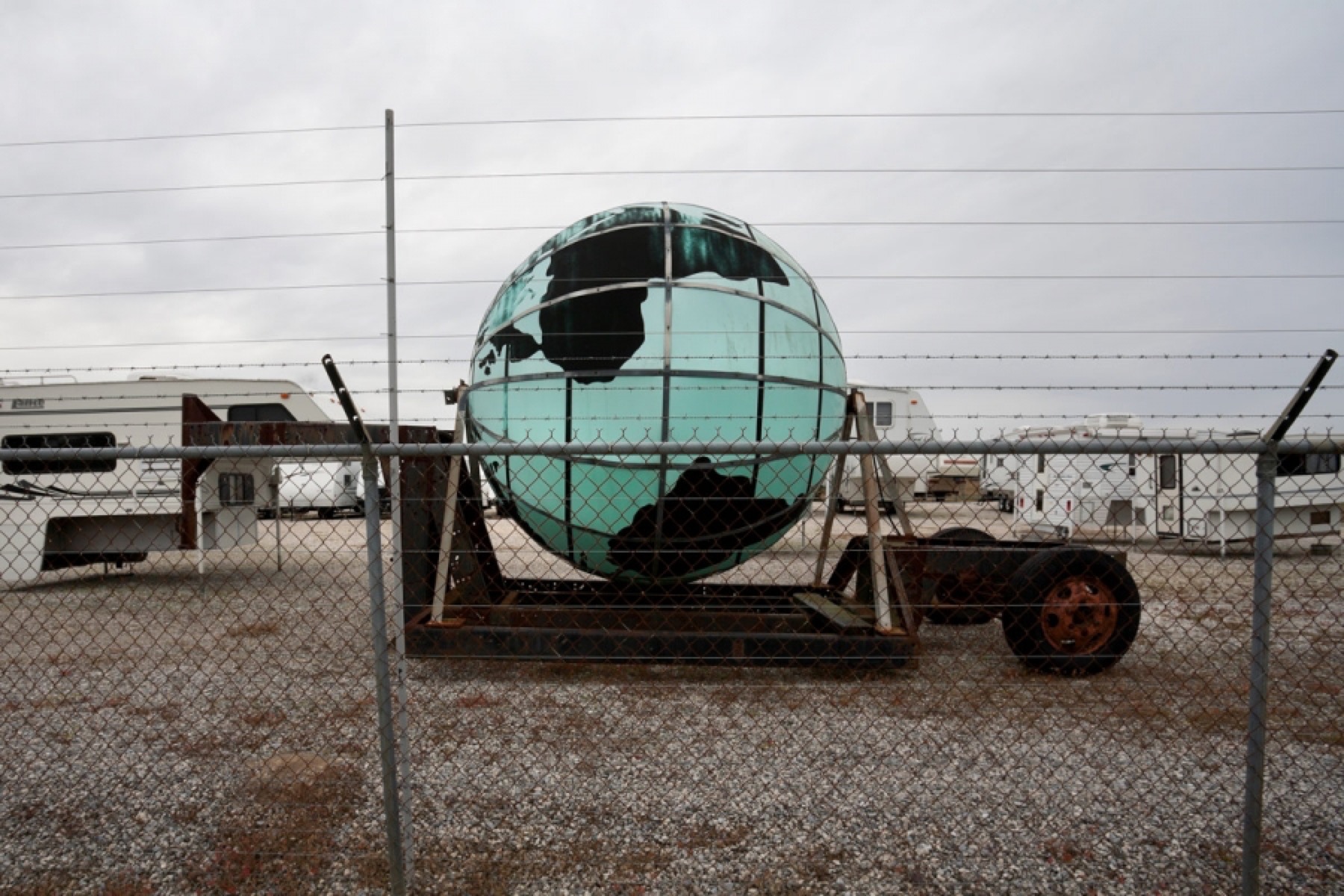 "Polk County, Florida" (2009), by Jonathan Traviesa
Clash of Symbols
By Eliza Borné
 A Letter from the Editor
---
Soon after my daughter was born a few months ago and I realized just how much time I'd spend tethered to one spot, feeding her, I had the thought that I might reserve those hours for intentional multitasking. I resolved to pass the time gratefully, in quiet contemplation; or singing aloud to my child; or at least listening to audio versions of novels I've been wanting to read. Sixteen weeks later, I have spent blissful moments staring at my daughter's beautiful face, overwhelmed with love for the tiny person in my lap. I've nursed while reading poems in the middle of the night, feeling seen in the wild postpartum haze. (If you are the parent to a young child, imagine me pressing contributing editor Beth Ann Fennelly's Tender Hooks into your hands.) Other mothers are probably rolling their eyes at this idyllic picture, and for good reason. The truth is, I have often been mired in reality: responding to emails on my phone; texting with friends about baffling baby symptoms; taking conference calls and pressing the mute button when my daughter started to cry; scrolling through alarming headlines.
So many alarming headlines.
I was nursing when my phone alerted me of Virginia governor Ralph Northam's muddled, cowardly response to being linked, via a photograph in his medical school yearbook, with the Ku Klux Klan and with odious black stereotypes. When I saw the photograph, I was not entirely surprised; disappointment in elected officials is a dull and familiar ache. But still it made me shudder. I looked from the screen to my daughter. She inherits this history. And it is my responsibility to teach it to her. Am I up for the task?
For this issue, several of our contributors confront symbols weighted by history, and their processing is instructive. C. Morgan Babst studies the exclusionary symbolism conveyed by architectural elements on plantation houses. Also a mother, Babst is "determined not to pass along" a "mythology of whiteness" to her daughter. Shortly after Donald Trump was elected president, Karen Good Marable bought a home in Atlanta. She and her husband and daughter uprooted themselves from Brooklyn to what she viewed as "the most progressive city in the South—a Black city, rich in activism, achievement, and innovation." Yet soon after moving, an object gives her pause. What does it mean to feel hostility in a neighbor's display of the American flag? In "Claiming Dixie?," Jennifer Ho, a professor at UNC Chapel Hill, witnesses protests at the university's Confederate monument Silent Sam—toppled by protestors last August—and ponders her place in the South as an Asian American. She concludes: "I cannot claim to be an American and only claim the parts I like."
Though I don't believe new parents must be homebound, another truth of my current season is that my movements are mostly limited to house and office and places in between. So more than ever in my life, I am compelled to travel via stories. It's been a pleasure to join the perceptive, intelligent guides who contributed to this issue. Sasha von Oldershausen treks across the Trans-Pecos region of West Texas with a pack of camels, retracing the path of America's nineteenth-century camel experiment. Rachel Louise Martin conjures the limestone glades of Flat Rock, Tennessee, a globally unique—and now compromised—ecosystem. Micah Fields, the Oxford American's current Jeff Baskin Fellow, takes us on a tour of Houston, his hometown, chronicling the "maddening cycle of industrial encroachment" that has forced some people out and harmed those who stayed. In "Enter the Moundverse," Maurice Carlos Ruffin pays tribute to a beastly and bright alternate reality, that of artist Trenton Doyle Hancock. (Hancock shares his own response to men in white hoods.) And in "West Virginia in Transition," Mesha Maren captures the natural beauty of her home state while investigating the challenges of staying there if you are queer. I invite you to come along for these journeys, which are really stories about our fragile environment, about the fight for equal rights. These are the most urgent issues of our era.
I recently celebrated my sixth anniversary at the Oxford American. What a glorious ride this has been: working with the most talented writers I know and challenging readers' (and often my own) impressions of what the South is, of what it means to live in a region both vibrant and fraught. Along the way, I have been fortunate to collaborate with a remarkably talented group of people. I'd like to pay tribute to two of them. During my tenure at the OA, I have frequently referred to Tom Martin, the magazine's longtime art director, as the Oxford American's "secret sauce." He is responsible for countless design choices that shape how you have experienced the OA over the years, including our iconic music issue covers. The North Carolina music issue, published in November, was Tom's last issue as art director—an exceptional swan song. I am grateful to Tom for his dedication to the OA, and I am pleased to welcome our new art directors Milton Carter and Mike Reddy— a.k.a. Carter/Reddy—to the OA family.
Chris Offutt first wrote for the magazine in 1994, though he has become most beloved to our readers for his irreverent cooking column, "Cooking with Chris," in which he has expounded on such topics as preparing food inside his dishwasher and provisions for the apocalypse. After five years and eighteen columns, this issue's "Salt and Prepper" will be his final dispatch. Though I'm tempted to mail him five hundred cans of Pringles in appreciation for his service, instead I'll just say a heartfelt thank you.


---
Order the Spring 2019 issue today or subscribe to the Oxford American.