Letter Imperfect
By Diane Roberts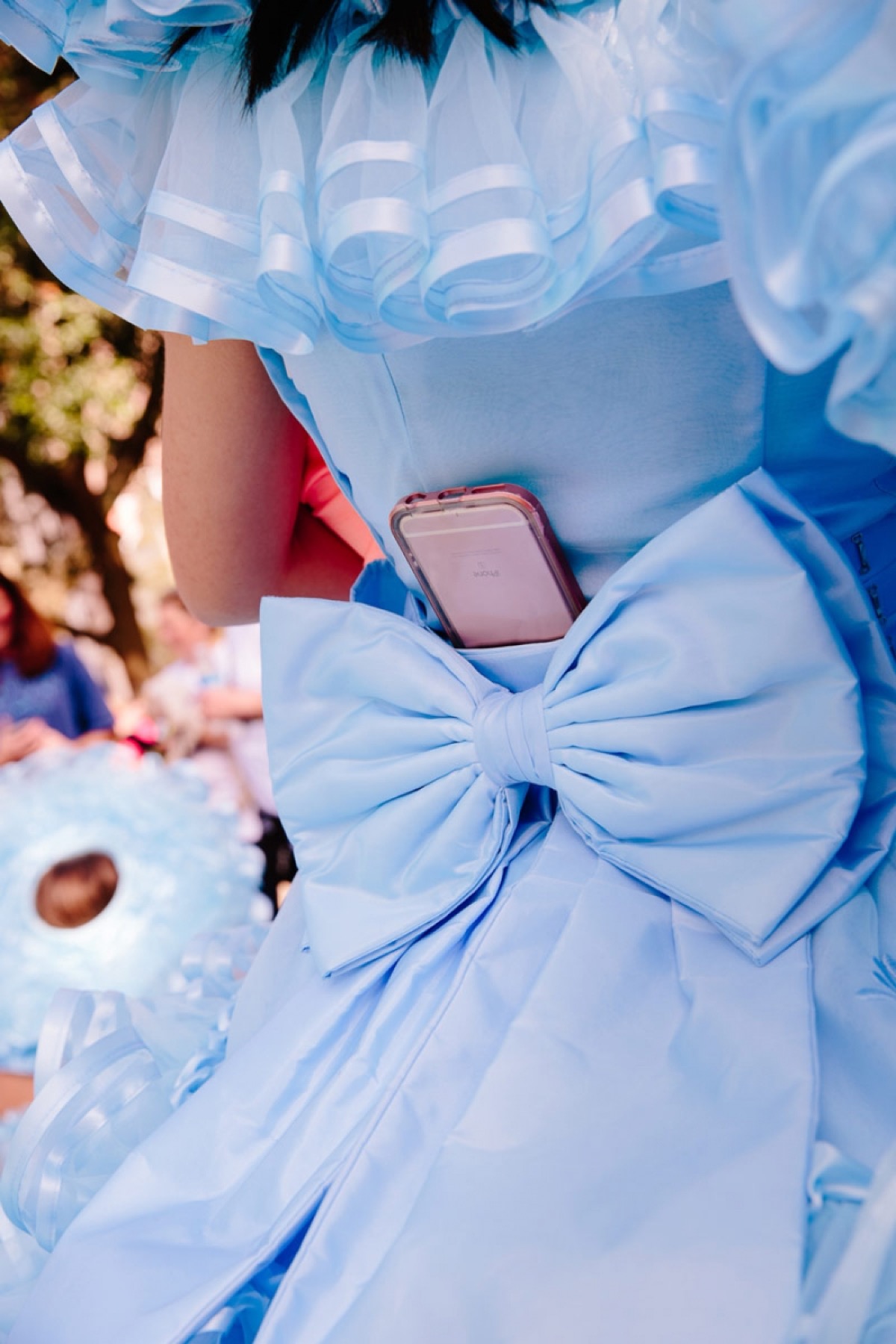 "Jamie's iPhone," by Adair Freeman Rutledge, from the series Azalea Trail Maids
F
raternity bros in polos, Tevas, and Crimson Tide ball caps stand in the street clutching long-stemmed roses: mostly red, but some pink and yellow, too. The grocery store often sells out of red ones. Congeries of mothers and daddies mill about behind metal barricades along Sorority Row. One of the bros says, "All right, all right. They're coming."
"I hear 'em," says another.
We all hear them, nearly two thousand young women making a joyful noise and heading this way in a ritual officially known as "Bid Day," but called "Squeal Day" by pretty much everyone. The sound is less a squeal than a soprano roar, high and triumphant, louder and louder as they round the corner, a delirium of girls in shorts and sneakers, cantering behind sisters bearing huge cut-out Greek letters. Five minutes ago they'd lined up in Bryant-Denny Stadium, ripping open envelopes with their invitations to pledge Kappa or Chi O or Phi Mu or Tri-Delt or one of fourteen other mostly white, mostly affluent, mostly Christian societies of girls with every reason to expect they'll run the world, or at least their corner of it.
These young women have survived days of walking from columned sorority house to columned sorority house in the sodden August heat, days of standing on sidewalks reapplying melted mascara, slipping on their party shoes (smart girls travel in flip-flops and carry their heels in a bag), waiting for the tall white front doors to burst open revealing yet another singing, clapping, beckoning stack of girls: "Try, try Tri-Delta! Try, try Tri-Delta!" or "Kappa! Kappa Kappa Gamma! I'm so happy that I am a Kappa! Kappa Kappa Gamma!" or "I wanna go A D Pi! Boom boom! I wanna wear blue and white! Boom boom!" They've endured a week of smiling till their faces ached, a week of sipping ice water at Ice Water Teas—the first round of parties in which they visit every sorority house—careful not to drink too much lest they get so desperate to pee they're forced to ask directions to the ladies' room from some high-toned sister with diamond studs and a St. Barts tan who would undoubtedly deduct points for poor bladder management. They've withstood a week of talking about their hometowns, their high schools, their hobbies, their pets, and where they got those great shoes: no religion, no politics, no boyfriends. They've cut some sororities: rush or "New Member Recruitment," as the grown folks want everyone to call it, is a weeklong process of elimination. They've been cut by other sororities: they've cried; they've called home; they've thought of ditching the whole show. Now they're dancing on the lawns of their new houses in which they'll practice making expert small talk, organizing charity fundraisers, throwing large parties, and rocking a nude lip. They will learn to drink and how to deal with drunk men. If they're lucky, the drunk men won't assault them. These young women are no longer mere individuals, floating around a big campus like random atoms in space. They belong to a name-brand tribe of women, new besties currently throwing glitter, pulling Greek letter t-shirts over their heads, crowning them with flowers, and handing them beribboned swag bags of key chains, koozies, caps, notepads, and water bottles in their new sorority colors of cardinal and straw, bordeaux and silver, rose and green, dark blue and light blue. Parents who've driven to Tuscaloosa for this moment shoot videos on their phones, a reporter from the local paper takes pictures, and the bros proffer their roses and check out the new talent for 2018.
I didn't exactly mean to attend Bid Day in Tuscaloosa—I was heading to Birmingham. But I had a bit of time and wanted to drive through the University of Alabama campus to see how it had changed in the twelve years since I left for Florida State. I parked (illegally) on a side street near the Paul "Bear" Bryant Museum and started walking down the tree-shaded side of University Boulevard. Near the hulking mass of Bryant-Denny Stadium, I saw crowds forming and realized what was happening. I found a postage stamp of shade on Judy Bonner Drive and waited.
Sorority houses at UA have never been shabby, but lately they've taken on Downton Abbey proportions. Phi Mu's new $13 million pile is a swollen forty thousand square feet, complete with three-story Corinthian columns, a baby grand piano in the marble foyer, and a glittering 1930s chandelier that once hung in New York's Waldorf Astoria Hotel; the Tri-Delt house, FSU's grandest, is a paltry twenty-six thousand square feet. But then, 'Bama's all about big: of the university's thirty-three thousand undergraduates, more than eleven thousand belong to a sorority or fraternity—the largest Greek system in the nation and possibly the most influential. Certain white houses have long been conduits to power in Alabama via a sort of deep-state fraternity-within-the-fraternities. Theta Nu Epsilon, also known as the Machine, also rumored to be some kind of offshoot of Yale's Skull and Bones (ΘNE's emblem is also a death's-head), has controlled campus politics for one hundred years. According to a 2011 story in the Crimson White, Alabama's student newspaper, of the university's fifty-one social fraternities and sororities, twenty-eight (all overwhelmingly white) affiliate with the Machine. Membership in the cabal ain't cheap: a house invited to join ΘNE must pay an initial fee of $10,000, plus dues. The Machine uses the money to fund Student Government Association campaigns for its chosen candidates and buy copious amounts of booze for the private parties it throws to reward its loyalists. Machine connections can translate to big careers in Montgomery, Birmingham, and Washington, D.C. Alabama's last Democratic governor, Don Siegelman, a member of Delta Kappa Epsilon at UA, was a Machine protégé; Richard Shelby, Alabama's senior U.S. senator and a Delta Chi, is said to have been president of the Machine, though he denies it: Machine honchos always deny it. What's undeniable is that the Machine controls a lot of votes. Machine alumni Lee Garrison and Cason Kirby won close elections for Tuscaloosa City School Board in 2013, aided by offers of free drinks at local bars and rides to the polls in limousines. This election attracted more money than any other in school board history. Some student cogs in the Machine may have registered to vote outside their districts. They claimed to have "misunderstood" the paperwork.
Every once in a while, Alabama Greeks defy the Machine. Back in 1976, several white sororities rejected the Machine candidate to instead support Cleo Thomas, president of the historically black fraternity Kappa Alpha Psi, for Student Government Association president. Thomas won, but the Machine retaliated, burning a cross on the lawn at Kappa Kappa Gamma. A few years later, the Machine rethought its attitude toward sororities and invited some to join the gang, figuring the girls would be easier to control from the inside. The Machine was almost certainly to blame for burning a cross in front of Minda Riley's off-campus house in November 1992, leaving a note that said, "Machine rules, bitch." Riley, a congressman's daughter and a Phi Mu, ran for student body president, even though ΘNE—and her own sorority, a Machine member—supported another candidate. She persisted, until one night in February 1993 when a man with pantyhose over his face attacked her with a knife, snarling, "You fuck with the wrong people, you get fucked." She managed to hit him with a table lamp, at which point he ran away. The university responded by shutting down student government for three years.
Like a lot of middle-class Southern women, I grew up with Greek letters. My mother taught me the Greek alphabet when I was about eight, not as a first step to reading Euripides, but to tell one sorority or fraternity from another. She had enjoyed sorority life and thought that I, a bookish child with no blood sisters and very few dates, might pick up useful skills in, say, making conversation, or deploying hot rollers. I loved clothes and secretly wanted to fulfill the highest aspiration of late-1970s white femininity: to be cute. So in the melancholy waning days of the Carter administration, I rushed and pledged Sigma Kappa at FSU. Our colors: lavender and maroon; our open motto: "One Heart, One Way." There's a secret motto, too, and a password and a handshake (we call it "the grip") which I could reveal, but I won't. Not because I think that the spirit of Sigma will come down and whack me with her sword if I break my vow, but, in honor of my eighteen-year-old self, I choose to keep these completely inconsequential secrets.
The Sigma Kappa house put on its company face downstairs, with formal rooms of brocade sofas and silver vases and huge "composites," photographs of sisters going back to 1920. Downstairs we were to behave as ladies, well-bred, grown-up, with excellent posture, upholding tradition while making our way in the world. Upstairs, with its labyrinth of bedrooms and sleeping porches and communal bathrooms, was a chaos of clothes on the floor, Exile on Main St. or Barry Manilow wailing out of cassette players, arguments and reconciliations and jokes enacted morning, noon, and night. We walked around in our underwear, devoured articles on orgasms in Cosmopolitan, and hid bottles of booze in our bottom drawers. Upstairs was where I learned the best way to apply eyeliner and heard the worst stories about boys. I'd watch Katrina (widely considered the most sophisticated girl in the house) dress for a date with her law school boyfriend; I'd listen to Anna's Elton John records and try on Mary Helen's shoes. I never thought of it as an "empowering female space"; at the time, I wouldn't have known what that was. I did know it was where we didn't care what we looked like (unless we were going out), a place forbidden to men (unless the guy came to fix the air conditioner, at which time somebody would holler "Man on the floor!" and bedroom doors up and down the hall would slam shut), a place where we were not on display.
We didn't get into politics or family drama downstairs, but upstairs we'd say anything. One sister agonized over parents splitting up, another over being dumped by that Pike who'd promised her his pin. We talked about Ronald Reagan: most of my sisters liked him, but there was a solid gang of Democrats who would not hear a word spoken against Jimmy Carter. We tried to work out our relationship to feminism, a word many of us shied away from, though we heard it all the time on campus. We feared "feminism" somehow meant unfeminine: we bought the stereotypes about anger and unshaven legs. We like guys, we said. Late one night during my freshman year, when three or four of us were mixing illicit White Russians in the president's room and analyzing the lyrics to "Hotel California," one of our sisters stumbled in, her face smeared, her eyes empty as last night's beer bottles. It took hours and half a bottle of vodka to finally get the story. There's a lot I don't remember from that night, but I won't ever forget this: That adorable guy she'd been dating, a guy we thought we might tap as a "Big Brother" of the sorority, had raped her upstairs in his frat house. She didn't use the word "rape"; neither did we. And she wouldn't call the police. "My father'd kill me," she said.
We helped her get in the shower and sat with her as she lay on her bed, eyes never closing. We promised her the guy would never enter our house again. I didn't know how to feel: I'd never even had sex. Was this the price of having a boyfriend, that they could do whatever they wanted with you? One girl, a senior, kept saying, "It's not your fault. It's not your fault." We had all been warned against ever, for any reason, going upstairs at a frat party. Brothers had been known to spike a girl's drink with something that knocked her out, and lock her in the room and do some unimaginably terrible thing to her.
The year after I pledged, in 1978, Ted Bundy viciously attacked four young women upstairs in FSU's Chi Omega house, two streets away from Sigma Kappa. Two of them, Margaret Bowman and Lisa Levy, died. Within a day, every sorority had changed the locks, hired guards, installed security lights, and gotten fraternity members to sleep on the floor downstairs and escort girls to and from night classes. The police visited every sorority house, warning us never to prop open a door or invite a strange boy inside. We stayed scared for maybe three months—then summer came, and the planning for next year's rush. It's not that we forgot about the murders of Margaret and Lisa; it's just that Bundy was in jail and we had new combination locks. Everything was fine.
Most of the time, I was obliviously happy in my sorority, reveling in the candlelit rituals, the white dresses for initiation, the oaths, the occult meanings behind every symbol: the pearl, the serpent, the dove, the violet. We were always in costume: feather boas and gloves for a "Godfather" social with the SAEs, hoop skirts and picture hats for Kappa Alpha's Old South Ball (yes, really), and, of course, the singing, dancing weeklong show that was rush. One year we marched smartly out of the sorority house's front door to the Village People's "In the Navy," a hundred girls in white skirts, nautical-stripe t-shirts, and little sailor caps worn at a jaunty angle. We pointed Uncle Sam–style and chanted at a sidewalk full of astonished hopefuls: "We want YOU! We want YOU! We want YOU as a Sigma, too!"
Later that fall, while we were lounging around in the television room at the house watching The Young and the Restless, one of our new pledges, a confident girl from Atlanta who never wore polyester, told us the Village People were gay. We didn't believe her. We explained that the Village People simply enjoyed dressing up. Like we did. We lived in a snow globe. We didn't know any gay people (at least we didn't think we did), but we openly made "fag" jokes without reprimand. We didn't know any black people, except Lucy, our sorority cook—and Lucy was practically family! One Halloween, a sister put on a maid's uniform and a red head rag, painted her face coal black, and announced she was an Alpha Kappa Alpha pledge—AKA is the oldest African-American sorority in the nation. Another sister delighted in singing our sorority songs in what she called "Ebonics," substituting the names of black fraternities for Sigma Kappa. We didn't do swap dinners or hold socials with African-American houses. We inhabited separate spheres. Black Greeks had their own rush, and their own governing body, the National Pan-Hellenic Council; we operated under the auspices of the National Panhellenic Conference. Surely, we thought, everyone was more comfortable this way.
Back when I was an active member, I never once knew an African-American girl to subject herself to Panhellenic Rush. It was just as well, since she would have caused us to draw on our rich reserves of racism. This was forty years ago, I know, but the Civil Rights and Voting Rights Acts had been the law of the land for fifteen years; in 1974, Barbara Jordan, the first black woman elected to Congress from the Deep South, delivered the opening speech at the House Judiciary Committee on Richard Nixon's impeachment and Beverly Johnson became the first black woman on the cover of Vogue. You'd have thought things would move a little faster—if you were thinking about it at all, which I wasn't. Still, we had plenty of opportunities to display our snobbery and anti-Semitism. During rush, we would drop girls who seemed too "country," even if they were rich. We would stare at the slide of a girl on the screen in our rec room, and if we deemed her gauche or fat or "too Jewish-looking"—we'd use the coded phrase, "She might be happier in Sigma Delta Tau," a traditionally Jewish sorority—there'd be a pregnant few seconds of silence, then somebody, one of us or one of our alums, would say, "Do we want to see her around campus in a Sigma Kappa jersey?" The answer was always no.
In September 2013, one hundred fifty years after the Confederates lost at Gettysburg, fifty years after George Wallace stood shaking with futile rage in the "schoolhouse door," only to see Vivian Malone and James Hood admitted to the University of Alabama the same day, around a hundred (the number is unconfirmed) black women went through formal rush and not one received a bid, not even Kennedi Cobb, a gorgeous young woman whose family includes a former Alabama Supreme Court justice and university trustee, a federal magistrate, and a member of the Alabama House of Representatives. Race beats class.
It had been the same dance for years: in 2000, and again in 2001, Melody Twilley, accomplished daughter of Alabama's largest African-American landowner, got cut by every single house. A biracial girl named Christina Houston actually pledged Gamma Phi Beta in 2000, but she didn't tell anyone her father was black until 2001. In 2003, an African-American girl named Carla Ferguson also pledged the same sorority. Gamma Phi Beta is not, however, a ΘNE house. In 1986, when Alpha Kappa Alpha was about to move into a house on white sorority row, somebody burned a cross in their front yard. A few years later, a black homecoming queen was booed at the football game. But after the bids came out in 2013, some of the white sisters decided they'd had enough. They went public, telling the Crimson White that alumnae had blackballed Kennedi Cobb and every other young woman of color, insisting fraternities wouldn't want to hang out with them if they pledged a black girl and threatening to withhold financial support. The alums proffered bullshit reasons as to why they deemed the young women unsuitable: that girl wore too much makeup, that other girl wore too little, this girl's clothes were terrible, or, in the case of Ms. Cobb, one of her recommendation letters didn't follow the exactly prescribed form.
Alabama's rush scandal went national. No doubt other campuses suffered similar scenes, but there's something about UA, the persistence of the Machine, the ghost of George Wallace, and the lingering jasmine-whiff of the Southern Lady archetype that mesmerizes media from the New York Times to Jezebel. On campus, Greek houses were in turmoil. An account reportedly controlled by the Machine put out a tweet: "The first rule of rush is you don't talk about segregation to media. The second rule of rush is you don't talk about segregation to media." President Judy Bonner (herself a UA Delta Gamma) forced Panhellenic to allow "open bidding," that is, offering membership invitations to women outside the formal rush period, resulting—finally—in eleven African-American girls pledging white sororities. Kennedi Cobb went Alpha Chi Omega.
I suppose this must be a victory. In subsequent years, women of color have pledged historically white sororities at UA and universities across the South. (Historically black sororities and fraternities, have, by the way, been integrated for sixty years.) The numbers are still small, probably small enough to mollify the Machine, which is still most concerned with controlling what it sees as the two most prestigious elected positions on campus: student president and homecoming queen. But there are many ways to maintain power and the Machine is nothing if not adaptable: in 2017, Jared Hunter became Alabama's third black SGA president, after Cleo Thomas in 1976 and non-Machine candidate Elliot Spillers in 2015. But instead of running against the Machine, Hunter, a member of Theta Chi (a Machine fraternity) embraced Machine support. His election was marred by several campaign violations, including overspending his campaign limit by, among other things, setting up a $500 bar tab for students attending his campaign launch party. Hunter resigned in January 2018 after being arrested for drunk driving.
I pick my way past where the old wedding cake–shaped Tri-Delt house once stood. The new house is less confection than Florentine palazzo. My sorority magazine tells me that Sigma Kappa, my sorority, has colonized here at Alabama after years of dormancy, starting a new chapter with consultants from national HQ. I don't know if Sigma's doing regular rush or not—I don't see anybody in my Greek letters amid the dancing and laughing and operatic declarations that This is the happiest day of MY ENTIRE LIFE! Sigma Kappa apparently occupies the old AD Pi house, a "swing house" on sorority row, a temporary address they can use until they build a grand mansion of their own.
But I don't feel like elbowing my way down Magnolia Drive. Besides, it's time to get back on the road. After all, I'm not a parent or pledge; I'm just a tourist. No, that's not right: I'm part of this. I may have rejected some of the sorority's canons of ladyhood, but I never resigned from the sorority; I still have my pin, gold letters on garnet enamel with seed pearls. I'm in sporadic touch with only two or three of my sisters from FSU, but not because I consciously abjured my sisters, though I now have little in common with the majority of them. I never married or had children; I chose a life in the academy. After graduation from FSU, I left the country for England, a lucky scholarship winner. There, I told sorority stories to rapt friends whose knowledge of the American Greek system came entirely from Animal House and who really wanted to believe that sororities regularly held topless pillow fights. Living in a country where talking about class is the national pastime, I slowly began to see how my sisters and I inhabited a big, high castle of racial privilege, unable to see beyond its walls. We mostly didn't even try. We didn't recoil from the suggestion of black sisters; it simply never came up. Oxford was stocked with the products of almost entirely white private schools—the children of cabinet ministers, aristocrats, the rich, the famous—who still have a head start getting in, where there are "dining societies," exclusive groups in which, just like Greek houses at home, members dress up and get drunk. There, three thousand miles from the nearest Sigma Kappa house, I first began to examine my Southern-ness and my whiteness and my life as a sister, all inextricably linked.
On my way back to the car, through the celebrating throng, I see maybe a couple dozen young women of color, some African-American, a few who might be Latina. I wonder why they wanted to join sororities. Then I look at the fine mansions, their long windows sparkling in the sun, azaleas clipped to geometric perfection, and think how enticing the houses look, how elegantly exclusive, how serene and impregnable. And who wouldn't want to be hugged and high-fived and celebrated and loved by all these exuberant, shiny-haired girls? They have three or four hundred sisters now. They hug and shout waving the long-stemmed roses handed to them by the brothers of the Machine, wielding those roses like prizes or like swords.
---
Enjoy this story? Subscribe to the Oxford American.