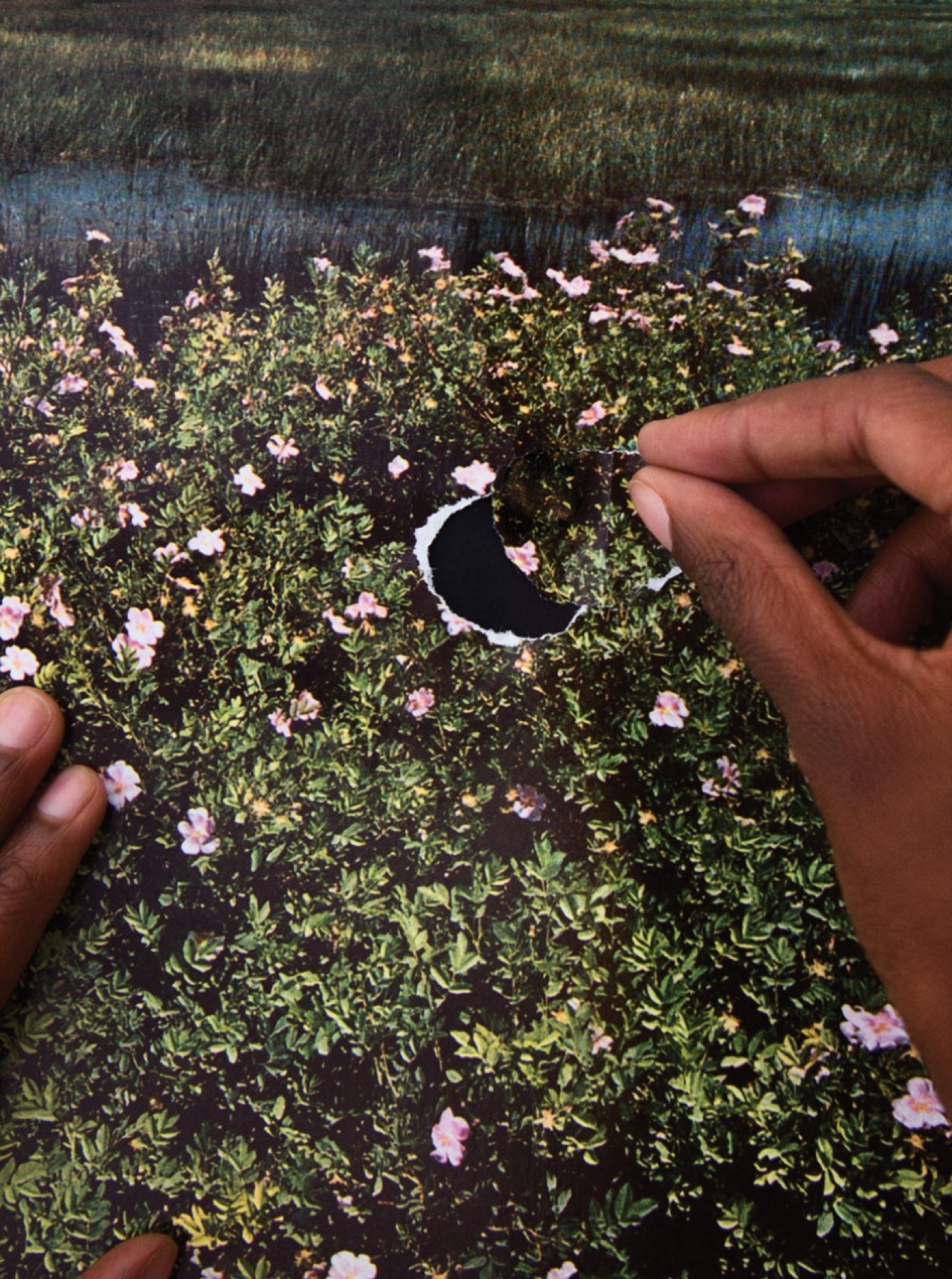 "A Plot that Also Grounds" (2016), by Dionne Lee. Courtesy the artist
Change and Transformation
By Eliza Borné
 A Letter from the Editor
---
A
 tiresome stereotype about the American South is that this place is a monolith. Growing up in Arkansas, with the two sides of my family living in different regions of the state, I learned instinctually how wrong that view is. My father was raised in the Ozarks, in a house in the country not far from the banks of the Buffalo National River with its limestone bluffs and stunning vistas—vistas that are sometimes spoiled by Confederate flags zooming by on bumper stickers. My parents raised me in Little Rock, my mother's hometown. I considered myself a city kid, though I didn't have to travel far to see landscapes as varied as hardwood forests, swamps, and rice farms. In truth, my childhood world was both urban and rural—city buses and truck beds; afternoons riding escalators at the mall and overnights in the duck woods. These worlds were all Arkansas, yet to me they were as different as night and day, marked as they were by unique climates and geographies, people and customs, histories and politics and problems. 
When our editors began to conceive of this place-themed issue last December, we knew we wanted to invite submissions that analyzed, celebrated, and challenged our notions of a place that encompasses a remarkable breadth of difference. Yet we puzzled over the organizing principle. 
Then one day, my colleague Jay Jennings mentioned the poem "Soil Horizon" by Tiana Clark, who contributed a gorgeous essay about Nina Simone to our North Carolina Music Issue in 2018. Clark, who is Black, writes of the time her white mother-in-law asked "if it was okay" to take the family's portrait at Carnton Plantation in Franklin, Tennessee, a site where humans were once enslaved and where couples now spend thousands of dollars for the pleasure of getting married on its grounds.
"I began thinking of Southern 'place' as being made up of certain 'elements'—soil, wood, water, and stone," Jennings wrote to me in proposing the theme. "Clark alludes to all of them in the poem and there they intertwine in various ways, begetting change and even transformation, an interlinked system rather than things static: the wood that becomes a plantation house that becomes a war hospital that becomes a wedding venue."
Inspired by this reading, our editors issued a call to writers, and we were invigorated by the ideas they sent back, all rooted in various historic, and sometimes personal, events, yet united by connection to the four core elements. 
Frederick McKindra mines the fiber of cotton as troubled symbol and ubiquitous product—framed through the lens of his family's history and Timothy Hursley's architectural photography series centered on storehouses of cotton seed. Martin Padgett traces the sweet gum tree from its namesake community in the Florida panhandle to the Sweet Gum Head in Atlanta, a landmark drag club, and records an important chapter in the South's LGBTQ history. Kerry Rose Graning visits a barrier island on the Louisiana coastline and tells a story of tropical storms, hurricanes, erosion, and an unlikely surfing culture. David Searcy reflects on a drag-racing strip near Dallas, a tale bolstered by history, philosophy, and geology. 
As in every issue of the OA, themes organically emerge and intersect: rituals surrounding death; property ownership and loss; landscape and waterways wrecked by climate change; searches for belonging and meaning; faith.
This place-themed issue was originally scheduled to be published in June 2020, and by March, our progress was ticking along at the usual brisk pace. On the morning of March 12, I edited Erik Reece's essay about a Deliverance-inspired rafting trip down the Chattooga River—and then I learned, in quick succession, that Arkansas was reporting its first instances of community spread of COVID-19 and that my daughter's daycare was closing, effective immediately. That evening, the OA was scheduled to present a John Fullbright concert. We canceled it a few hours before soundcheck, and the Oxford American stage has been dark ever since. My colleagues and I continue to work remotely. I am writing this letter at one o'clock in the morning, since my daughter is still at home with me and I've found it's nearly impossible to focus while simultaneously taking care of an active toddler who has discovered the joys of climbing on top of furniture. In July, Arkansas reported a record one thousand sixty-one new COVID-19 cases in a single day, a high transmission number given the relatively small population of the state.
My sister works at a shelter, and my husband is an attorney who represents people who are incarcerated. I worry constantly: For the health of their clients and the professionals who serve them. For my neighbors who work on the frontlines of healthcare. For my friends who are educators facing a school year guided by uncertain safety precautions. For the children who are not getting the in-person instruction and essential services they fiercely need.
I worry about small businesses and nonprofit organizations, like the Oxford American, which during this pandemic has lost significant revenue across multiple categories (advertising, events, newsstand sales). In May, driven by an opportunity for savings, we made the difficult decision to postpone our summer issue and publish this double issue instead, combining our fall and summer magazines into one. You, our readers, have been remarkably understanding of this response to an unprecedented crisis, and I hope you find this extra-thick issue worth the wait. I urge you to subscribe and donate to the OA if you feel moved by what you read; reader support has never been more vital to our future success. 
During these tumultuous months, my colleagues have worked tirelessly to accelerate projects that will allow you to experience the OA in virtual spaces. You can now enjoy the OA on our new app, wherever you might be. Later this year, we will launch a new website and air season two of the Points South podcast, which recently received a major grant from the National Endowment for the Humanities. We are in the process of digitizing our twenty-eight-year archive. As part of that initiative, we are revisiting work published earlier in the magazine's history. While reading a selection of issues from the late 1990s, I was struck by Valerie Boyd's wisdom in "Finding Southern Comfort," which is republished in this issue—now with an update from the author. 
This summer, as I grieved the murder of George Floyd and cheered Black Lives Matter protesters organizing and demonstrating across the world—including in some of the most rural, white, and conservative corners of Arkansas—I found myself returning to a sentence in Boyd's essay: 
The past and the present coexist here as nowhere on earth, side by side, as though one cannot live without the other, the way evil sustains good, the same too as white and black in the South are inextricably linked.
She's quoting Eddy L. Harris, whose memoir was published in 1993. It's called South of Haunted Dreams.
Oxford American writers have long chronicled police brutality, racial injustice, and inequality. They have also centered Black excellence and joy. Our archive is rich with masterworks, like "Finding Southern Comfort," that feel resonant today. So is this issue—both in the writing and the visual art, starting with "When you see me," Deborah Roberts's collage that appears on the cover.
In "Ways to Keep Breathing," Mik Awake reflects on his inheritance and lived experiences as a Black man navigating the pandemic, racial violence, and our nation's response to police brutality. Karen Good Marable finds catharsis (and moments of normalcy) while taking her daughter for joyrides in Atlanta, anthems blasting on the stereo. With the short story "Bitch Baby," Halle Hill, who makes her publishing debut in this issue, shares a vivid and beautiful portrayal of two siblings' love alongside a wrenching account of police violence and bigotry.
My colleague Danielle A. Jackson, who joined our staff just weeks before the coronavirus consumed the United States, offers a master class in interviewing with "This Story Cannot Be Told Unless We Start from the Beginning." On June 18, she joined Minnijean Brown Trickey, one of the Little Rock Nine, and activist and artist Crystal C. Mercer, who lives in Little Rock today, for a conversation via Zoom about Black history, sorrow, and protest. Their conversation is presented alongside a series of visceral protest photographs by Ebony Blevins.
"Will I recover from this sorrow and sadness?" Brown Trickey asked early in the interview. Mercer said later, "This righteous anger, this rage, is just bubbling inside of me." 
Cultural organizations are often called to improve the equitability of their operations and programming, though the public calls have been louder this summer than at any other time in my career—and the gatekeepers, at least some of them, appear to be listening.
In "Hoods in My Hymnal," Rachel Louise Martin writes of the necessity of excising entrenched racism from our culture—even, and especially, when it's hard to recognize. As I read her essay, I thought of how I should look in the mirror while I pondered her questions. I can point to numerous failings and shortcomings during my leadership at the OA. 
At present, my colleagues and I are working to audit our practices with the goal of establishing concrete steps to foster a more diverse, inclusive, and equitable workplace—for staff, contributors, and artists. As editor of the OA, I am energized by the urgency of this season, humbled by the people who trust me to publish their work, and determined to work harder to get the OA closer to living up to the values we espouse in our pages. 
Longtime readers will notice that this issue marks a departure. In June, I notified John T. Edge that I thought it was time to conclude his Local Fare column, which he started writing in 1998, so the magazine could make space for some different writers thinking about Southern foodways. I came to this conclusion after realizing that a column is a special vantage of privilege and twenty-two years is a long time for an editor to bestow that privilege on the same person, though I hope Edge will contribute to the OA again in the future and I suggest readers turn to the magazine's archive to enjoy his impressive, and meaningful, body of work (like the award-winning "My Mother's Catfish Stew," which he published last fall). One of Edge's most important, and unheralded, contributions to the OA has been his mentorship of other writers whom he nudged to submit their work to the magazine. André Gallant, whose essay "The Visitor" appears in Points South, is one example of many. (Another mentee, the OA's former writing fellow KaToya Ellis Fleming, edited that essay.) Through his generous encouragement of other writers, Edge's influence is present throughout this issue. It will continue to touch the OA for a long time to come. 
---
Order the Place Issue today or subscribe to the Oxford American.