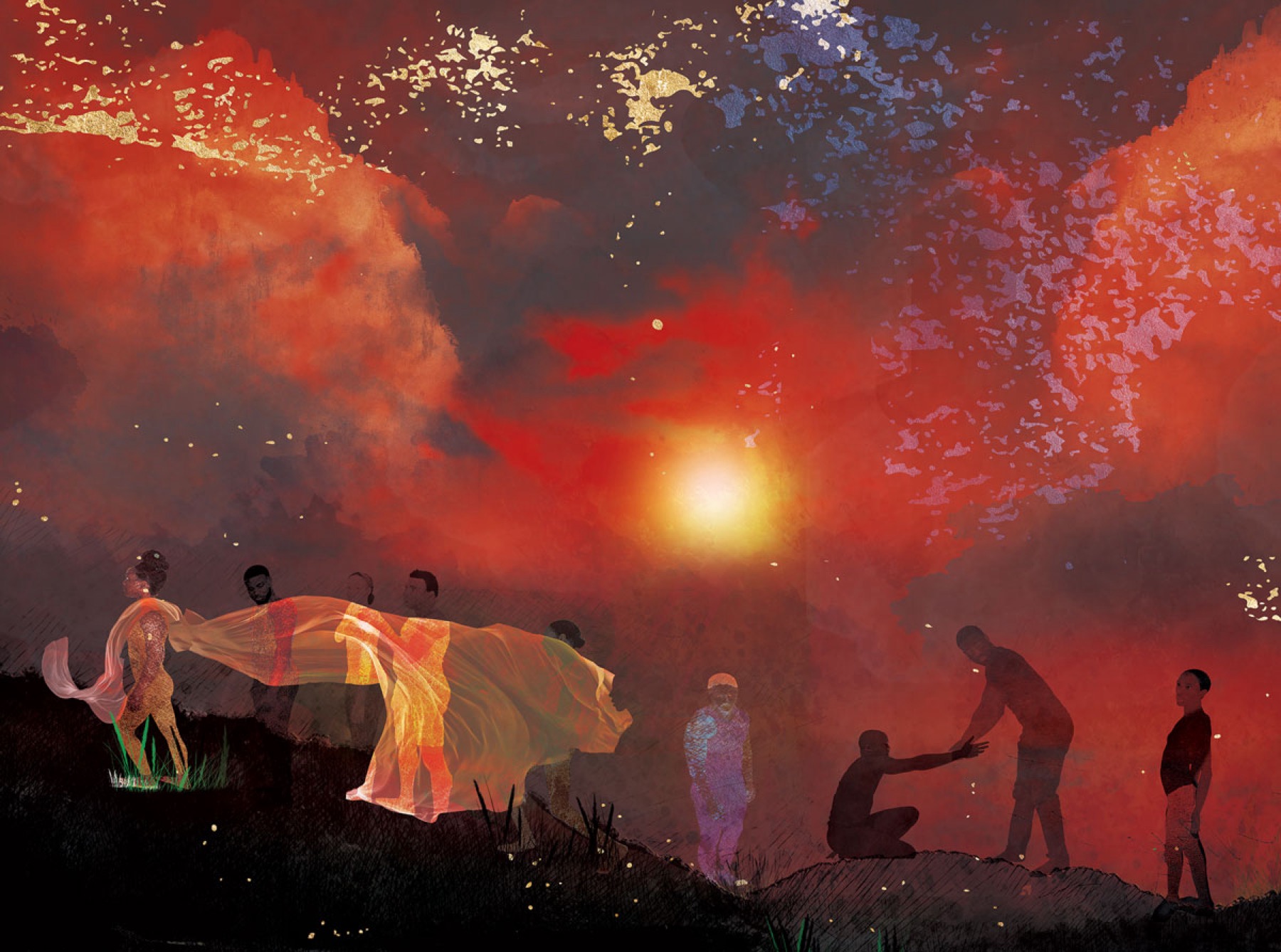 Of the Wind, photography, digital painting, and acrylic on paper, by Carla Jay Harris © The artist. Courtesy Luis de Jesus Los Angeles
Editor's Letter: A Rhythm Nation
Editor's Letter
By Danielle A. Jackson
By the time second grade arrived, my portable pink boombox with its manual tape deck and soft gray radio station dials went with me everywhere my mother would allow, including to bed. Mama bought issues of Right On! and Black Beat when I pleaded for them at the grocery store; Janet Jackson on a cover in Rhythm Nation-black and steel metal adornments feels especially vivid—I ripped the image from the binding for a wall in my room. At school, LaKeisha, Precious, and I exchanged cassettes and memorized lyrics together on the blacktop, reading them aloud from liner notes, which is how I still know every word of "Miss You Much," and why I'll always associate the Isley Brothers with Salt N' Pepa and E.U.'s "Shake Your Thang," which sampled, interpolated, and updated "It's Your Thing" from 1969. Samples are history made audible, sonic lectures we get to dance to, in holy communion with every listener who lived before.
The most important band for us was New Edition. Our fab five had released Heart Break, their fifth studio album, not long before, and it reached the top five of the Hot 100 with five singles and five video releases, most of which are now considered classics. (This album also inspired the creation of Boyz II Men, whose success, in turn, encouraged labels to sign more boy bands like NSYNC, Backstreet Boys, and 98 Degrees.) I'd been too young to enjoy their earlier music, really, including their first number-one hit, "Candy Girl." Even now, Ralph Tresvant's lead vocal, recorded when he was just fifteen, still sounds fresh, jubilant, and frothy. The band reminded many listeners of the Jackson 5.
Ronnie, Bobby, Ricky, Mike, and Ralph were not yet tweens when New Edition formed in South Boston's Orchard Park housing projects. In his memoir Every Little Step, Bobby Brown recalls a large, tight-knit family and a neighborhood dotted with music venues. When James Brown performed in 1972 at the Sugar Shack, where "all of the top R&B acts in the 1960s and '70s" went when they came to Boston, Bobby was three years old and joined the elder musician on stage to dance. The city of Boston had been a relatively minor destination during the Great Migration compared to Chicago, Detroit, or New York. But between 1910 and 1950, Boston's African American community more than tripled, with most émigrés settling in the city's southernmost areas. Like any mass movement of people, "particular southern counties became feeder lines to specific destinations in the North, based on where the earliest migrants went and established themselves," writes Isabel Wilkerson in The Warmth of Other Suns. This is what connects Norfolk, Virginia, and Roxbury—the South Boston neighborhood where Malcolm X moved to live with his older sister Ella Little-Collins, who'd been born in Georgia. Roxbury is, as well, the neighborhood where Orchard Park once stood.
In a sense, a helix of time and sound tethered our adoration for New Edition to every fan who'd loved the Jackson 5, or James Brown, or Frankie Lymon, or the Mills Brothers. Of course, my conscious mind knew nothing about this "changing same"; I only knew Ralph glided so sweet and smooth across the stuttering drums on "If It Isn't Love," and his back and forth with Johnny on "Can You Stand the Rain" felt like longing wrapped in sound, and connected the uncertainty of new beginnings in love to that of new beginnings in life.
If a meteorite lands and a thousand years pass before civilization builds itself up again and looks back to understand what happened, I bet my last name that the master recording of "Who's Lovin' You," sung by the Jackson 5, written by Smokey Robinson, Motown's resident poet, would help. Joseph Jackson was born in Ashley County, Arkansas, in the late 1920s; the family's matriarch Katherine was from southeastern Alabama. They met after each of their parents moved to East Chicago, Indiana, and when they married, the couple moved to Jackson Street in Gary, just eight miles away. Maybe the post-meteorite artifact should be the brothers' 1968 audition tape for Motown, which lives in grainy footage on YouTube. There is polish and confidence, both preternatural and haunting. Clips of Whitney Houston's 1983 debut on The Merv Griffin Show similarly reveal ambition, steeliness, a little bit of sorrow. I imagine those feelings carried Cissy Houston's parents from Early County, Georgia to Newark. Did they remain with the Houstons and the Warwicks on stages and recording booths, alchemizing into the art that would soothe our ears and hearts?
This issue is dedicated to the impossible hope of movement. The Great Migration, during which six million Southerners moved out of rural life from about 1910 to the 1970s in search of "other suns," rebuilding the cities in which they landed. Sojourns from deeper South, like the Caribbean, including Puerto Rico, from which waves of people poured into U.S. cities throughout the first half of the twentieth century (and after). The centuries-long pas de deux between the people and cultures of Mexico and Texas. The more than two million who fled the Great Plains during the '30s and created California. Our writers trace something deeply resonant in the core of our most beloved music to this often-fraught search for refuge. In "I Love the Way it Sounds," Lynell George learns the music of Paul Gayten and Papa Celestin from her mother, who'd moved to Los Angeles from New Orleans, as "an homage to the past and gratitude for the 'paradise' they'd come all this way for." Zandria F. Robinson wonders who all got set free the nights Memphis-born, Detroit-raised Aretha Franklin sang "Amazing Grace" in "The Watts Miracle." In "Country Boy Gone City," Rebecca Bengal leads us to a "bloody corner" in Battle Creek, Michigan, where she connects the thick sensuality of Motown's most tender ballads with the grit and loneliness of migration. Jessica Lynne finds an unlikely ancestral home in Great Falls, Montana, reminding us that the search for peace and open skies is not linear—in individual lives and through the generations, we leave home to build anew and return, sometimes, to do it all again. Tim Greiving uncovers how Acadian Louisiana's sounds found Daniel Lanois in Hamilton, Ontario. Maureen Mahon locates the beginnings of west Tennessee-born Tina Turner, global superstar, in a constellation of night clubs in East St. Louis, Illinois.
This issue also marks the return of our companion CD. Editors have painstakingly curated a collection of songs—old and new—that reverberate with the pulse of hope in motion, including music by Mary Lou Williams, Fleet Foxes, Duke Ellington, Particle Kid, and more.
Assembling this issue, we found restlessness, hope, and records of impossible feats encoded in all that is infectious, indelible, aching, and true in American music. In other words, as James Baldwin writes in "Sonny's Blues," about the piano-playing jazzman of the story, "Freedom lurked around us and I understood, at last, that he could help us to be free if we would listen."