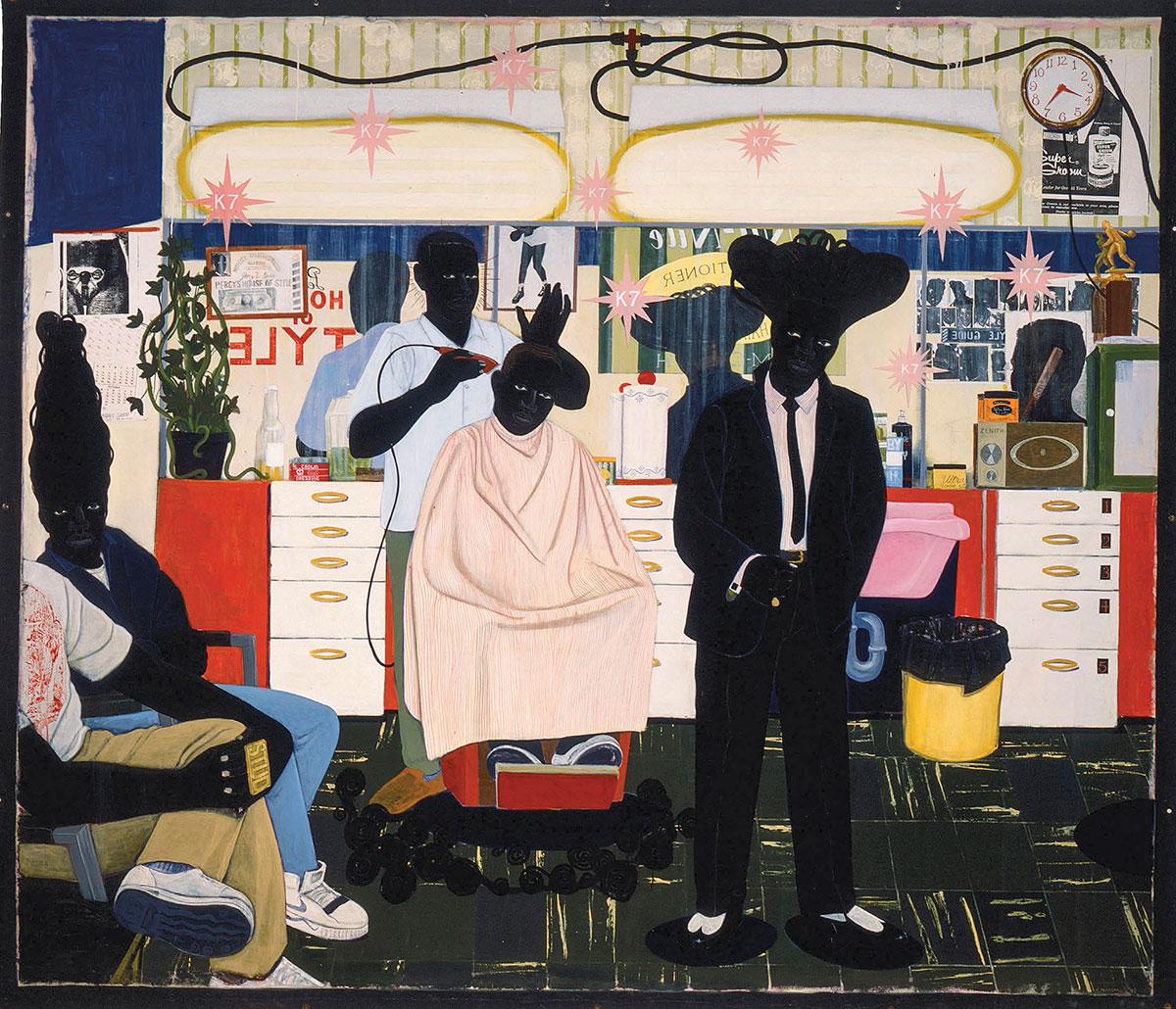 "De Style," 1993, mixed media on canvas by Kerry James Marshall. © Kerry James Marshall. Courtesy the artist, Art Resource, and Jack Shainman Gallery, New York
Even Jesus Left
By Tauheed Rahim II
The first thing I thought about when I made the decision to leave Memphis was my haircuts. As a rapper and black man, the barber relationship is the most important to maintain and protect, second only to my attorney. Over the course of the last decade, I'd built a longstanding relationship with the best barber in the city: my first cousin on my daddy's side, Elvis Self. Elvis is twelve years my senior. He had a black-sheep-of-the-family kinda energy associated with him growing up. When my family spoke of him, they talked about his run-ins with the law. I grew to fear him. Elvis stands roughly 6'4 and weighs more than three hundred pounds. His size and his resting aggressive face have fooled many people into thinking that Elvis is mean. But he's a gentle giant: a guy who will give you the best haircuts in the city, or sell you handmade, all-natural candles that leave your home smelling tremendous for weeks. His mother, my aunt Lynette Self, has been a beautician in North Memphis for half a century. So Elvis's skills are unmatched. Plus, he's the family griot: his chair became an ancestral portal for me to access untold stories of my relatives. In and out of his shops for nine years, we forged an unbreakable bond as cousins, brothers, friends, and fellow ancestral time travelers.
If my always-truthful-in-the-afterlife ancestors would have told me in 2011 that in eight years, I would become Georgetown University's first hip-hop artist in residence and move to Washington, D.C., I would have called them liars and clocked back in at my latest low-wage job. But in late summer 2019, I arrived in D.C., facing the truth and sadness of leaving the only city I had ever known. I knew for certain no one in D.C. was encouraging and choppin' and remembering like Elvis Self. The love and respect he showed me, especially in his chair, made Memphis feel like home when the city didn't.
Since I was eight years old, I had known I wanted to rap, and that's what I did all throughout high school. But things got hectic as the transition to adulthood and the working world started to break me down. I was nineteen when I first found myself at a shop on Park Avenue in Orange Mound sitting in Elvis's chair. A recent college dropout, I had attempted to escape my childhood home by moving in with my high school girlfriend, but that ended dramatically, crushing my dreams of being free. I ended up back in the same house with my country, loud-voiced, deeply anxious and strict Muslim father with a baby on the way. I nursed hopes of escaping an awkward reality—I was a 5'9, one-hundred-pound security guard tasked with defending a billion-dollar corporation from irate shoplifters in one of the poorest cities in the country. And my lack of enthusiasm for making sure I kept an eye on the cigarette cases that were frequently broken into meant I would soon be an unemployed father-to-be. Trying to get along with my unsupportive family while navigating dead-end jobs took me to a dark depression.
I had not seen Elvis since I was a child, and though he was more than a decade older than me, I felt him instantly recognize me when I came through the shop door for the first time. Seeing him was like looking into a mirror; the similarities between how people in the family had talked about Elvis and how they had started to talk about me struck me all at once. Black sheep vibes.
Our conversation turned to our streets: North Watkins, Jackson Avenue, Vollentine Avenue, University Street. To our home, North Memphis. We remembered it as a forgotten place, symbolized especially by the behemoth of an abandoned Sears Tower building still standing on the street where I grew up. That building was a reminder that we had become invisible, like buried memories. Then we became the recollection of North Memphis.
It seemed we kids who ran North Memphis grew up and started forgetting. Moving. Dying. Vanishing into thin air. Thriving houses where I once played were wiped. My dad stayed, though. He held on, weathered the economic storm. And Elvis and I remembered ourselves and our home when the city made us feel microscopic. In his chair I discovered that we had more similar experiences than I would have imagined. We were both from "be home before the streetlights come on" generations. Rough memories of playing tackle football on the concrete and sweet memories of walking around the corner with seventy-five cents to visit the candylady molded our conversations.
The empty Sears building was getting new life and that new life was telling the youth these weren't our streets anymore. A haunted and empty eyesore was being transformed into a mixed-use vertical village equipped with "luxury apartments," so the residents could have the shortest commute in Memphis to get to their middle-class jobs, downstairs. Amnesia had struck the hood, and until I was in Elvis's chair, I'd felt like I was the only one remembering.
For his first performance as my barber, Elvis gave me a fresh ass "Marco Pavé" design, my rap name, with one word on each side of my head. This was the first time that I had gotten a design cut into my head, and this design was like a billboard announcing to the world that my time was now. The words felt like flowy calligraphy on cardstock and grungy aerosol graffiti on brick, simultaneously. I'd started to lose faith in my dreams, believing that I deserved to be stuck flipping burgers or bagging groceries. But Elvis gave me the big cousin nod of approval. With that haircut, I went out to take on the rest of my family, and the whole world, on behalf of my home, the North Memphis we remembered.
Soon, my local buzz started to grow. In February of 2013, when I opened for local rap legend Skewby at the historic Hi Tone on Poplar Avenue, a line of my fans waited outside the door before the venue opened. Then the mayor's office invited me to write a song about blight. When I came home from recording at WKNO studios, my daddy yelled at me about the blight in his house. I hadn't taken the trash out. He was frequently upset with me for not doing my chores, and even more so for not having a job. "Lazy" had become his default description of me, and I was on his last nerve. Chasing an art dream on his dime wouldn't be tolerated.
My father, who graduated from Memphis College of Art in 1984, had given up on his visual art aspirations to take a job as a salesman at Memphis Memory Gardens Funeral Home so he could ensure he would have money for his family. He worked in sales solely, until about 1999 when he took a second job working part time for Fred Smith, which he described as a "hell hole." My family expected me to follow in my father's footsteps, like my three sisters had done, and get a job at the FedEx hub or find somewhere else to live. I couldn't do it.
S
eeing the local acclaim that I had begun to drum up, I became even more faithful to my craft, following Rap Jesus's rules to rep your hood. It's an unspoken but widely understood rule in rap: You gotta get your city to support you first. No matter what the city felt like to me, no matter how the neighborhood changed, I always did my rapper duty and repped Memphis. Maybe not all the way down to the specific address of my childhood home, but pretty close. I repped North Memphis until it became synonymous with my music and identity as a rapper. I was following the blueprint of Memphis rap legends Frayser Boy, Juicy J, Project Pat, and Yo Gotti by aiming to build an independent rap career and control my own destiny. But I was also on an explicit political mission to reclaim my neighborhood, my city, from the gentrification bubbling on the horizon and push back against the racism and oppression that had long ago blanketed the town.
My childhood neighborhood was slowly being invaded by hipster whites, and my childhood home, my father's house, had become an inhospitable nightmare—even more than when I was the young black sheep, simultaneously bullied by all three of my sisters. Home, in every iteration possible, had disappeared. Everything I had ever loved up to that point had been taken away: Peabody Place, Jillian's, Libertyland, even the Mid-south Coliseum, where the Beatles once played, sat abandoned. It felt like the city hated to see black people gathered happily.
Wanting a better city and a better life for my newborn son, I worked my ass off to battle back against the rapidly growing non-profit arts industrial complex that was increasingly exploiting artists, and black artists especially. Local artists were asked to perform for "community engagement" events for a measly fifty dollars and a food ticket, while the developers were spending close to a billion dollars on transforming this abandoned lead-paint-and-asbestos-filled building. And, moreover, not one to just try to stick it to The Man, I had also begun to stand up and speak out against the abuse in my family. We became estranged. And I was separated from Elvis and confined to the barbers in North Memphis until I could afford a car to get around. I was out of a city and a home.
When I found my way back to Elvis's chair a couple of years later, it was the kind of happy accident caused by the ancestors. While I was away from the portal, I had begun to truly build my career as an artist; I'd gone on my first tour and even made it down to Austin for South by Southwest. However, the aftermath of the losses of family and city were still emotionally difficult even though I had found a new home. I was by then a full-time artist, a newly married man, and a father of two: my son was a toddler, and I had a moody pre-teen bonus daughter. Shopping in the Oak Court Mall with my daughter one day, I saw that 6'4 frame walking toward me with a barber's cloak on. I told my daughter excitedly, "That's my cousin!" She was at the age where she became irritated at anything that wasn't what she wanted to be doing. She frowned, knowing I was about to stop and talk for a long while, the way Memphis folks do. I needed something, someone, that felt like home. And there was no one better to offer this than Elvis. His sheer talent turned the formerly unthinkable—getting my hair cut at the mall—into a high-end experience of history, memory, and belonging.
I vowed to never separate from him again, to always connect and remember. I followed him to wherever his chair was. And every time, Elvis gave me a new understanding of myself. Through our shared ancestral portal, I learned stories about distant relatives I had never heard. Elvis also allowed me space to vent about my father and sisters when we were beefing and divided. Leaving him behind for D.C. would be something that I would have to learn to navigate, lest I lose my sense of who I am.
The human experience evicts us all from our first home through the beautiful and traumatic experience of birth. We are pulled from the safety of the warm womb and thrust into the air, bloody and pale, and pinched by a doctor as our first welcome to the real world. For black folks, the evictions don't stop at birth. Born in Memphis, I consider myself a country-cosmopolitan black man. I have two motherlands: Mississippi and Africa. Although I'm grateful for this abundance, a motherland is not a home. All through my family, like many black families, there are stories of being pulled from a home one knows to strike out for a new home one hopes, but doesn't know for sure, is better. My people's first home, as far back as I can trace, was Mississippi. It was also a home they had to leave.
Elvis's chair was my portal to the Mississippi motherland on my father's side. He told me that it is certain that my great-grandmother Cecilia and great-aunt Gladys headed up to Memphis first. About the rest, one story is that in retaliation for his volunteer work helping to register black voters in his hometown of Greenwood, Mississippi, my grandfather Sammie Collins's car was charred by a Molotov cocktail. This finally pushed him and my grandmother Maple Collins to take their children and head north. Another is that the Klan was on the hunt for Sammie and his cousin. Still another is that the economic pressures of having a third child, my father Darrell, in 1961, spurred the heat-of-the-night escape.
They settled in North Memphis, first landing in the Smokey City/New Chicago area, near Chelsea Avenue. In 1965, Sammie got a job at the Dover Elevator Company and with this break in luck, he was geographically, metaphorically, and literally moving up in the world. Sammie returned to Greenwood once more—this time with a smile on his face, money in his pocket, and a new yellow Chevy Bonneville to collect his family. Whatever pushed the Collins family north finally, when all was said and done, the heat-of-the-night escape had taken four years.
The yellow Bonneville is the last of the sunny memories. I never knew that my grandfather was an activist because my dad never told those stories. Whenever he spoke of his father, my grandfather, he said his first and last name with serious fear and foreboding.
"Sammie Collins didn't play," he'd say. "If he wanted something done, you better do it the first time." And what followed were the details of what would happen if you actually didn't do it the first time, or if you did it too slow: two-by-fours to the head, guns pulled, punches to the mouth. Sammie Collins terrorized his wife and children for thirty years until he was paralyzed by a fall down an elevator shaft. Elvis remembers him before the accident, and tells me that I look like Sammie Collins, that we have the same patches in our facial hair. All of my memories of him are of a bedridden man who could only moan my grandmother's name.
My parents, both descendants of Mississippi who found themselves in North Memphis, made a different kind of heat-of-the-night escape. Both from abusive homes, they strove to free themselves from their past lives and make new ones in each other. My mother and father converted to Islam and changed their names from Collins and Jackson to Rahim. In this church-on-every-corner city, their conversion to Islam in the early 1980s was a radical act of black southern self-determination.
But the new names were not enough to address the wounds of family and home. By the mid-1990s, my father's emotional abuse of my mother had caused her mental health to deteriorate significantly. Needing to save herself, my mother left with her new name to make a new home she could heal in.
My wife and I arrived in D.C. in late August of 2019, with a U-Haul full of our most prized Memphis possessions, ready to settle into our new apartment. We were blessed to find the most convenient location: five hundred feet from a CVS, a Giant (D.C. Krogers), and a Metro station, which was one stop away from our daughter's new high school. We were set. After six months in town, I still hadn't found anyone to give me a proper fade, though.
I can't say that I really tried, so convinced I was that no one was choppin' like Elvis Self. Especially not with the gentrification of D.C. (I was shocked to learn that white folks had complained so hard that a Metro PCS on Florida Avenue was forced to stop playing go-go outside its doors.) A few months before the panoramic began, I was scheduled for a TV appearance and concert in Memphis, and I couldn't appear on the news looking like "D.C. proved too much for the man," with some Pips taunting me. The gravitational pull of home was strong.
I'd booked a last-minute appointment with Elvis, and I was so ready to be back in his chair, to tell him about my adventures in D.C. The performance was early in the morning, and it was already late in the evening. I headed straight for his East Memphis shop, only to find he wasn't there. He had moved due to that shop's bad business practices. I had missed my appointment, and I had also learned that he was booked for the rest of the evening.
Elvis was operating out of his North Memphis home until further notice. So like kin and the best barber in the city, Elvis agreed to cut my hair early the next morning so I could have the freshest line up local news had ever seen. At five a.m., I was at the portal. This time I was sharing.
I told him when I first rode through the streets of D.C., as a resident, not a visitor, I felt the weight of home lift from my shoulders— the weight of remembering my memories being zapped Men in Black–style, the weight of my home becoming inhospitable to my artist dreams, and the weight of the oppression and racism. Being away made me have more questions than ever. Like where the Metros at, and why can't niggas get around so freely in Memphis? Why does the air smell like freedom in the nation's capital? Why does this eight-square-mile town smell like new possibilities? Living in a new city has been a salve to the pain caused by home. I finally started to feel a freedom that I know is my human right to feel.
The home from my memories may have vanished, but everyone that shares my Mississippi blood is in Memphis. At one point, before the panasonic, my wife, daughter, and I were traveling back to Memphis once per month to visit my son and other family members. Using my newfound freedom to not get stuck in local politics, I went back to D.C. each time with my head held high, mostly because it was chopped really well.
For my relatives leaving our Mississippi motherland, Memphis seemed like a resting place, a settlement, a home. When there wasn't enough freedom in Memphis to escape the hauntings of the familial and geographic homes, my parents renamed themselves and transformed their beliefs. For me, when Memphis showed me who it wanted to continue to be, I fought as hard as I could with my talents and activism. I learned dark secrets I wish I could forget, and seeing the truth, I chose a new fight: myself. The power of my grandparents' and parents' decisions allowed me to lift my dreams in my city, and when these visions outgrew the hometown pond, carried me to a new place where I could continue to expand my creativity to levels I previously didn't think were possible. An artist needs space, time, and resources to create to their best abilities. And like my grandparents refusing the short end of the stick in Mississippi, I am refusing the starving artist trope.
Last summer, my son, then seven, rode all over the city with me on the Metro. His first extended visit to D.C., I asked him what he thought of the place. "D.C. is like the future," he said. "Memphis is like the old times." He's the big cousin on my side and the little cousin on his mother's side. I wonder what questions about home he will have, and where and who his portal to the homeland will be.