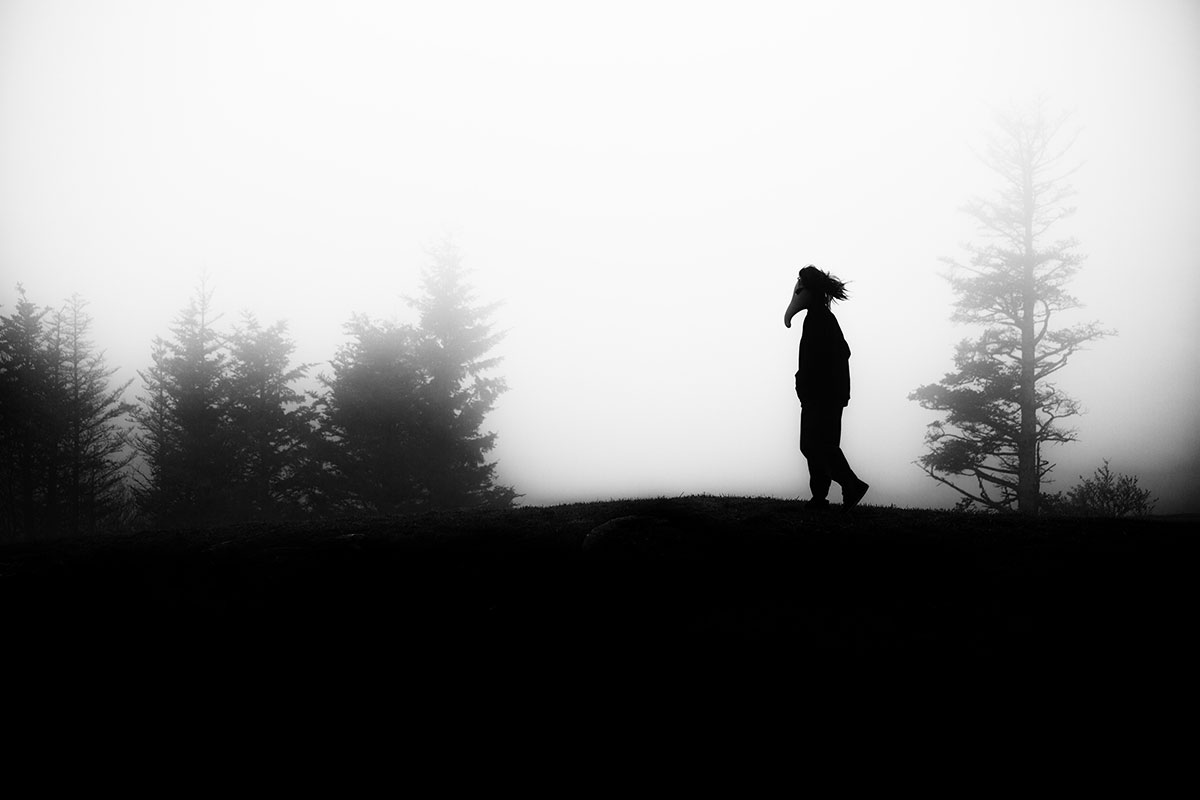 "Lost on the Trail," 2013. Photograph on canvas and wood by Bear Allison. Courtesy the artist
Stumbling Stone
By Benjamin Hedin
They are filed away in boxes in the National Archives, books and ledgers full of blotchy, ornate handwriting. A sheet inside of one, dated June 19, 1838, lists a fiddle and shot pouch horn, four chairs, and some bedding. Another gives the price for a spinning wheel and plough. Turning forward, you find mention of bee stands, cotton cards, pails, and chisels. And while they seem nothing more than a catalog of the most ordinary possessions, the pages delineate a tragedy of immeasurable scope, for they are the records of what a people lost when they were evicted from their ancestral lands, forced to give up everything they owned.
"It's really quite astonishing," said Claudio Saunt, a professor of history at the University of Georgia who found these lists one day while doing some research. "The government produces thousands of documents in the process of deporting Cherokees. It's not much of an exaggeration to say we know more about the Cherokees than any other people in the world."
The cover of the book Saunt was showing me had a label: returns of property left by the indians and sold by agents. Most of the entries in it were from the summer or fall of 1838, in the days after the U.S. Army began sending the Cherokee people who were living in Georgia, North Carolina, Tennessee, and Alabama to the stockades that were the point of origin for the Trail of Tears. The pages record not only the property that was owned but also the name of the white person who acquired it. From the page dated June 19, 1838, for instance, we learn that a Mr. Sloan purchased the fiddle that only days before belonged to a Cherokee man named Chewey. His loom went to Colonel Neely, who also bought, for around a dollar, Chewey's table, bed, and piss pot.
Saunt, the author of Unworthy Republic, an award-winning study of the expulsion of the Cherokee and other Southeastern tribes, has been collecting and digitizing records such as these for more than a year. In 2023 he expects to publish an interactive, virtual census of the Cherokee Nation as it existed two centuries ago. Even in the offline, gestational stage in which I was able to view it, the archive is startling and remarkably detailed, and raises important questions about the kind of action historical memory can or should inspire.
At the time of removal, the term for Andrew Jackson's policy of wiping the Indigenous presence from lands east of the Mississippi, there were between fourteen and fifteen thousand Cherokees living in the Southeast. Four thousand households, roughly, and Saunt has an entry in his system for each one. Personal possessions like the ones owned by Chewey are only a small part of the tabulation. Working off of two-hundred-year-old surveys and assessments, receipts, trial records, and bills of credit, Saunt has established how much land belonged to each household, the number of cabins on the property, and their square footage; he has mapped each location as well, creating what is in effect an atlas of dispossession. Looking at the screen, one sees thousands of pins, each representing a Cherokee person or family, arrayed across a territory stretching from the Great Smoky Mountains of Tennessee and North Carolina in the north to the Atlanta suburbs in the south, and west to Muscle Shoals.
"It's all about a presence on the landscape that was erased and then forgotten," Saunt said of the mapping component of his project. "For me it's a challenge to try and restore that presence."
From my home in Atlanta I can drive to a number of these sites within an hour. The Chattahoochee River on the city's north boundary was once the cordon separating the United States and the Cherokee Nation. Not far from Truist Park, the stadium where fans of the Atlanta Braves pretend to be Indian by waving foam tomahawks and chanting a parody of a war cry, the 285 beltway cuts across land that belonged to a Cherokee family named Lynch, who cultivated a vast orchard on this side of the Chattahoochee, with more than two hundred peach trees.
While the Trail of Tears is a familiar story, Cherokees were being driven off this property before then. "All I ask in this creation," sang men in the earliest days of the nineteenth century, "is a pretty little wife and a big plantation / Way up yonder in the Cherokee Nation." The State of Georgia did all it could to accommodate this request. If you were white and had eighteen dollars to your name, you could purchase a ticket to one of Georgia's land lotteries and stand a chance at winning a homestead in excess of a hundred acres. Though the Cherokees' right to the land had been affirmed by the U.S. Supreme Court, the lottery results were enforced by the Georgia Guard, a paramilitary outfit acting at the behest of the state.
No one was exempt from such theft, no matter how powerful or wealthy. John Ross, the first elected Principal Chief of the Cherokee Nation, came home one day in 1835 to discover someone else living on his land. Ross had been in Washington, D.C., meeting with lawmakers, and in his absence his barn, stable, and furniture were confiscated. There was no sign of his wife, Quatie, or their children. Before setting off to find them Ross had to pay for a night's rent in his own house.
Eventually the town of Rome, Georgia, would be built on this spot, at the confluence of the Oostanaula and Etowah Rivers. According to Saunt's database, Ross's property was valued at $17,797.25, equal to half a million dollars today.
"They took everything," said Allen Buck, a fifth-great-grandson of Ross, who is named for one of the Principal Chief's brothers. An ordained Methodist minister, Buck presides over the Great Spirit Church in Portland, Oregon. He grew up in Oklahoma, not on the reservation set aside for Cherokees after removal but in the college town of Norman, and while they are separated by seven generations, Buck likes to joke that when he looks in the mirror he thinks of a photograph taken of Ross when the chief was approximately the same age Buck is now. "I have his big old fat earlobes, and crazy hairs growing out of my eyebrows," he said. "I'm afraid I sort of look like him."
When he was young Buck did not hear much about his family's Cherokee past. He was raised by his mother, a white woman, and he told me that in school, "I was taught the American mythology about the Trail of Tears. They celebrate the pioneers, the people who took the land. Boomers and Sooners." It was only at family reunions that Buck would pick up other types of stories, finding out that Quatie Ross died on the Trail of Tears, for instance, her final resting place in Little Rock, Arkansas.
"I'm still learning how to be Cherokee," Buck said, "how to be traditional Cherokee, what that means. There's a lifetime of work to do." He spoke in particular of adhering to the principle of gadugi, a Cherokee word that translates loosely as working together, in the spirit of the collective, and he also said he was passing on rites such as going to water, a traditional Cherokee healing practice, to his children. "Our ceremonies," he told me, "bind us to the past, the present, and the future."
Later, as we looked at a survey of Ross's property, one made in the months before it was given away by lottery, I asked whether, at any of those family reunions, Buck learned about the time Ross was suddenly turned out of his home.
"I didn't," he said, "but I will tell you, I have always had these recurring dreams where I'm being accused of something that I didn't do. It's some form of I didn't do this, this isn't my fault, why can't anyone hear me, why can't anyone see me, why are they putting my family in jeopardy, why are they taking these things from me?
"Maybe everyone has those dreams that are part of the collective human unconscious, but I think it comes from further back. It's baked in, the grief and the sorrow and the trauma of what happened."
North of the town of Rome one enters Tennessee, which is a Cherokee word, of course, as are so many place names in this southernmost realm of Appalachia. Nantahala. Cullowhee. Hiwassee. When we say these words we recognize, knowingly or not, the title the first known inhabitants inscribed on the region, and it is sometimes forgotten that there are still thousands of Cherokees who live in this part of the United States. In 1838, in the midst of removal, a handful of Cherokees fled into the mountains and hid from the army. When the roundup was over they came out and joined another group who had been given permission from the United States government to stay in the East, based on treaties signed in 1817 and 1819. Later this remnant became known as the Eastern Band of Cherokee Indians, a federally recognized tribe.
The headquarters of the Eastern Band is in Cherokee, North Carolina. The town is a few miles from Kituwah, an archaeological site located in the floodplain of the Tuckasegee River. A small rise in the center of the field indicates the remains of an ancient council house, said to be the source of the fire from which all the settlements in the old Nation were lit. Though it has largely vanished, Kituwah, "the mother town," as Cherokees call it, still has the power to inspire. Cherokees the world over come to sprinkle dirt on the mound, in the hope of raising it to its former dimensions, and on the morning I drove by, the cellist Yo-Yo Ma was seated near the river performing for a class of schoolchildren, a thin mist scudding across the low ridges and mountains that encircle the field.
The Principal Chief of the Eastern Band is Richard Sneed. He moved to Cherokee in the 1980s—he lived in New Jersey until he was fourteen—and is serving his third term as Principal Chief. In many ways, little about the job has changed since the days of Ross. Sneed is constantly engaged in negotiations with the federal government, pressing it to uphold pacts made with the Cherokees. Before our interview he was on the phone about Tellico Lake, a federal project of the 1970s that dammed the Little Tennessee River and flooded acres of Cherokee burial grounds in the process. The Eastern Band was promised this land would be taken into trust, and "we're still fighting that fight to this day," Sneed said.
Over the years Sneed has done a fair amount of research on his genealogy. His family tree is exhaustive, dating back generations, to the earliest known Cherokee records. "This is not our story," he told me when our conversation touched on the removal period. On the pages in front of us was a name, Sololah, that can be found in Saunt's archive. A relative of Sneed's father, Sololah lived on two acres, in a cabin of twenty-four square feet, near Robbinsville, a short drive along Highway 28 from where Sneed and I were speaking now.
I understood his point. So much of what is written about the Cherokees tends to emphasize removal, whereas the Eastern Band has maintained an unbroken connection with a piece of their homeland for centuries. And yet even though he was talking about the Eastern Band, I was reminded of something DeLanna Studi said after walking the Trail of Tears with her father. Studi, an actress and playwright from Liberty, Oklahoma, retraced the route west in the summer of 2015, nine hundred miles beginning at Fort Butler, near Murphy, North Carolina, where one of Studi's ancestors had been held prisoner in 1838. Though it was painful, she said, "to see how much we lost," what Studi came to realize was that removal "doesn't define us as a people," since the Trail did not extinguish the Cherokees' language, the traditions of their culture, or their claims as a sovereign nation.
"We have value systems that predate this country by thousands of years," Sneed said to me, "and we have to be deliberate about identifying what those values are, and deliberately go back to those things and deliberately teach those things and, more important, be deliberate in living it out."
In essence, this was the vision articulated by Buck, who also referred to intentionality as an important part of Cherokee identity, the conscious seeking-out of language and custom. He and Sneed both became citizens of a tribe by virtue of their ancestry, one in the Cherokee Nation, one in the Eastern Band, yet they believed being Cherokee was not something you could simply inherit. It had to be daily striven for, daily renewed.
If removal does not define the Cherokees, that leaves another question: How much does it define Georgia? In the end, so much about this state, its property lines, the makeup and patterns of its population—for it was slaves who worked the land that was cleared of Indigenous people—comes back to the decision to expel the Cherokees. And even if it can't be settled with any degree of finality, it is still important that we ask this question, since it signals a willingness to confront the facts of history.
On the day we met in his office at the University of Georgia, Saunt showed me the picture of a stumbling stone. These are the memorials, conceived by the German artist Gunter Demnig, found on sidewalks in cities across Europe, small stones inlaid with a brass plaque that bears the name of someone who lost their house or business and was deported during the Holocaust. Walking the streets of Berlin, or Budapest, one cannot avoid them. The stones enact a pause, a figurative stumbling, interrupting one's daily routine to occasion, in their gentle way, a kind of reckoning.
While he plans to publish the archive next year, and recently received a Guggenheim Fellowship to continue his work, Saunt knows publication and completion are not necessarily the same thing. Records can be linked indefinitely, and Saunt intends, one day, to show the chain-of-title for each property in the system, as well as the census data for people like Colonel Neely, who took home so many of Chewey's possessions on that day in June of 1838. In this way, some Georgians will be surprised to learn the source of their cherished heirlooms.
Saunt is not of Indigenous descent. He was born in San Francisco, and though he has been teaching at the University of Georgia since 1998, it was only recently that he turned his attention to the removal of the Eastern tribes. A few years ago, Saunt read some letters written by his grandfather, a Jewish engineer who escaped from Hungary and settled in Ohio during World War II. "That got me thinking about deportation and the story of where we live," he said, adding that the expulsion of the Cherokees prefigured pogroms that occurred later in countries like Algeria and Russia. "State administrators looked to the United States as a model for what you do with populations you don't want."
While Saunt thinks of stumbling stones as a way, as he put it, of restoring a presence on the landscape that was erased, he does not believe an exact equivalent can be installed in the territory of removal. "Those are in urban areas, on sidewalks," he said. "You can't do the same with the Cherokee Nation. It's very rural."
Much of it is rural, true, yet it would be easy to place a stumbling stone in Rome, Georgia, on land that belonged to John Ross. There is in Rome a footbridge named after Ross, but no mention of land lotteries, of expulsion or dispossession. It has all been consigned to the past, that remote era where America has kept removal for so long, determined to see it as just another bloodless historical force, a sin of our fathers, beyond the reach of culpability. And yet as anyone who visits Rome can attest, watching shoppers drift in and out of the Blue Sky Outfitter, or golf carts moving through the Coosa Country Club, the theft of land is still paying out.
"Acknowledgment is only the entry point," Buck said to me when I asked if it was time to move beyond commemoration and think of broader acts of restitution—a monetary reparation, perhaps, to the heirs of those who lost their holdings, or returning the country's national parks, tracts that in most cases were illegally taken, to tribal hands. "Decolonization always involves giving back."
After he moved to Portland and took over the pastorate of Great Spirit, Buck began giving parcels of land that were in Methodist ownership to Indigenous nations. In 2021 he transferred a lot in Idaho's Wallowa Valley to the Nimi'puu. The size of the property was not large, but it gave the Nimi'puu a presence in the Valley, their sacred homeland, for the first time since they were sent out of it in the 1870s, at the end of Chief Joseph's war.
"What happened in Wallowa," said Buck, "is an inspiring thing and gives me hope. Does it make anything right? I don't think so. But there's some healing there."
So much inheres in the land that ceremonies like this have more than a symbolic power. Sneed told me it was "a dangerous precedent to rewrite history. What's done is done." But he had experienced firsthand what Buck was talking about. For generations Kituwah belonged to a white family, until the Eastern Band purchased the site in the 1990s. Reclaiming Kituwah, Sneed said, set off a "renaissance of our arts and crafts, our language. Getting it back was very healing."
To acknowledge removal in ways we have not yet done, finally, be it in the form of stumbling stones, land return, or something else, might add meaning to our country's image of itself, to our parades and ritual genuflections. Without practiced equality or justice, after all, flag-waving and protecting statues becomes little more than performance art. "The hard part," said Buck, "is getting institutions to really let go. It has to start with people in power and in privilege telling the truth about what happened." That, he said, is the value of Saunt's archive, the way it might push us toward recognizing not only the truths of the past, but also that there is a healing whose benefit might extend to us all.