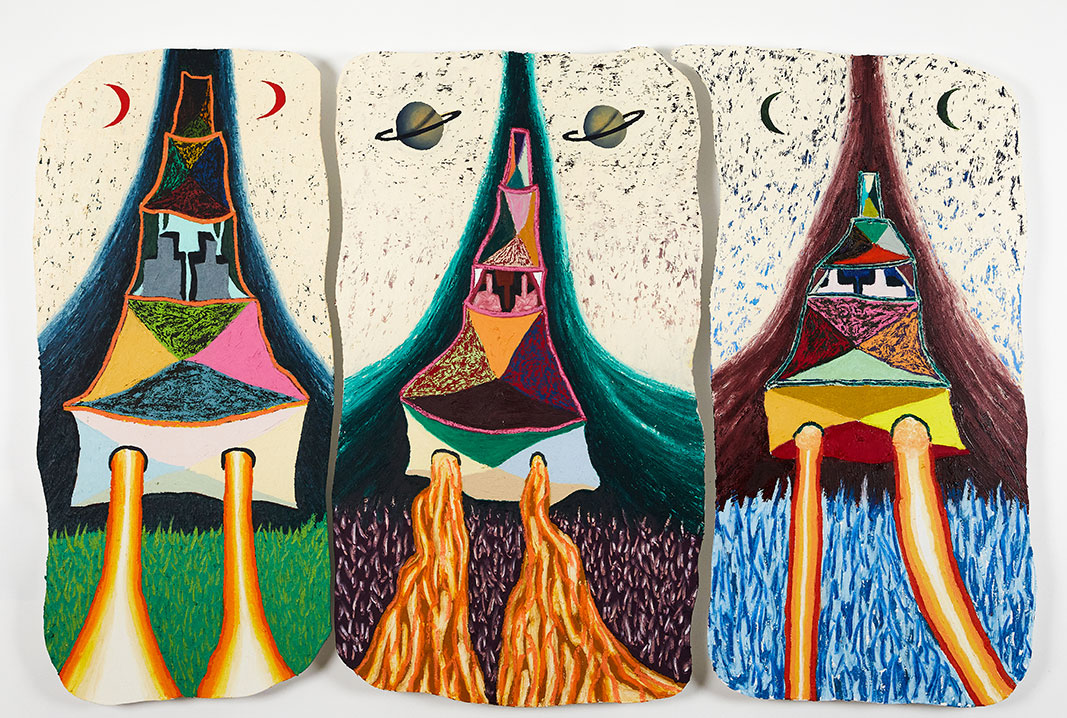 "Night Car (mountain/road triptych)," 2021. Oil stick and acrylic on canvas by Eliot Greenwald, 48 x 75 x 2 inches. Courtesy the artist
The Mustang
By Gwen Thompkins
When I was a child, a clown pushed his face into the driver side window of our family car and asked my father, "Are you happy?"
Santa hadn't asked when he was standing on that corner. Nor had the United Methodists who were handing out flyers for their car wash fundraiser. But the clown spoke as if he knew our family, waiting there at the red light. Momma was in the front passenger seat, and my sisters and I were in back—which, in a 1964-1/2 Ford Mustang, meant we were as close as three people could get, irrespective of their DNA. I was the youngest and heavier than the others—"husky" was the word I so dreaded—and sat on the end, directly behind Daddy, who was slim.
We girls had quarreled over which of us would have to ride the hard middle of the Mustang's bench seat all the way from New Orleans, up the Plank Road, and onto the loosely graveled lane where our grandparents lived, almost thirty miles north of Baton Rouge. We'd argued the way children do when they don't want their parents to know—rolling our eyes and sucking our teeth, furiously whispering and careful not to let our arms or thighs touch in that tuna can of a car. Now, we focused on the adults. Their thighs weren't touching at all.
The clown wanted an answer. Our mother, a tall, fair-skinned beauty Sidney Poitier had once picked out of a crowd, blinked a few times. But she didn't say anything.
Daddy seemed startled. He looked left, directly at the clown's face, and then turned his head slowly right and looked at our mother. He waited a beat. Then he turned back to the clown and, from the sliver of an angle I could see in his side mirror, he smiled the smile of a man who's been caught in a tight spot. The clown handed him his card.
I saw it all—the clown's eyes, Momma's blinks, Daddy. From behind, it looked as if he had made a quiet effort to shake his head no. Daddy was clever that way. Quick. He took the clown's card and tapped it into his shirt pocket, behind the pencils that already were dulling the broadcloth. Momma never could brighten the fabric, no matter what she tried.
"What time is it?" our middle sister asked from the middle seat.
"You need to be somewhere?" Daddy answered, glancing at her in the rearview mirror.
Nobody said anything after that. Even our silent, sisterly grudge fell away. We settled into the backseat, thighs touching now, in quiet agreement that something had spoiled. Momma turned her knees toward the passenger door. Daddy glanced at her again, then caught sight of the green light and accelerated, driving us straight through the intersection. I sucked my thumb and waited.
As we merged onto Airline Highway, it occurred to me that Mustangs must look strange when they're stuffed with passengers inside. Not so the Volkswagen Beetle, which was already peculiar because the engine was in the back and the trunk was up front. It was funny to see how many people could squeeze in. A crowd of arms and legs dangling from the windows and under the hood looked a merry mess, as if the car was gobbling up pedestrians in a madcap, carnivorous frenzy. Our older brother had a red Beetle, and once a month he'd take our grandmother on her errands up and down the Plank Road, from the Clinton Bank and Trust south to Delmont Village, where the D. H. Holmes department store was. Everybody—even Big Mama—laughed when she'd back her six-foot frame into that car, wearing a tall wig, high heels, and a full-frame, hook-and-eye girdle. Sometimes, when I rode with them, she'd buy peppermint sticks at the Woolworth's for the drive home. We'd have a ball, sucking and chatting about nothing and waving back at the people in their cars. But when the drivers on Airline Highway looked over at our bright white Mustang, counting five gloomy faces inside, they sped up or slowed down just enough to stay out of sight.
Airline Highway is part of the Highway 61 that Bob Dylan writes about, the one that Governor Huey Long had wanted paved in the 1930s to slip down faster from the state capitol to the French Quarter. Highway 61 Revisited likely meant nothing to our father, though he didn't mind watching Dylan sing on television. Daddy cared for music more than he ever could describe and sometimes talked about seeing Count Basie and His Orchestra in Denver, where he'd lived as a bachelor after leaving the navy. He also saw Louis Jordan there, and he smiled one of his rare smiles when he spoke of Dinah Washington. Frowningly, he'd mention Billie Holiday drunk at a diner one weekend night. Even now, when I picture Ms. Holiday, she's listing over a cup of coffee in a restaurant booth, someone slapping her awake.
Something was wrong with the tire. We'd passed the Airline Drive-In and turned onto the Plank Road by then and the long succession of orange-and-blue, blue-white-and-red, and red-black-and-white filling stations had ceased, as had Highway 61's many railroad crossings and traffic stops. The Plank Road was a smooth, two-lane state highway, giving rise to green pastures and brown-and-white cows. Small towns like Baker and Zachary had signs mentioning them along our way, though no signs marked Cheneyville or Schulingkamp or the other little places where our cousins were living. But they were there. We felt a wobble on the other end of the bench seat.
Daddy pulled to the shoulder and leapt out. As his door opened, the car cabin suddenly came to life with the whooshing air of passing traffic and the loud skirls of transmissions changing gears. A few shoves on the passenger side rear tire confirmed what he'd been afraid of—a slow leak.
"Why don't you move to the seat on this end?" he said gently to our middle sister, the skinniest one, built like a dragonfly. He opened the door and we all squeezed out from behind Momma's seat and then squeezed back in again. Daddy looked hard at Momma then and pressed his lips together until we couldn't see them anymore. Our eldest sister, already five-foot-ten in the sixth grade, moved to my end, which landed me in the hard middle, the foam as stiff as a saddle.
Momma folded her arms in her lap, saying nothing, and we took our cue from her. She was pretty enough not to be handy, or animated in public, and believed that men existed—often to the torment of women—because they were meant to fix things. And yet, more than likely, she was angry. It had taken her days behind closed doors to convince Daddy to drive us to her family in the country and he had announced our departure only that morning. He'd leave us there a week and then come back, because he almost never wanted to stay. In addition to his regular job as a construction company supervisor, he'd take masonry work on the side, or refurbish old houses he'd buy to rent. That's what weekends were for, not driving up to Clinton and back, no matter how smooth Huey Long's asphalt was.
Daddy changed the tire with us inside. He, too, was built like a dragonfly, but he was as strong as any man we'd seen, with hands like leathery oven mitts. Growing up on a farm in northern Florida, he had learned his punishing work ethic there—all seven days of the week, except Christmas, or why ever try? Even his mother had died in labor, bringing her eleventh child into the world. After that, when Daddy milked the cows in the morning, they'd mistake him for a calf. Or maybe they understood exactly who he was—a little boy without a mother. Either way, he remembered, "They'd lick me right on the head."
"Moooooooo!" I said, after we'd merged back onto the road, passing a blur of cattle. "Daddy, what kinds of cows are those?"
"Not sure," he said, nose up, his eyes darting back and forth from the road to the grassy fields behind barbed wire and creosote posts. "Maybe Jersey. Or…Brahman." Daddy swiveled his head again and leaned back toward the pastures behind Momma's head, looking genuinely interested.
"Are they cows or steers?" our middle sister on the end asked.
"They're cows," I said. "They have…squeezers."
Momma and the girls laughed.
Then a mitt snaked from behind the driver's seat and hit me on the leg. "Don't say that," Daddy said. "That's nasty."
I had no idea what he was talking about. But everybody stopped laughing and I put my thumb back into my mouth. We passed some Guernseys. Then, Daddy took his foot off the gas and braked slowly, turning into a small forest on a dirt road that I never saw coming.
"Hey, Ike," Big Mama called to Daddy as we climbed out of the car. She was standing on the porch in a house dress, with her fists high on her hips. Big Papa's bloodhound stood up and walked slowly to the fence gate, while the Labrador puppy went wild, barking and twisting as if ticker tape was in the air.
"How are you?" Daddy said, smiling.
"We fine," Big Papa said, shaking Daddy's hand. Everybody was tall on Momma's side of the family and Daddy looked like the odd man out. He petted the Labrador.
Momma's thoughts mirrored the puppy's. "Hey now!" she said to everybody, laughing. She grabbed her pocketbook, slammed the passenger door, and walked toward the house without looking back. "Get the bags," she said to us as she swung through the gate and climbed the porch steps. "Y'all get the bags."
We got the bags. Then we held them as Big Mama smashed us, one by one, to her bosom. "Y'all gettin' so tall," she said. "Gayle, how tall are you?"
"Five-ten," Gayle said, as a new country lilt in her voice lifted her smile.
"You so skinny, Gazelle," Big Mama told Geselle, instantly changing the soft "G" in her name, the way everybody did over here. "And Gwinnie, you just as fat. You girls look some pretty in your clothes. Yes, indeed. Y'all want something? They got cold drinks in the icebox."
Daddy and Big Papa walked over to Big Papa's acre of turnips and collard greens on the sunny side of the house and discussed them in far more detail than one might think possible.
"Glory Dean, how you feelin'?" Big Mama asked Momma.
"I'm fine," Momma said, searching the house for her sisters. "Where are Lo' and Dorothy?"
"They comin'," Big Mama said. "Is Ike stayin'?"
"No, he's going back to New Orleans," Momma said.
Daddy walked to the gate.
"Well, I'm going," he told us.
"You ain't gon' eat nothin'?" Big Mama called out from the porch.
"No, I'd better get on the road," Daddy said, still smiling.
"Something's wrong with the tire," Big Papa explained.
"Oh, you gotta get that fixed," Big Mama said. "Well, drive safe!"
"Bye, Daddy!" Geselle said.
"Bye, Daddy," Gayle said.
Momma and I just waved.
Daddy turned the car around easily on the gravel. "Y'all be good," he said out the window, slowly accelerating.
I can't remember if it was the last time we were all there together. Nor do I remember how long it was before Daddy left home for good, giving Momma the car, expanding his business, and taking care of us all remotely. But as the Mustang passed us, I noticed how wonderful it looked with only him inside. Sunlight made the white pop even brighter against the green brush pressing in from the forest, while the wheels kicked up a spray of caramel-colored dust. We could see straight through the back glass and over his shoulder to the open road. We could hear the wheels speeding over the rocks and the ebbing hum of the engine. That's how Mustangs are when they're running as they should. They move fast and free.