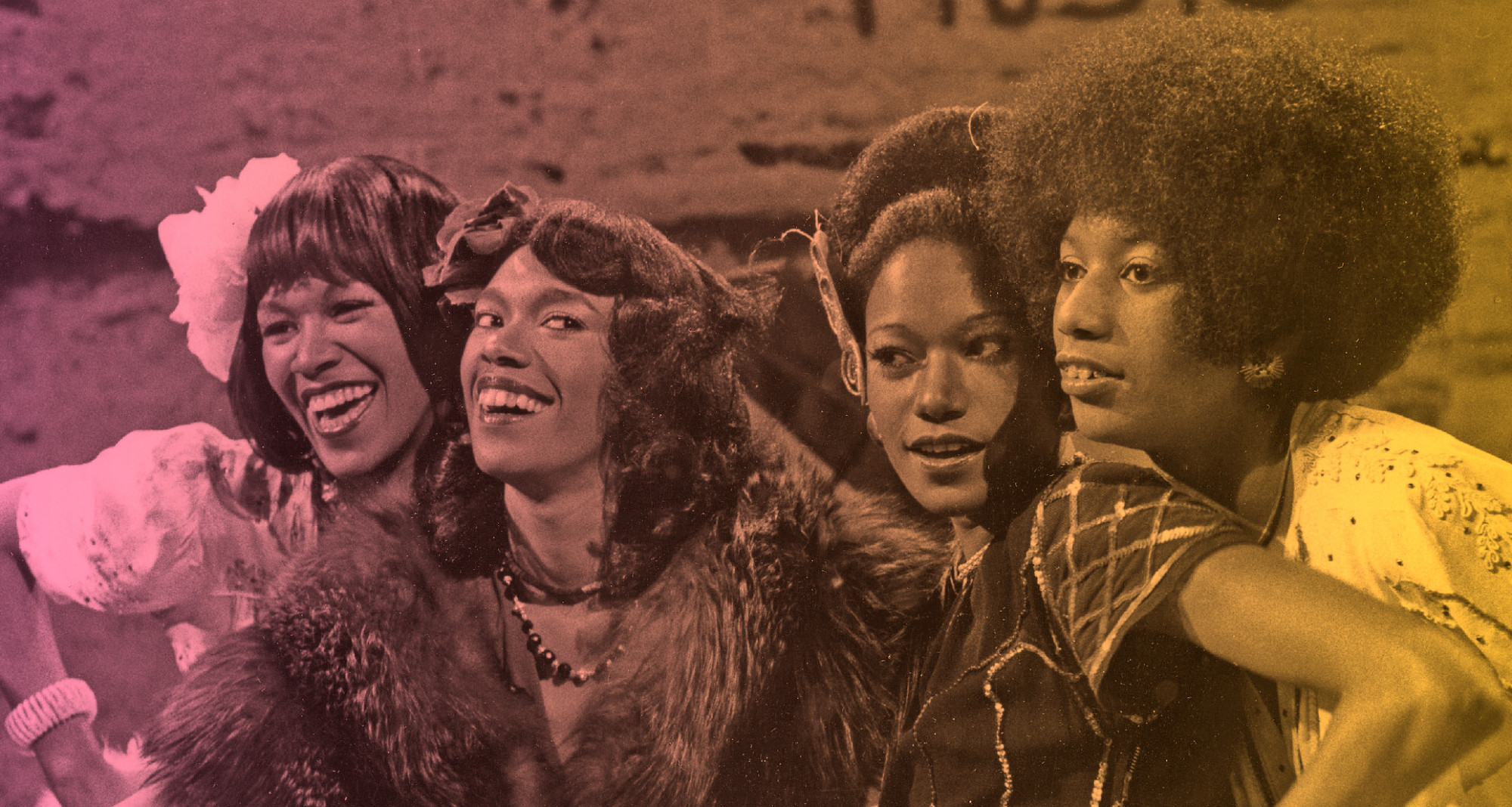 Pictorial Press Ltd/Alamy
Fairytale
The Pointer Sisters, the Great Migration, and the soul of country
By Carina Del Valle Schorske
Anita Pointer wrote the first draft of the country song "Fairytale" at a motel in Woodstock while she and her sisters were on tour singing backup for Dave Mason. She was still reeling from the revelation that her new boyfriend, a San Francisco radio DJ, had been married all along—a story so common she'd call it cliché if she didn't have to plot the next chapter herself. That night she stayed up late running her favorite James Taylor tape on repeat, and the lyrics she wrote channeled his plainspoken style: There's no need to explain anymore—I tried my best to love you, now I'm walking out that door. Once the tour was over, Anita's baby sister Bonnie provided the bright and buoyant melody, as if to sustain the momentum of departure.
"Fairytale" became one of several throwback tracks on the second Pointer Sisters album, That's A Plenty. They also covered the bebop classic "Salt Peanuts" and composed the cheeky, citified "Shaky Flat Blues." Even the album art looked like an old Aaron Douglas illustration: four women in silhouette, wearing caps and drop-waist dresses, hooked in a Harlem-style chorus line high-stepping offstage. The figures faced left, a subtle sign that this music would move against the grain.
In 1975, "Fairytale" won an unexpected Grammy for Best Country & Western Vocal Performance by a Duo or Group, and Elvis himself recorded a cover. The Grand Ole Opry invited the Pointer Sisters to Nashville, making them one of the first Black acts to headline the genre's high church—always an ambivalent distinction. When they arrived, racist protestors held signs saying, "Keep country, country!" as if American music were private property and the Pointer Sisters were trespassing from elsewhere. Anita remembers hearing a man shout, "Hot damn, them girls is Black!" But after they performed "Fairytale," the crowd got quiet, then loud: "Sing it again, honey!" Which they did, three times through. Sometimes, the most familiar stories are the ones that bear repeating—as if, in listening to a new rendition, we might pick up tones, textures, histories, and meanings that reveal hidden hatches in the trap.
Just as we understand love affairs best in retrospect, I hear the meaning of "Fairytale" most clearly in the outro. For a few bars, the pedal-steel guitar and hi-hats drop out, and Anita abandons her place as the song's lovelorn protagonist to fall back on the steady refrain of Ruth, Bonnie, and June: move on—got to move on. There's still a walking bass line and some gospel on the keys, but the spell of the song is broken, and those grown-up girls are left alone with the consolation of each other's company and the stripped-down rhythm of real life. The great big fairytale is over, and the train is churning through the station. Where will it take them? What kind of future will they find once they stop waiting on the false promise of American romance?
In "Fairytale," the lead singer's got to move on from a faithless man, but the outro reverberates with the more collective journey of the Great Migration away from the South—and maybe, for the next generation, on up to a greater day, as Curtis Mayfield demands in his classic soul anthem. "Move On Up" was recorded just a few years before "Fairytale," in 1970, and the brash horns and frenetic percussion dramatize this transition—how the children of Southern migrants born in Chicago (like he was) or Oakland (like the Pointer Sisters) would have to survive the crushing disappointments of the Civil Rights Movement, and learn to live in the burning cities that once signified liberation. "Move On Up" makes a break with the past—your folks might understand you, by and by—in the name of progress. "Fairytale" is a quieter kind of wake-up call: if so many problems stay stubborn across time and space, then maybe the old styles—blues, jazz, swing, country—still have work to do.
Reverend Elton Pointer and Sarah Pointer migrated from Little Rock, Arkansas, to Oakland, California, in 1943; all four of the girl children were born out West. The household was strict: they weren't allowed movies or rock & roll, but they sometimes got away with Elvis—"Crying in the Chapel" sounded like a gospel ballad—and they sang in the youth choir sponsored by the Church of God in Christ. Ruth, the oldest girl, described her mother as "very naïve: she never drank, she never smoked, she never danced, she never wore makeup—we were the ones who introduced her to all that stuff!" I wonder if Sarah's pious rigor was really that ignorant, or whether she'd made conscious choices, on her journey, to maintain a way of life that still served her well in the new world.
Every summer, Sarah sent the children South to stay with her parents in Prescott, Arkansas, where they listened to Hank Williams and loitered by the jook joints, too scared to step inside. Anita liked Prescott so much she persuaded her parents to let her spend fifth, seventh, and tenth grades at the local school. Later, when critics treated "Fairytale" like a novelty, Bonnie defended the group's country bona fides: "People think we're not sincere because we're always trying something different. Like country music. But for us, it's no joke." The Pointer Sisters were moving among many worlds: they had to learn to sing in several keys, to harmonize the dissonance between genres. They must have recognized the Southern sounds of Delta blues and folk ballads in the rootsy records of California bands like Creedence Clearwater Revival and the Grateful Dead.
The Bay was busy back then—campus protests, the rise of Oakland's Black Panther Party, San Francisco's bohemian music scene—and the Pointer Sisters didn't sit on the sidelines. Anita brought a sermonic cadence to the poetry she performed alongside Angela Davis. Bonnie and June started gigging at nightclubs when they were still teens, adapting those beautifully blended gospel harmonies for the late-night sinners' congregation. Soon, all four sisters came together to sing backup for Grace Slick, Taj Mahal, and Sylvester. There were psychedelic drugs, interracial love, and children out of wedlock. Sylvester's matrimonial festivities in Golden Gate Park were rumored to be the city's first gay wedding. The Pointer Sisters lived out this subversive spirit through their music, too, turning Allen Toussaint's "Yes We Can Can" into a funky, slow-burning movement anthem. Anita's ad-libs charged the final measures with almost erotic frustration: How can you sit there / like there's nothing to do, like you don't care / what the world's coming to?
The counterculture produced real social changes, but the Pointer Sisters were always tuning in to deeper traditions of refusal. For working-class women—the women, for example, who sang the blues—the bourgeois marriage plot had always been a fairytale at odds with lived experiences of abandonment and violence, as well as the pains and pleasures of forced independence. Ethel Waters recorded "No Man's Mama" in 1925: I can say what I like, I can do what I like, I'm a gal on matrimonial strike! The Pointer Sisters came from a respectable, religious family where marriage mattered—but these other stories, transmitted by music and kitchen table talk, must have been an equally useful inheritance. Ruth and Anita were both single mothers by the time they joined the group. "Fairytale" does not express the disillusion of innocents, or a revolution in the relations between women and men, but a knowing, almost ironic riff on a refrain that stays classic because the problem stays contemporary. "Fairytale" admits more tenderness than "No Man's Mama." Still, there's a bluesy thrill in the song's parting kiss: I'll bet you won't forget me when I go. The details might get redacted from the record, but the music will make the memory last.
In the early years of their career, the Pointer Sisters often performed in vintage hats and dresses from the 1940s. The looks were coordinated, but never Motown matchy-matchy. They didn't have money to spend on store-bought costumes, so they raided Oakland thrift shops and the attics of church ladies for little fascinators with netted veils, platform heels, and furs—a practical solution that came to seem like a campy commentary on the way Black women's lives and music have always been out of step with dominant narratives, at once ahead of their time and still caught up in predicaments we'd prefer to leave in the past.
In my favorite live footage of "Fairytale," Bonnie's hair is smoothed into victory rolls, while June wears hers in a neat Afro. Ruth and Anita have big flowers pinned in their pageboys. If nostalgia requires reverence, there's nothing nostalgic in the way they carry the country tune: The harmonies are seamless but the dancing is unruly, almost slapstick, as if history's a choreography you should never learn too well. Soon, they'd stop wearing old-timey dresses on tour—that fragile silk wasn't made for hot stage lights, and sometimes, Ruth says, they'd peel them off their sweaty skin in ragged strips when they got back to the dressing room. The past was never precious for them unless it was something they could use.
In a recent interview with Anita and Ruth on his podcast SUPREME, Questlove called the Pointer Sisters "the ultimate metamorphosis in Black music." They've been difficult to chart, veering from funk to jazz to rock to disco through the decades: move on—got to move on. Casual listeners are usually familiar with only one or two of their many incarnations—maybe the sultry Springsteen cover, "Fire," or the 80s dance hits—"I'm So Excited," "Automatic," "Jump! For Your Love." But if you sit down for the whole story, it's possible to perceive a deeper continuity—not only between phases of their decades-long career, but between sounds and sensibilities that sloppy critics try to segregate. To my ear, "Fairytale" is not their only country song: Anita uses a similar vocal tone in her version of Steely Dan's "Dirty Work," and there's a plaintive twang in the synthesizers of "Slow Hand." These sonic echoes reward repetition and renegotiate the rhythm of liberation: I want somebody who can spend some time, not come and go in a heated rush. Bonnie and June are ancestors now; Anita is retired. But the Pointer Sisters persist—not only as a repertoire of songs, but as a feminist legacy and a live show. Ruth still performs sometimes with her daughter Issa and her granddaughter Sadako under the poetic promise of the family name. In this fairytale, moving on does not require letting go. Maybe the freedom to remember is just as revolutionary as the freedom to forget.