Little Blue Transistor Radio
By Yusef Komunyakaa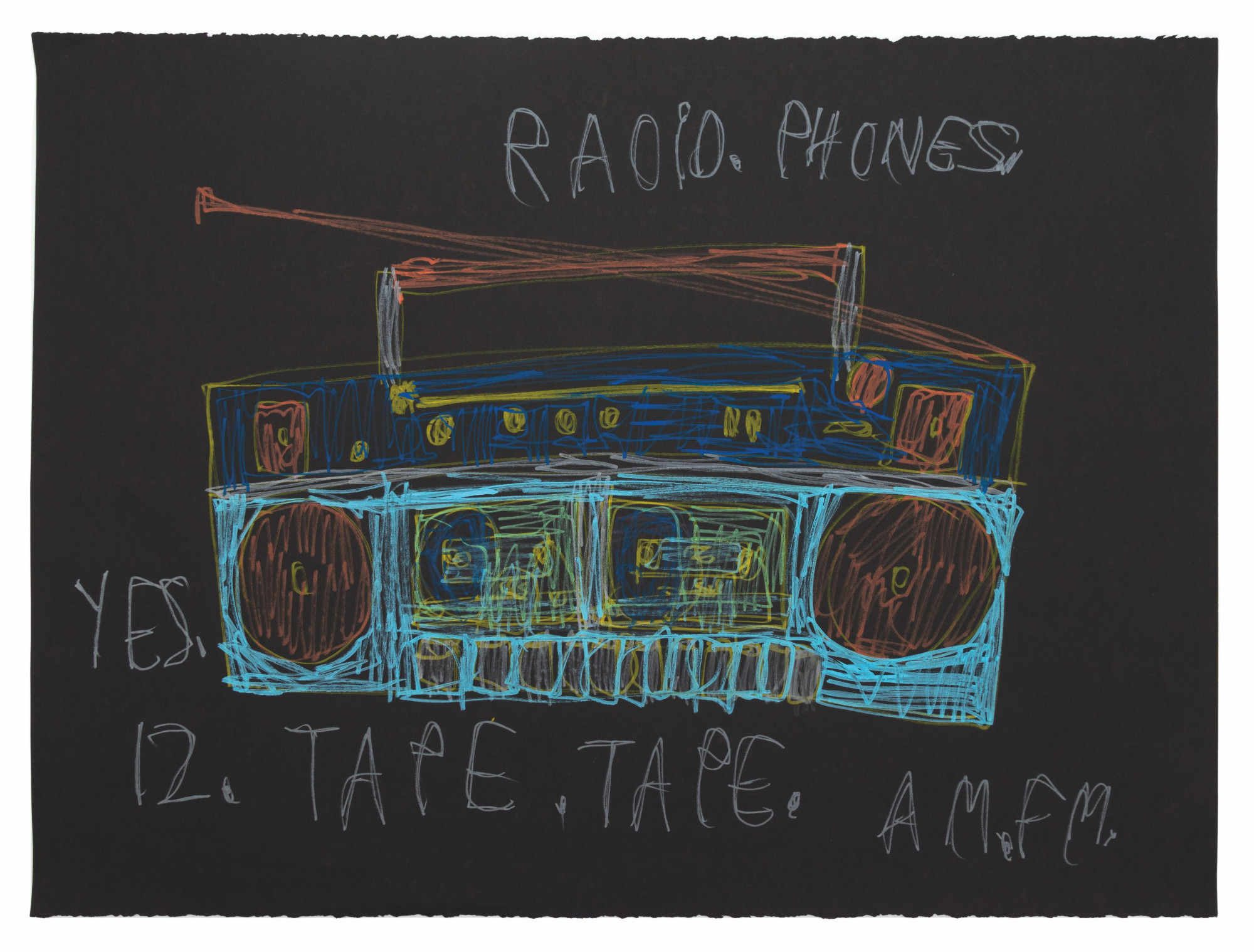 Untitled, a mixed-media artwork by John Mullins. Courtesy Creative Growth Art Center, Oakland, California
I switch on the shiny radio hidden under
my pillow, & turn down the volume.
My bed smells like a grass sack of yellow
canning pears, as I wonder if my mama
will ever come home again. This radio
she gave me always casts a good signal
upon the dark night, a slow gray mist
in dank air, a whippoorwill's signifying
down by the gully of tin cans. Earlier,
I was about to put down my left foot
as the rust-colored water moccasin
writhed there, making a muted noise
in the tinny slush. I saw & didn't see.
I almost fell, but somehow my hand
grabbed-up a long heavy oak branch.
I was eleven & could hit hard as a man.
A bloodless thing laid there, the sun
setting. I went to my persimmon tree.
Grandma Elsie said she could see me
from the backdoor, & she asked, What
song was you singin'? I said, My own
words. She said, Next thing you be
wantin' a lowdown guitar. Oh, yeah,
I was once hypnotized by fingers on
a banjo. Now, go wash your hands,
come in here, & say the Lord's grace.
After my supper & a bath in a #3 tub,
I read twice Paul Laurence Dunbar's
"We Wear the Mask." I kneeled,
said the Lord's prayer, & then crawled
into bed. I could feel the radio under
my head as I played the same yes & no
game, as if letting a talisman decide
my Fate. My fingers could always
touch the dial in the dark, seeking
one of the two stations in my head:
Fats' "Blueberry Hill" on WWOZ
or bluebird at the Louisiana Hayride,
calling "I'm so lonesome I could cry."
If Daddy Red would've gone there—
yes, something was in his blue eye
& gray eye that would've stopped
any disbeliever back then. Wesley
was his real name—a black man
who looked white, my step-grandpapa,
who'd say, "It's alright to call
your mama's name in your sleep,
even if she's pickin' Pima cotton
in Phoenix." I still love any ballad
with a little dirt on raggedy roots,
even if it was Rose & her brothers
sleeping in concrete culverts in L.A.
Years later, the blue radio traveled
with me, truly a crystal-clear sound
all its own. I don't believe in good
luck charms & magical potions, but
I took my radio with me to Chu Lai.
Why not? It had already traveled
like an old friend over to Panama
to jungle warfare school, a Saturday
I danced among tall trees. In fact,
it seems to have a mind of its own.
One night, I thought of my mama
when I didn't wish to, & in my hands
was a screwdriver, & as I opened it up
I noticed how my small blue box didn't
have wires, components, or numbers.
But It did have these words: Beware.
Raise a first & last question, praise
silence, & put flesh on every word.
If you love playing Country & Blues,
this unit will plug directly into you.