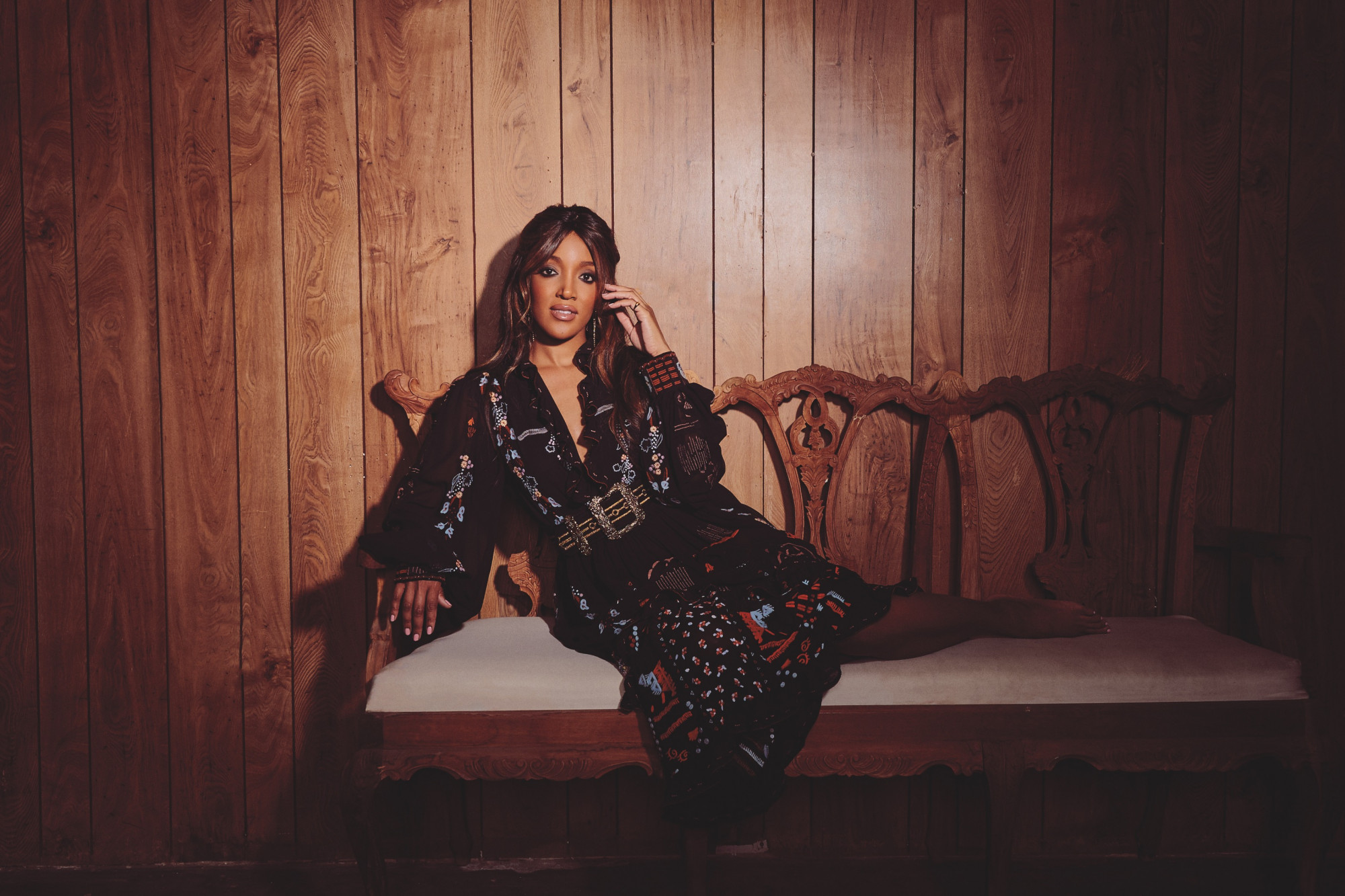 Photograph by Phylicia J.L. Munn
Mickey Guyton Talks to Us
A Q&A WITH MELISSA RUGGIERI
By Melissa Ruggieri
I honestly don't remember the first time I heard Mickey Guyton's voice. It might have been on the 2020 Academy of Country Music Awards, when she unfurled a searing, almost-tearful "What Are You Gonna Tell Her?" to a pandemic-empty theater, Keith Urban quietly joining her on piano. Or maybe it was in her stark video that same year for "Black Like Me," when she posted part of it on social media following the murder of unarmed Ahmaud Arbery in Georgia. But I do remember thinking, "THIS is an artist with depth. I hope she sticks around." So, when the first thing Guyton tells me is how, just prior to the pandemic, she planned to quit the music business, my heart sank.
"Country music is really hard to make a living [in] as a woman," she says, unguarded as always.
And, as Guyton will expound on throughout our conversation, she endures the "double whammy" of being a woman in country music who is also Black. So many of Guyton's accolades the past couple of years have included the introductory phrase, "the first Black female country artist to (fill in the blank)." For the record, these accolades include being nominated for a Grammy Award in the Best Country Solo Performance category, singing at the Grammy ceremony, and hosting the Academy of Country Music Awards—all in 2021.
No argument against the fact that her feats are historical and commendable, but sometimes that qualifier, "the first Black female country artist…," feels like THE reason we're supposed to appreciate Guyton's artistic output rather than that modifier existing as a simple footnote in her career. My admiration for the Texas-born Guyton extends beyond her skin color and even beyond her voice, a velveteen instrument capable of a honeyed whisper or a sonorous boom.
Guyton admits to being swamped by anxiety prior to helping induct Tina Turner into the Rock & Roll Hall of Fame last year. Yet those who saw her performance of the timeless "What's Love Got to Do With It" didn't see a "country" artist playing dress up in a Turner-styled jean jacket and leather skirt. They watched a charismatic vocalist embody the spirit of the rock and soul icon, sashaying across the stage and imbuing her singing with Turner's inflections not to mimic, but to honor.
When she was tapped to sing "The Star-Spangled Banner" at this year's Super Bowl, I was peppered with many "who is that?" queries from casual music fans unfamiliar with her potent output, including her thrice Grammy-nominated 2021 debut album, Remember Her Name. After hearing her belt a lovely, controlled rendition of an anthem routinely dissected after any celebrity performance, no one asked me to explain Guyton to them again.
One of the coolest things about Guyton is her refusal to be labeled, institutions be damned. Even though she's categorized as a country singer, she's really a musical chameleon, a singer who hopscotches between country, pop, and soul with confidence. Yes, you'll see her hosting or performing on country music award shows. And she proudly recounts her introduction to the genre via LeAnn Rimes and the Patron Saint of All Country-ness, Dolly Parton. But you might also notice Guyton being interviewed by Miley Cyrus in Rolling Stone or stomping around in black boots on a Central Park stage growling "Nothing Else Matters" with Metallica, as she did at September's Global Citizen Festival.
The self-proclaimed "little girl in the background making little noise" has morphed from "an artist to an activist-artist," she says, unafraid to be frank in her songs, her statements, her actions, or her musical preferences. Though she moved to Nashville in 2011 after attending Santa Monica College in Los Angeles, Guyton's personal life has expanded as much as her professional one. Married to attorney Grant Savoy since 2017, Guyton is now bi-coastal (L.A. and Nashville) to suit both of their careers. In February 2021, she became a mom to son Grayson. Any mention of the baby induces one of Guyton's luminous smiles. In conversation over Zoom, she exudes warmth, her doe-eyed beauty accentuated by corkscrew locks flowing from under a wide-brimmed white hat. Guyton is eager to talk, so let's get to it.
What defines country music to you?

There is this guy I met from South Africa and I asked him, "What is country for you?" and he said it was foundational. I was so taken aback by that. It was such a profound statement in the sense that country music is life, no matter where you're from. We define it as American and American culture, but you are literally singing about what is before your eyes. It is homegrown. It is you singing about your family and life.
You grew up singing in choirs in Texas, so at what point did the intersection of gospel and country hit you?
It hit me because my gospel church took us to a Texas Rangers baseball game when I was eight or nine, and LeAnn Rimes sang the national anthem, and you heard this woman, you didn't even hear a country artist. I just heard this soulful voice who happened to be singing country music and when you think about it, gospel and country are so married. It didn't matter what it was that she was singing, and when she released [her 1996 breakthrough] Blue, the soul in that to me… Genres are so weird, because for me, I listen to singers, period. It didn't matter if it was Shania [Twain] or Dolly Parton, Whitney Houston, or Mariah Carey, CeCe Winans and gospel.
So is it fair to say that LeAnn was the gateway for you learning more about country music?
Absolutely. I would go to my grandma's house all the time and she would have Dolly or Kenny Rogers VHS tapes hanging on the back of her door [in a plastic holder]. I never thought, "those are country artists." I was just watching them because they were available in her house since she didn't have cable. It was LeAnn that then made me start listening to country music, but it was always there.
Was Blue the first country album you remember hearing?
Yes, absolutely.
Is it still the country album that you go to when you need either inspiration or to lift yourself up?
Yes. I just love that record. I come back to hers, a lot of Shania. To be honest, now I'm just listening to a lot of CoComelon and all these kids shows because of my child. I don't even listen to music anymore; all I listen to are kids' songs! But I listened to Faith Hill a lot as well. I love '90s country.
You did a CMT Crossroads installment with LeAnn Rimes earlier this year, which must have been a thrill.
CMT was a full-circle moment. That woman deserves her flowers. The industry hasn't always been kind to her. People don't know LeAnn. She was the lone wolf; she never had the friends and the sisterhood, but she is salt of this freaking earth. The industry needs to give her the love and flowers she deserves. However I can support and lift her up, I will. I am a LeAnn Rimes stan.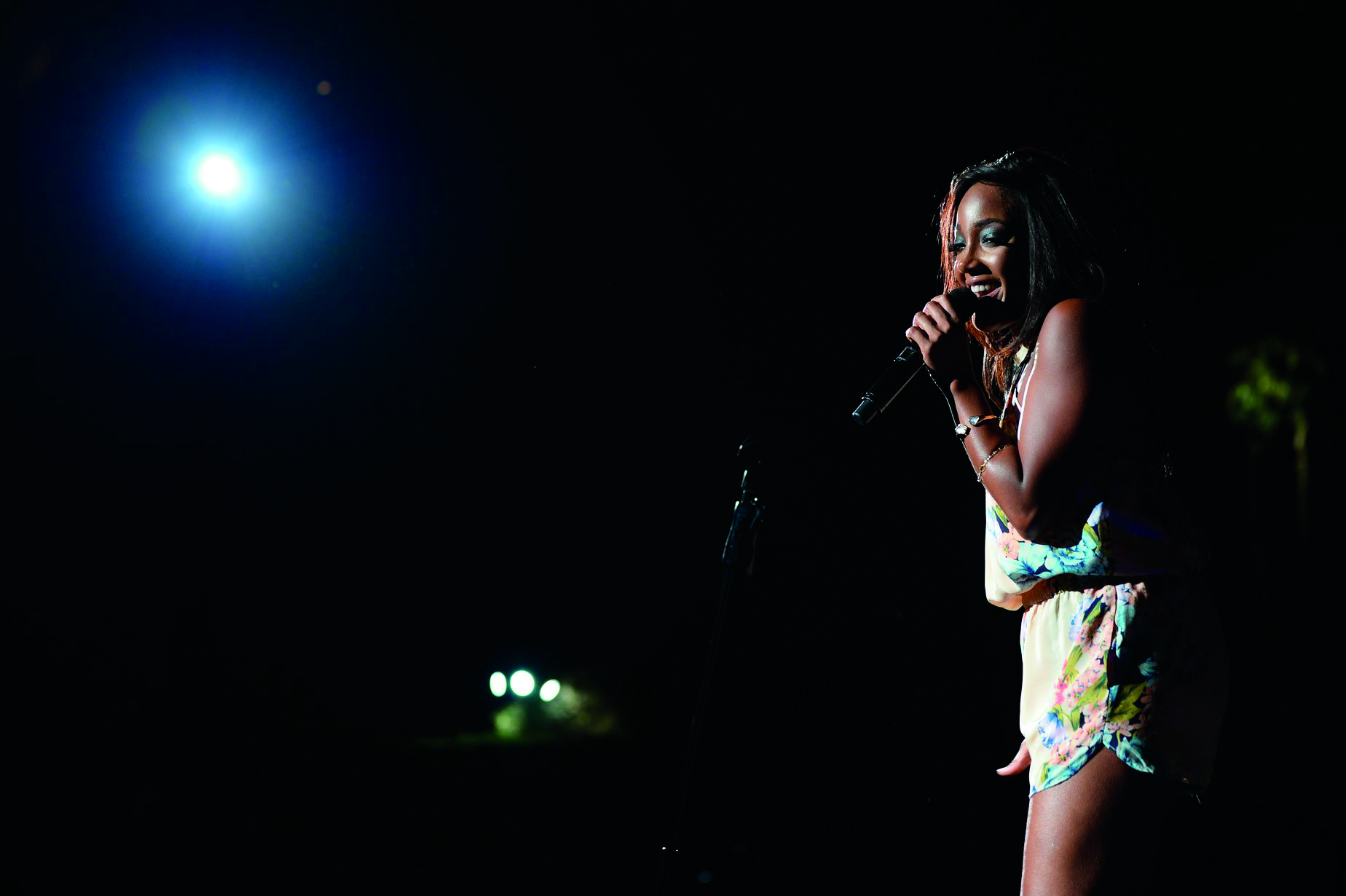 Photograph © Storms Media Group/Alamy
Was country music something your grandma would play around the house, in addition to having those VHS tapes?
Grandma didn't have a record player. She was really poor, but she had a VHS player. I knew she loved John Denver growing up. My grandma was just a fan of Dolly. That was her person, whether it was her movies or her music.
It must have been a thrill for you to meet Dolly, then. [In 2016, Parton surprised Guyton on the set of CBS This Morning, an on-camera meeting arranged by show host Gayle King.]
I have a video of it on my phone! My mom was the youngest of twelve kids, and when I would go to my grandma's house, my mom had a bunch of ugly quilts. I don't want to call them ugly because they were actually beautiful. Some were blue, some were weird, crazy patterns. I finally learned that my grandma was so poor that she made blankets for her kids out of her clothes, so Dolly's "Coat of Many Colors" really, really hit home for me because of what it said and what the song meant.
What made you see yourself in country music as you decided to pursue a music career?
It was always LeAnn; she always made me feel like I could be a country artist. Also Rissi Palmer. I was living in L.A. at the time, going to school. I had befriended a lot of screenplay writers, including Jessica Bendinger. She wrote the screenplay for Bring it On and Stick It, and I was friends with her. She asked me out of the blue, "Would you consider yourself a country artist?" I said, I love country, but I don't see any singers out there who would take me seriously and she was like, you should be a country artist. It was something I loved. I loved Carrie Underwood—her music really spoke to me. I remember I was like, I actually DO see myself as a country artist but I didn't think anyone would accept me in that sense, and Jessica said, "You should consider it." Then I went down the rabbit hole of the internet and looking at Black country singers, and I saw Linda Martell and Rissi Palmer. And I don't know, seeing two other Black women made me feel like I could do it. I knew who Charley Pride was, but it isn't until you see yourself that you're like, I can do this.
You were told early in your career to make sure your songs didn't sound "too r&b," and yet some r&b singers from the South, like Lionel Richie and the Commodores, were criticized for sounding "too country." Does it frustrate you when people can't see the through line between the genres and their mutual influence on the other?
It's absolutely frustrating, and it's a product of the circumstances of the way this country was built. For some reason, our country needs genres so we can make sense of where you belong, and the reality is, it's very frustrating because…how do I say this without sounding angry because I'm not? But it's just reality. You could have a woman with blond hair and blue eyes sing exactly like me and she would be considered country. But because of what I look like, it's almost like you have to go that much further [to show] that you deserve to be there. I feel like these imaginary boxes we allow ourselves to be put in don't exist. Genres are becoming less and less, anyway. It's time to erase the boxes. I can see someone like Kane Brown; first, [Nashville] didn't accept him and now they love him. He's doing whatever he wants. If he wants to release a pop record, he releases a pop record, and that makes some people mad, but for me, I'm gonna still be who I am regardless. This is what you get.
I found it really ironic that Tina Turner's first solo album, Tina Turns the Country On!, is all country covers, yet the only Grammy it was nominated for that year was for Best Female R&B Vocal.
You know, it's still happening to Black women to this day. You'll have artists who are clearly pop artists—I won't name names—but we instantly put them in an r&b category when the definition of what pop is, is popular music. And you will have that artist who is at the top of the charts, whether Cardi B or Rihanna, who are still put in r&b. But you're taking away from all of the artists who are actually singing r&b. Again, this is a product of our circumstances. The system was built and it's time for us to completely dismantle it. It's frustrating for Black women. Being an afterthought is really, really frustrating.
Speaking of Tina, what did it mean for you to sing her biggest hit at the Rock & Roll Hall of Fame induction? You had the whole thing—the jean jacket, the strut.
(Laughs) I was gonna PLAY Tina! It was nerve-racking for me. Singing people's iconic songs actually keeps me up at night, and for some reason they keep asking me to do it. They had no idea how stressful it is for me. It meant a lot. I still couldn't believe they asked me. I might not have chosen myself. It was truly terrifying, but it was an honor.
At least she wasn't sitting in the audience! [Turner accepted her award via video from her home in Switzerland.]
It was enough knowing Jay-Z and Paul McCartney were there. But actually Tina? I don't think I could have done it. She is the icon of icons.
You've talked about being influenced by "big-voiced" women like Whitney and Reba. Was Tina a particular influence in any way?
Oh my God, yes (starts singing "River Deep—Mountain High"). I loved Tina. Who didn't love Tina?
You've said that when you started, Nashville wanted you to be Nashville. So when you first began writing songs, were you thinking you had to fit some kind of mold, or were you writing what you wanted to but had to modify your music upon getting to Nashville?
When I first moved to Nashville, I wanted to respect the system. These people had been doing it a long time. But then I was meeting these other great artists and we were really pushing the envelope of country music and so often, I would send the songs back [to the recording execs], and the response was, like, "No." And that was really hard for me and I lost myself as an artist because of it. Being an artist, so often record labels, management, sign artists and try to make sense of them—again, putting you in these boxes. I ran into problems often because of that. I don't think people were purposely trying to be harmful. They do that to a lot of women. I can't say it's just me because I'm Black. It's me and I happen to be Black in the genre. It's being a woman on top of being Black that I'm fighting. And that was really difficult and debilitating for a long time, and thank God I'm not aging horribly (laughs) and I've been able to sustain myself in this genre. There's so much we have to deal with: we have to be cute and pretty and we can't have babies, we can't marry, we can't even control our bodies for goodness' sake. Being a woman…and for me it was a double whammy.
What you're saying sounds a lot like what Serena Williams just went through with retirement. The male players, they don't have to worry about the physical effect of having another baby or as much about balancing their family and a career.
That was really emotional for me, watching Serena retire. I was boo-hooing like a baby. I could see that life is just so quick (snaps fingers). She did it, but still…people just don't understand.
Talk to me about "What Are You Gonna Tell Her?" and "Black Like Me." Were those two songs the first time you felt you could really be yourself in your songwriting? Did they represent a changing point for you as a songwriter to be able to stand up for what you wanted to do in Nashville and not what the industry wanted you to do?
Both of the songs were moments of desperation when I wrote them. I wrote "Black Like Me" in 2018 and I played it for people and they literally didn't know what to do with the song. I knew it was a bold statement; it came out of completely left field from anything I've ever written. The people I played it for at first, some didn't even get back to me for a couple of days. They just didn't have the words. Then I wrote "Love My Hair" and "What Are You Gonna Tell Her?," and then it was like, these three songs, there's something there. But they were all out of necessity. I didn't see them as anything other than a therapeutic moment for me to get out how I was feeling, and I didn't think anybody was going to hear them.
So you never even thought these might be defining songs in your career?
I knew when I wrote them they were really important. After "What Are You Gonna Tell Her?," that took me a moment; it was so emotional for me, that song. I was sad. None of these songs were moments of, "Take THAT country music!" They were really a reality check of where we are.
But do you feel looking back at country roots and then looking at what you're part of now, that these songs will live on decades from now?
Absolutely. Years later when I'm long gone, hopefully people will look at those songs and be like, we've come such a long way. There are a lot of songs like that you hear from artists back in the day that you're like, man, that was so profound. I hope that happens to these songs.
You've released some new music this year. What's going on into next year?
This year was me just going back to writing what I was before the pandemic and what's gotten me here and having a baby. The role I'm taking now, it's about me. Before, it was about a moment that was happening before all of our eyes, and now it's about me learning that I am enough, that I can take the stage now and be an artist. I've said everything I could possibly say—for now—about country music, and I see people actively take the steps to make that change. I'm praying that sustains and is normalized. Now it's about me and my music and what I have to say, and that's just a different approach for me.
Do you have some confidence those boundaries we've talked about may be getting blurred a bit?
(Laughs)
Or not!
There are a lot of steps moving toward inclusion; there are a lot of steps of people fighting against it. But me existing and continuing to show up is my form of fighting through it. I still honestly know we have a long, long way to go. But having a label like I have (Universal Music Group Nashville) and the president of the label, Cindy Mabe, and her even signing artists like The War and Treaty, they're a duo signed to a major label that are incredible. As long as people like that keep existing and succeeding, we will see change.