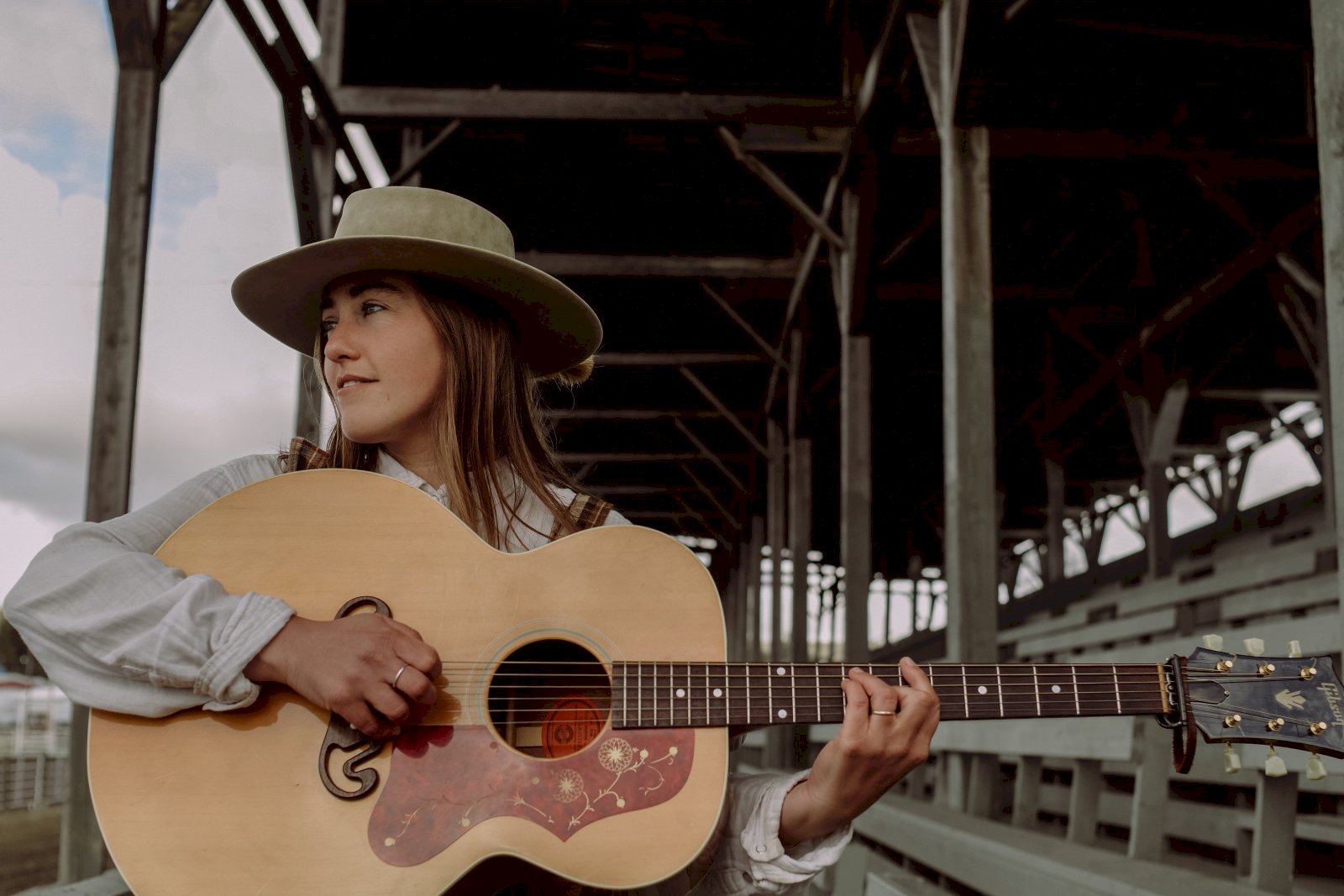 Photograph © Jen Borst. Courtesy Fluff and Gravy Records
Not Country, Not Western, Just West
By Justin Taylor
T hese days, summers in the Pacific Northwest are one long standoff with the air quality index. You wake up and check the weather report first, hoping to get some fresh air before the day pushes toward triple digits, but then depending on what's on fire where, it still might not be advisable to go outside. In late July, for example, my wife and I took a trip down from Portland, where we live, to Ashland, a gorgeous mountain town in Southern Oregon. Ashland is a climbing and hiking hub (the Pacific Crest Trail runs right by it) and also home to the world-renowned Oregon Shakespeare Festival. It was 112 degrees on the day we drove down to see a production of The Tempest at OSF's historic outdoor theater. Showtime had already been pushed back in hopes of cooler evening temperatures, and we had been warned that the cast would not be wearing the heaviest elements of their costumes, but when the wind shifted and smoke from the rapidly expanding McKinney Fire in Northern California blacked out the sky, the performance was canceled. When we woke up the next morning the inside of our hotel room smelled like burnt toast and there was a thick layer of fallen ash caked on our car. We fled.
About a week later, we found ourselves at the Pickathon music festival, which is held on eighty acres of rolling hills and forest just outside the Portland city limits in a town called Happy Valley, which used to be a sleepy farm town but is now among the fastest-growing and most expensive parts of the metro area. (In case it bears disclosing: Pickathon had a literary stage on which I appeared and for this performance was compensated with an all-access pass for the weekend.) From the knoll where the main stage was situated you could not help but survey the acres of ticky-tacky houses that had popped up during the pandemic, and which all but guarantee that the venerable, beloved music festival will eventually be NIMBY'd to death by the burgeoning exurb. In the meantime, several thousand of us enjoyed fifty-odd rock, pop, jazz, folk, and hip-hop artists over the course of four idyllic albeit scorching days. The bright green smiley face on my AQI-monitoring app was more than consolation for the fact that it never dropped below 100 degrees while the sun was out, and if it must be admitted that I ended each day by hacking up a good bit of farm dust, I was honestly just grateful that it wasn't particulate ash.
I saw a lot of great music that weekend (Built to Spill, Garcia Peoples, Sons of Kemet, Valerie June) but the standout was a young country singer named Margo Cilker. She is twenty-nine years old, a Californian, and has released one album whose nine tracks together run just over thirty minutes. Pohorylle, which came out in late 2021 on the Portland label Fluff and Gravy, was acclaimed by everyone from Pitchfork, Stereogum, and No Depression, to NPR, Rolling Stone, and MOJO, which described her sound as "Gillian Welch at The Band's sessions with Allen Toussaint." Her affable stage presence and relaxed delivery belie the sly brilliance of her lines as well as the originality she's teasing out of a tradition she doesn't seem entirely comfortable claiming as her own, even as she gives it a much-needed shot in the arm.
Cilker and her band were the main stage undercards on Friday night. She won over a boisterous crowd of dusty, dehydrated, variably-intoxicated festival-goers, an estimable portion of whom (including yours truly) were mostly there to secure spots for Wet Leg, who were headlining. "That river in the winter / It could fuck me up," Cilker sings on the aptly named "That River," which is a toe-tapper on vinyl and a foot-stomper when played live. I first took the line as an example of zoomer irony, as though she were saying, Yeah, river, fuck me up with that winter beauty. But no. The lyric continues, "Crack my ribs, bust my lip / It could do enough." That river might or might not be pretty to look at, but her real concern is with what happens if she falls in.
I was so impressed by Cilker that I went to see her play again on Sunday, solo acoustic on a much smaller stage inside of a poorly ventilated barn. Seated in a highbacked wooden chair that might have been borrowed from somebody's grandmother's dining room, wearing pinstripe slacks, a white t-shirt with the sleeves pushed up, and a red bandana loose about her neck, she played strippeddown versions of the country-rockers she'd presented two nights earlier. Sean Jewell, editor of the roots music website American Standard Time, served as her host and interlocutor, asking her questions between songs and later inviting the audience to do the same. Some musicians hate this sort of thing; they don't want to be asked to analyze what they do, let alone how or why they do it. I'd thought Cilker might be of this ilk since her Instagram header tersely declares that she is "Not country, not Western, just West." In fact, she was a forthcoming and funny conversationalist, a born storyteller with an infectious smile. She talked to Jewell about growing up in California, the formative time she spent in the Basque country, and the economic insecurity brought on by the pandemic, which kicked off shortly after she moved to Enterprise, Oregon, a tiny town in the extreme northeastern corner of the state.
She'd moved there to be with Forrest VanTuyl, a musician, poet, and "freelance cowboy" whom she'd met on tour; they got engaged after knowing each other for four days. (VanTuyl releases music under the name An American Forrest, and these days plays bass in Cilker's band.) At the time, the plan had been to live cheap, save up, and tour as much as possible. Instead they found themselves locked down in extreme isolation, scraping to get by. Cilker worked as a house cleaner, as a nanny, in a chicken-processing plant, and as a ranch hand. (Per her song "Tehachapi": "I'd been working / My shoulders were hurting / I was learning / how to turn my muscles into something.")
At one point during the conversation with Jewell, the subject of "country music" came up: Is it a good or a bad thing to be labeled a country artist? Is there even a workable definition of the genre? Cilker talked a bit about what having a song break through on country radio can mean for the commercial viability of an up-and-coming artist: gig rates and record sales spike; it might change your whole life. She spoke in terms that were far more conciliatory and equivocal than her Instagram header suggested, but you could tell she didn't love having to thread this needle, and I don't blame her. Instead she talked about branding cattle when she lived in Enterprise and bravely admitted to the partisan crowd that she and VanTuyl have since crossed the state line; they currently live on a sheep ranch in Goldendale, Washington. It all sounded country enough for me.
It's worth bearing in mind that much of the music of the American West has its origins in the South, because the late stage of the westward expansion was radically accelerated by the end of the Civil War and the shock troops of that depraved land grab included an outsize proportion of residents of what had been the Confederate states. Some had been true believers, others conscripts or mercenaries; some surely deserters and apostates from the accursed "lost cause"; some were newly freed; all were looking for a new start far away from a region ravaged by war and still under military occupation. White and black, they brought their musics with them, and everything that followed, from the Tulsa Sound to Texicali, from Snoop Dogg to the Grateful Dead, can claim a share of this infinitely rich, infinitely ambivalent inheritance.
The idea that the South maintains an exclusive or privileged claim on country music is a twentieth-century fantasy sold to us first by the bigoted segregation of "race records" from "hillbilly music" in the 1920s; extended by Nashville's pathological self-mythologizing from the Grand Ole Opry to, well, Nashville; and sustained even to this day by no small degree of Northern condescension. Some of this fantasy is conciliatory, some is pernicious, some is both, and all of it is a little silly. Everything comes from somewhere, sure, but nothing stays put. So unless you're prepared to argue that rap music remains the sole province of Sugar Hill, Harlem, or that the Pennsylvania-born Taylor Swift can claim her piece of Philly Soul but ought to take her name off the education center she endowed at the Country Music Hall of Fame, then probably we need to rethink not just the limits of "country music" as a category but why we insist on reaching for such categories in the first place.
All that said, Cilker's "Tehachapi" is certainly the best (and possibly the only) song in American history to set an entire verse in Sonoma County without risking its country bona fides, so maybe the category's most enduring value is that it provides each generation with a legacy worth rebelling against and reinventing.
As luck would have it, less than a week after discovering Margo Cilker's music, the Oxford American asked me if I had anything to say about the past, future, or vexed present of country music. I told them that I didn't, but I knew who did, and that she would be playing on August 17 at the High Desert Music Hall, a deconsecrated church in Redmond, Oregon, and furthermore that I would be happy to drive down there to see her for the third time in two weeks.
Redmond is about three hours from Portland. My route took me east past Mount Hood, then south through the Warm Springs Reservation and farther south along winding shadeless mountain roads and scrublands where the smoke-scented wind rocked the car to the edge of its lane and finally into verdant if attenuated farm country, hemmed in as it is by mountains as well as desert. The temperature was once again in the triple digits. The roadside wildfire warning signs all had their arrows pointing to the red zone. I was retracing the route my wife and I had taken a few weeks earlier when fleeing Ashland. I pushed that grim thought to the back of my mind, pulled up Cilker's album on Spotify, and cranked the volume.
Pohorylle is a roomy record but not a spare one; there are a good number of players making big and small contributions to various tracks, but the instruments don't crowd each other or blend together. As debuts go, it's astonishingly sure-handed. The title is a testament to Cilker's abiding affection for the Basque country as well as her commitment to spotlighting the stories of women who might otherwise be silenced or forgotten. Gerta Pohorylle was a German Jew who fled to Paris in the 1930s after the rise of the Nazi Party. She became a celebrated photojournalist, publishing her work under male pseudonyms and eventually covering the Spanish Civil War, where she was killed at the front in 1937.
Pohorylle's production, by Sera Cahoone, who also played drums, showcases Cilker's clear, confident delivery, and there's a barrelhouse swagger to songs like "Kevin Johnson," a cutting portrait of a self-satisfied son of the South, the kind of guy one might encounter in abundance at, say, Clemson, where Cilker went to undergrad. (An as-yet-unreleased song, "I Remember Carolina," is more affectionate toward the Palmetto State.) The bright buoying horns on the studio version of "Tehachapi" are by the multiinstrumentalist and arranger Kelly Pratt, originally from Kentucky, whose credits include David Byrne, Beirut, LCD Soundsystem, and Father John Misty.
The Decemberists' Jenny Conlee-Drizos plays piano, organ, Mellotron, and accordion. Mirabai Peart plays violin and viola, adding somber color and texture throughout, but perhaps to best effect on "Broken Arm in Oregon," where she hovers at the edge of the sonic palette, moving slowly toward the center as the song develops. In the second verse, Cilker describes a time she "took a tumble on a mountain / and it rattled up a few things," which might be the source of the title, though she's quick to reassure us "I was singing again by the time I made it down." In the third verse, Cilker recalls another woman's story of assault, and Peart's persistent violin takes on a new layer of meaning, as does the name of the song. "Now every room she sleeps in / she's got to map out her escape plan / Imagine all those hours devoted to bigger things," Cilker sings, an edge of disbelief in her voice. When she slides back into the chorus—"Is it any wonder / it gets hard for me / A lot gets lost on me"—the emotional register of the song has so dilated that these words, which earlier felt like half-serious smoke-break banter, now carry urgent moral and existential weight.
"Brother Taxman Preacher" begins as an affectionate sketch: "Well I wish I was my brother / I could light up any room / that I ever walked through / All that matters is / What's in your head that's true." To wish to be the taxman, however, means "I could go from door to door / incriminating all the unlucky and the poor," while the province of the preacher is to tell you "who to vote for / who to pity, who to fuck." The escalation is fast, and the palpable feminist disgust is of a piece with "Kevin Johnson" and "Broken Arm in Oregon." I doubt that Cilker hates her brother (I don't know if she even has a brother) but her point is well taken: However neutrally or virtuously a man might use the gendered power that the world has afforded him, that power exists on the same spectrum of entitlement that makes possible—perhaps inevitable—the depredations of the taxman and the preacher.
Redmond is a one-time whistle-stop town on the eastern edge of the Cascades. It has lately reimagined itself (like Ashland) as an outdoorsy paradise, though it also boasts a T-Mobile call center, an airfield where smokejumpers train, and enough cultural aspiration for someone to have opened the hippie/hipster hotel where I was staying. They've also got a bookstore, a brewery, a cupcake cafe, a number of coffee shops, and a couple of food cart pods, one of which was in the parking lot of the High Desert Music Hall. After a pretty good IPA and a very good burrito, I made my way inside. The woman taking tickets and checking IDs couldn't find my name on the guest or press list, but let me in anyway because, she said, it seemed like I was telling the truth.
Cilker took the stage in an ankle-length pleated turquoise skirt, a black t-shirt, and a red neckerchief I recognized from both of her sets at Pickathon. Her live band is of necessity a more streamlined outfit than her studio band. She plays her acoustic guitar and is abetted by VanTuyl on bass, Dan Galucki on drums, and Jeremy Ferrara on electric guitar. It's a different sound: louder, rock-forward, inevitably not as nuanced, but what the quartet lacks in musicians they make up for in musicianship. VanTuyl's bass is powerful but not overpowering; his playing is grounded and assertive, like he's underlining each song with a black Sharpie. Galucki keeps the trains on time and finds his fun where he can, which can't be easy when you're using brushes instead of sticks and playing a kit that has to fit in the back of a minivan. I doubt Ferrara took a solo longer than twenty seconds at any point during the show, but he made such intuitive, enlivening use of his time that the audience was moved more than once to spontaneous applause in the middle of a song.
And as for Cilker, well, what can I say? She's the real deal. I've seen her play in an open field at sunset, I've seen her play by herself in a barn, and I've seen her play in a deconsecrated church at the edge of the high desert. She'll own any room you put her in, and if the next room I see her in is an amphitheater or an arena, I won't be a bit surprised. I think she's a rare generational talent, heir to an expansive tradition that encompasses not only the California-country of Merle Haggard, Gillian Welch, and Gram Parsons, but also the crossover country-rock of Neko Case, Katie Crutchfield, Amanda Shires, and Lucinda Williams. Her work doesn't really "answer" the question of what country is or can be or should be; it obviates that question, because country has more to gain by making a claim on her than she does by making a claim on it.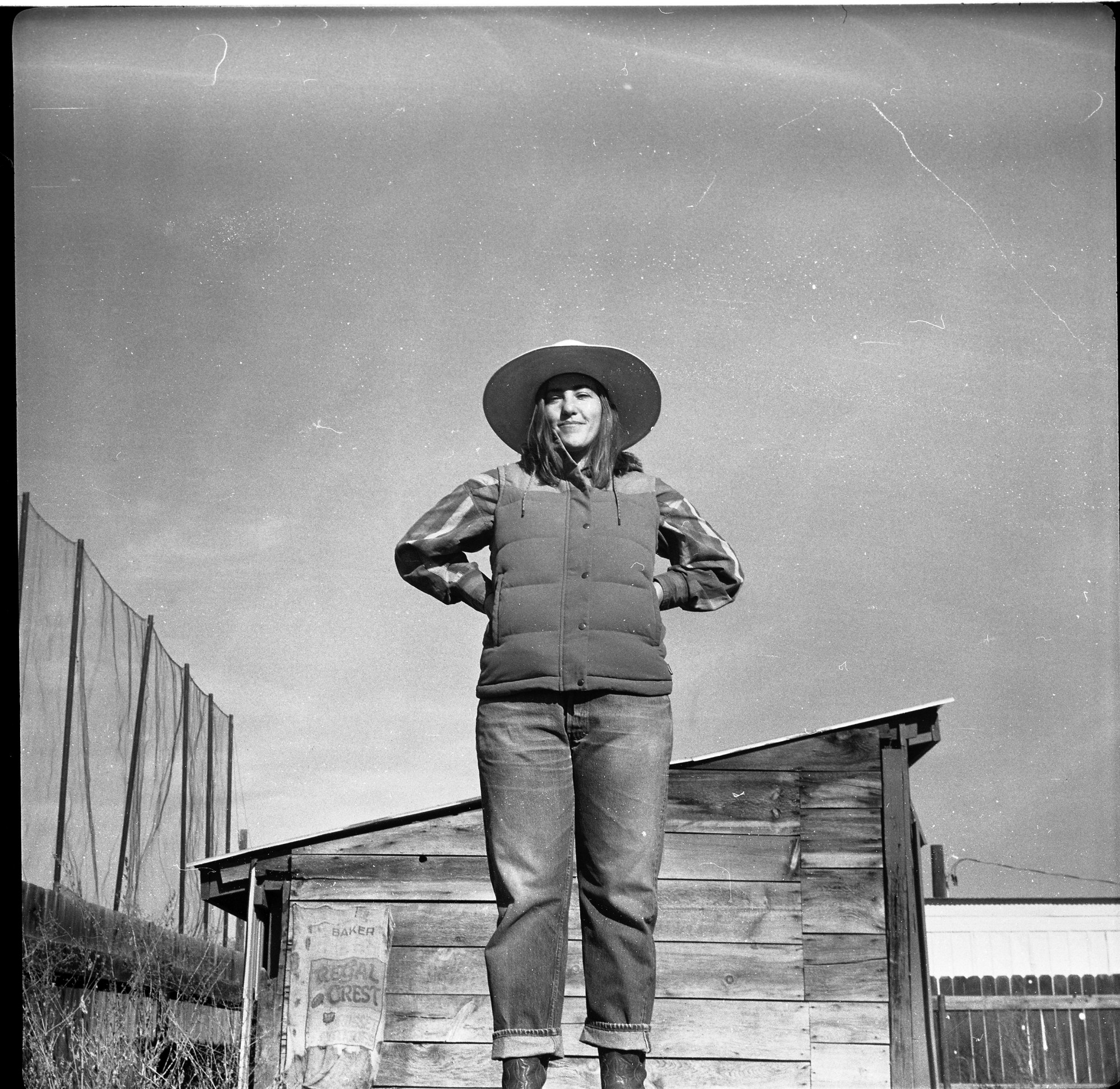 Photograph © Forrest VanTuyl
Cilker grew up in the Santa Clara Valley, between Sunnyvale and Cupertino. "The heart of the beast that is Silicon Valley," she told me. We were sitting in a back booth of the Backline Lounge at the music hall, about half an hour after her set. Her paternal grandparents founded Pine Cone Lumber in 1959, and her father and uncles still run that business today. She told me that her father remembers a time before the highway, when the region was still mostly apricot orchards and walnut farms. "I've worked in the lumberyard; most people in my family have done their time working there," she said. Still, and lest I get the wrong idea about her collar and class, she was quick to cop to "privilege," a "sheltered upbringing," and a "typical suburban childhood." (This brought to mind another snatch of lyric from "Tehachapi": "Told you I was willing / But you heard 'struggling.'") "Well," she amended, "maybe not typical for everyone."
Cilker's childhood tracks almost exactly with the region's most radical period of transformation by big tech and venture capital, even as swaths of it remained stubbornly committed to a hippie mythology from which she felt alienated. "The Bay Area thing just kind of broke my spirit," she told me. One time, for example, when she was still "too young to go to shows" but eager to perform, her mother took her to play an open mic at the storied Berkeley roots music venue Freight & Salvage. "We got there at six and there was a line around the corner, mostly older gentlemen in tie-dye shirts. You put your name in the hat and you get one song and I waited until ten o'clock to play, sitting through all the covers of 'Homegrown Tomatoes' and whatnot, and the whole time I'm thinking, 'Margo, you're knocking on the wrong door. Just totally missing the mark here.' And it's weird because a sense of place is so important for artists, and in the country music world, it's like, really important, but I was born into a place that was rapidly changing even in my lifetime. I just couldn't dig my heels in there. I've been doing this for ten years not and I've only played one show in my hometown."
I wondered whether she'd dug her heels in at Clemson. I also wanted to know what had drawn her to a land-grant college in South Carolina in the first place. She told me that when she was a kid she went to a Christian allgirls summer camp in North Carolina. "Kind of intense," she said, "but I loved it, and we had this tennis coach who prayed with us at the start of the lesson. He'd say something like, 'Dear Jesus, let's have a great day out there, I pray that the sun's shining and y'all can learn and grow. And may the Clemson Tigers win!' And I'm looking around thinking, 'What was that? What are you talking about?' Then when I was a junior in high school flipping through the Princeton Review looking at colleges, I saw it there and I thought, Oh, Clemson! I remembered that guy who prayed for the football team and latched on to it: good music, not California, the rest is history."
At Clemson she played coffee house open mics and began to write songs in earnest, influenced by Southern musicians. She mentioned Old Crow Medicine Show, Gillian Welch, Steve Earle, Justin Townes Earle, and a handful of Nashville-based singer-songwriters: Caitlin Rose, Tristan, and Andrew Combs. She ended up majoring in anthropology, which led to a study abroad year in Bilbao, Spain, where she finally found what she'd been searching for. "There was all this music. Neighborhood bands, tiny little bar shows, proper concerts, everything in between. Literally every night of the week I was going to shows, and three weeks after I moved there I had a band. We played Creedence, Neil Young, Bob Dylan, a couple of songs in Spanish, 'Dead Flowers'—anything I could get my hands on."
After the year in Bilbao, Clemson lost its luster: "I tried to dive back into being a student, but I was so done, you know? I went from this beautiful, cool city with a badass public transit system and this amazing music scene to being isolated with no connections. I couldn't get gigs and I was miserable. I played at barbecues for a bag of pulled pork, random farmstand shows, wherever I could be with my guitar and make people listen. But I couldn't keep doing that, so I dropped out of college and moved back to Bilbao. I taught English, taught guitar, gigged my ass off every night, hustling." People in Bilbao didn't draw bright lines between genres like rock, classic rock, country, and folk. Cilker, at one point, put together a Lucinda Williams tribute band and got gigs all over town.
This seemed as good a time as any to ask Cilker about her relationship to the "country" label. I wasn't sure exactly what I was asking, but babbled my way to the proposition that there's a country life and a country sound, and they're not necessarily—or even often—the same thing anymore, if they ever were. "But it seems to me," I told Cilker, "that you're at the thin center of that Venn diagram, because you're interested in the sound but you've also actually branded cattle and processed chickens and live on a ranch, which is a lot more than a lot of country singers can say."
"Yeah, I've smelled a lot of mule shit," Cilker said. "I vacillate with it a lot, obviously, but sometimes I just throw up my hands. I am who I am. My favorite pastime is writing country songs, and you can take that or leave that. It's what I like to do and the way I like to sing. Do whatever you want with that information."
I was so satisfied by this answer that I decided to change the subject, and so discovered that Cilker is an avid reader. In the course of our conversation she mentioned Pam Houston, Raymond Carver, Barbara Ehrenreich, and William Kittredge—all laureates of the Mountain West. It could probably go without saying that anyone who has worked the jobs she has would find a fellow-traveler in the author of Nickel and Dimed, but it's worth noting that Cilker's songs are full of shrewdly observed physical and emotional details that amplify and complicate each other, which is precisely what I, in my day job as a creative writing professor, look for in a good short story. "There's a barbed wire fence way down in the canyon," she sings on "Barbed Wire (Belly Crawl)." "Are we inside or outside the line?" While the question certainly carries a figurative meaning, I sincerely doubt that the fence itself is a product of her imagination.
The Carverian realism of her imagery is spiced up by a dash of Dylan in her phrasing. "In his work boots worn thin / Stands my love untrimmed," she sings on "Chester's," a song about the kind of small-town watering hole where everyone goes because it is the only place to go. At the end of "Kevin Johnson," she tells us that "Kevin Johnson heard the people cry." He responds, "I can do that, too / Listen, it's not hard to do," a line that could be credibly attributed to William Zanzinger or Judas Priest.
Now I'm one of those people who can, after a few drinks, get on a real high horse about Bob Dylan. I wasn't about to do that to Cilker, but I thought maybe we could geek out about Shot of Love or the alternate version of Blood on the Tracks. I got as far as recommending Standing in the Doorway, Chrissie Hynde's transcendent album of Dylan covers released last year, before Cilker told me I'd have better luck on this front with her husband. "Forrest is your boy," she said. "The day before we got engaged, so day three, he sang 'Brownsville Girl' across the campfire from me, and that was that." "Brownsville Girl," which Dylan cowrote with Sam Shepard, is an eleven-minute shaggy dog yarn off of 1986's Knocked Out Loaded, one of Dylan's all-time least successful albums. I told her that in that scenario I'd have probably married Forrest, too, and since we were talking about him, I asked after his work. What does a "freelance cowboy" actually, you know, do?
"He's for hire. Like in the old days, the cowboys would be in town with their saddle, here to work, you know? It's day labor. You go pick up the laborer and they come and gather cows or whatever you need. He's worked at a number of ranches, and it's been cool to get to see how different ranches operate." I asked if their current residence at the sheep ranch was the result of Forrest's work. No, Cilker said. Or rather, not officially. "Our landlords are awesome and we help each other out. It's a farm, you know? Everybody's got to pitch in."
Speaking of pitching in, the venue staff had hung on well past closing time for the sake of our conversation, and the band's gear was long since loaded into the van. The High Desert Music Hall, with the audience gone and most of its lights off, felt like a church again. It was full dark outside, the vast sky low and heavy with clouds. The heat of the day had subsided and trees stirred in a gentle breeze on which no hint of smoke was borne. It was a perfect Western summer night and if it had been an hour earlier I might have asked Cilker if she and her band wanted to go scare up a nightcap somewhere, but I knew she needed to get everyone back to the Airbnb and get a decent night's sleep. Tomorrow they'd drive on to Nevada for a few shows, then Cilker would take off for a string of European festival dates. She sounded a bit preemptively exhausted just describing it to me, but said she was looking forward to performing and to spending time overseas. "I wanted to be an anthropologist," she reminded me, "and even though I dropped out…" She trailed off, shrugged. "You still kind of are one?" I suggested. "Yeah," she said, favoring me with a smile. "That's how it feels."