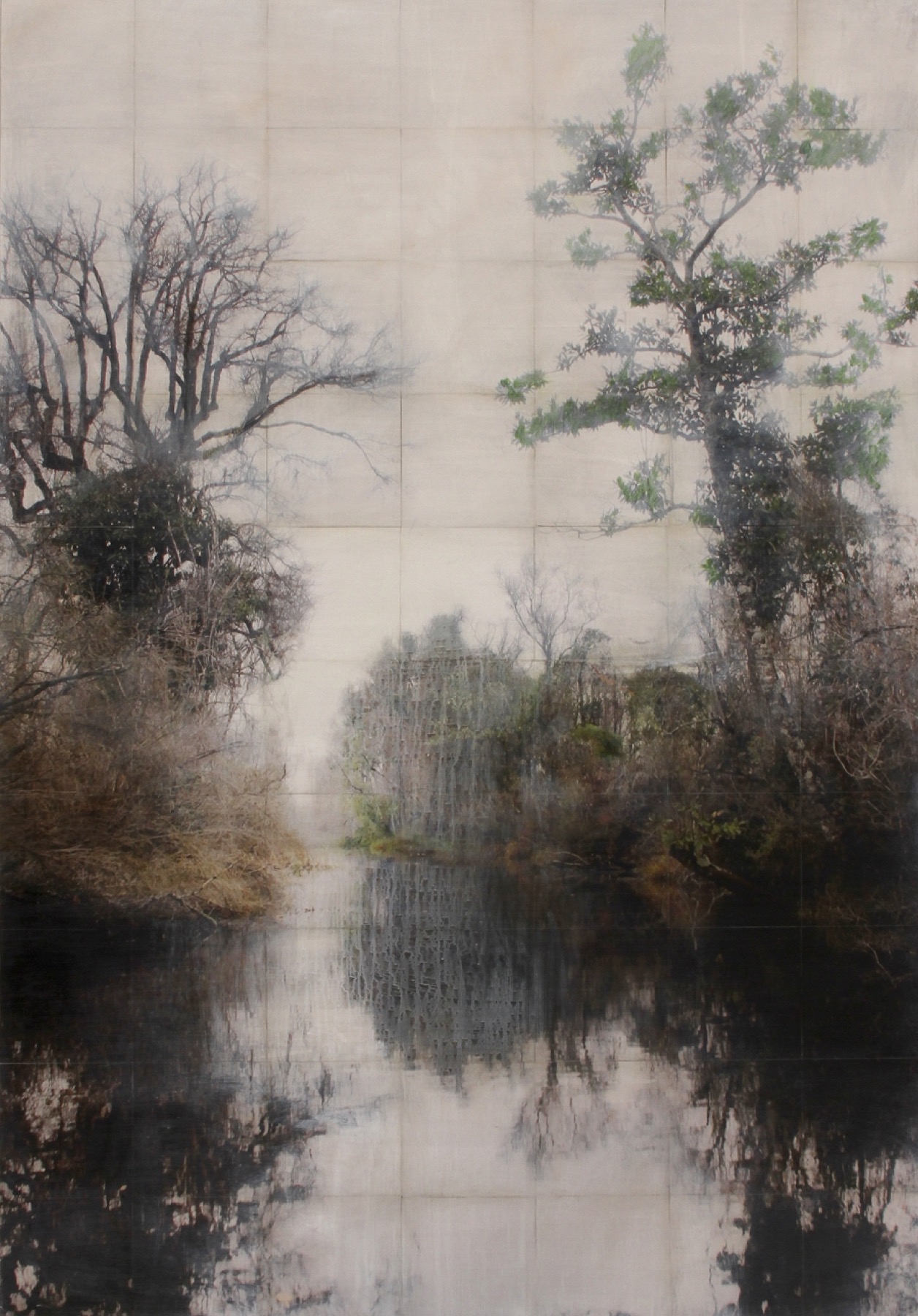 "Creeper Lagoon #2" (2013) by John Folsom
The Swami of Swamp Rock
By Ted Scheinman
Forty-five miles southwest of Jacksonville, inland from Orange Park and Fleming Island and Green Cove Springs, resting on a strip of Florida grassland as flat as Kansas, there is a pecan grove—fifty-odd trees that drop nuts in March so large and rich they might as well be the pits of massive peaches. This orchard, this treasured crop, as carefully tended as any arbor in Virgil's Georgics, belongs to JJ Grey, a North Florida sage and purveyor of the funkiest swamp rock the world has ever heard. The property was once a chicken farm of no small repute before factory farms drove JJ's maternal grandmother out of the game. This family tract, a third-generation inheritance, is now home to JJ, his wife, and their daughter, who just turned four. Domestic upkeep competes with JJ's commitment to his music—a commitment as primal and palpable, when you sit next to the guy, as hunger or fatigue in others. 
Therefore, when he can, JJ emerges from the family redoubt, and from his much beloved pecan grove, to drop chicken-scratch guitar and bone-deep songs of moral indictment, all of them rooted almost pathologically in the land that seems to live in JJ's blood. Through no special choreography, JJ and I find ourselves sitting in Austin, Texas, on 6th Street—a thoroughfare famously known as "Old Pecan Street." I don't waste time pointing out the coincidence. JJ has just finished his five-song, live-radio set on the roof of Six Lounge, hosted by Louisville DJ-cum-impresario Kyle Meredith, who asked the singer-guitarist why he writes so many songs about self-destruction. "Is this a self-sabotage thing?"
JJ pauses before answering in his rich baritone: "Well, I wouldn't call myself . . . a self-saboteur." Guffaws from the rooftop audience. "But then, an alcoholic never thinks to call himself an alcoholic." As for Meredith's question about "being a rock star," JJ demurs. "You know," he says with a grin, "if it doesn't work out, I'm gonna work for Caterpillar or diesel engines or something."
From our perch on Old Pecan Street, JJ describes how he drifted away from the tenets of the Baptist church where he was raised. "A good place, and good people too," he says, choosing words slowly. "But then everyone started to split off. Everyone wanted to be a preacher, so it just split into these . . . call 'em ego projects." Grey hasn't been to church properly since he was twelve, and what comes off in his music as spirituality is really something simpler, a traditional and deeply held belief in self-reliance, a devotion to the truth. "My belief about happiness, for myself and anyone else, is you have to gauge the distance between how you want things to be and how they are," JJ says. "That distance is where people tend to go astray."
In 2001, JJ Grey released his first full-length LP, Blackwater, under the band name Mofro. (A nickname given years before to a very green JJ by a paternal coworker at a lumberyard. As you'd expect, it abbreviates the Oedipal sin.) Eventually his maternal grandmother coaxed him to add his own name to the project. It took five years. A question of honor? "Yeah, I suppose it was something about family honor," JJ responds after a pause. "But it's also about having pride in your work: 'Why won't you put your name on that? Are you embarrassed?' Eventually she wore me down."
Rebooted as JJ Grey & Mofro, the band signed to Alligator and promptly released two of the finest roots records of the past decade: Country Ghetto (2007), as programmatic a statement as JJ is likely to make, and Orange Blossoms (2008), which adapted the same "front-porch soul" sensibility to an album less about the Southern conscience and more about the indelible love song. The title track is a masterpiece of swamp-rock balladry: two-string guitar licks and a bass/keyboard figure so deep in the pocket it's digging up buffalo nickels. Was there some special musical rubbing-of-shoulders in the Jacksonville area that made possible JJ's sound—the white guy who sings so black, and the rhythm section that so often obeys George Clinton's brief for funk: "Find the groove, dial it in, then rip the knob off"?
Grey again thinks for a moment. "Before, you said my songs were 'intensely moral,'" he says. "It took me off guard. And it's the same thing with my sound—I don't sit down to write a moral song, and I don't sit down to write a country song; these things just happen." Another pause. "But I guess it began real simple: I wanted to sound like Jerry Reed, but with less of a country thing, more of a soul thing."
Reed, the Georgia-born country rocker known for his fast-twitch chicken pickin', is an analogue I had never considered for JJ. But it makes sense. Among other things, Reed had a keen comic sensibility, which surfaces in Grey's material through little acts of misdirection. Take the last line of "Orange Blossoms," a song ostensibly about a man's "true love": "All these years later/I can't even remember her name." It doesn't rhyme, it doesn't fit with the song we thought we were listening to, and it takes the listener off a cliff—not so different from the radical, absurdist turn one tends to find in the final couplet of an Ovid elegy. Listen to Reed's "She Got the Goldmine (I Got the Shaft)" for a sense of this songwriting sensibility. But alongside his interest in Reed, and the rhythmic innovations coming out of Detroit, Muscle Shoals, and the Stax element in Memphis, JJ was a punker in high school (and, incidentally, a surfing freak to this very day). With such a varied musical apprenticeship, JJ has more interest in conjunctions than in simplistic revivalism.
When he's in the philippic mode, JJ's songs will chastise enablers, addicts, hypocrites of all stripes, self-saboteurs in general, and women-beaters in particular. "Every character in my songs is either me or someone I know," Grey tells me. "And sometimes what you might call composite characters." These are the meth dealers, or former addicts now "pimpin' for the DEA"—the lost souls, the high school friends who went off-track. But JJ also gives the what-for to Yankees and Angelenos who, inadvertently or no, tend to flatten the South into a stereotype. The title track from Country Ghetto is a torpedo against social misapprehensions, written from the mixed-race rural communities of northeast Florida:
So you can say what you will
About your helping hand
I know I'll never be more
Than just your dumb white trash.
Love touches us all
And yes we're black and we're white
Out here in the cut
Still living side by side
So never mind what you've seen
And just forget what you've heard
Another ignorant redneck
Just some Hollywood words
These lines are spat so directly over the patient funk of the three-chord verse that one almost begins to hear intimations of hip-hop (Run-D.M.C. played on repeat in JJ's high school parking lot, he says), and the same rap-inflected approach surfaces on This River, the very strong album JJ Grey & Mofro released this April. What's exciting about JJ isn't that he defies any particular musical idiom, but rather that he merges several, all in service to an alternative narrative about the South, in the vein of Patterson Hood and Drive-By Truckers, but simpler and with fewer words. (Bruce Iglauer, Alligator's president, invokes Carson McCullers when discussing Country Ghetto.) At first, JJ flatly denies this notion of an "alternative" account. But then he reconsiders.
"When I was young, I had this Southern thing in my head, where I thought, 'I gotta be unhappy, I gotta lose it all, that's who I am,'" he says. "And I figured everywhere I went people'd be mean to me, treat me like I was subhuman or something." He laughs.
"So you stereotyped yourself?"
JJ laughs again. "I s'pose I did, yes, for numerous years."
I find this funny, that JJ at eighteen could have looked in the mirror and seen "white trash," especially considering how very mixed his own family is. Those who hear him without seeing him often take JJ for a black soul-man. He once had a gig rescinded when he arrived at a black club in south London and the owners found that, hey, Mofro had a white singer. When JJ describes the afro of his paternal grandmother, he does so in epic terms; he is part African, though whether a quarter, an eighth, or a thirty-second, he isn't sure—"I'm not big on the family trees," he says. JJ himself married a second-generation Trinidadian from London, and their two children each have a panoply of legacies and bloods pulsing through their veins. One is a son in his early twenties, the other a daughter, a toddler; JJ asks me not to publicize her name, but it's a lovely one, and—like JJ's songs—very much rooted in the earth.
JJ's polyvalent Southernness offers an interesting case study for anyone eager to define, place, or (worst of all) "locate" some kind of New South. But for all the sing-along catchphrases in his songs, JJ isn't particularly into sloganeering. He speaks with far more enthusiasm about rebuilding a sprayer for his pecan trees than about touring. He pointedly does not watch the news, and if his politics seem libertarian, they also seem intentionally vague. At South by Southwest, JJ's happiness was conspicuous. He played a well-received solo set atop Six Lounge, a full-band set under the tent at Holy Mountain on 7th Street, and a late-afternoon set the following day at the massive Auditorium Shores venue, the one place at SXSW that feels like a proper outdoor music festival.
After a masterly performance, centered on the new material from This River and commanding rapt attention from the fraternity bloc and the tie-dye crowd alike, JJ hung backstage with Luther and Cody Dickinson, the two brothers who founded North Mississippi Allstars. It was an unusual respite during the whirligig of SXSW, as JJ steeled himself for a tour through the U.S. and Europe that would last all spring and much of the summer. Hence, in large part, JJ's instinct to impose order on the Florida home front—a toddler who won't stay put, a pecan orchard whose prospects he describes as precarious, and a tree sprayer that until last week didn't work. But JJ, for all these domestic concerns, moves onward to Worpswede and Vienna, peddling tales they can't understand and rhythms they can't resist. I'd like to think the message gets across. As he sings on "Hide and Seek": "There's no loss or gain in soul—nothing real can ever die."
---
Enjoy this story? Subscribe to the Oxford American.