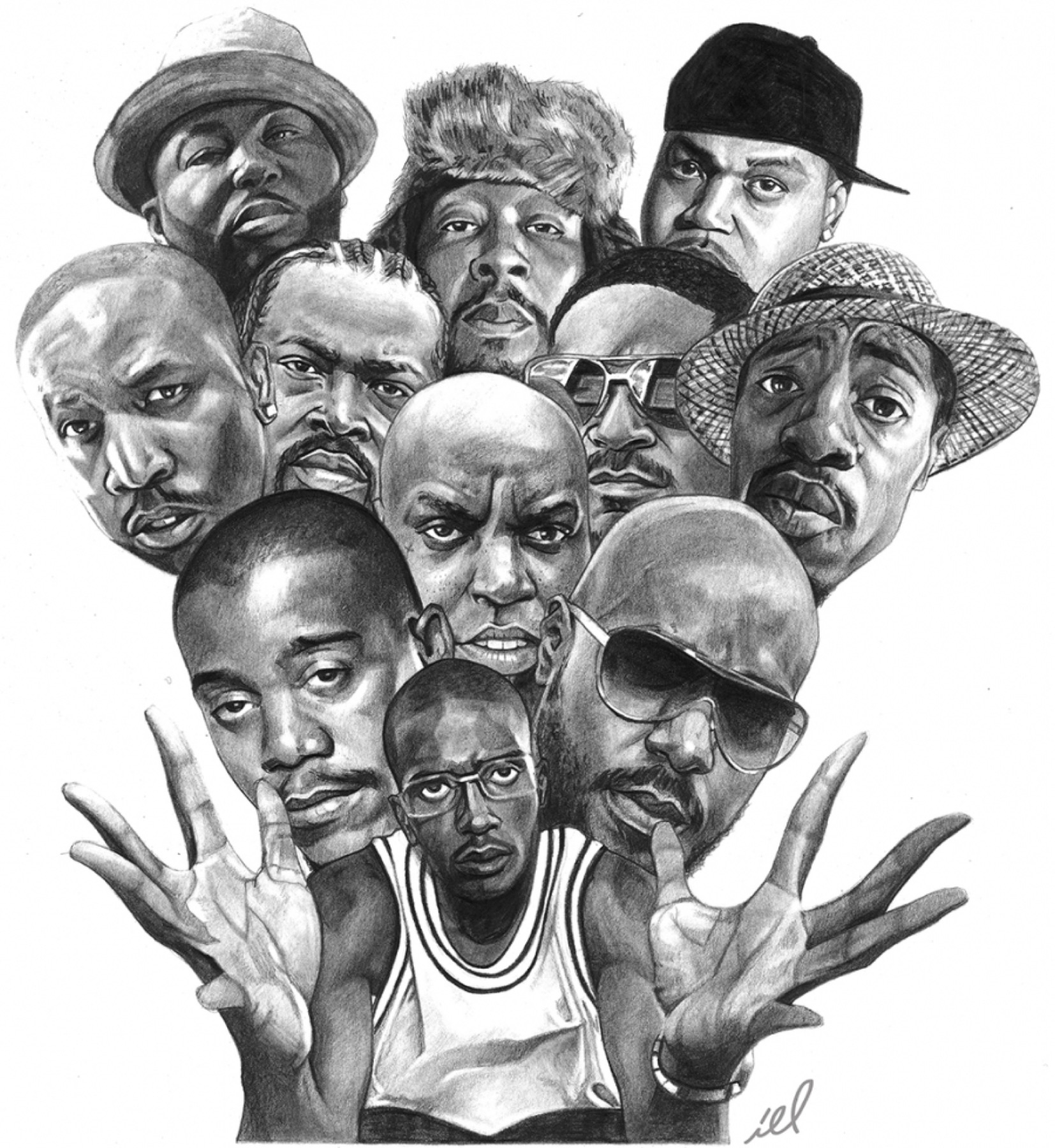 Illustration by illadelphsouL (2012). illadelphsoul.weebly.com
Family Reunion
By Rodney Carmichael
About a year and a half ago, Rico Wade invited me to his crib. As one-third of Organized Noize, Atlanta's eminent trio of producers, Wade used to live in a mini-mansion known as the White House because of its likeness to 1600 Pennsylvania. He'd since downgraded to a modest brick ranch located on the working-class end of the Cascade corridor. When I arrived, he was barbecuing chicken on a charcoal grill on the patio out back. Marqueze Etheridge, his friend since middle school and cowriter of TLC's biggest hit, "Waterfalls," was there. So was Joi, longtime first lady of Dungeon Family and originator of the style eventually dubbed neo-soul. So was Ramon Campbell, another friend from way back who'd also been in the short-lived r&b group U-Boyz along with Wade, Etheridge, and Sleepy Brown. It was all family. And Rico was telling stories. Not in any kind of chronological order, mind you, just stories as fast as they could come. About giving Marqueze his first fade in middle school so the girls in class would stop clowning his Jheri curl. About U-Boyz blowing their group audition for Pebbles but still impressing her enough to score a meeting with her then-husband, the record executive L. A. Reid. About working at the beauty supply store Lamonte's, where he met two young rappers named André and Antwan, whom he would help groom into the best-selling hip-hop group of all time.
A quick talker by nature, he tends to stutter a bit when he gets real excited. And Rico Wade is always excited. Already in the midst of filming a documentary directed by Quincy Jones's son, QDIII, titled The Art of Organized Noize, he was also drumming up interest for a coffee table book, an Organized Noize album, and a memoir under the same name. As the root of the Dungeon Family tree, Organized Noize spawned the South's most celebrated hip-hop collective, opening the door for OutKast and Goodie Mob, among many others. Since the announcement of OutKast's twentieth anniversary tour several months earlier, Rico had become obsessed with creating some tangible product to capitalize on the wave of renewed Dungeon Family fandom. More than a nostalgic rewind, Big and Dre's onstage reunion after a twelve-year hiatus represented a return to relevance for the extended family. Beyond the potential to cash in on a lifetime of investment, it presented Rico with the opportunity to set the record straight on the legendary rise and storied demise of the first family of Southern rap.
He'd spent the last several years healing from the wounds of losing his Organized Noize Records label deal, as well as his mother's home and the White House to foreclosure. Not to mention the in-depth 2010 Vibe magazine exposé on Dungeon Family that he felt sensationalized his admission of cocaine use. "Media is a motherfucker," he'd tell me later. "I told them I tried coke—they tried to make me into a fuckin' straight crackhead."
He laughed it off now, choosing to focus on the bigger picture. In fact, when we met again in August, right after the blockbuster debut of Straight Outta Compton, he'd added "biopic" to his list of proposed pet projects. But this movie wouldn't be his alone. Within Rico Wade's narrative lies the story of Atlanta. How it evolved from civil rights stalwart to hip-hop capital. How a tribe of outcasts rose from the dungeons of rap to the top of the charts. And how the kid who started from the bottom ended up here. At forty-three, he's still got something to prove. Most people with music industry aspirations find a way to build a business. Rico built a family instead. Then he discovered why family and business rarely mix. But when your past is OutKast and your present is a rapper named Future, it ain't over till the last ATLien sings.

Rico Wade's bedroom is decorated like a genius's—which is a nice way of saying it's a total mess. Clothes scattered everywhere. Empty Newport boxes discarded on the floor. An Atlanta Falcons flag hangs in one corner, an Obama CHANGE poster on the opposite wall. "I write on everything," Rico says, explaining the random scraps of paper. "A-sharp, B-flat—on some real mad scientist shit."
This explains his current approach to production. Though he never let me hear any of the new stuff Organized Noize is cooking up for their forthcoming album, Rico says he wants it to be a blend of everything. "I want the trap mixed in with the EDM with the Organized sound. I just want to evolve it."
When I tell him I'm scared to imagine what this new Noize might sound like, he laughs. "I think everybody is. That's why we ain't putting shit out. Everybody loves us so we gotta give you what you want, but I want that shit to turn up a li'l bit. I want our sound to go through transitions. I'm into a clusterfuck."
Before crunk, snap, and trap music turned Atlanta out, the red clay funk of Organized Noize defined the city. From the groaning bass line of OutKast's "Ain't No Thang" to the nervous plink of those ominous piano licks on Goodie Mob's "Cell Therapy," the music echoed the environment. As one of the first hip-hop production units to forego costly sample clearances for live instrumentation, Organized Noize Productions shared more in common with the soul legends whose source material inspired them than they did with their superproducer hip-hop contemporaries. The Atlanta sound they concocted from the dungeon-like basement in Rico's mother's house turned space and place into elemental forces. Like Muscle Shoals Sound Studio or Stax in Memphis, ONP remains synonymous with ATL.
The three-man production unit Rico cofounded with Ray Murray and Patrick "Sleepy" Brown, using a name they'd originally intended for a girl group, became the fuel to Dungeon Family, birthing first-generation acts OutKast, Goodie Mob, Big Rube, Witchdoctor, Cool Breeze, and Backbone. Together they gave the South a voice competitive with rap's bicoastal bedrocks.
Before major labels began manufacturing mock hip-hop crews as tools to market and promote new signees, artists formed ciphers organically. The details of how Big and Dre met Rico, Ray, and Sleepy—in an East Point strip-mall parking lot on the corner of Headland and Delowe—have been rapped, retold, and mythologized a thousand times over. But it all boils down to spirit. That's the best way to explain what brought them there that day. It's the same element that eventually drew each member of the Dungeon Family together. Even now they remain the only legacy hip-hop crew with "family" as the basis of their name. Not a clique. Not a squad. Not a posse. A family.
The business came next. Since Organized Noize already had L. A. Reid's ear, Dungeon Family acts OutKast and Goodie Mob signed production deals with Organized to record for LaFace Records. But Sleepy Brown, Ray Murray, and Rico Wade were more than producers. They were artist developers, mentors, big brothers, and player-partners to everyone under the Dungeon Family umbrella. What started as a loose collective of hungry emcees became an organized unit under ONP's leadership. The magic they made as a family grew directly out of a brotherhood built on shared experience and a mission to prove hip-hop's Down South narrative was as essential to rap as those classic breakbeats Georgia's own James Brown provided as hip-hop's sonic DNA.
Rico, the charismatic mouthpiece of ONP, is also something of a mystery—especially when it comes to quantifying his musical contribution. He's often blamed for taking too much credit, but he's also the one whom few outside the immediate circle know quite how to credit. Ray is responsible for bringing the noise as an intuitive beat programmer with a mastery deserving of his nickname, Yoda. Sleepy, the son of Atlanta "dazz" band Brick's front man Jimmy Brown, supplies the funk as a multi-instrumentalist soul slinger with a silky voice. But if his collaborators have more tangible skill sets, Rico is the trio's X factor: part visionary, part missionary, all purpose. Less button-down businessman than born hustler, with a sharp intellect and a knack for offbeat production, Wade's instinct for what's next has always made him a magnet for talent.

To illustrate the kind of singular creative vision Rico Wade possesses, it helps to go back in time. Summer, 1981: a dangerous year to be a black boy in Atlanta. Somebody was snatching them up at night and leaving dead bodies behind as evidence. The whole affair seemed out of character for the city too busy to hate. Things were supposed to be different. The city's first black mayor, Maynard Jackson, was nearing the end of his second term. His legacy would help bankroll a generation of black millionaires through government set-asides that gave minority contractors a foothold in the city's future. The only blemish on his time in office was the seemingly unsolvable mystery of more than two dozen missing and murdered children.
By the time a twenty-three-year-old aspiring music producer and youth talent scout named Wayne Williams was arrested on suspicion of killing two adult men on June 21, 1981, the city was so eager to declare the case closed on the child murders that the discrepancies and doubt surrounding his guilt didn't matter. The serial killings had plagued the city for nearly three years. In that time, Georgia's native son, a former peanut farmer named Jimmy, had lost his presidential re-election to a jelly-bean-loving Hollywood veteran. Meanwhile, the fight to make hometown icon Dr. King's birthday a national holiday had gone pop with the recent release of Stevie Wonder's hit, "Happy Birthday." (It would take two more years to convince the new president to sign it into law.)
Closer to home, on Martin Luther King Jr. Drive, nine-year-old Rico was about to stumble upon a dream of his own. The way he remembers it now, it looked to a kid like the circus was coming to town. People clapping and waving. A cowboy on horseback. There was a party happening in the parking lot of his Garden Valley Apartments and young Rico was at the center of it. When a well-dressed black man wearing a genuine smile parted the crowd, shaking hands and kissing babies along the way, "it was like Jesus," Rico says. The man handed the boy a sticker that read YOUNG FOR ATLANTA and something in Rico's soul lit up. The way he interpreted it at the time, this was a divine sign that Atlanta was destined for the young. "I didn't find out till years later that the sticker was for Mayor Andrew Young's campaign," Rico told me. "The campaign to me was the 'youth for Atlanta.' Like, the kids." By the time he came to realize what those stickers really meant, Rico was busy gearing up for a campaign of his own—one that would put the youth of Atlanta on the map for decades to come.

Man, the scene was so thick, he narrates over the beginning of the video to 1993's "Player's Ball." Low riders. '77 Sevilles. El Dawgs. Nuttin' but dem 'Lacs.
A shirtless Rico Wade exits the kitchen of his momma's old house in Lakewood Heights carrying a bowl of no-name-brand cereal. His pants are at half-sag and his hair is plaited back in cornrows. This is Rico in his prime, at twenty-one, with swagger on full blast. Across from him sit Antwan Patton and André Benjamin, looking cool but coy, like a couple of baby-faced gangsters in training.
All the players. All the hustlers. I'm talking 'bout a black man's heaven here.
How fitting that his voice is the first one heard on OutKast's debut single. It goes to show how Rico took a couple of young aspiring artists, with an early penchant for rapping about girls and video games, and elevated their game by influencing them to represent their hometown. The first OutKast album was indeed a group effort, one that not only introduced the sound of Atlanta (produced entirely by ONP) but also placed the city on hip-hop's map. Southernplayalisticadillacmuzik contains more than sixty-five geographical references to the A-Town, including thirteen nods to their East Point origins, ten shout-outs to the dirt-floor Dungeon, eight to nearby College Park, four to Decatur, and the first recorded usage of the city's international airport code, ATL, as hometown slang. From Bankhead to Buckhead and Club Nikki's to Magic City, an archaeological ethnography of postmodern Atlanta unfolds over the course of seventeen tracks. In other words, they excavated the hell out of the Dirty South.
With the early success of OutKast and Goodie Mob and the Organized Noize–produced megahits that followed (TLC's "Waterfalls," En Vogue's "Don't Let Go"), industry bigwigs began courting the trio. Rico eventually signed a $20 million deal to start Organized Noize Records under Jimmy Iovine's Interscope label. But he didn't leave L. A. Reid without leaving behind a benevolent offering. With the Interscope deal secured, Rico saw fit to release both OutKast and Goodie Mob from their production contracts so they could negotiate better deals directly with LaFace Records. "I let them go because they would've had an unfair deal and would've been crying like TLC," he says, in reference to the deal that left one of the best-selling girl groups in history singing the bankruptcy blues on VH1's Behind the Music. By cutting the cord, Dungeon Family's biggest acts were free to go their separate ways. And in a sense, they did.

Now picture a thirty-seven-year-old Rico Wade, desperately salvaging records, reels, and anything else of musical value he can get his hands on before Fulton County sheriffs lock him out of his home for good. When the Dungeon Family film is made, this will be a pivotal scene. It's 2009. Some family and close friends are on hand to help, but the Family brethren who can afford to write a check and make the sheriffs disappear are nowhere to be found.
"I'm being strong 'cause at this point it's just about getting my shit," he narrates to me. "I'm getting this mixing board out this house. Like, I don't give a fuck. We'll come back and knock these bricks out." The scene climaxes with Rico's mother throwing her arms in the air and yelling: "You take care of everybody. You look after everybody. Where they at now, Rico? Where they at now?"
In the founding days of DF, Rico's mother would occasionally question whether her only son was being used for his industrious charm and giving nature. This was back when the Dungeon doubled as a basement-hang suite, a place of refuge for unscheduled sleepovers or a spot to smoke out and soak up the vibe. He'd learned to quiet her concern with a witty response. "Maybe I'm using them," he'd say. But this time he had no slick comeback.
"It made me cry," he says in hindsight. "It almost makes me cry every time I repeat it. I said, 'I ain't tell 'em, Ma. If I call 'em, they'll be here. I ain't tell 'em. I'm handling this myself.'"
He blames his financial straits on his living above his means. For a decade, he paid the mortgages on two big houses until they both appreciated to double their original value. But when the IRS put liens on them, he was unable to refinance and pay down the debt. When it was discovered that he was putting money into an escrow account, his attempt at filing bankruptcy was canceled, too.
"Everybody kept asking me about the shit. Kept getting on my fucking nerves. I was just frustrated. Like, if God wants to take it away, He should just take it all away. I'll be alright. That's how much pressure it was," he says. The IRS eventually offered to reduce his debt to a lump sum of $50,000, but even that was more cash than he could cover. "I didn't have that kind of money. I could've gone to CeeLo, I could've gone to OutKast. I just felt like it wasn't their fault."
Back to the bare essentials, Rico turned "to the East, my brother, to the East," he says, quoting from the classic X Clan album To the East, Blackwards. "You know how you have a journey, like the Chinese guy or whatever. He's heading back to the top of the mountain to go back and train, study, and remember the things he knows. That's what I had to do. I went to Dungeon East"—also known as the home of his partner-in-production Ray Murray, located on Atlanta's east side in suburban Ellenwood.
It was as if "the great Rico Wade" had lost it all, he explains. "But I'm cool with that 'cause I'm a human being. And somebody's gonna learn from this. That's what I really am. I'm a martyr. I'm really somebody who selflessly gives of himself."
His mother's words had still cut him to the core. For someone who gave so much, Rico admits to feeling like he wasn't always appreciated. By album three, Aquemini, OutKast had become more of a self-contained unit in terms of production. ONP was busier, too, with plenty of outside production work. None of that diminished the foundational role Organized played in the duo's development, in addition to the trio's continued contributions to such hits as "Skew It on the Bar-B" and "So Fresh, So Clean." But with all of OutKast's award-winning success, Rico still can't recall the group ever publicly thanking him. That bothered him for a time until he finally said something about it on a phone call one night with Big Boi.
"Big might've broke down crying when I first told him. I said, 'Y'all ain't never thank me before.' But I never said it in a bitter way ever again. I'm not bitter at them. I'm in their studio [Stankonia] right now executive producing Big Boi's next album. But yeah, they hurt me with that shit back then."
Part of their distance was also due to the stress Rico felt from the Interscope venture struck with Iovine in 1997. Things were shaky almost from the start. Rico stepped outside of the family to sign a proven artist, but longtime Atlanta booty-shake rapper and regional star Kilo Ali turned out to be more trouble than he was worth. Meanwhile, Sleepy Brown had grown disenchanted. After contributing his sound to OutKast and putting his solo career on the back burner for years in the name of Organized Noize, he released The Vinyl Room under the name Sleepy's Theme in 1998. An underground opus of smoked-out funk, the album was issued independent of Organized Noize Records/Interscope—which means Jimmy Iovine wasn't getting everything he paid for. That only increased the friction. Rico also suffered over the disconnect with his former boss and guiding force in the industry, L. A. Reid. Together they'd made history. Now he had to stand on his own, while Reid got to reap the credit as OutKast went on to earn Album of the Year accolades for Speakerboxxx/The Love Below in 2004.
Letting out his frustrations on that phone call with Big helped him get over it. "In my mind, that's a person trying to make excuses for why their life ain't the way it's supposed to be. Once you let all that go, then you're good."
It also helped him come to terms with his own role in the demise of the $20 million Interscope deal. "I wasn't a businessman that was born into business. I fought into business. Once I had money, I had no more fight. Then I became a pussy," he says. "André 3000 said it best: 'Some people need adversity, Rico. You're one of them kinda people.'"
Losing the deal and the money and the houses stripped him back down to basics. Today he views it as a necessary setback. "I wanted to get back to this person, the free thinker. That's how I punch better. That's how we win."

The morning after OutKast's Coachella debut in April 2014, André 3000 got a phone call from Rico Wade. After nearly a decade of dead air from the duo, the onstage reunion had been epic. But there were also hiccups that revealed Dre's reluctance to return. He'd admittedly agreed to the tour out of obligation to his brother-from-another, Big, after years of refusing to perform or record together. But his lack of enthusiasm was hard to hide. And when he literally turned his back to the crowd during what should have been a climactic performance of "Hey Ya," no one embraced him as the new age Miles Davis.
Rico needed to remind Dre what was on the line. Not as his former mentor, but as his brother. When Dre told Rico that his fuck-it attitude reflected his feelings for some of the old catalog, Rico put their legacy in perspective. He told Dre, "I feel you. But it ain't just yours to say 'fuck it.' And you ain't just doing it for Big. It's for all of us. It's for you, too."
It must have been the inspiration Dre needed (in addition to phone calls he got from the likes of Prince). The following weekend, OutKast came out for the second Coachella show with a retooled setlist, and André traded his blue-jean overalls for a futuristic spacesuit signaling 3000 was back.
The behind-the-scenes intervention is a role Rico has always played well. Even when OutKast was no longer contractually tied to ONP, it was Rico who convinced a hesitant L. A. Reid to release the experimental EDM track "B.O.B." as the debut single off Stankonia per OutKast's request. His role takes on a spiritual dimension when you consider how André lost both of his parents in the two years leading up to the reunion. Rico sees it as no small coincidence that he shares the same astrological sign with two other huge influences on Dre's life: his mother, Sharon Benjamin-Hodo, and his son's mother, Erykah Badu. Wade and Badu were both born on February 26, just two days before the birthday of André's mother. That makes all three of them Pisces to André's Gemini energy. "You pick your spiritual advisors," Rico says. "After mom and dad, I gotta be high up there."
With the reunion tour back on track, Rico began seeing signs again. In particular, dollar signs. A forty-festival tour estimated to earn OutKast $60 million effectively wiped the crust out of Rico's third eye. His vision was restored, and he could see in clear economic terms how much people still loved the Dungeon Family legacy.
"I didn't really doubt if people loved us," he says. "Love is respect and that's great. I love it. But that shit sometimes equates to financial gain. And when I saw that OutKast was about to get paid a million dollars, I was like, Fuck love."
We both break out laughing at that. But the motive behind his paper chase ran much deeper. Beneath the surface, Rico saw this as a way to restore the legacy of the family tree. The Art of Organized Noize, both the documentary and album, became his main priority. In addition to several side projects, he began working on the concert to end all concerts. He had big plans: Book a show at Philips Arena. Reunite the entire Dungeon Family, including Goodie Mob, onstage. Have all the major Atlanta acts that carried the torch in DF's wake perform, including Pastor Troy, T.I., Ludacris, Young Jeezy. Bill the show as Georgia Power, a wink to the utilities company. A deal to air it on CBS was in the works. Local hip-hop and r&b station V-103 was interested. Sponsors were lining up. But in the end, Rico opted to put OutKast's needs above his own desires.
"I hate to use my relationship with them to make them do certain stuff. André really didn't want to do a lot of those shows and I was the one that was the most distant from him. After his mom and his dad died, all I really needed to talk to him about was supporting him. I couldn't be the businessman, so I elected to be the friend. I elected to be genuine," he says. "Fuck me making some money and me trying to retire off of you doing a show in Atlanta."
On the eve of OutKast's return home for the eventual three-day festival of shows thrown by an outside promoter and billed as OutKast ATLast in September 2014, I shot Rico a text to see if I might catch up with him there. I figured he'd be backstage cooling on some VIP shit. He told me the best place to find him would be outside the festival gates, selling Organized Noize t-shirts.
The contrast of the most successful group in hip-hop raking in millions on a worldwide reunion tour while Rico Wade, who'd given them their start and a hefty chunk of their formative game, hustled merch seemed like a story in itself. It reminded me of something Rico had told me months earlier about the family business.
"The only thing that disappoints me is that we don't think how we thought back then, as far as letting each other help one another. Not 'cause you owe nobody. But because the family was everything to me."

The story eventually ends where it began, with Rico back in classic form, surrounded by family—this time, his brothers, Ray and Sleepy, onstage at Atlanta music venue Terminal West for a live interview with NPR's Microphone Check podcast, which aired in June 2015. It's rare that all three members of Organized Noize appear together for public events since Sleepy moved to Las Vegas several years ago. For a time, he and Rico had even stopped talking, Sleepy admits. But they've done a lot of growing since then and, with all the laughing between them that night, it shows.
The house was packed with diehard Dungeon Family fans, as well as several members of DF. Rico's younger cousin and unseen member of OutKast, Mr. DJ, was present. So was Big Rube, the poetic voice of conscience heard on nearly every 'Kast album since the beginning. And so was Big Boi, who grabbed the mic near the end of the interview to reminisce on the DF brotherhood and Rico's effectiveness at pushing them to be their best in those early Dungeon years, oftentimes without saying a word.
"You might be down there rapping your heart out and be like, 'Ric' whatchu think?'" Big Boi recalled. "And he'd be like, 'Hey Ray, go order pizza!'"
Nowadays the rappers Rico inspires are half his age and he's a legend in their eyes. Rico Wade still epitomizes Atlanta. When we meet up for lunch a couple months later in August, he pulls out his phone to show me something that has him beaming. It's a video snippet for a song from the forthcoming mixtape Free Agent 3, produced by one of his cousin Future's main collaborators, 808 Mafia boss Southside. The hook for the song is a bit of braggadocio in which Rico Wade becomes a universal metaphor for being at the top of one's game:
Walkin' 'round like a lick cause we gunning shit,
Feelin' like Rico Wade on my Dungeon shit.
"That means we still cool to the young kids. We still cool to them," Rico says through an easy smile. "It helps us stay relevant."
His own industry bragging rights now come in the form of Future. The success of 2015's DS2, Future's third label album, crowned him the current king of trap. The fickle subgenre is notorious for producing stars with reigns shorter than third-world despots, but at least for now Future's family ties have become bankable cachet. It's Rico, after all, whom Future credits for encouraging him to simplify his style and rap what he's lived. "Future is my li'l cousin and he runs this trap shit. That gives me one more motherfuckin' thing over Pharrell, Timbaland, Dr. Dre, and anybody else."
He's sounding cocky again, like the old Rico Wade. Which is a good thing. And with zero regrets about the past, he's got twenty more years to stack his paper back and another twenty to sit on it, by his estimation.
As for the future of Atlanta, things have changed—but he's cool with it. "I feel like what's missing from the game now is some passion. But it's funny though—they are getting it. Because what I am is Atlanta. So they get it in a Young Thug, they get it in a Future. It's just not as organized."
Speaking of which, he, Ray, and Sleepy have been steadily working on the new album. The Art of Organized Noize will be comprised mostly of instrumentals and old unreleased Dungeon Family tracks. But he says there should also be room for some new collaborations with Big and Dre, and he's recently been in touch with CeeLo. Rico and L. A. Reid, whom he still refers to as a father figure, are also back on solid terms.
Meanwhile, Rico Wade's been keeping late hours, while the Obama CHANGE poster watches overhead, as he experiments with ways to bridge the current digital wave with ONP's old analog production techniques. Just last night he was on the Internet downloading free plug-ins to gain access to thousands of virtual sounds and effects for his MIDI keyboard, he explains as I cram to understand, trying to make sense of it all.
"See, you old, you old!" he says, laughing at me while reveling in his own indomitable spirit. "I'm still young, though."
---
Enjoy this story? Subscribe to the Oxford American.