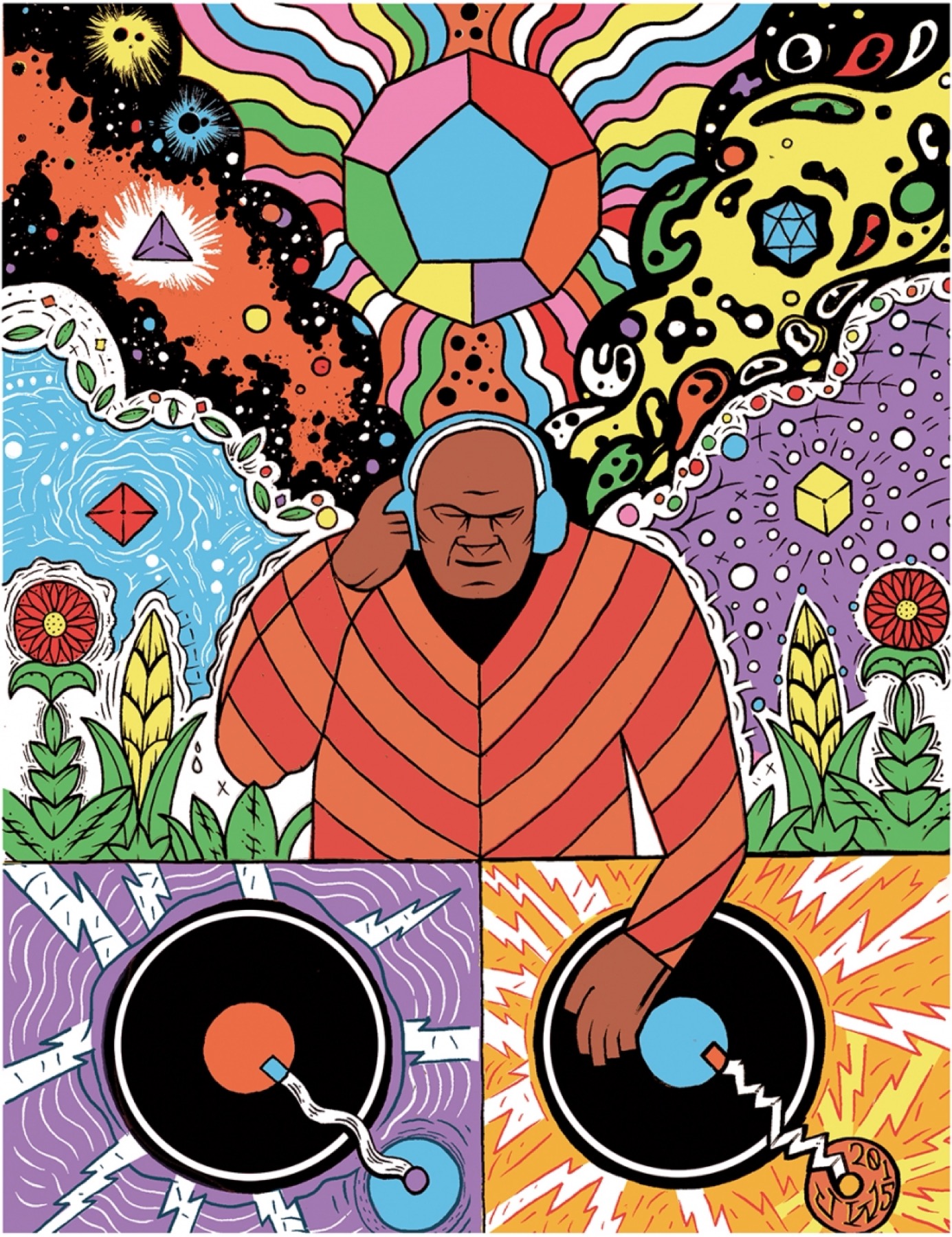 Illustration of MC Shy D by Justin Mclean Wheeler
Rapp Will Never Die
By Will Stephenson
Ellenwood is a small suburb only twenty minutes from East Atlanta, but MC Shy D has always considered it "the country." It does have a pastoral quality. On a Friday night in June, it was muggy and green and quiet, and you could stand outside on the patio of the Sports Zone—the bar and grill where Shy D DJs on weekend nights—and watch fireflies disappear and reappear across the mostly empty parking lot.
The Sports Zone occupies the far corner of a dilapidated strip mall, next to a karate school, a Little Caesars Pizza, and a hair salon called The Devil Is A Liar. Inside, the place was dark, awash in pinks and oranges from neon beer logos and a couple of muted TVs. A line of women sat at the bar playing with their hair or leaning over their phones, bored, while six or seven men huddled around the pool table in stern concentration. Shy D was stationed in the back corner behind his equipment, holding court. "Friday night at the Sports Zone," he said smoothly into the mic. "Free Flow Fridays, you already know." No one much reacted to this, but he seemed satisfied to have said it.
Shy D, who was born Peter Jones, is large-bodied, bald, and perpetually mellow, with gold front teeth and a slack, friendly expression. That night he wore a plain green t-shirt and blue jeans, his insulin pump attached to his belt (he was diagnosed with diabetes three years ago). You can find him here on weekend nights from nine to two, a shift for which he is paid a flat rate of two hundred dollars. You can tell it is him because the owner of the place, Angel, had his name installed on the wall in the corner: MC SHY D in big brass letters. It was a coup to get him here, she will tell you, and they are understandably proud of his residency.
This is the man, after all, who brought hip-hop to Atlanta. Or anyway, he brought Atlanta to hip-hop—in the mid-eighties, he was the first rapper from the city to break out of it, to tour the country and make a name for himself. He became an object of adulation to the whole region: If you was ridin', you was bumping to homie Shy D, as Jermaine Dupri put it on "Welcome to Atlanta" over a decade ago. Wherever he went, Shy D carried the gospel of Atlanta with him, though these days it's easy to wonder if the city has forgotten him. He plays other people's songs now, at this neighborhood bar around the corner from where he grew up. In a year, he will be fifty.
"I listen to the radio every day," he was telling me. I'd asked him what he thought of contemporary Atlanta rap. "Me being a DJ, I gotta keep up with what's current. I don't got no problem with the young boys." His voice is oddly high-pitched and melodious, just as it is on his records. While he talked, he gripped one ear of his white Beats by Dre headphones, occasionally reaching over the table to half-heartedly scratch the song back and forth. "You gotta be a DJ with an open ear," he said, tapping the headphones. "You can't be a DJ with a bitter heart." With that, he cued up OutKast's "Git Up, Git Out" and gripped the mic to sing along with every other line.
Hip-hop was born in the South Bronx, and so was Peter Jones. He was there to witness it, though he wouldn't be in the foreground of any of the classic photos from the period—he was a kid, born in '66. He would be in the back of the photograph, or off to the side, a ten-year-old in hand-me-down Reeboks, looking up at the older kids in awe. Carrying their record crates, untangling their power cords. "Believe it or not, it was beautiful," he told me of this period. He's constantly prefacing things that way—"believe it or not." I tend to believe him.
He was the youngest of three children. His mother worked for the telephone company, and his father manned the assembly line at a General Motors plant, fitting the trim on back windshields. They lived a few floors up in the storied Bronx River Projects, a circle of bland fourteen-story brick structures surrounding playgrounds and asphalt parks. In the early seventies, it was the site of an unending series of battles between local gang the Black Spades and their rivals: among others, there were the Ministers, a white gang formed at Stevenson High School, and the Seven Crowns, who reportedly once waged war with the Spades for ninety-two straight days. In those years, according to historian Steven Hager, the Bronx River Projects were "constantly peppered with gunfire from passing cars." Many called it Li'l Vietnam.
Things began to change in the mid-seventies, due partly to the efforts of a first-floor resident and amateur DJ whom everyone knew as Afrika Bambaataa. An eccentric who had grown up hunting rabbits with bows and arrows along the banks of the Bronx River, Bambaataa abandoned the Black Spades after his best friend was murdered by the police in 1975. Inspired by a viewing of the 1964 film Zulu (starring Michael Caine), he created the Zulu Nation, which aimed to perpetuate the community service angle of the earlier gangs—even the Black Spades had helped register voters and raise money for sickle-cell anemia—without the bloodshed. The Nation also worked security at the parties Bambaataa began hosting in the housing project's community center, where Jones was barely old enough to go and watch him spin. What Shy D remembers better than these formal sets were the hot afternoons on which Bambaataa wouldn't bother to rent out the center, but would instead hoist a speaker up to his window and spontaneously play records for the whole neighborhood. This was hip-hop's larval, laboratory stage, when it was essentially a celebration of the easy accessibility of diverse recorded media. Bambaataa would play Kraftwerk and James Brown and the Monkees, the theme song from The Pink Panther.
Years later, Shy D would claim to be Bambaataa's cousin, a piece of trivia that's been repeated in almost everything written about him since, though it isn't strictly true. He says the ruse was Bambaataa's idea: the Godfather of Hip-Hop heard "Lil Pete Jones from the projects" was making waves down in Georgia and thought the association would give him a leg up. Either way, it gives you a sense of how important his Bronx heritage was to him. "I was right there at the birth of it," Shy D says, and he really was. For a while, his older sister even went out with Keith "Cowboy" Wiggins of the Furious Five, the guy often credited with coining the term "hip-hop." We can forgive him for being proud.
If Shy D was too young to do more than watch, his older siblings were deeply engaged in the burgeoning scene. "My brother and sister was so treacherous up there," is how he put it, citing constant fights and trouble with the law, which prompted the family's move down South in 1978 (still a year out from the release of the earliest hip-hop records). Shy D's father had grown up in Perry, Georgia, and had fond memories of the state—the trees, the climate. They settled in Ellenwood, and Shy D loved it immediately. "In New York, everybody's on top of everybody," he said. "There's too many people. Every time my mom and dad bought us a bike, somebody stole it." Atlanta was different, he said. It was "the country."
The story of Atlanta rap begins, technically, in South Carolina. The Augusta metro area extends warily across the eastern Georgia border to include the county of Aiken, home to the studios of an urban radio station that used to be known as WZZW. There, one Saturday night in 1979, a DJ named Danny Hankinson played Sugarhill Gang's "Rapper's Delight" for the first time and decided it would sound better in outer space.
Hankinson was an Aiken native, the son of a minister, and a foster father of three. He DJed at supper clubs and skating rinks in and around Augusta under the name Danny Renee, and while he didn't recognize "Rapper's Delight" as any kind of cultural milestone—he wasn't even sure what to call it, opting for "rhyming song" in an interview with the local newspaper—he knew it was a hit, and that he wanted to make one of his own. "I played it on my Saturday show and liked it and decided to write one myself," he told the paper. He held auditions at a local high school and enlisted three teenagers to accompany him to the Melody Recording Service in Atlanta, where they recorded "Space Rap" (credited to Danny Renee & The Charisma Crew), a song that's both utterly inexplicable and strangely prophetic.
It's probably dangerous to declare anything the "first" of a particular genre from a given city, but "Space Rap" is by some margin the earliest Atlanta rap single I've ever heard. As it was based so directly on the song that singlehandedly popularized hip-hop in the first place, it's hard to imagine how anyone else could have beaten Hankinson to the punch. Fifteen years before OutKast declared themselves ATLiens or began a song with a mechanized "Greetings, earthlings," Hankinson was already following the same muse: "What's happening, earthlings?" his record begins, in a robotic vocoder monotone. "There is no need for alarm."
"Space Rap" was an anomaly. In the early eighties, the Atlanta music scene was still dominated by funk groups like Brick, the S.O.S. Band, and Cameo. The only local rapper with any real profile before Shy D was Mo-Jo, a sort of outsider artist who emerged with a 1982 novelty single called "Battmann: Let Mo-Jo Handle It," featuring a kazoo interpolation of the Batman theme song. "He never made it past the Georgia state line," Shy D said of Mo-Jo, laughing. "He's doing great though. He's worked at UPS for like twenty-seven years, so shit, he about to retire."
We were talking at a pizza place called Gino's, one of Shy D's favorite spots. It was about one in the morning, and he'd arrived with his friends Deando, an aspiring rapper, and Big Marc, a tow-truck driver who toured with Shy D years ago and later managed one of the other great early Georgia MCs, Hitman Sammy Sam. Shy D was talking about the start of his career, which struck him as absurd in retrospect. He'd been a working DJ since junior high, but after high school he got a job parking cars at the Ritz-Carlton in Buckhead (he parked Jesse Jackson's car, the Whispers' tour bus). Soon he was spending late nights at Club Phoenix and even later nights at the Charles Disco out on Simpson Road ("a li'l spot where young men and young women go to experience their first little taste of the nightlife," as Andre 3000 once described the place). About a year into the parking job, he won a contest and wound up the opening act at a gig for Gigolo Tony and Lacey Lace, where he impressed their manager, an A&R woman for the upstart Miami Bass label 4-Sight. She offered him a deal that night, and the next day he caught a Greyhound headed for South Florida. This was a glorious time. "When I got down there—and I'm not trying to be funny—" he told me, "I saw the fucking women, and I went crazy. The reason I say that is, Miami got a certain type of woman." He leaned back and closed his eyes, revisiting the beach of his memory. "It was like God said, I'm gonna bless you."
In a studio in Fort Lauderdale, the owner of 4-Sight, a former bail bondsman named Billy Hines, asked Shy D if he had any ideas for his first single. He did. He played him the Pink Panther theme song (a nod to Bambaataa), banged out a rhythm on a table for producer Frank "Thumbs" Cornelius, and began rapping about his own place in history. He called it "Rapp Will Never Die," an odd claim for a genre still more or less in its infancy. His line of thinking was, he says: It's not gonna die, because it's my turn now. Unexpectedly, to everyone but Shy D, the song blew up. It was immediate. Atlanta now had something to say, it seemed, and its voice was high-pitched and proud and lurid. Shy D found himself touring the Southeast and making real money. It was beautiful, he told me, with a smile that showed off his gold teeth, "until I started fucking my manager."
This was 1986. One night Shy D was running late for a sound check at a Miami nightclub called the Bass Station, an extravagant temple to low-end frequencies, with "about fifty-two speakers" on each side of the stage. He got a call from the club's owner, Norberto Morales, a reputed coke dealer nicknamed Candyman, who was growing impatient. "I'm paying your ass $5,000," Morales told him, "I need your ass here." This was news to Shy D, who thought his rate was only $1,500. Blowing off the concert altogether, he went home to confront his manager, and now girlfriend, whom he blamed for the misunderstanding. They got into a shouting match, and he called himself a cab. That was the end of his relationship with 4-Sight Records.
Fortunately Shy D had already made a fan out of a promoter named Luther Campbell, a former DJ already emerging as a Miami music scene mogul. Though he would later become better known for other things—getting sued by George Lucas, running unsuccessfully for mayor—Campbell was first and foremost a Southern hip-hop pioneer, and he got word to Shy D that he was interested in adding him to his stable of artists at Luke Skyywalker Records, a roster anchored then by the group 2 Live Crew, who had not yet become internationally infamous for the First Amendment victories they'd achieve in defense of songs like "Me So Horny." Shy D signed the contract, and within a year he'd released his first two albums, Got to Be Tough and Comin' Correct in 88.
The first was blunt and complicated and rugged—a notable hit on the independent music charts—but the second was a genuine leap forward, an audible departure from Shy D's New York roots in favor of something grimier, loopier, more distinctly Southern. He'd recruited new collaborators, Mike Fresh and DJ Toomp, and the three of them posed on the album cover in University of Georgia gear, with Shy D in front taking a knee. They conceived the album together in Shy D's parents' basement, where he was still living, and recorded it in a studio owned by his friends in the reggae band Inner Circle (who at the time were recording "Bad Boys," the future theme song to Cops). For the first time, on Comin' Correct, Atlanta was presented as a point of pride, an imaginative space of possibility. The people all over want to know where I be, he rapped on "Atlanta That's Where I Stay." Not in New York, in the cold drinking Fanta. But coolin' down south where it's hot, in Atlanta.
Shy D still lived with his parents after the albums came out, but he expanded his car collection and happily spent money on other people. Wednesday through Saturday nights, he would take a dozen of his closest friends out on the town, everyone on his tab. "When you're making money," he explained, "you don't think it'll never stop." Other homegrown rappers were beginning to emerge, and Shy D saw them as harbingers of a new generation, one he wasn't entirely comfortable with. Kilo, Raheem the Dream, the Hard Boyz—they were colder, less cartoonish, and more interested in telegraphing a form of brash authenticity that didn't come as naturally to him. He felt threatened, and they in turn openly resented his success. "One thing I noticed about Atlanta," he remembers, "these motherfuckers here were very jealous. Don't nobody want to see nobody bigger than them."
Local rap radio was cliquish and fickle, and often seemed to deliberately ignore Shy D, which stung. But he had the support of the only tastemaker who mattered: Edward Landrum, a.k.a. King Edward J, a record store owner who wore a wide-brimmed black hat, rolled his R's prominently, and spoke in a rhyming patois of his own invention (I am the king, doing my thing, making Decatur sound much grrreater). Landrum was a kind of carnival barker who distributed an ongoing series of influential "J Tapes," establishing the Atlanta hip-hop canon in real time. Shy D was a mainstay, so his local esteem was secure.
Any number of subtle maneuvers can derail a music career, however, and Shy D made a lot of them in short succession. Some not so subtle. First, he left the Luke label, losing their distribution and promotional networks. He had his reasons for leaving—"He had a suspicion he wasn't getting everything he was owed; his royalty statements would show a negative balance while his records were on the Billboard chart," his attorney, Richard Wolfe, told reporters years later, when Shy D decided to sue—but the move nevertheless cost him. "I killed my goddamn self," he told me of this decision. "My career went from here"—he held his hand over his head—"to here," he said, slapping his palm down hard on the table.
Right then, at this crucial moment of transition, with a whole lot riding on what he decided to do next: he shot someone. It happened in the parking lot outside of a club in Atlanta. The man was yelling and pressing him and insulting him. An Ellenwood native—Shy D had known him for years. The shooting, he is quick to point out, was both nonfatal and justified. "He was a big bully. One of those kind of motherfuckers who'll come up to you, slap you, and when he slaps you, he's digging through your pockets. He had everybody terrorized." The judge disagreed: aggravated assault. Shy D went to prison.
It was close to three A.M. now, and Gino's was quiet and nearly emptied out. We were sitting outside on the patio, with a postcard view of the downtown Atlanta skyline, brightly lit up for whatever goes on in those buildings overnight. Shy D talked about old music for a while longer, about how Atlanta had changed, about fishing. We talked about what he had planned for the next day, before his DJ shift: "I like to nap all day before I work," he said. "I'm lazy like that."
He was stalling, because the rest of the story isn't great. It's not over, and it gets better toward the end, but there were hardships suffered along the way. He was only in prison for a couple of years, but these were important years. And after he got out, in 1993, Shy D never entirely regained his footing in the scene. He had some local hits, songs like "True to the Game," in the video for which he appeared in a convict's striped jumpsuit. He performed at the citywide street party Freaknik at Piedmont Park—that was a highlight. But he was on the outgoing tide during a sea change, and he knew it. He remembers sharing a couple of billings with a young OutKast around 1994, precocious teenagers, new to the industry. They were polite, respectful, earnest. Andre 3000, especially, seemed "just happy to be there," Shy D recalled. Their music boasted a level of sophistication that was both an expansion of his own achievements and a rejection of them. He couldn't help but admire it. "Believe it or not, Dre's mom used to work with my dad at General Motors," he told me, kind of dreamily. "My dad knew his mom."
Shy D went broke, and quickly. In a few years, he burned through his settlement with Luther Campbell, which was substantial ($1.62 million, according to Billboard). There were the lawyer fees, the cars, a new place for his parents, a condo in Stone Mountain. "I just live a carefree life, man," he told me. "I don't cherish shit. Only thing I didn't know was that this thing would come to an end." This was rock bottom. He tried selling crack for a while, only to people he knew. When that dried up, Shy D and his friend Big Marc settled into a new routine selling bootleg DVDs outside of a check-cashing place, making about $40 a day, then retiring to a Chinese restaurant around the corner. Atlanta rap, meanwhile, was gathering steam as a national phenomenon. "I said to myself, this music shit is a younger man's game now. It's time for me to move on and do other things. I kinda just lost the love for it."
Shy D was never bitter. If anything, he seems indifferent, even upbeat about the arc of his career. "You did what you did once upon a time," he said, shrugging, "but it's over. These young kids don't think about me. They don't give a fuck about Shy D. Shy who?" There are indications this might be changing. Overseas, in Europe, his tapes are collectors' items—they care about history there, he says. Not long ago, he was invited to appear in a VH1 documentary about Atlanta hip-hop. He laughs when he talks about these things—he sees the humor in it. But I get the sense that there are still too many nights like the recent Friday he mentioned more than once, when a fledgling young rapper approached his booth at the Sports Zone and held out a CD, insisting he should play it. Shy D's friend Deando was there and raised his arm to block the boy, saying, "Don't you know who this is?" The kid didn't even flinch. "Yeah," he said. "He's the DJ."
---
Enjoy this story? Subscribe to the Oxford American.