Needful Expression
By Michael Collins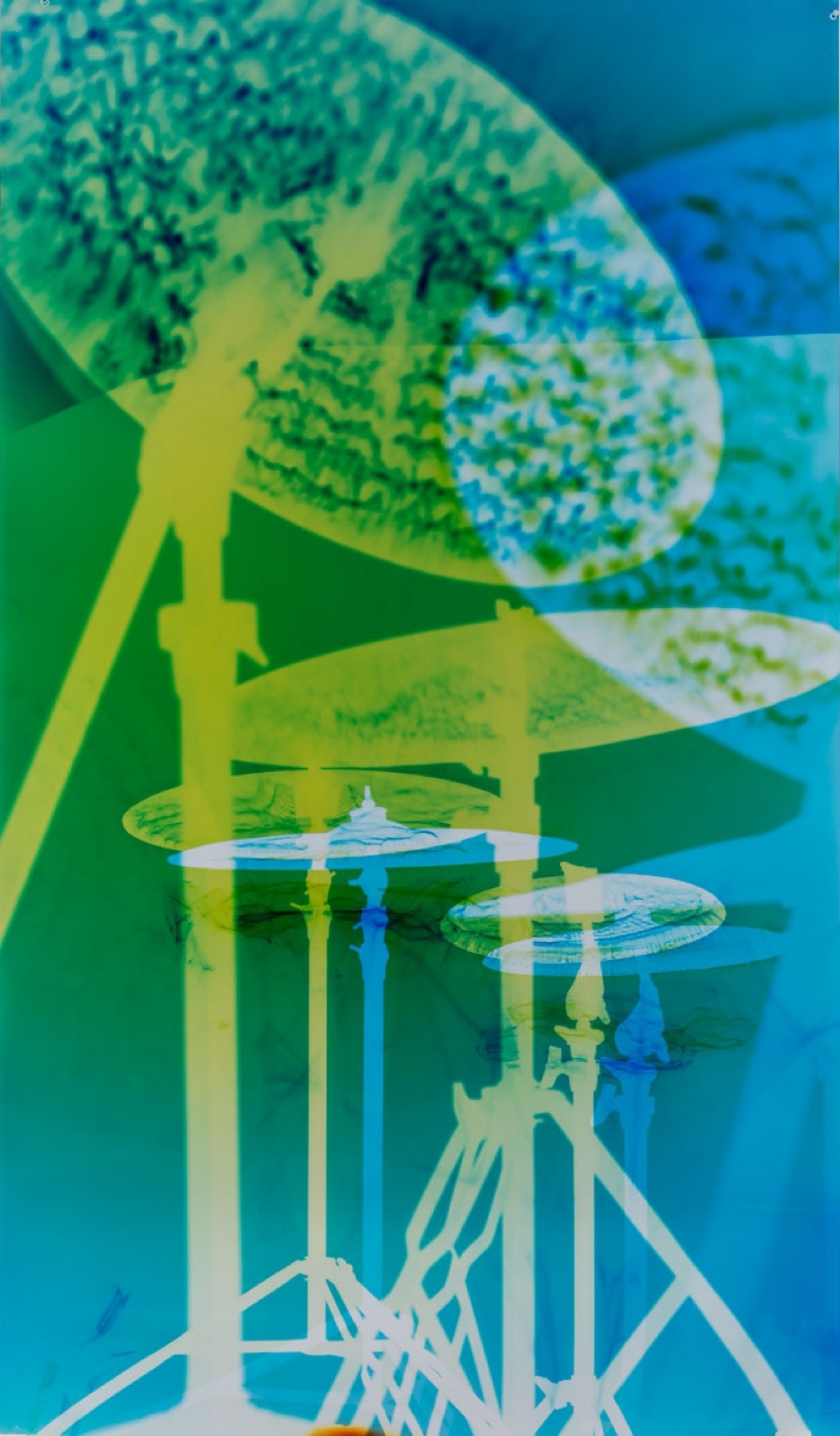 "Soundscape 40" (2015), by Farrah Karapetian. Courtesy of the artist and Danziger Gallery
Driving with Pulitzer Prize–winning poet Yusef Komunyakaa through his adopted city of Trenton, New Jersey, past the big gilded dome of the state capitol building, and through the odd weekend quiet of the dilapidated downtown streets around it, you might mistake the concrete-block building with the redbrick skin at 24 Passaic Street for a storefront church, there to offer God's word to a struggling neighborhood. A closer look reveals another kind of church—the Candlelight Lounge, a storied watering hole that becomes a jazz club once a week, at the ungodly time (for jazz) of 3:30 on a Saturday afternoon. Walking with the poet through the bar's wide double doors, one sees the thing within the thing—a framed poem of his called "The Candlelight Lounge" that celebrates this little-known setting for musical rites:
All the little doors unlock
in the brain as the saxophone
nudges the organ & trap drums
till an echo of The Great Migration
tiptoes up & down the bass line.
When word of mouth in Trenton's small arts community first led Komunyakaa to the club more than a decade ago, he was excited, he told me in a phone interview last year, to discover "a place that seemed a throwback." E. C. Bradley, the club's saxophone-playing owner, said that when he first noticed Komunyakaa, the poet seemed "very, very reserved." Now, he is a regular. "You can tell he's enjoying himself," Bradley said. "He's comfortable enough to close his eyes and listen to the music."
The wiry, meditative, Louisiana-born Komunyakaa is renowned for making the English language an improvising instrument through which—in poems, prose, and plays—he blows fresh perspectives on everything from the Vietnam War to the blues, so when he haunts a jazz club, it means he has found a place to hear "this secret song from the soil / left hidden under my skin," as he writes in "No-Good Blues."
"Almost all the players curated at the Candlelight can hold their own in a cutting contest," he told me, "but a few with tones that burn into the brain and linger there are Monnette Sudler, Sid Simmons, and the Orrin Evans Quartet." He went on to unspool—in a deep baritone still full of Louisiana cadences—phrases and pauses through which the movement of a rich psyche could be heard: "But every performance to me was really unique—so it's hard to single out—not that they morph together as one. The whole experience has been unique. I'm not really listening with my mind. I'm listening, I hope, with my body." In sum, he is not the famous poet in the bar, but a man among friends who is there to see, under the fringe of icicle lights over the stage, what he calls "culture being created in real time."
From 3:30 to 7:30 P.M. every Saturday, the ageless music that fills the lounge, from the low, drop-tile white ceiling and the busy kitchen behind the stage to the ears of the faithful on the tall black chairs around the seventy-foot loop of bar, did seem to be a throwback. Most of the performers, who sometimes hit the Candlelight before going on to nighttime gigs in New York or Philly, take their cues from the great hard bop, cool jazz, bebop, and even swing-era masters. Some do draw on avant-garde innovations from middle Coltrane on—like the wildly inventive saxophone of Abraham Burton on the 2010 Candlelight Live CD—but the music's center of gravity lies elsewhere, between the ears of one Larry Hilton, to whom Komunyakaa dedicated "The Candlelight Lounge." Hilton books the acts and took most of the photographs on the walls—photographs that often capture a moment of musical decision, as when Monnette Sudler plants a guitar chord like a flag in the middle of the room, or when Stafford Hunter fills a conch shell with breath and produces sounds it never dreamed of. Hilton also helped produce the live CD and in 2017 the City of Trenton issued a proclamation praising his many contributions as a promoter and nurturer of jazz and visual arts around New Jersey. The space made musically sacred by Hilton, Bradley, and Bradley's wife, Valerie (who cooks the food for a Saturday buffet), seems perdurable. But it is actually the result of a lot of sweat and jazzy serendipity.
Hilton, a large man now a little lost in his suits and older clothes because he has dropped some weight, recalls in a thoughtful drawl that the bar once had another name, the Downtown Club, and only whites were welcome there. He discovered this, he said, when he went to see some white musician friends perform there and it was made clear to him that, as an African American, he was not wanted. The bar was eventually sold to a friend of Hilton's named Bill Powell, and it was rechristened. By the time Marsha Wiley, who runs a picture-framing business, began going to the lounge fifteen years ago, she was one of only about three whites in the bar for the jazz shows Hilton organized for Powell. Today, the Saturday demographics have shifted to thorough integration, and the word the patrons use most to describe themselves is "family." Get-togethers happen outside the lounge, and regulars call to explain when they cannot make it on a Saturday.
The lounge's changes reflect those of Trenton, which has been hit by deindustrialization, white flight, falling property values, a cratering tax base, budget cuts, and a drop in educational resources. There is probably a recovery formula for the rest of the city somewhere in the tiny fragment of an integrated, prospering populace that materializes for the Candlelight Saturday Sabbath with its transubstantiation of mouthpiece, breath, drum skin, string, and inner ear stereocilia into camaraderie.
"Trenton is sort of desolate, except what's happening here," Komunyakaa said in a 2005 video orchestrated by Hilton. Without the Candlelight, he added, "I don't know what I would do with my time here—imaginative time here . . . I have to have some kind of tension, something to push against, and jazz helps me to go to that place." Efforts to revitalize the city have been in the works for years, and some are starting to take hold. Hilton served for two years on a Trenton Arts in Focus steering committee that has been folded into a Trenton Downtown Association that aims to build new bridges to prosperity. Komunyakaa is thinking of opening a jazz club.
That would be the latest step in a process of making himself a presence in Trenton (where more than a quarter of the population lives in poverty) that began while he was teaching thirteen miles away at Princeton University. He left for New York University in 2006, but he kept his Trenton base, and what it gives him access to: "When we think about the tradition of jazz," he told me, "we think about it not being created in the polished halls of academia. . . . We think about it being created in little enclaves of truthful expression, needful expression. Sometimes it seems as if the artist is totally engaged because there is a need, not because one has learned all preexisting techniques."
In Trenton, Komunyakaa heard the needful South. He heard it in speech cadences. He saw it, too, in "the everyday rituals." Those who followed the Great Migration "brought what they knew and what they were running from sometimes," and the members of those communities in the cities of the North "are much like each other, so in that sense they feel as if they are part of an extended family. . . . They never really venture out of that comfort zone." They brought their sense of place with them, or as Komunyakaa put it: "That terrain becomes portable. . . . All those rituals of the South are germinating in that place, and they pass it on to their children. . . . A good example—not realizing that you are in an urban environment, such as hollering across the street to someone. Of course, one could do that within the context of a rural culture. . . . As a matter of fact, some of the things that have changed in the South, they are maintained here."
The key germinating ritual, transfusing the whole bloodstream of the North, is of course music—music from the instruments and throats of people like Louis Armstrong and, later on, Muddy Waters, that rose with them from the South. Black travelers, Komunyakaa writes in his poem "The Great Migration,"
crossed lines drawn in dust,
huddled in trains racing trees.
Blues hitched a ride, washed out

of overalls & jumpers, threadbare suits
& floral dresses, & flour-sack gowns

Starting in his late teens and early twenties, the Trenton-born Hilton, an ardent alto saxophone player in his youth, made contact with giants of jazz—Ornette Coleman, John Coltrane, and Paul Gonsalves—when a "very well-kept lady" had him escort her in her limo to Philadelphia clubs. Musicians he encountered took him for a player and cultivated him. He became close to and sometimes played with altoist Byard Lancaster. Once, Coltrane himself invited Hilton to sit in, something he recalls with typical self-deprecation: "He said, 'Go up on the stage and warm up.' So I went on stage and hit some notes. I said, 'Man, I'm good,' and Coltrane walked up—Beee-yaah!—big tone, man. Oh shit, I walked off that stage. My mama ain't raised no fool!"
Hilton's contact with the scenes in New York and Philly, coupled with his ear for tones big and small, gave him the knowledge that now makes the Candlelight go. It's been thirty years since he began booking acts for Powell, under whose ownership, Marsha Wiley recalls, the Candlelight was like a 1930s club full of cigarette smoke, music, and good times.
Then, in 2006, E. C. Bradley bought the bar from Powell, banished cigarettes (in line with a law passed that year), and undertook other changes that at first made regulars like Wiley suspicious. Bradley at the time had just wrapped up decades as the owner of a construction business, a perch he'd had to fight for, starting in 1974, when he filed a lawsuit that won him a spot as an apprentice carpenter. "They didn't want blacks," he recalled. The price of his success and that of the business he went on to build were injuries that by 2005 had him looking for less-punishing work. Closing the deal was "a nightmare," he said, because the Candlelight was wrapped up in liens.
His next problem was the bar's clientele. At one time, the lounge, located across the street from a government parking lot and a stretch of Trenton's historic canal system, was a regular hangout for government workers. Hilton, who spent thirty-five years doing data processing and computer programming for the New Jersey government before his retirement, said the lounge used to be so packed with black professionals that at election time politicians would show up to troll for support.
By the time Bradley took over, many state and city employees had fallen victim to a cycle of budget cuts that, in 1992, led to what were then the largest layoffs in New Jersey history. "When I came up," Hilton recalled, "there were very few people not working." Trenton Makes, the World Takes was a living motto. Then all the factories left. Unemployment hit.
Bradley hoped to attract patrons from the Candlelight's neighborhood, one of the poorest in Trenton. But those who stopped in tended to be "the thugs and roughnecks of the neighborhood," he said—folks who sometimes showed up late at night already drunk and ready to start something. "So we stopped doing seven days a week," Bradley said, "and started doing scheduled events where we knew who the crowd was coming in our doors."
These days, the Saturday jazz crowd tends to be educated professionals, middle-aged or older—knowledgeable listeners with discretionary income—people who, for all that, Komunyakaa recognizes as "down home." Among them are patent lawyer Frank Liao and his wife, Kathleen Hurley Liao, an artist; "Little Larry," a corrections officer; Jim Gordon, a Vietnam-veteran friend of Komunyakaa's; and Jim Bonar, a data analyst who Kathleen says is a walking encyclopedia of jazz lore, always open for her to consult.
Gordon, who was sent to Vietnam twice at the height of the war, says when he first met Komunyakaa he thought the poet might have been a carpenter, so absorbed were Komunyakaa and an associate in discussions of angles and tools. After getting to know—and being stunned by—the poet's work, Gordon found himself asking, "Who is this being in human corpus who knows so much about us?" Kathleen Liao, who favors retro sixties couture and hats, had a similar experience when she first struck up a conversation with him. She encouraged him to try publishing his poems after he gave a noncommittal wave when she asked if he was in print.
At the center of it all is Hilton, who seems determined to build and lose himself in a maze of beauty. A self-taught art collector, Hilton was instrumental in getting the New Jersey State Museum to take African-American art seriously enough to treat it as more than a Black History Month affair. He said he convinced John S. Watson, a New Jersey assemblyman from 1982 to 1994, to appropriate one and a half million dollars for the State Museum—"they'd never seen that kind of money"—to purchase artwork, including works by major black artists. In the music world, Hilton is even more influential; as Bonar explained, he puts "groups together by hiring each person separately, almost like a chemist."
One of those happily on hand in Hilton's Rolodex is Grammy-nominated trombonist, singer, composer, and seashell specialist Stafford Hunter. Musing about Hilton in an email to me, Hunter ended up explaining some of the lounge's attraction for marquee musicians: "He seems to know EVERYONE and be EVERYWHERE!!!! . . . He is one of the legendary characters in the music business. I think all young musicians should get to know him. . . . He is a direct link to a vibe that most young cats never get."
"The Candlelight jazz scene is my muse and my church," said Kathleen Liao. And Komunyakaa, in an in-progress book-length poem called The Last Bohemian of Avenue A, has his protagonist—a Trenton-born musician—compare performing at the Candlelight to "four hours in a temple where I / rock like a struck bell." Komunyakaa observed that the "individual that I'm trying to depict in this piece . . . grew up here and he comes back here. But at the same time he has traveled. Music has taken him around the world."
In his celebration of music and camaraderie in "The Candlelight Lounge," Komunyakaa does the same for us. Out of the corner of his poem's eye, as it were, one sees a few moments from the Beijing Olympics as they are broadcast from the muted TVs nestled near the lounge's ceiling. Komunyakaa uses these lines as a springboard to the sort of transformations of time and space and being that a great jazz solo can achieve:
A swimmer climbs a diving board
in Beijing, does a springy dance . . .
. . .
She executes a backflip,
a triple spin, a half twist,
suspended between now and then,
& jackknives through the water,
& it is exactly what pours out of the horn.