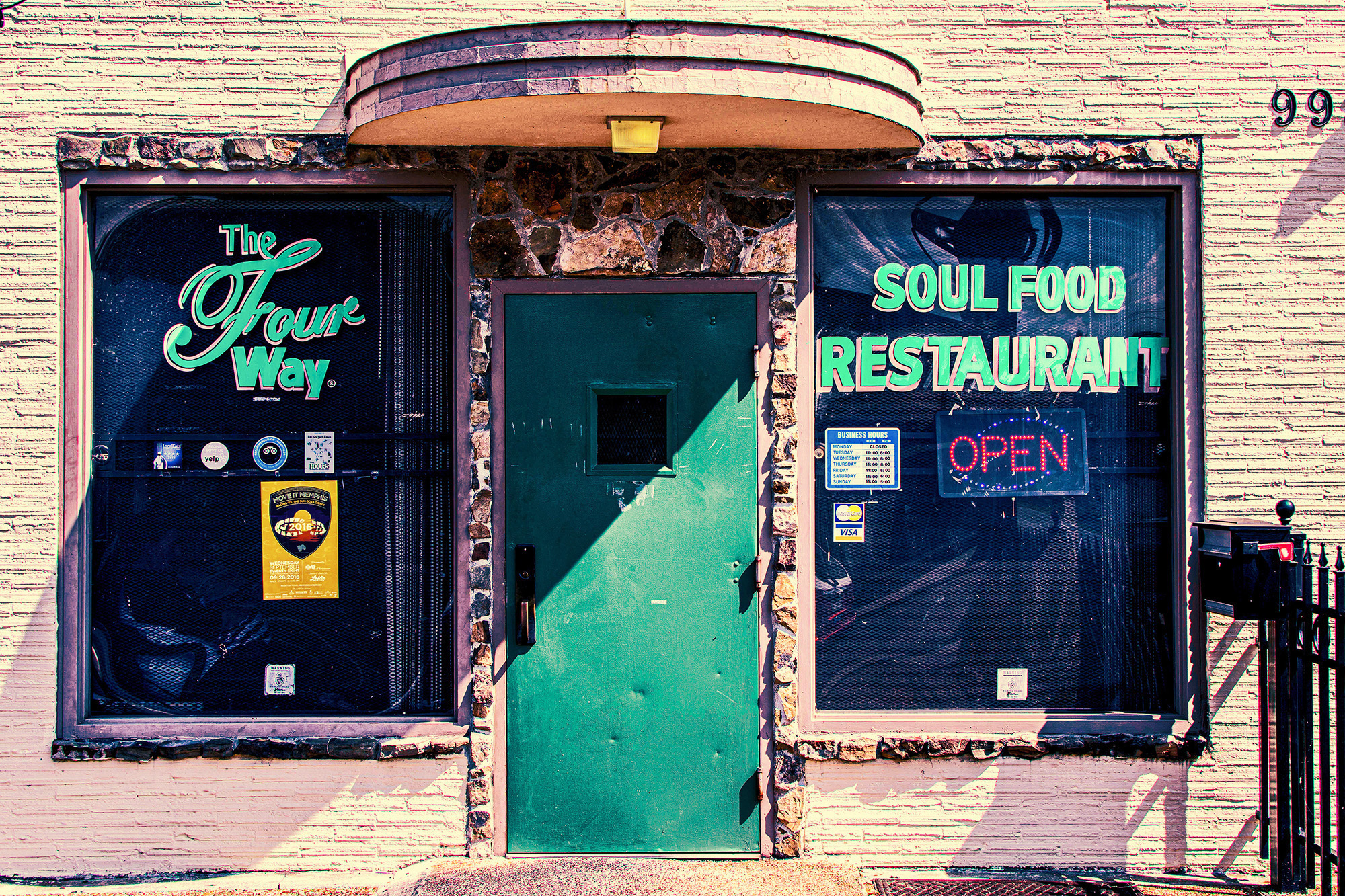 Photo by Christian Super
Dear Sweet June Baby, Taste Good
By Zandria F. Robinson
Used to be August births that was supreme on my maternal side, a bunch of ol' narcissist Leos and nitpicky Virgos, and we'd gather, glaring at each other, in heat that would smother you if you struggled. But over the generations we accumulated a dozen or more June babies, a full basket of spring and summer suns. At nearly ninety, Dasie Mae is the eldest living June baby, the June Empress, you could say, born the first days of summer 1932 in Benton County, Mississippi, Shug's first born. She couldn't stand picking cotton though she was swift. She would give you more than what she had but had a streak of white fire in her that if set on you would leave you empty and wandering for the rest of your natural life and maybe the one after. The only way out the cotton field was marrying, so she did, around sixteen, though husbands were just another kind of stabbing edge ruining your hands and endless day on your back. Dasie Mae sewed and cooked and gave the world seven children and gave care to dozens of elder patients, some younger than her, as a certified nurse's assistant. She has survived all three of those spouses by Mississippi miles.
Seem like Dasie Mae's grandchildren were made of June, many of us conceived, just as she was, in the slit between summer and fall that is September. I was supposed to come on the first but arrived on the eleventh, coming through ten days late on a Friday afternoon like I still do. I offered a June baby to the basket, one who arrived on time on a 'teenth day, on the eve of Juneteenth, and therefore always already possessed the news that she was free. Her and all of them turn of the millennium June babies, the great grands, GG's babies, glared at us asking why we sometimes didn't act like we knew, too.
We gather in June at the corner of spring and summer to celebrate the June Empress and her June progeny, to honor birth and life and breath. It's our familial new year, and everybody know it, the Augusts and the scant Januaries included. You suppose to eat real food beforehand because the celebration is about sweetness. Which is to say, dessert—caramel cake, 7-up cake, chocolate cake, chess pie, vanilla ice cream. There might be fifty folks who come in and out that afternoon to get some of Aunt Michelle's, Dasie Mae's youngest, cakes. June means tasting and remembering the goodness of renewal and ancestry, and of being free, alive, up in the city, and together–still going, still smiling and laughing after we have come so far.
Throughout the Black city, that season between Memorial Day weekend and Summer Solstice is electric freedom and resurrection, Jubilee and Juneteenth rising up and sparkling together along the Mississippi. Barbecue at Douglass Park and Fuller Park and rides and funnel cakes in the Southland Mall parking lot. Sometimes a parade with the big marching bands and majorettes, freeze cups and hot pickles from the candy ladies, family reunion t-shirts, candy-painted cars cruising on Riverside Drive. If you swallow the air, funky and smoky and sweet, you can taste the ecstatic, everyday moments of freedom in your bones. It's the time the city taste most like home.
One year, a month before our annual gathering, Daddy flies home hours before the sun pushes into Gemini. It is my first June-baby season without him, my baby's first June-baby season without her Paw-Paw, and the June Empress's first June-baby season without her only son-in-law. When we gather to celebrate our new year that year, I can hardly taste the cake around the wail inside my mouth. At the table my big cousin say aloud what everybody else face is saying. "I miss my Uncle Arthur."
Somebody had told me that liquor make everything taste good, and my Good Writer Friend had told me always have a local. I run my tongue around my mouth looking for June's usual sweet freedom, and I think I find it but there's something sour in it. I get up maybe too fast from the table to make my two rounds of all right, y'all, so good to see y'all, mmm-hmmm, happy birthday, naw, mine was Saturday before last, baby girl's was last Saturday, okay, now so I can head across town to The Second Line to get my mouth right.
I get the "I'll Beat Your Ass" shrimp, the fried chicken po' boy, Spinach Madeline, fried jambalaya balls, a salad with shrimp and remoulade, crawfish and pimento cheese fries, sometimes the gumbo, sometimes the potato salad, usually the red beans and rice, the lobster knuckle sandwich on pay day, bread pudding or a brownie if I need a sweet cap. My Good Writer Friend meets me there without me having to call or text, and me and her sit at the bar with our Old Fashioneds and Sazeracs the therapists have made us. The June air begins to shift to something bitter and menacing, choke-hot like The Devil's favorite month August, and we know it. We keep on gathering on those stools because we ain't scared of that Devil no matter what month it is, and we trying to taste something that doesn't want to be forgotten.
In June's changed atmosphere I wander the city with my people, trying to catch word of the freedom again. It's been just out of my taste's reach, but I am so close. I keep pursuing it all over the Black city. My people sit with me, walk with me, and ride with me while I try to locate a sweet free taste for my mouth. They whisper to me home is how the mouth is and I reply sour and hop in the truck and ride down Tchulahoma and Airways to see if I can find a watermelon man on the side of the road. June means I can slice a watermelon and put salt on it for a once-a-year sweet freedom.
I call in to-go taste from Four Way Grill—Bellevue to Walker, and I'm there. No matter what the temperature outside, somebody in my house always done ordered their cornbread dressing, and I'm gone take a bite of that and I'm sneaking in the Styrofoam and pinching off somebody else's fried catfish, too. That's what you call The Mama Tax, which is extra in June.
I go down Peabody to Cooper to get to-go cocktails and cookies, sweet on sweet, from The Second Line. I got big fancy ice cube molds at home. I plunk one in a glass and pour it up and therapize my own self at my own bar.
I head down Lamar to Park and get tamales from Pop's. You said you want ten? How many you think you gone eat? I should get twenty-four? Naw mane, my feet gone swell up. Bout sixteen? Get whatever you think; we just gotta pace ourselves. We got some Saltines left in the pantry or I should ask for extra?
I fall down Lamar to Airways to Raines to my aunties and uncles n' 'em neighborhood, where I spent narrow-behind Junes picking up branches and fighting boys in the street, good natural ass Junes cussing boys out, and grown Mama ass Junes at Bala's Bistro feeding myself curry goat, snapper, and saka saka.
Me and my June Baby and Husband travel all over the Black City, and even to the White Town, looking for The Fry Guy truck. I like to get the sweet potato fries with vegetables, add grilled chicken; my June Baby, the seasoned fries with barbecue chicken instead of pork; Husband, the fajita chicken or the buffalo chicken; Son, a seasoned fry quesadilla. How good this man fries is, I feel like me and him go back a bunch of Junes. Plus, it's a man in there that be cooking with him and taking the orders that's got a New Orleans accent, that down-the-Mississippi song-sound that reminds Memphis we ain't nothing but a train ride from jazz. His voice taste good, like Congo Square dancing.
Best Friend Since High School say it's a hot dog man outside the gas station on the corner of Danny Thomas and MLK and to make sure I go by there because they fire. I sure enough go and get one, and then me and my whole family is driving down Peabody to Linden, now Martin Luther King, getting these hot dogs every week. I get mine with the onions and relish and mustard; Husband, same as me; Daughter, only ketchup; Son, little, and don't know better, plain. The way The Hot Dog man talk taste like June.
It takes five Junes, family, friends, food, and a new map of the Black city, but now auntie's cake melts over that wail and kisses it, saying, I hear you, June Baby.
I go by the June Empress's late last year and find her standing in her bedroom with tears all down her round cheeks. She say she wanna go home and she ain't never coming back here again. She been roaming the halls of her mind looking for a doorway. I say, let's go up front and sit. I tell her how old she's going to be at the next gathering and she looks at me, her face in puzzle pieces. "That's what they saying," she finally say. Settled in her armchair, she remembers a June gathering with barbecue and cake and Mama, her eldest daughter, getting on the floor and shaking her tail feather. It was outside and inside, picnic tables and banquet tables, speeches and singing, dances with a lot of steps, and so much laughing. She tickles herself so telling it, remembering a renewal, a rebirth, a celebration. I hope it's that kind of June every month forever, for the June Empress and for all the June babies. And even for the Augusts and the Januaries, too.

This series is published with support from the Julia Child Foundation for Gastronomy and the Culinary Arts.