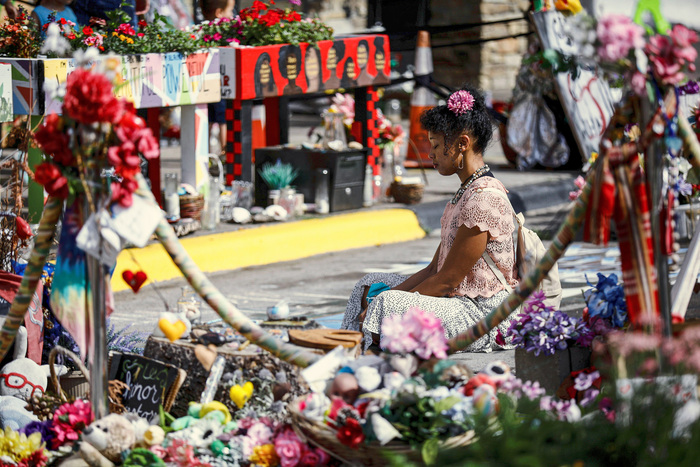 Rika Anderson sits among offerings made at George Floyd Square on Juneteenth 2021 in Minneapolis, Minnesota. Photo by Nicholas Pfosi via Alamy
Facing the Rising Sun
OA editor-at-large introduces "On Jubilee: A Juneteenth Series"
By Rosalind Bentley
A man sold balloons "that don't bust" at one of the first Juneteenth festivals I attended.
Not the Mylar version that makes a crinkly sound at the touch, but old-fashioned, squeaky, rubber balloons. Rather than false advertising, the claim on his sign and smile on his face embodied the joy and spirit of the day.
I was living in Minneapolis back then, in 1996. The Twin Cities' Black community was small. In the state overall, we made up only two percent of the population. But that Saturday, it felt like every single one of us was in Theodore Wirth Park, on the edge of Minneapolis's historically Black neighborhood we called, "over North."
The city's annual celebration was eleven years old by then. I'm not sure how the tradition of Juneteenth spread all the way up to a state along the Canadian border. Yet, I can imagine that one hundred years after General Order No. 3 was signed in Galveston, a small group of Black folks living nearly 1,230 miles north in the land of ten thousand lakes and relentless bitter cold, decided to formally celebrate themselves and to remember–remember the sacrifice that brought their families so far up the Mississippi River for a chance at greater opportunity.
I had to cover the event for my newspaper that day, and I was grateful for the assignment. That Saturday was overcast and glorious. Folks from the neighborhood led a parade. Reenactors portraying not Union soldiers, but figures of our own liberation, mingled with the crowd: Stagecoach Mary, Madame C.J. Walker, Josephine Baker, and Nelson Mandela, though he was then alive, free, and leading his own Black nation. Vendors hawked more red, black, and green paraphernalia and cowrie-shell-embellished brass jewelry than you could imagine. We moved to a groove of live gospel music and Too Short songs blaring from a car trunk.
And there was food: snow cones, ribs, fried catfish, lemonade, and bean pies in abundance. What is a celebration of Black freedom without a repast? It's how we do.
Police officers were there, too. I assume they were on security detail. In the story I wrote about the event, I mentioned how two officers helped a lost child, separated from her mother in the crowd. She walked right up to them on her own. When I look back on it, I marvel at that moment. Someone taught that little Black girl, perhaps her parents or a teacher, that the police are beacons of safety in times of distress, there to protect and serve. They did comfort that child, literally carrying her to an area near the information booth. I assume one of the officers waited there with her and that her mother was frantic until she caught sight of her again.
I didn't walk the entire park that day because my deadline was tight and as a daily reporter, breaking deadline is a cardinal sin. So, a couple of days after my story ran, I was mortified when a co-worker asked me why I hadn't written about an attraction set deeper in the park. He said he'd been there and seen it himself. It was a dunking booth, the traditional kind, where a person sits on a ledge above a small pool of water, and if a player hits the target on a lever attached to the ledge, the ledge collapses, dumping the person atop it into the water. Someone had placed a poster board sign beside the booth that read: Dump a Racist Cop, my coworker told me.
There was a line.
The Minneapolis Police had a long history of brutalizing Black people, from the killings of an elderly couple, Lloyd Smalley and Lillian Weiss, in a so-called drug raid where no drugs were found (police were never charged with their deaths) to a couple of cops who'd ride around "over North," with the old Kool Moe Dee song "Wild, Wild West," blaring from their open squad car windows.
I wonder how old that little girl is now. If she still lives in Minneapolis. If she made it through the early days of the pandemic. If she donned a mask and took to the streets in protest after Minneapolis police murdered George Floyd. Does she have kids? Does she teach them that the cops will help if they are in distress? Does she take them to the annual Juneteenth celebration, one that probably wouldn't be a national holiday, in part, if Floyd had not been killed under the knee of a racist cop? Floyd cried for his mother with his last breaths.
As James Weldon Johnson wrote, we have tread "our path through the blood of the slaughtered." But Johnson also guides us to "Sing a song full of hope that the present has taught us." I want to lean into that hope this Juneteenth. I want to eat ribs and catfish and drink lemonade.
This special Juneteenth issue of the Oxford American, "On Jubilee," offers both sustenance for the road ahead and libations to those who came before us. OA contributing editor Zandria F. Robinson writes of the hold the month of June has on her family, where so many seem to be "made of June," either born in the month or, by her calculation, conceived in the month. In "Dear Sweet June Baby, Taste Good," Robinson savors the bonds of family and the sweet gifts of 7-up cake, chess pie, and vanilla ice cream at her family's annual June gathering. Even so, they don't blunt the sting of loss.
OA newcomer Jasmin Pittman Morell has a lovely conversation with James Beard Award nominated cookbook author Nicole A. Taylor about the memories, people, and music that fueled Taylor as she researched and penned her latest cookbook, Watermelon and Red Birds: A Cookbook for Juneteenth and Black Celebrations. Taylor's sweet potato spritz sounds refreshing and uplifting, though if I listen to "We Get By," by Mavis Staples as Taylor did as she wrote, I might cry at the memory of my own ancestors who brought me thus far.
And the short film by Ethan Payne on pitmaster Helen Turner made me both proud and hungry as hell. Our lead art, designed by Carter/Reddy, incorporates an archival image from Memphis's 1954 Cotton Makers' Jubilee, and it delights. In the image, a group of young, good-looking Black folks, pose for a portrait. They are happy and clad in their finest. In them, I see my own parents in their heyday.
This Juneteenth, I am choosing to walk in joy. My BBQ sauce will be vinegar based. I'll play some Too Short for old time's sake. I'll probably drink something stronger than lemonade, and may even try to find some balloons "that don't bust."
This series was published with support from The Julia Child Foundation for Gastronomy and the Culinary Arts.