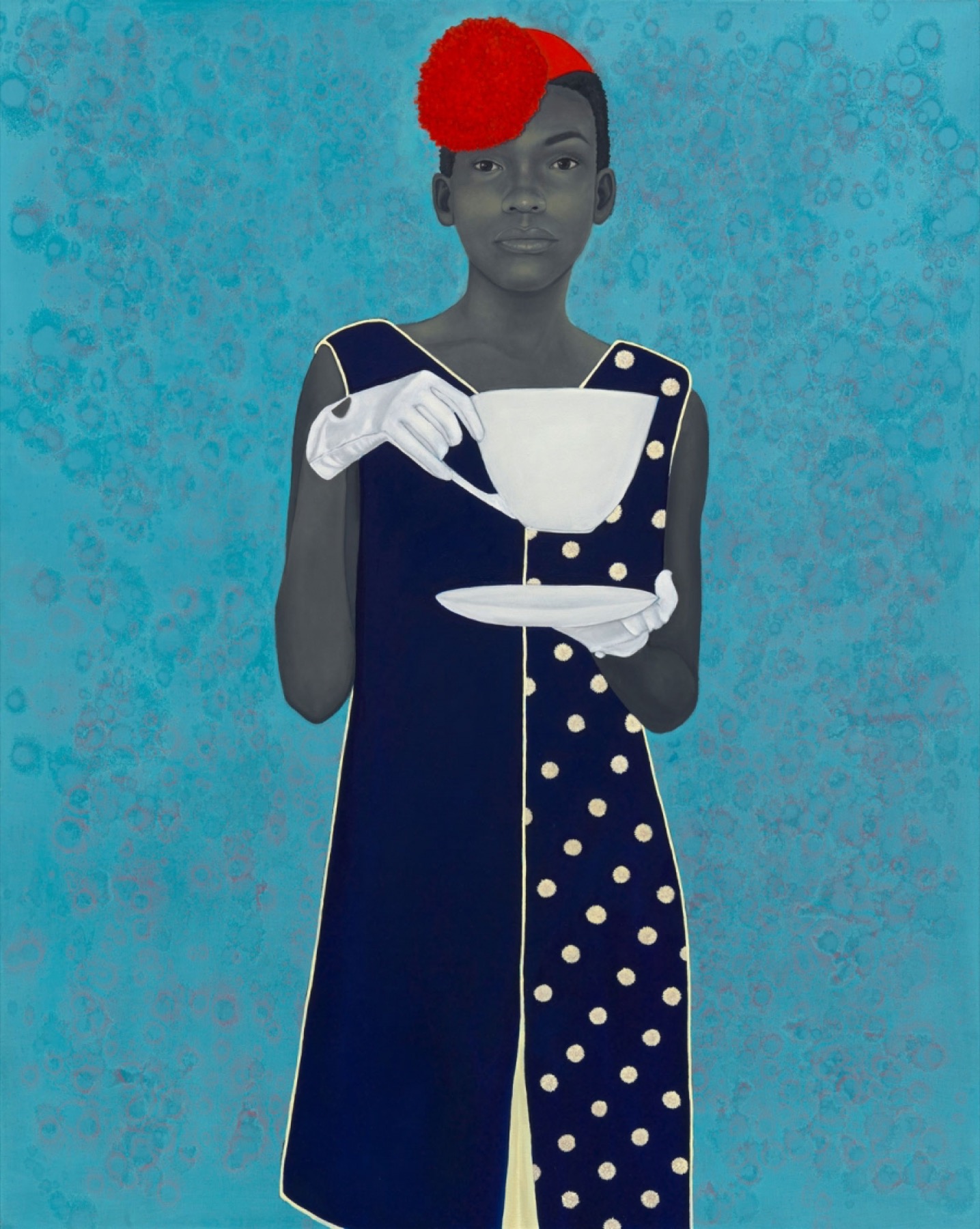 "Miss Everything (Unsupressed Deliverance)," by Amy Sherald, appeared in the Fall 2016 issue
2016: THE YEAR IN STORIES
By Oxford American
Last February, the Oxford American received one of the highest honors in our history: the National Magazine Award for General Excellence in the Literature, Science and Politics category. "The Oxford American is a thriving example of a modern literary magazine," the judges' citation read—"eager to experiment, yet firmly in control of its editorial voice; alive to history but bracingly contemporary." Our editor, Eliza Borné, accepted the award at a dinner hosted by the American Society of Magazine Editors in New York City and then she caught the next morning's flight back to Little Rock to see the Spring 2016 issue to the printer. As usual, another deadline called.
In 2016, we were fortunate to publish new work from many beloved contributors—Jamie Quatro, Lauren Groff, George Singleton, Alex Mar, C. D. Wright—and witness the Oxford American debuts of a number of fiercely talented writers whom we hope to feature again soon—Manuel Gonzales, Kalisha Buckhanon, Matt Wolfe, to name but a few. And this year we enjoyed trying something new with the annual Southern Music Issue & CD, theming the issue around one genre: "Visions of the Blues."
As we look ahead to 2017—and the OA's twenty-fifth anniversary—here are just a few of many highlights from the pages of the Oxford American in 2016.
---
Fiction
"Sky. Blood. Bone. Breath." by Crystal Wilkinson
An excerpt from Wilkinson's Ernest J. Gaines award–winning novel, The Birds of Opulence.
"Newlyweds" by Eric Boehling Lewis
Danny Pocock was a prophet. He read omens and suffered what he called the burden of deep understanding.
"Grandmother, Revisited" by Manuel Gonzales
And it's me, right. It's really me, but a different me.


---
Essay
"The Mournfulness of Cities" by David Searcy
I am puzzled by the mournfulness of cities. I suppose I mean American cities mostly—dense and vertical and relatively sudden.
"The Brightest Still the Fleetest" by Lauren Groff
Andy Sweet's Miami Beach.
"Listening For the Country" by Zandria F. Robinson
The shape of Daddy's hurt.
---
Reportage
"Monkeywrench" by Rachel Monroe
The musical wasn't even the biggest news in Lake Worth's radical community that month.
"The Ballad of Harlan County" by Elyssa East
"No one ever gets Harlan right," is a lament I have heard from my Harlan relatives all my life. I call it "The Ballad of Harlan County."
"The Road to Tama-Re" by Asher Elbein
An enigmatic ex-con, his improvised religion, and the Georgia town that watched it fall.
---
History
"Blood Ties" by Alex Mar
Conjuring up my own personal conquistador.
"My Dear Master Liszt" by Ben Stroud
I have become a slave owner. . . . I beg you, my dear Master Liszt, read this letter.
"The Book of the Dead" by Catherine Venable Moore
In Fayette County, West Virginia, Expanding the Document of Disaster.
---
Poetry
"What Do You Think's In the Shed?" by C. D. Wright
Three Poems by Kwame Dawes
"Dollar General" by Erika Meitner
---
Web
"General James Bethune and John Bethune Introduce Blind Tom" by Tyehimba Jess
Hear Jess's experimental, layered-track reading of his poem from the Spring 2016 issue
"I Was a Witness" by Laura Relyea & Guy Mendes
In a suite of new images, Mendes documents the enormous archive of Louis Zoeller Bickett II
"If We Do Not Dare Everything" by Monica A. Hand
What is the difference between The Fire Next Time and The Fire This Time?
---
Viral
Our most popular stories on OxfordAmerican.org
"Nights of Terror, Days of Weird" by Will Stephenson
Terry Southern's life in letters.
"Who Owns Southern Food?" by John T. Edge and Tunde Wey
Was I willing to cede what whites have gained at the expense of blacks? Am I willing, now, to cede what I have gained?
---