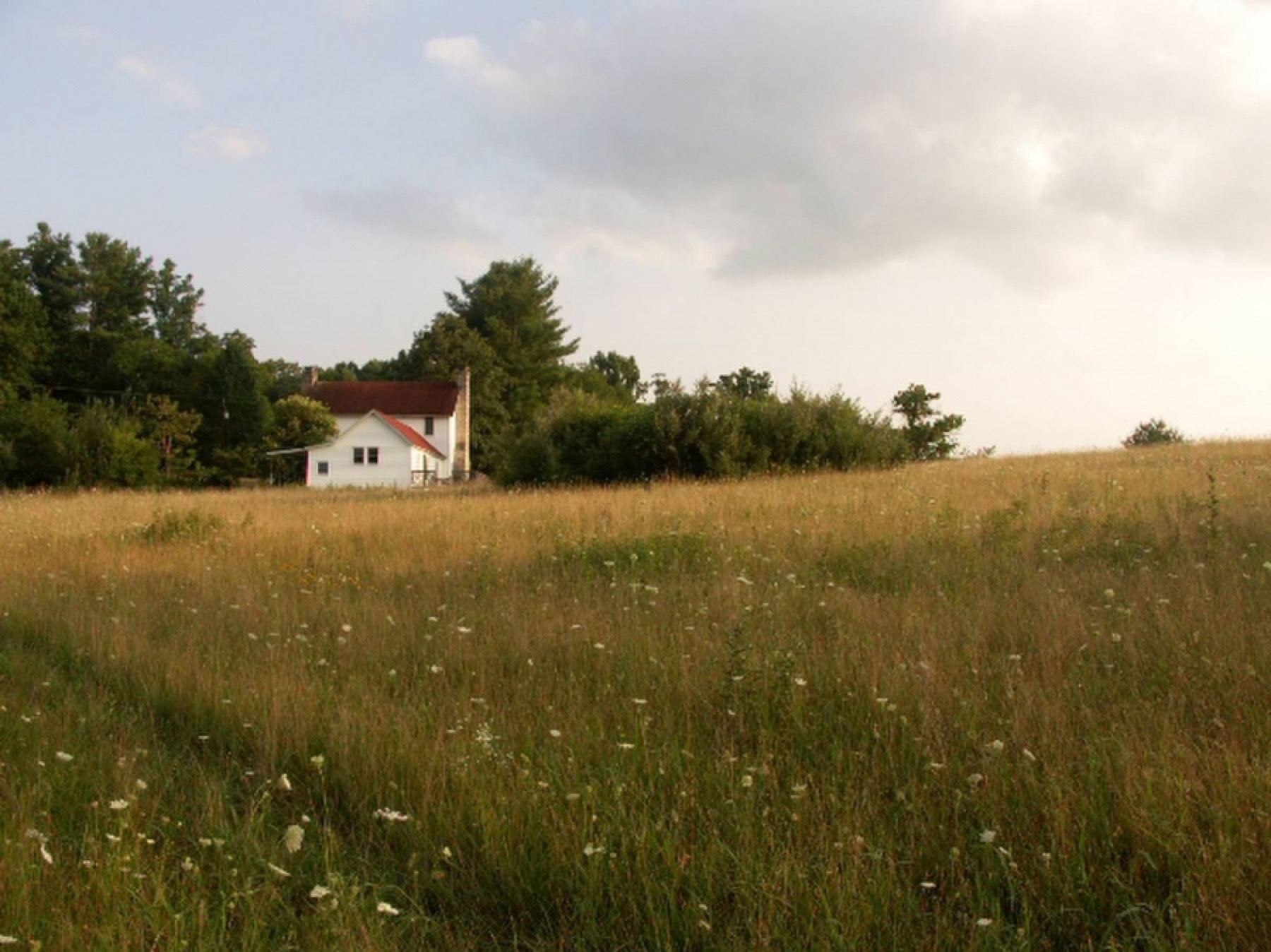 The old Prestwood homeplace in western North Carolina. Courtesy of Jeremy B. Jones
A CIPHER OF HIS OWN DESIGN
An interview with Jeremy B. Jones
---
I corresponded with Jeremy Jones by reaching out across several states, from Arkansas to North Carolina, but that distance is nothing compared to the traveling Jeremy did to bring us his essay "The Coded Life of William Thomas Prestwood," which appears in the Oxford American's Spring 2015 issue. Jeremy reached back centuries into the pages of his great-great-great-great-grandfather's coded diary from the 1800s, sifting through William's days of plowing and stargazing and who knows what else. With a unique perspective on the past and present, Jeremy's discoveries and observations close the gap between our own lives and the lives of those who have already lived and long since died.
"The strangest discovery in digging into the documented life of your great-great-great-great-grandfather is that any shift in his trajectory is a shift in yours," Jeremy writes.
As I piece together William's life from fifty-one years of symbols, I realize it's grace I've been given in finding this adulterous, enigmatic man hiding in plain sight in my family tree. Not only have I been allowed a rare glimpse of an ancestor, but I have more than myths and tall tales, more than a lionized ghost or a flat name in a family Bible. I have a whole life, all of its triviality and trifling and contradiction, a full man.
---
When I first read "The Coded Life of William Thomas Prestwood" I'll admit I was shocked. It wasn't at all what I expected from a nineteenth-century diary! How do you think your readers will react to this piece?
Shock seems like a good reaction—it was certainly mine at first, flipping through the diaries. I suppose I should be most worried about the reactions of readers who also happen to be my family members, as I've just laid our ancestor's private life bare. However, I remember when I first told my maternal grandmother about the promiscuity throughout the diaries, fully expecting her to be shocked, and she responded, "Well, yeah, they didn't have birth control then. They had to spread it around." Maybe there's something to that, but what I ultimately began pulling from the diaries that I hope readers will pull from my piece is that life in the nineteenth century was still life. The past isn't black and white and tidy—it's just as messy as today.
Has this changed your own perceptions of the nineteenth century?
If you'll forgive the cliché, it came to life for me. Before digging into these diaries, I had a kind of cursory understanding of what life might have been like—like still images, maybe with the Ken Burns effect causing them to zoom in and out every so often. But after spending so much time with what is basically the activity log of a nineteenth-century man, I have moving pictures. I think this comes not only from flashes of historic events on the pages—William taking part in what was then called the Cherokee Removal (the beginning of the Trail of Tears) or the War of 1812—but in the everydayness surrounding it: the log rolling and petty fights and odd dreams. These small bits really pulled me into that world.
Prestwood is your quadruple-great-grandfather. How close do you find yourself to him through his rather short diary entries?
He has taken shape for sure. Even with all of the information he gives me, I'm often filling in details like one might do with a fictional character. But at some point during the research I realized that I was reacting emotionally to his actions (and inactions) within the diaries. I felt sorry for him, felt ashamed of him, felt connected to him. I began to understand—or at least I think I might—why he sometimes did what he did because I'd seen so much of his life. And when he acted in ways that I didn't understand he became all the more real for it: fickle like all the rest of us.
You indicate that you have a close connection with all of your family members. How important do you think our ancestral past is to our present?
I suspect it's much more important than we often let on in Western culture. For me, family connections and influences have always been easily noticeable through geography. My father's family's land (the Prestwood land—where I grew up) and my mother's mother's land (the Maxwells') are literally across the creek from one another. So when I rambled as a boy, which was more or less all of the time, I could walk for hours and still be on ancestral land. That hilly, angled landscape undoubtedly shaped me (I get itchy in the starkly flat Midwest), and so did the people on it, even the ones who passed on before I was born. I heard their stories, and they haven't gone that far away; they're buried just above the creek. I could see their lives in the trails we've been walking for over a century, in the nineteenth-century house on the hill. As an adult I've become very interested in trying to trace these marks on me, too.
You've written a memoir, Bearwallow: A Personal History of Mountain Homeland. How did you become a writer?
Bearwallow tells the story of moving back to my family land—I had been living in Central America—and taking a job teaching in the elementary school I attended. I tell of my third-grade teacher (who, along with all of my former teachers, was still teaching in that elementary school when I returned) dropping a pile of books onto my desk one day. They were thin, illustrated stories I'd written as a boy—really philosophical stuff like "Bear vs. Sharkman" and a Pecos Bill knockoff—and she said she knew then I was going to be a writer. I don't have that same memory of a sureness of my vocation, but I do remember writing those books. I studied creative writing in college, and I think I got into that because of some really bad songwriting I did in high school. But, really, I discovered the power and place of writing in my life once I'd finished college and moved to Honduras. There, living in a small cement apartment at the foot of a cloud forest, I found myself writing most afternoons without reason—I had no professors or assignments or readers. Yet I needed to write. I think that was the moment I realized I wanted (needed?) to make writing central in my life.
Would you say that "The Coded Life" is different from your usual work?
I hope so. I'm pretty early in my career, and I hope I'll be something of a moving target. Naturally, my interests and voice carry from piece to piece, but I want to find challenges in new material and take risks. I really like E.B. White's image of an essayist (in "The Essayist and the Essay"): someone who opens up the wardrobe and decides what "garb" he'll wear that day—he could dress as anyone or anything but is always the same person underneath.
"The Coded Life" is part of a larger book project focused on the William Thomas Prestwood diaries, and it's a challenging project, especially in terms of finding shape for a book about a nineteenth-century man who made maps and mined gold and pulled women and wrote sermons and studied Greek and Latin and dissected insects. Bearwallow is a book that tries to make meaning of many seemingly disparate pieces of my native southern Appalachia, but it has a narrative thread—my coming back home and trying to build a life. This Prestwood book is similar in all of its disparateness but the story here isn't really about narrative. The chronology of his life isn't really what makes the story, so I'm contorting my brain into all kinds of yoga positions to try to find a healthy shape for this manuscript as it develops. It's still exploring identity and place, like much of my work is, but I'm also putting on some new clothes.
As these journals span about fifty years, nearly an entire life, it seems like there is a lot more material than could be included in a short piece. What else was William doing?
William was busy—and with more than womanizing. He made the first map of Macon County, was consumed by finding gold for about a decade, and served as a constable, carting people off to jail and witnessing executions. He was also a schoolmaster for much of his life, and I recently came across a letter from a former pupil of William's who claimed that William mostly slept at the desk and ate onions while the kids ran free. Despite that account, what I find in the diaries is a highly curious and literate man. The pages are full of equations and recipes and astronomy and transcribed poetry and philosophy excerpts. He spent quite a bit of time tending his land and chasing down runaway horses, but he had a lot of time to ponder and explore, which makes the terse log of his life all the more interesting to me. He gives no sense of reflection or self-analysis within the pages. In fact, I'm organizing the book by subjects, a la Michel de Montaigne, in order to try to flesh out some of this missing exposition. Perhaps a sampling of some of the essay chapters gives a sense of William's diverse interests and activities: On Dreams, On Personal Hygiene, On Celestial Bodies, On Gold.
You live and work in North Carolina. How do you think your home has influenced the focus of your writing?
I only moved back here, to my native Blue Ridge Mountains, this summer, and before that I hadn't lived here for a decade. In many ways, I think it was my absence from this place that influenced the writing. I find that I'm often writing about home when I'm other places and writing about other places when I'm home. I'm interested to see what will happen to my writing now that I get to see these mountains every day. My suspicion, though, is that in the same ways they have tempted me back for so long, they will tempt my writing too. Most days, I drive into the Smoky Mountains on my way to Western Carolina University, where I teach, and I'm always awestruck and curious about the mountains that spread out around me on that route. I see them all of the time, yet they're somehow new to me now—they're comforting and mysterious, seemingly shifting shapes with the weather and season. I often wonder how this landscape affects us, the people here, who stare up at them every day. My colleague at Western, Ron Rash, talks about place as predestination and I am very intrigued by that idea, especially as a person who has just moved back to the region where his family has been for more than two-hundred years.
---
Read "The Coded Life of William Thomas Prestwood," by Jeremy B. Jones