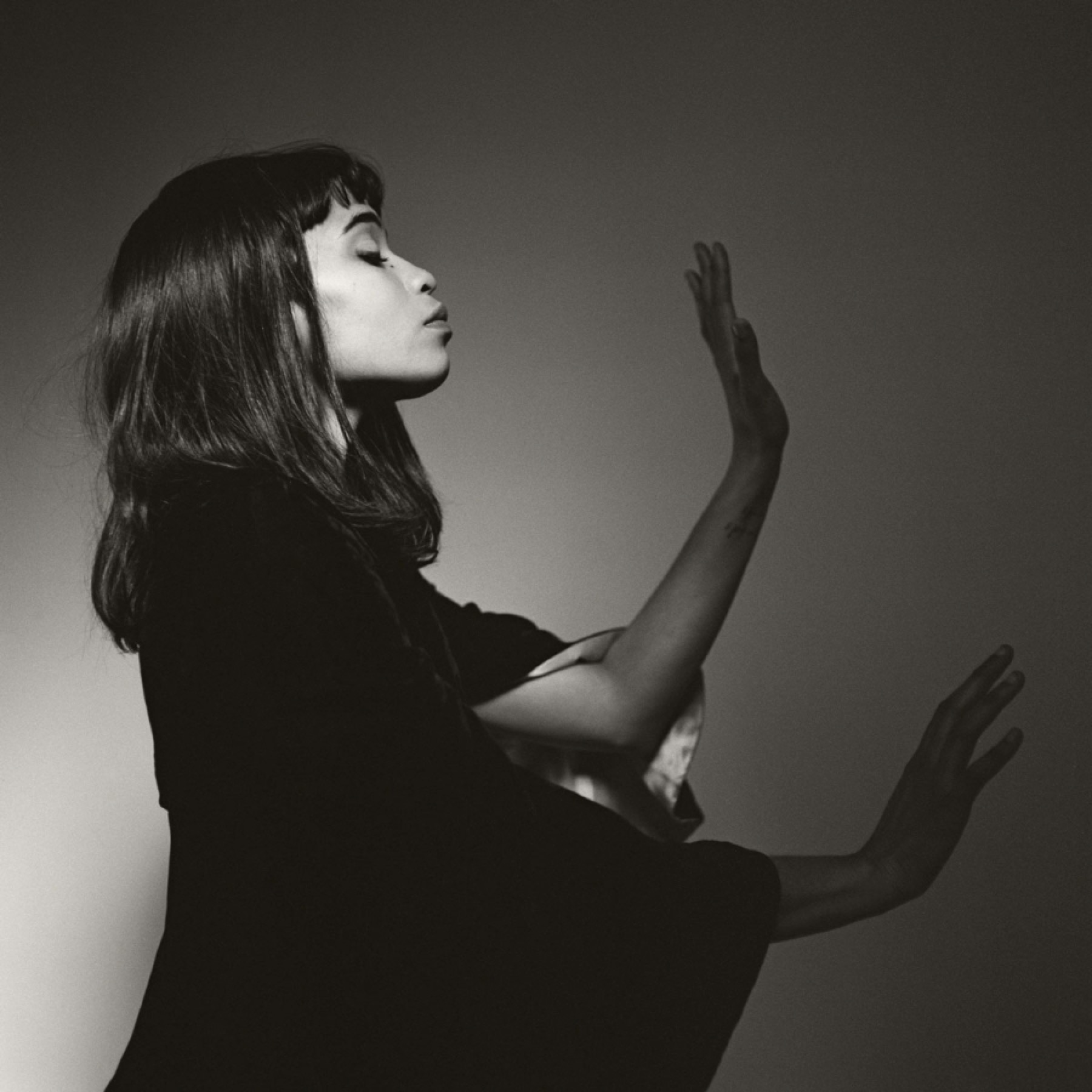 Adia Victoria
A Political Blues
By Maxwell George
To Adia Victoria, Donald Trump is just the latest thing in the history of American oppression
---
Last November, Adia Victoria released the video for "Horrible Weather," a haunting, languid, and dreamy number from her debut album Beyond the Bloodhounds. Fronting as a declaration of eerie, twisted love—"The rain don't fall, sun don't shine / At least your black thunder cloud's same as mine / It's the horrible weather that ties me together to you"—the song takes on a fuller dimension in the black-and-white music video. It was filmed in North Nashville, the city's historic black neighborhood where Victoria's family lives, and the passing shots of churches, murals, and neighborhood streets carry the song's defiant message. Victoria has described it as "a meditation on togetherness as a means of survival."
Like "Stuck in the South"—the tightly coiled electric blues featured on the Oxford American's latest Southern Music Issue CD, "Visions of the Blues"—"Horrible Weather" is an honest, vivid glimpse of black life in the contemporary South. The threat of gentrification hangs over the video like the storm clouds in the song's lyrics. But when Victoria joins her family members posed on a front porch at the end of the video, the screen seems to pulse with the force of their love and communal strength as the song's final lingering chords and plinking piano ornaments fade away to nothing.
One thread that carries through the liner notes, essays, profiles, and stories collected in the OA's latest music issue is the unexpected versatility of the blues genre and its expansive and enduring influence on contemporary music. That's why we chose to use multiple covers celebrating three generations of blues masters: John Lee Hooker, Bonnie Raitt, and Adia Victoria.
I spoke with Victoria in early December. She'd recently gotten off the road for the first time all year and was settling into a new apartment in Nashville, "binge watching House of Cards and eating pasta," she happily reported. The election was still fresh and while much of the nation was rattled, Victoria faced the news with the same clear-eyed assessment and personal reckoning evident in her music.
Tomorrow, Adia Victoria kicks off her first tour of 2017 here in Little Rock, at the White Water Tavern (the same dive that features in David Ramsey's profile of Arkansas bluesman CeDell Davis). Before the show, she'll join Beale Street Caravan radio host Pat Mitchell-Worley onstage at the Clinton School of Public Service for a conversation about blues organized by the Oxford American. (Watch the live stream here at 5:30 PM CST.)
---
"Stuck in the South" was sort of your first foray, right?
I wrote it in 2013. I was still working through a lot of my baggage from my childhood at that time—trying to make sense of and peace with where I was from and where I live currently, in Nashville. So that song was a child of all of those thoughts. I'd been listening to a lot of R. L. Burnside at the time and I looked into his finger patterns and his picking style and I just kind of took it from his song "Goin Down South" and simplified it a little bit. And that was "Stuck in the South."
And you threw in a nod to Robert Johnson, too.
Right. In the lyrics: "Clean my room / Dust my broom." That's a line that traces back to Robert Johnson. The blues talks about how our black existential crisis is so much that feeling of malaise. That is what really spoke to me as a twenty-something coming from South Carolina, coming from the Deep South. That was kind of my introduction to the music world—like, "Hi, this is actually what's happening down South."
You've spoken before about your awakening to the blues—not just R.L. and Robert Johnson, but artists like Victoria Spivey—so this whole genre sort of opened up to you all at once?
Yeah, it did kind of. It started when I was twenty-one and I got into the Black Keys and the White Stripes. The White Stripes I'd listened to in high school—I was in high school and White Blood Cells exploded—but I didn't really go much further than that. Then I got into the Black Keys later and that's when I realized: Okay, now hold up. I know that this music is coming from somewhere. It's not these white men that are producing it, that's not where it's coming from. At that point I had high speed Internet, I had a YouTube account, and so I got busy. Fell in love. I literally just traced the line back from these contemporary white blues artists to that people influenced them. They've always been open about who influenced them. That's kind of where I went. I started with Victoria Spivey because I was interested in women that sang the blues. So I found her. And she has remained probably my biggest influence, lyrically.
Is Nashville a place where you feel at home to make the music you want to make?
This is where I live, this is where life has dropped me. I think it's my job as an artist to make art about the world around me and the way that I see it. I recognize a lot of the interesting things going on in Nashville right now and I certainly understand how it's a curiosity, an international curiosity—its past, and also its future—but I don't really consider myself to be a "Nashville artist," if that makes sense. This is where I live, this is where I came to be with my family, at this point in my life, and this is where I've made art. This is where my life is happening. This is where shit's going down. I never want to throw the mantle of Nashville over my music in order to fit into a crowd or a scene, or because it peaks curiosity or interest in my art.
Is that your family at the end of the "Horrible Weather" video?
Yes. That's my family; my cousins, my grandparents, brothers, sisters, dog.
Watching that video was, for me, a window into a part of Nashville that I really don't know.
That's right. That's my family's neighborhood. That's where my mom lives. That's where I lived for years and years when I first moved to Nashville. It's like you said: I'm interested in expanding the conversation, I'm interested in challenging preconceived notions and norms about Southern life—what that means, what the implications of it are. And so, I don't think that how Nashville has typically defined itself is big enough to hold me.
A theme that is shot through our latest issue, "Visions of the Blues," and which seems to be evident in your music, is the tension in the blues being a deeply historical genre and yet remaining contemporary. I'm thinking of artists like Alabama Shakes, and like you, who are considered genre-bending and innovative, and yet who are steeped in this genre that's one of our oldest American musical art forms. You're such a forward-looking artist—what do you find in this old music?
I think as long as there's social unrest in America, there's gonna be an appetite for the blues. And as long as black liberation is still under way, there's always going to be the blues. One of my biggest critiques of the culture surrounding the blues is that it has been appropriated to this fixed spot in history—by white historians. They've kind of been like: "This is the label that we put on it. This is how it's gonna be marketed and how it's gonna be consumed." The blues to me is personal music. The blues to me is political. And what's happening politically right now requires artists to get up, pay attention, report about what's going on. My first album is me escorting my personal politics of autonomy and personhood. Like, I am alive—this is my life, this is happening right now. And it's not a done deal, it's not sealed in a vault, to be studied as if it's some ancient ruin. The blues is very much alive; it's very much relevant. And it's very much needed right now, as well. People look to it to find some kind of explanation for their feelings. To find some sort of grounding—to find some sense of roots, rootedness.
You're currently writing for your second album. Where's your head at?
You know, for me, it's funny—I went to this performance in East Nashville a few weeks ago and there was a group of white musicians playing and they're like, "Tonight's songs are going to be divided up into songs that were written before Trump and songs that were written after Trump and I think that you'll be able to tell the difference." Something to that effect. I was with my little sister and we kind of just looked at each other, just like, "white people." It's very precious: Oh, my feelings about the President. For me, it's just like, this shit has always been sad. America has always been doing stupid shit like Donald Trump. It's just that now I think a lot more people are aware of these things and it's not being dressed up in the most typical way that we are used to seeing our oppressors. He put a new face on it. And that's why he has gotten a lot of white people so scared: because he is uncouth and he is unrecognizable. And a lot of white people are shook, they're scared. But to me, as an artist of color—who, you know, my very purpose and the reason why I'm here is because of slavery—I'm kind of like, there's nothing new going on here, guys. So, the way that I'm looking at myself and the political landscape that I have to create in—it's been fucked up. I'm currently looking at the world around me more matter of factly. I feel less surprised. I think being shocked and wounded right now is a privilege. It's showing that you were complacent before. And I've never been complacent. I never intend to be. My art comes from living my life and this is the world that I'm living in. It's going to be represented on my next album.
---
Enjoy this conversation? Order the 18th Southern Music Issue & CD: Visions of the Blues.